District of Columbia Aquatics Club (DCAC)
A Community Profile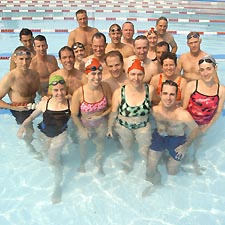 DC Aquatics Club
Mission: A swimming team and social club for gays, lesbians and friends of the community
Founded: 1998
Number of Members: Approximately 175
How to Join: Visit their web site at www.swimdcac.org for more information on joining. Membership dues are $30 a year. Pool dues are $400 a year, $105 a quarter, $40 a month or $7 a swim. 
Background: "I actually found the swim team prior to moving to Washington D.C. four years ago," says Jason Bricker, captain of DCAC. Bricker, a competitive swimmer since the age of six, says he was looking for a group that was social as well as competitive. "It was little bit intimidating at first because I had never done anything completely gay." Bricker says the team really helped put him at ease. "[They] are always there for each other on the competition level as well as the social level. Everyone was very supportive."
Contact: E-mail captain@swimdcac.org or membership@swimdcac.org.
Next Event: Weekly swim practice Friday from 7 p.m. to 8:30 p.m. at Hains Point Pool, East Potomac Park. Directions can be found on the group's web site.
---