Lambda Divers
A Community Profile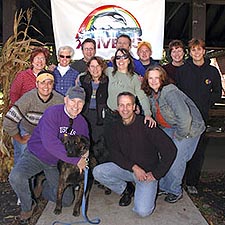 Members of Lambda Divers
ORGANIZATIONAL MISSION: Founded in 1989, Lambda Divers is a nonprofit social organization dedicated to promoting scuba diving among the members of the gay, lesbian, bisexual, transgender and transsexual community.
NUMBER OF MEMBERS: 125+
GENERAL DESCRIPTION OF THE GROUP'S MOST COMMON ACTIVITIES: Scuba-diving trips, social events, educational outings.
HOW TO JOIN: Membership application forms are available on the group's Web site, www.zzapp.org/lambdadivers. Annual dues are $30, or $50 for two years.
BACKGROUND: How does a scuba diver celebrate Halloween? In the case of Leslie Sinclair, a board member of Lambda Divers, she packs her bags and heads to Fiji. She and some fellow Lambda Divers headed to the South Pacific recently for "Diving for Life," a dive event that raises money for health-related GLBT charities. "Last year we disbursed just shy of $10,000 between the Mautner Project, and Moveable Feast," says Sinclair. "We're not just a scuba-diving club. We're also part of the community." Community seems integral to Lambda Divers, who are equally comfortable on dry land, often coming together for picnics or happy hours. "I would say it's the camaraderie with other divers that has been the best experience," says Sinclair, who joined the club in 1998. She adds that while the members range in age and ability, they all share "a love of nature, an interest in things that happen underwater, and an interest in travel."
CONTACT: lambdadiversinfo@hotmail.com
---