Black and White Men Together - DC
A Community Profile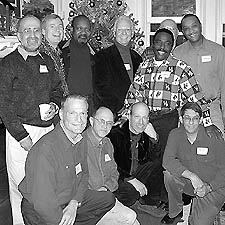 Members of BWMT-DC gather at
a recent Sunday holiday potluck.
Photo by: Züm Linz
MISSION: To provide a social, support, service and educational outlet that promotes friendships and relationships among gay and bisexual men of all races, and acceptance and welcoming of such relationships in the broader community.
FOUNDED: 1980
NUMBER OF MEMBERS: Approximately 100
HOW TO JOIN: Stop by any one of Black and White Men Together's (BWMT) many events to fill out an application. Any race or gender can join. Dues are $30 a year for a single membership and $50 for a couple.
BACKGROUND: Mark Thompson, co-chair of BWMT, says the group started with a group of friends playing bridge. "The group coalesced from that." Since then BWMT has grown to over 100 members and has taken trips from New York to Philadelphia. "It's cool to run together with other like-minded people," he says. When it comes down to it though, Thompson says he really enjoys a good potluck. "I love to cook," he says, "and I make a wicked Viennese Torte."
CONTACT: For more information and upcoming events visit www.bwmtdc.org.
NEXT EVENT: A group dine-out at Tom Sarris' Orleans House in Rosslyn, Va., Wednesday, Jan. 7, 2004, at 7 p.m.
---