Winter Woes
With December celebrations done, some find January a season for depression
The period between Thanksgiving and New Year's Day can be chock-full of holiday parties, gift shopping and family gatherings. It's an exciting time of cheer and merriment.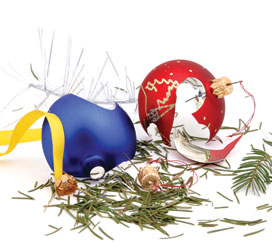 (Photo by Tomasz Kopalski iStockphoto)
By comparison, January's event calendar looks blank. What's to look forward to? Bone-chilling days where the sun sets before you leave work? Eyeing the forecast for the next possible ''snowmageddon''?
''I think this is a tougher time of year,'' says D.C. psychologist Mindy Jacobs. ''The change in the light and the length of daylight can have a significant effect on a lot of people.''
A New Year's slump is common enough that psychologists often refer to it as ''Post-Holiday Blues.''
''One of the reasons there's a letdown is sometimes because of our expectations of the 'shoulds' in our lives: the way the holidays should be, and then the reality of the holiday,'' says Stephen McDonnell, social worker with the 11-member D.C. therapist group Lesbian, Gay, Bi and Trans Counseling. ''Sometimes that can leave us feeling depressed that the holiday wasn't the way we thought it should be or the way society tells us it should be.''
Many people feel isolated and alone after – and likely because of – the holiday season. While others leave town to see family, some are left behind by themselves. Still more are left with bitter or depressed feelings, longing for better relationships with family and friends.
A feeling of isolation in the late winter, which occurs for the general population, may be deeper for gays and lesbians who may have less family structure and deeper issues of disconnection.
''It's probably a bigger problem for those of us who are gay and lesbian and may be living away from home and away from family and maybe not feeling like we have a community,'' McDonnell says.
To help the feeling of isolation and post-holiday blues, McDonnell recommends getting connected and building a community around you. Find a passion and sense of purpose in your life.
''We feel all that alienation as gay people, and that's why we come to the big cities and we try to find community,'' he says. ''But we often don't find the community we're looking for, so we have a sense of alienation and loneliness.''
McDonnell notes the feeling may be a bigger problem in Washington because ''D.C. is a very empty town during the holidays.''
Weather also contributes greatly to the January blues. The cold temperatures make it less appealing to leave home. Seasonal affective disorder, a sort of temporary, winter-based bout of depression, becomes more common.
Jacobs recommends volunteering. People should resist the urge to nest or hide despite the short days: ''Doing something can be just reaching out to friends and/or family to cut into the isolation.''
D.C. social worker Larry Cohen, who practices in the same group as McDonnell, recommends his clients write down what they are thinking.
''Is there a different way to think about the same situation?'' he asks. ''The idea is, if we change the way we think about a situation, we can change we feel about the situation.''
To help, some sufferers of seasonal affective disorder turn to light therapy, a treatment in which people sit in front of boxes that shine light mimicking the sun's rays. ''A lot of people use those starting sometime in August,'' Jacobs says.
Don't alter your normal sleep patterns just because the sun sets at an earlier time. Also, Jacobs says, ''Exercise is really important.''
The good news is that the days will continue to grow longer from now till June. Winter Solstice, the shortest day of the year, occurred Dec. 21.
For Washingtonians, that means the cherry blossoms and warm weather should be here before you know it.
---