Environs
Air Force Captain enjoys character and diversity surrounding his new Southeast DC apartment
| | | |
| --- | --- | --- |
| | THIRD FLOOR, BUT LOTS OF STORIES ... Nostalgically furnished 2BR w/ high ceilings, natural light, plenty of sentimentality in diverse, gay-friendly neighborhood. Close to Eastern Market, RFK. Occupant is USAF captain who's seen the world and has touched down here. | |
Kevin Keene, a captain in the U.S. Air Force, just bought his first apartment in Southeast Washington. He had just returned from a trip to Paris and was still rubbing the jetlag from his eyes. His building is a newly renovated complex mere steps from RFK Stadium.
KEVIN [in living room]: I was living in a high rise right next to the Pentagon City Mall when I met my realtor on the street. Just started chatting her up on the street corner. She told me she could show me a few places, and this was the first place she showed me. She showed me the thirteen-foot ceilings, the big windows. It was fall, and I remember looking outside and seeing that tree with all the leaves different colors, yellow and gold and red. She took me to all these other places in Cleveland Park, Columbia Heights, the Waterfront -- all of them trendy, gay-friendly areas. But I ended up getting this place, the first place I had seen. When I say I live in Southeast, people think of the other side of the river, but I'm actually pretty close to Eastern Market.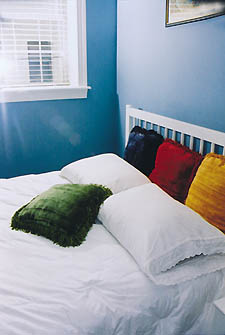 Simple elegance defines the bedroom
[In hallway] There's this artist there who takes the tin tiles off the ceilings of old houses in the Carolinas. He mats them on wood frames and spray paints them all different colors. I want to get a set of about ten of them and run them all the way down this hallway. And I wanted to paint all the walls. I had promised myself that when I bought a place, I would paint them all. Growing up, my parents had only painted a couple, so I always told myself, when I have my own place, I'll paint every room. And my furnishings are sparse, but it all tells a story. Even the stuff that's sort of hidden relates to something.
[In bedroom] Like this porcelain vase. When I was living in Turkey, some military buddies and I stayed in this hotel for a weekend where they had rented out half of the ballroom for this porcelain convention. So it was all these military guys on one side and all these porcelain guys on the other, and we were drinking, and the next thing you know, we're all buying each other drinks. They were Turkish, we were American. None of us understood each other at all. And at the end of the night, they gave us these little gifts and I got this vase.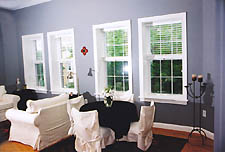 Every picture tells a story. So does every table, chair and rug: "Even the stuff that's sort of hidden relates to something," says Keene.
I didn't want to go into the Air Force. I got a full ride to a writing school in Iowa, but my father didn't want me to do that because he thought that I would, um, fuck it up. He thought I'd move to Iowa, grow my hair long, smoke dope, skip class, drop out. At the time, I didn't feel comfortable standing up to him. But I don't regret joining the Air Force now. I've seen lots of different countries, and it eventually brought me here.
When I moved here, I researched all the neighborhoods. I drove around to get a feel for the city. I don't really hang out in Dupont unless I'm with my friends, and I wouldn't want to live there. Too concentrated. But I don't feel like one of those urban gay pioneers either. There's a lot of gay people in this neighborhood, but there's also still a lot of black people. Kids playing, grandmothers sitting on porches. For me, that's what living in the city should be about. I just hope it keeps its character. A few blocks away, they're already starting to sell row houses for about $400,000.
Does your house, condo or apartment have a story to tell? Let Environs know about it. E-mail environs@metroweekly.com.
---