Photography by Todd Franson
| | | |
| --- | --- | --- |
| | Home is where the art is in this 1BR, 1BA Dupont apartment. Uncommonly clean, a simple presto! converts the living room into a working artist's studio, and an urban living dream. | |
Moving from Dallas to New York and finally D.C., artist Mike Weber quickly learned that things really are bigger in Texas, especially homes. But with a little creative decorating, this minimalist made a maximum impact.
Mike: I moved here in March. Before that I was in Pentagon City for about seven months. I moved there from New York, and I had to get back in the city. There was not enough energy in Pentagon City. This apartment is almost exactly like my apartment in West Village in New York. When I first saw it I knew right away this was the one.
[In the kitchen] I do things differently than most people. I like to take what people call junk and make it art. Like the piece on the kitchen wall, it's actually from a building on 16th Street that's now the Summit [apartments]. They were going to renovate it, and I really liked the letters they had on the building so I threw on a hard hat, went in, found the building contractor and gave him my business card. I said, "If the preservation society doesn't make you keep these, can I have them?" He said yes, and I got a call five or six months later. I went down and picked them up and now they are my sculpture. It's funny -- people try and figure out what it used to say all the time. It's a great social topic for parties. The original sign said "The Roosevelt: Home of Retired Senior Citizens." Now it's giant Scrabble.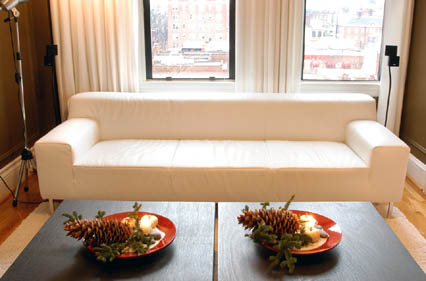 I'm not afraid of color if it's used right. I like earth tones. Orange is such a warm color and great for all year. I thought the white letters would really pop well off the orange wall, and the white ties into the white furniture and white rug in the living room. I grew up in an all-white house. It was like a museum. If you have ever seen Nicholas Cage in Matchstick Men -- that is my mother. [Her] house was super clean and organized. I inherited two things from my mother, thin white skin and her cleaning gene. I have a twin sister. Even though we think a lot alike, we are very opposite. She is really messy and I'm really clean. I was left in the womb three minutes more, so maybe it's because more of it soaked in.
| | |
| --- | --- |
| | |
[In the living room] When people aren't here the coffee tables are flipped up, I roll up the carpets, and this is a studio space where I throw down big tarps and paint. I was dabbling in this business when I first moved here. I used to work in television designing graphics and animation. The only place I can do that is New York or L.A. and I decided to quit my job. I wanted to try something that was away from technology.
This stuff on the wall here is actually old wooden parts. I have a bunch of gears, pistons and pieces. They carved these wooden pieces to build sand cast molds to pour metal into so they could mass-produce the pieces. They are from a ship, I think from the twenties or thirties, which was built in Texas and then sent to England. The original parts were engineered in Waco, Texas. I happened to be driving through with a friend and this guy was having an antique sale in a shed off the side of the highway. I walked in and I saw these pieces. There is another store based in Dallas that had an entire collection of these -- people offered thousands of dollars for them and the owner would never sell. Then I walked into this barn and this guy had a pile of them. So after $500 for the parts and $60 for a truck rental, I was driving back to Waco. Now I have a warehouse full of them in Texas. Every once and while when I go down there I'll bring a few of them back with me. Eventually, if I have a large enough space, I'll fill the whole wall.
| | |
| --- | --- |
| | |
Does your house, condo or apartment have a story to tell? Let Environs know about it. E-mail environs@metroweekly.com. To see more photographs from this week's featured home, visit us online at www.metroweekly.com/home.
---