Zipping Along
New zip-line park offers treetop adventure in Washington's backyard
Have you ever wanted to leave behind the concrete trappings of the city and leap off a tree like Tarzan?
Thanks to Go Ape!, you no longer have to trek down to the Amazon for a chance to swing through the trees. A popular zip-line park based out of the UK, Go Ape! opened its first American branch in early May in Rockville.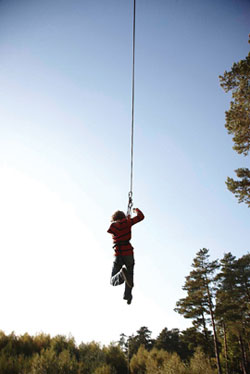 Less than 30 miles north of Washington, at Rock Creek Regional Park -- also home to Lake Needwood -- the Go Ape! course is comprised of five distinct "stations." Each involves a combination of exercises in the trees -- think rope ladders and rope bridges -- ending with a zip-line.
Each station takes Go Apers higher into the trees, presenting ever more vigorous crossings. Two of the stations have ''Tarzan Swings,'' allowing for the total-Tarzan experience of jumping out of tree while holding onto nothing but a single rope. The mandatory safety harnessing ensures that, in Tarzan style, swingers make it to the other side, rather than the forest floor. In total, the park presents 34 different crossings.
But this particular adventure isn't just about physical challenges and jumping off of trees. Go Ape! defines its mission as providing its clients "risk-taking adventures for development."
''We're doing our part to keep the adventure in adventure,'' the company's website states, adding that it's also about helping people conquer their fears and welcome adventure into their lives. ''We believe that zero risk equals zero development and we're always looking to challenge people, to surprise and excite them. We're also passionate about motivating people to believe in themselves -- to swap 'I can't' for 'I can.'''
Motivation is built into the course. Participants are forced to keep climbing, crossing or crawling as part of a group. While you may feel a little uneasy about crossing that rope bridge so many feet in the air, there's a crowd pulling up the rear, so getting cold feet could inconvenience an awful lot of people. Best to just move forward. But when you do, reaching that zip-line at the end of the station is a breeze.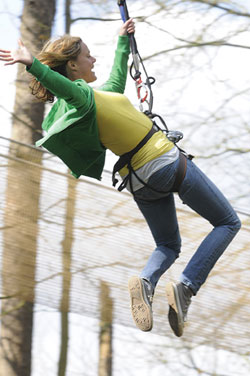 Even if you're having a tough time enjoying Go Ape!'s woodsy thrills in the face of fear, it's all in your mind. Should you miss a step on the Station 3 rope-and-log bridge -- at 40 feet, the park's highest -- you won't plummet. Remember that mandatory safety harness? A misstep simply means you'll be left dangling in midair till you find your footing.
Each station's safety harnesses and clips are not exactly self-explanatory, but Go Ape! attempts to make the experience as user friendly as possible with color-coded clips. AT any given station, you'll first attach the red clip to your harness. Then blue, then green.
If that seems complicated, don't worry. Before you climb anything at Go Ape!, you must first join a Go Ape! representative at a practice station. It's basically similar to the five stations, but much closer to the ground.
After that quick practice run, guests are basically left on their own to, ahem, go ape.
Go Ape! is located at Rock Creek Park, at 6129 Needwood Lake Drive, in Rockville. Admission is $60. For more information, call 1-888-520-7322 or visit goape.com.
---