Classical Music Preview
2005 Fall Arts Preview
Bach Sinfonia
301-362-6525
www.bachsinfonia.org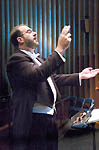 Daniel Abraham
Fall Concert -- Georg Frideric Handel's Alexander's Feast, featuring British soprano Amanda Balestrieri, tenor Scot Cameron, bass-baritone Phillip Collister and members of the Handel Choir of Baltimore. The program also includes the first scheduled complete performance in North American of Bach's newly rediscovered aria Alles mit Gott und nichts mit ohn 'ihn, and the Concerto Grosso in C major for Alexander's Feast, HWV 318 (New York Avenue Presbyterian Church, 10/29)... Winter Concert -- Johann Sebastian Bach's complete Sonatas for Violin and Harpsichord, featuring Garry Clarke, violin and Michelle Roy, harpsichord (Bradley Hills Presbyterian Church, Bethesda, 2/11/06)... Mozart As He Was Heard -- An all-Mozart period instrument performance, including Sinfonia Concertante in E-Flat Major for Violin and Viola and Andante in C Major for Flute (Bradley Hills, 3/25/06)... The Red Priest Vespers: Masterworks by Vivaldi -- Program includes Dixit Dominus and Magnificat (Bradley Hills, 5/20/06)...
D.C.'s Different Drummers
202-269-4868
www.dcdd.org
A Place For Us -- DCDD's 25th Anniversary symphonic band Fall Concert. The evening's title, ''A Place for Us,'' hails from Leonard Bernstein's song, ''Somewhere,'' to be featured on the program along with music representing the history and times experienced by the band and band members. Included will be a tribute to the late Michael Rutherford, DCDD's founder and a tuba player and Josh Groban's ''You Raise Me Up,'' as well as a reprise of the ''Unfolding'' movement from DCDD's commissioned work commemorating the AIDS Memorial Quilt, ''Quilt Panels'' (St. Margaret's Church, 11/11 & 11/12)... Silver and Gold -- DCDD's Holiday concert (St. Margaret's, 12/17)...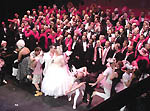 GMCW
Gay Men's Chorus of Washington D.C.
202-293-1548
www.gmcw.org
EVERYTHING'S COMING UP SONDHEIM! -- Sixteen men perform songs from 16 Sondheim Broadway musicals in this annual cabaret (GALA Theater -- Tivoli, 10/29, 10/30, 11/4 & 11/5) FabYULEus! -- The GMCW's annual holiday concert will combine the best of the last 24 years. The evening will include the premiere of ''Christmas in Washington,'' written especially for the chorus (Lisner Auditorium, 12/3 & 12/4)... Showboys! -- A fresh, feisty production that will feature staged musical selections from four Broadway shows written by four gay composers: Cole Porter's Anything Goes, Jerry Herman's Dear World, Stephen Sondheim's Company, and Marc Shaiman's Hairspray (Lisner, 3/18 & 3/19/06)... LET US ENTERTAIN YOU -- The GMCW's a capella branch Potomac Fever offers an evening of joyful musical harmony (Hammer Auditorium, Corcoran Gallery, 4/29 & 5/6/06)... Singing Free! -- The GMCW 25th Anniversary Concert featuring special guest, Broadway legend Barbara Cook (KenCen Concert Hall, 6/25/06)...
George Mason University
Center for the Arts
4400 University Drive
Fairfax, Va.
703-993-ARTS
www.gmu.edu/cfa
Highlights: Chanticleer? EarthSongs? -- ?Virtuosic voices in a program of grace and beauty celebrating the natural world. With EarthSongs, Chanticleer pairs the words of poets' with music that illustrates the voices of the seasons and the rhythms of our planet (10/2)... Munich Symphony Orchestra? -- An all-Beethoven program conducted by pianist Phillipe Entremont ?(10/22)... King's Singers and Sarband: Sacred Bridges? -- ?For nearly 40 years King's Singers have delighted audiences around the world with their charm, wit, and incomparable musicianship. Joining them for this performance is Sarband, an instrumental ensemble renowned for demonstrating the connections between European, Islamic and Jewish musical cultures (10/28)... Opera Verdi Europa? -- Presenting the composer's adaptation of Shakespeare's Macbeth (11/6)... Royal Philharmonic Orchestra -- Conducted by Charles Dutoit, the program includes works by Mozart, Tchaikovsky and Sibelius (1/20/06)... The Black Watch and Band of the Welsh Guard? -- Bagpipes and kilts (1/28)... Russian National Orchestra? -- Program includes Stravinsky's arrangement of Tchaikovsky's Excerpts from Sleeping Beauty and Stravinsky's La baiser de la fée (3/10/06)...
Lesbian and Gay Chorus of Washington, D.C.
202-546-1549
www.lgcw.org
We Are Surrounded -- A performance of Joseph Martin's ''We Are Surrounded'' with the All Souls Jubilee Singers (All Souls Church, 10/16)... Would You Harbor Me? -- An Evening of arts and advocacy for World AIDS Day (Clarice Smith Performing Arts Center, Kogod Theatre, 12/1)... Celebrate the Journey -- Annual winter concert featuring works by Elizabeth Alexander, Antonin Dvorak, and Joshua Jacobson (Capitol Hill Presbyterian Church, 1/28 & 1/29/06)...
Lisner Auditorium at GWU
730 21st St., NW
202-994-6800
www.lisner.org
Mariza -- Portugal's reigning fado queen (10/6)... Daniela Mercury -- The Brazilian superstar singer, songwriter and dancer brings the energy of Carnaval to the stage (10/19)... Cesaria Evora -- The legendary barefoot diva returns to perform the wistful, minor key ballads of her native Cape Verde (4/1/06)... Eva Ayllón -- A superstar in her native Peru and the leading exponent of Peruvian musica criolla, a vibrant array of poetic folkloric styles with both African and Spanish origins (4/7/06)...
National Symphony Orchestra
Kennedy Center Concert Hall
2700 F St., NW
202-467-4600
www.kennedy-center.org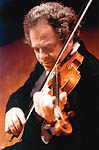 Perlman
Highlights: ITZHAK PERLMAN -- The legendary violinist in a program including Tchaikovsky, Barber and Weber. Leonard Slatkin conducts (9/21, 22 & 23)... Opening Night Ball -- Slatkin conducts an evening featuring guest performers Itzhak Perlman, cellist Yo-Yo Ma and pianist Emanuel Ax, with special guest narrators Alma and Colin Powell (9/24)... PINCHAS ZUKERMAN -- The guest artist performs Bach, Berg and Berlioz ( 10/13, 14 & 15)... RYU GOTO -- The violinist performs in a program of Sibelius, Ravel and Roussel (11/10, 11 & 12)... The Golden Age of Film and Beyond -- Marvin Hamlisch conducts this Pops concert (11/25 & 11/26)... LANG LANG -- The acclaimed pianist performs Chopin's Piano Concerto No. 1 in E Minor, Op. 11 (12/1, 2 & 3)... Holiday Pops -- Marvin Hamlisch conducts (12/8, 9, 10 & 11)... Messiah -- Emil de Cou conducts Handel's holiday must (12/15, 16, 17 & 18)...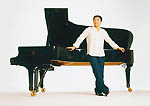 Lang Lang
Signature Theatre
Cabaret Series
703-820-9771
www.signature-theatre.org
EBONY & IVORY: THE SECOND COMING -- Helen Hayes Award-winner Stephen Gregory Smith and Eleasha Gamble bring audiences part two of their cabaret on love and friendship (11/4 & 11/5)... SHERRI & TY: TOGETHER AGAIN -- Sherri L. Edelen and Ty Hreben in an evening of unconventional solo and duet styling (1/6 & 1/7/06)...
The Music Center at Strathmore
301-581-5100
www.strathmore.org
Highlights: Washington Bach Consort -- Performing Bach's Mass in B Minor (9/23)... Betty Buckley -- A Broadway standard (10/14)... Zurich Chamber Orchestra -- Featuring Sharon Isbin on guitar. Program includes works by Mozart, Vivaldi and Bach (10/25)... Michael Feinstein -- Beginning his career in 1976 as Ira Gershwin's personal assistant, Feinstein has released 20 albums and sold-out shows worldwide (11/4 & 11/5)... BSO at Strathmore SuperPops Series: Let's Fall in Love: A Tribute to Harold Arlen -- Featuring guitarist/vocalist John Pizzarelli (12/1)...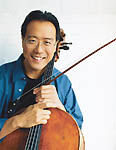 Yo Yo Ma
Washington Performing Arts Society
202-833-9800
www.wpas.org
Highlights: Severin von Eckardstein -- The pianist makes his D.C. recital debut in a program including Ravel, Prokofiev and Schumann (KenCen Terrace Theater, 10/15)... Camerata Nordica -- Program includes Atterberg, Sibelius and Britten (Terrace, 10/25)... Season Opening Celebration -- Featuring mezzo-soprano Cecilia Bartoli with Orchestra La Scintilla (KenCen Concert Hall, 10/26)... Hilary Hahn -- The violinist is joined by pianist Natalie Zhu (Concert Hall, 11/13)... The Philadelphia Orchestra -- Christoph Eschenbach conducts an evening of Beethoven and Jennifer Higdon (11/28)... Calder Quartet -- The unofficial resident quartet of Los Angeles, the Calder Quartet has become a phenomenon on the West Coast. Program includes works by Haydn and Bartók (Terrace, 1/31/06)... Alfred Brendel -- Performing with clarity, honesty, and a sense of wonder, this sublime pianist brings a signature program (Concert Hall, 2/7/06)... Boston Symphony Orchestra -- James Levine conducts, with special guest artist, mezzo-soprano Lorraine Hunt Lieberson (Concert Hall, 3/11/06)... London Philharmonic -- Kurt Masur conducts, with special guest, violinist Sergey Khachatrian (Concert Hall, 3/27/06)... Yo-Yo Ma -- Three cello suites by J.S. Bach (Concert Hall, 4/4/06)... Itzhak Perlman and Pinchas Zukerman -- With guest pianist Rohan DeSilva (Concert Hall, 4/24/06)...
Washington Opera
Kennedy Center Opera House
202-295-2400
www.dc-opera.org
I Vespri Siciliani -- Verdi's rarely performed treasure features a stellar international cast: soprano Maria Guleghin, tenor Franco Farina, baritone Lado Ataneli, and bass Vitalij Kowaljow. Conducted by Placido Domingo (Opera House, 9/17-10/4)... Trilogy -- A trilogy of acts from Fedora, Otello, and The Merry featuring Domingo opposite Mirella Freni, Barbara Frittoli and a third soprano to be announced (9/24-10/9)... Porgy and Bess -- The Gershwin classic makes its WNO bow in a new production (10/29-11/19)... Das Rheingold -- Wagner's ring cycle begins. Directed by Francesca Zambello and conducted by Heniz Fricke (3/25-4/14/06)... L'Elisir d'Amore -- Donizetti's beloved Italian comic opera (4/1-4/17/06)... La Clemenza di Tito -- Mozart's penultimate opera set in ancient Rome (5/6-5/27/06)... L'Italiana in Algeri -- Rossini's colorful comic triumph (5/13-6/3/06)...
---