Linas Garsys
Bangkok, Baltics and Blowoff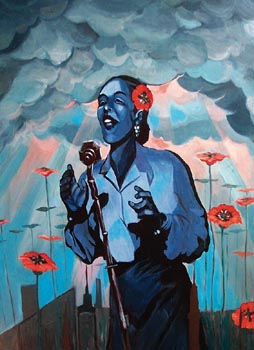 Linas Garsys
''Holiday Takes A Baltimore''
(detail)
36'' x 48''
acrylic on board
2007
Being born in Thailand has nothing to do with Linas Garsys' relatively exotic name, which actually goes back to his familial roots in Lithuania. But it was growing up in Woodbridge, listening to Blondie and the Ramones that led Garsys into some of the contemporary creations that have been seen in recent years all over D.C.
''It's definitely been getting me a lot more notice from the gay community,'' says the 34-year-old gay Baltimorean, in reference to the iconic posters he's created for Rich Morel and Bob Mould's monthly Blowoff events at the 9:30 Club. ''It's been phenomenal to work with both Bob and Rich. Music has been a huge inspiration.''
Garsys also credits Constructivism and Victorian patterns as sources of inspiration, often spotted in those same Blowoff posters. His nod to Lithuanian folk art may be a little harder to spot.
''Both my parents are Lithuanian,'' he says. ''I grew up doing wood-burning paintings, Easter-egg painting. There are some specific patterns.'' Look for defined structure and shades of Eastern Europe.
Though he may credit tiny Easter eggs with helping get his start, today Garsys is thinking big. In the Baltimore house he shares with his partner, sculptor John Robertson, Garsys says he'd like to install a silkscreen studio.
''It's pretty involved, because I want to do large prints.'' Beyond the size, all the chemicals involved mean Garsys is looking at an endeavor of a couple thousand dollars. Till that studio is up and running, Washingtonians may continue to satisfy their Garsys jones with those Blowoff images -- or by picking up an issue of the Washington Times. The editorial page may lie a little to the right of center, but as a graphics editor, Garsys is filling the paper's pages with some of the most provocative mass-consumed images in the city.
For more information visit www.linasgarsys.com.
Click to Read More About Each Artist

---