Classical Music
Fall Arts Preview 2008
BACH SINFONIA
301-362-6525
www.bachsinfonia.org
The Genius of Haydn -- A festive program exploring a wide range of works by Haydn, including Overture to La Fedeltá Premiata, Symphony No. 52 in C minor and Symphony No. 92 in G Major (10/25, Woodside United Methodist Church, 800 Georgia Ave., Silver Spring)
· Arded Corazón: Sacred and Secular Music from Spain and the Americas -- A concert featuring a diverse and passionate palette of Spanish music, including songs by such noted native Spanish composers as Hidalgo and Duron, as well as works from the Americas by Padilla, Arajuo and Zumaya. Featuring soprano Jennifer Ellis Kampani and baroque guitarist Richard Savino (1/24/09, Woodside UMC)
· Handel's Israel in Egypt -- The tale of Exodus, featuring some of the most brilliant choral-orchestral anthems ever composed by the greatest master of the form (3/28/09, Woodside UMC)

BALTIMORE SYMPHONY ORCHESTRA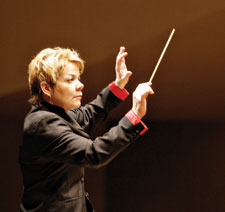 BSO: Marin Alsop
410-783-8000
www.bsomusic.org
Opening Gala Concert -- Featuring cellist Yo-Yo Ma performing Tchaikovsky's Rococo Variations. Marin Alsop, conductor (9/13, Joseph Meyerhoff Symphony Hall)
· Holst's The Planets -- The program is enhanced by dramatic lighting and theatrical effects. Marin Alsop, conductor (9/18, 9/19 and 9/21 at Meyerhoff; 9/20 at Music Center at Strathmore)
· Mahler's Titan -- Kelley O'Connor, mezzo-soprano. Marin Alsop, conductor (9/25, Strathmore; 9/26-28, Meyerhoff)
· BSO Superpops: The Music of Billy Joel -- Performed by Michael Cavanaugh, Tony-nominated vocalist, pianist and star of the Broadway hit Movin' Out. Jack Everly, conductor (10/2, Strathmore; 10/3-5, Meyerhoff)
· Mendelssohn Italian Symphony -- Jonathan Carney, leader and viola. Madeline Adkins, violin (10/11, Strathmore)
· Bernstein's Mass -- Featuring a cast of more than 200 musicians, soloists, choirs and dancers, Bernstein's Mass is unmatched in the classical repertoire, mixing classical music with Broadway, blues, rock and even a marching band. Marin Alsop, conductor (10/16-18, Meyerhoff; 10/26, Kennedy Center Concert Hall)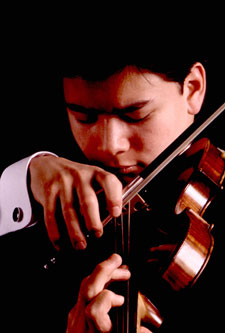 Stephen Jackiw
·
Soulful Symphony: Say Amen, Somebody
-- Grammy and Stellar Gospel Award winner Donnie McClurkin joins Darin Atwater and the Soulful Symphony (10/24, Strathmore; 10/25, Meyerhoff)
·
Mozart Violin Concerto No. 5
-- Also: Dukas'
The Sorcerer's Apprentice.
Nikolai Znaider, violin. Ludovic Morlot, conductor (10/30-31, Meyerhoff)
·
Sibelius Symphony No. 2
-- Honoring Edgar Allan Poe's 200th birthday, guest conductor Leonard Slatkin introduces his own musical setting of Poe's classic,
The Raven
, featuring John Astin and a stellar cast of actors joining the orchestra (11/6, Strathmore; 11/7-8, Meyerhoff)
·
Beethoven Violin Concerto
-- Stefan Jackiw, violin. Juanjo Mena, conductor (11/13, 11/16, Meyerhoff; 11/15, Strathmore)
·
BSO SuperPops: Doc Severinsen
-- The world-renowned trumpet player brings his El Ritmo de la Vida (Rhythm of Life) band (11/13, Strathmore)
·
Too Hot to Handel: The Gospel Messiah
-- A jazzy, soulful reinterpretation of Handel's
Messiah
, conceived and conducted by Marin Alsop (12/4, 12/6, Meyerhoff; 12/5, Strathmore)
·
Holiday Spectacular
-- Sandi Patty, host. Featuring the African Children's Choir. Jack Everly, conductor (12/12-12/23, Meyerhoff)
·
Martin Luther King, Jr., 80th Birthday Celebration
-- Featuring the Soulful Symphony. Marin Alsop, conductor (1/7/09, Meyerhoff; 1/8/09, Strathmore)
·
Ravel's La Valse
-- Also on the program: Rachmaninoff's
Symphonic Dances
. Frank Braley, piano. Stéphane Denève, conductor (1/15-1/16/09, Meyerhoff; 1/17/09, Strathmore)
·
BSO SuperPops: Patti Austin
-- Performing an Ella Fitzgerald Tribute (3/12/09, Strathmore; 3/13-3/15/09, Meyerhoff)
·
BSO SuperPops: Disco Days and Boogie Nights
(5/28/09, Strathmore; 5/29-5/31/09, Meyerhoff)
D.C. DIFFERENT DRUMMERS' CAPITOL PRIDE SYMPHONIC BAND
202-269-4868
www.dcdd.org
Fall Concert -- Featuring works by Dmitri Shostakovich and Percy Grainger (10/17-18, Lutheran Church of the Reformation, 212 East Capitol St. NE)
· World AIDS Day Benefit Concert -- ''Songs for Life,'' featuring both the Symphonic Band and DC Swing (12/1, Sidney Harman Hall, 610 F St. NW)
· DC Swing Holiday Concert (Dec.)
· Intimate Winds -- Chamber music program by small ensembles of the Symphonic Band (2/21/09, Hillwood)
· Spring Concert (3/13-3/14/09, Church of the Reformation)

FAIRFAX SYMPHONY ORCHESTRA
703-563-1990
www.fairfaxsymphony.org
The orchestra is in the process of selecting a new maestro. To that end, this year's season will feature the six finalists, each conducting one of the orchestra's Masterworks Concerts. We have listed the season by conductor. Paul Haas -- Conducting Penman's Songs the Plants Taught Us, Rachmaninoff's Rhapsody on a Theme of Paganini and Tchaikovsky's Symphony No. 4 in F Minor. Alexander Ghindin, piano (9/20, George Mason University Center for the Arts)
· Marcelo Lehninger -- Conducting The Little Train of the Brazilian Countryman by Villa-Lobos, Nights in the Gardens of Spain by Manuel de Falla and Rimsky-Korsakov's Scheherazade. Angela Cheng, piano (10/25, GMU)
· Laura Jackson -- Conducting Rainbow Body by Theofanidis, Prokofiev's Violin Concerto No. 2 in G Minor and Beethoven's Symphony No. 7 in A Major. Rachel Lee, violin (11/22, GMU)
· Holiday Pops -- Guest conductor Douglas Mears. Featuring the Reston Chorale and the W.T. Woodson High School Select Vocal Ensemble (12/16, GMU)
· Daniel Meyer -- Conducting Bernstein's Three Dance Episodes from On the Town, Bruch's Violin Concerto and Symphony No. 1 in C Minor by Brahms. Jennifer Frautschi, violin (1/17/09, GMU)
· Gregory Vajda -- Conducting Liszt's Les Preludes, Bartok's Piano Concerto No.3 and Schumann's Symphony No. 2 in C Major. Andrew Armstrong, piano(3/14, GMU)
· Christopher Zimmerman -- Conducting Haydn's Symphony no. 39 in G Minor, Bodorova's Concerto dei Fiori and Symphony No. 10 by Shostakovich. Chee-Yun, violin (5/2, GMU)

FOLGER CONSORT
201 East Capitol St. SE
202-544-7077
www.folger.edu
· Italian Music of the High Renaissance -- Frottolas, known for lively rhythms, poetic language and infectious melodies, are featured along with instrumental pieces by Josquin, Isaac and others with early 16th-century style viols (9/26-28, Folger Elizabethan Theatre)
· Festive Music from Spain's Golden Age -- Choir, organ, winds and strings provide sonorous and radiant motets, lively and energetic villancicos (carols) and dazzling instrumental works (12/12-21, Elizabethan Theatre)
· Gloria: Music of Vivaldi -- The masterpiece is performed with its introductory movements for soprano and orchestra and complemented by other virtuoso works for Baroque orchestra. With soprano Rosa Lamoreaux, the National Cathedral Choir of Men and Boys, and Baroque orchestra led by violinist Robert Mealy (1/9-1/10/09, Washington National Cathedral)
· Mosaic: Medieval Song from Spain and Cyprus -- Works from Alfonso's famous Cantigas de Santa Maria are paired with works from 14th-century, French-ruled Cyprus, including sophisticated ballades, dance songs and avant-garde rondeaux. Rounding out the program are instrumental works for fiddles, citoles, harp, winds and bagpipes (3/13-3/15/09, Elizabethan Theatre)
· Don Quixote -- Miguel de Cervantes' 1605 masterpiece was immediately popular not only in Spain, but all across Europe. It became the source of inspiration for Henry Purcell, Thomas D'Urfey, Georg Philip Telemann and many other composers during the Baroque period and beyond. The music of these masters is performed with dramatic readings from Cervantes' great work (4/17-4/19/09, Elizabethan Theatre)

GAY MEN'S CHORUS OF WASHINGTON, D.C.
202-293-1548
www.gmcw.org
· Baby, it's GAY outside -- GMCW's always entertaining, enchanting annual holiday concert features beautiful musical chestnuts during the first half, and fun and frivolity in the second, including ''Elves in Boyland,'' ''Teddy Bears on Holiday,'' ''Brokeback Dreydl'' and ''Annoying Drummer Boy'' (12/5-7, Lincoln Theatre, 1215 U St. NW)
· Songs in the key of G(ay) -- A concert by the Rock Creek Singers, featuring special guests, The Gay Men's Chorus of Charlotte (2/21/09, St. Margaret's Episcopal Church, 1830 Connecticut Ave. NW)
· Everything, gAy to Z! -- A touching, funny, over-the-top and alphabetical celebration of gay history and culture as the Chorus honors the 40th anniversary of Stonewall with big songs, big dances, big costumes and big hair (3/21-3/22/09, Lisner Auditorium, 730 21st St. NW)
· Live and Gay -- The 12 singers in GMCW's, pop, close-harmony ensemble Potomac Fever bring their vibrant sound and vivacious personalities in an evening of gay favorites, from ''When I Fall in Love'' to ''Over the Rainbow'' (5/2/09, Corcoran Gallery, 500 17th St. NW)
· Friends -- GMCW's traditional Pride Week concert. The first half is a tribute to the joys of friendship. The second half features the East Coast premiere of Michael Shaieb's through a glass, darkly, one of the edgiest new theater pieces ever commissioned by a gay chorus. Featuring three actors, dancers and chorus, the piece wrestles with a burgeoning crisis in the GLBT community: methamphetamine addiction (6/6-6/7/09, Lisner)

GLBT ARTS CONSORTIUM
Remembrance of Martin Luther King, Jr. -- Annual concert (1/13/09, Capitol Hill Presbyterian Church, 201 Fourth St. SE)

LESBIAN AND GAY CHORUS OF WASHINGTON, D.C.
202-546-1549
www.lgcw.org
25th Anniversary Concert -- Featuring the world premiere of the commissioned work Under the Greenwood Tree by Robert Convery (1/24-1/25/09, Capitol Hill Presbyterian Church)

LEVINE SCHOOL OF MUSIC
202-686-8000
www.levineschool.org
Pianist Ralitza Patcheva and cellist Vasily Popov -- Performing pieces by Schubert and Britten (10/14, Church of the Epiphany, 1317 G St. NW)
· The Levine Jazz Quintet -- With guest artist Sheila Jordan (10/20, Blues Alley, 1073 Wisconsin Ave. NW)
· Ellington, Chopin, Ravel & Chappell -- Pianist Jeffrey Chappell presents an evening that includes Chopin's Waltz in E-Major, Opus 18 and Maurice Ravel's Jeux d'Eau as well as Duke Ellington's Satin Doll, Richard Rodgers' My Funny Valentine, and an original composition, Jazz Sonata (10/23, Levine campus, 2801 Upton St. NW)
· It's All Happening at the Zoo -- Pianists Krysta Hawkley and Mimi Kim perform Saint-Saëns' musical suite, Carnival of the Animals (10/26, Levine campus)
· The Music of Messiaen -- Players from the Levine faculty and the National Symphony Orchestra collaborate in a memorable performance of Messiaen's mystical and moving Quartet for The End of Time, written during his internment in a German prison camp. The performance honors the 100th anniversary of Messiaen's birth (11/14, Atlas Performing Arts Center, 1333 H St. NE)
LISNER AUDITORIUM AT GWU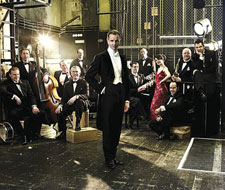 Max Raabe
730 21st St. NW
202-994-6800
www.lisner.org
Max Raabe & Palast Orchester -- Founded in 1986 by the charismatic baritone Max Raabe, the Orchester embodies the high style and musical glory of the '20s and '30s, celebrating this timeless music with uncanny precision, drama and irony. Raabe's art lies in revealing the enigmatic intelligence, ambiguity, universal power and complexity of repertoire focused on German Chansons of the Weimar Republic Era and American standards. A singer of incredible range, Raabe has a singular ability to capture the cunning rasp of the cabaret singer, the confident bel canto hero, the carefree timbre of early jazz, and the falsetto of ragtime, all backed by a stellar 12-member band (10/14)
NATIONAL SYMPHONY ORCHESTRA
Kennedy Center Concert Hall
2700 F St. NW
202-467-4600
www.kennedy-center.org
Nights at the Movies: The Golden Age of Film Music -- Featuring selections from Hollywood scores, including Herrmann's Overture to North by Northwest, Jarre's Lawrence of Arabia, Steiner's Gone With the Wind, Gold's It's a Mad, Mad, Mad, Mad World, Mancini's Moon River and Elmer Bernstein's The Magnificent Seven (9/12)
· NSO Pops: Arlo Guthrie -- John Nardolillo, conductor (9/18)
· Season Opening Ball -- Itzhak Perlman, conductor and violin; Pinchas Zukerman, viola; Alisa Weilerstein, cello. Performing works by Glinka, Strauss Jr., Tchaikovsky, Mozart and Ravel (9/20)
· NSO Pops: Linda Eder -- Singing Judy Garland. Marvin Hamlisch, conductor (9/25-27)
· Hélène Grimaud -- The pianist plays Beethoven (10/2-4)
· Mahler's Symphony No. 3 -- Birgit Remmert, mezzo-soprano. Ivan Fischer, conductor (10/16-18)
· Cellist Steven Isserlis -- Performing Haydn's Cello Concert No. 1 in C Major (10/23-25)
· All-Wagner Program -- Including Die Walküre, Act 3 Scene 3 and Prelude and Liebestod from Tristan und Isolde (10/30-11/1)
· Violinist Jennifer Koh -- Playing Berstein's Serenade after Plato's ''Symposium.'' Michael Christie, conductor (11/13-15)
· Lars Vogt -- The pianist plays Mozart's Piano Concerto No. 20 in D minor, K. 466. Yakov Kreizberg, conductor (11/20-22)
· NSO Pops: The Jazz Ambassadors -- Marvin Hamlisch, conductor (11/28-29)
· Itzhak Perlman -- Conducts and performs Bach, Mozart and Tchaikovsky (12/4-6)
· NSO Pops: Holiday Concert -- Marvin Hamlisch, conductor (12/11-14)
· Handel's Messiah -- Martin Haselböck, conductor. Featuring Christine Brandes, soprano; Carlos Mena, countertenor; Steve Davislim, tenor; Joshua Hopkins, baritone; and the Master Chorale of Washington (12/18-21)
· Cellist Lynn Harrell -- Performing Schumann's Symphony No. 4 in B-flat major, Op. 60 (1/8-1/10/09)
· Yundi Li -- The pianist plays Ravel's Piano Concerto in G major (1/22-1/24/09)
· André Previn -- Performing Mozart's Violin Concerto No. 3 and Previn's own Concerto for Violin and Double Bass (1/31/09)
· NSO Pops: The Smothers Brothers -- Still alive and kicking up wry satirical dust (2/12-2/14/09)
· Violinist Gil Shaham -- Performing Stravinsky's Violin Concerto in D major. Zian Zhang, conductor (2/26-2/28/09)
· Night at the Movies: Buster Keaton's The General -- Richard Kaufman , host and conductor. Dennis James, organ (4/4/09)
· All-Brahms Program -- Kurt Masur, conductor (4/9-4/11/09)
· NSO Pops: The Temptations -- Marvin Hamlisch, conductor (5/28-5/30/09)

THE THOMAS CIRCLE SINGERS
202-232-3353
www.thomascirclesingers.org
O Clap Your Hands -- The music of Ralph Vaughan Williams. With the National City Christian Church Choir (10/26, National City Christian Church, 5 Thomas Circle NW)

WASHINGTON PERFORMING ARTS SOCIETY
202-833-9800
www.wpas.org
Anna Vinnitskaya, piano -- Program includes Rachmaninoff's Sonata No. 2 in B-flat minor, Op. 36 (9/27, Kennedy Center Terrace Theater)
· New York Philharmonic -- All-Tchaikovsky program. Lorin Maazel, conductor (10/4, Kennedy Center Concert Hall)
· András Schiff, piano -- All-Beethoven program (10/10, Strathmore)
· WPAS Season Opening Celebration -- Featuring Anne-Sophie Mutter, violin and Camerata Salzburg. Program includes Bach's Violin Concerto No. 1 in A minor (10/11, Concert Hall)
· Janaki String Trio -- This is the first ensemble of its kind to garner the Concert Artists Guild International Competition award in the competition's nearly 60-year history (10/28, Terrace Theater)
· Maurizio Pollini, piano -- Pollini has ranked among the world's top instrumental soloists for nearly a generation (10/29, Strathmore)
· Midori, violin and Robert McDonald, piano -- Program includes Schumann's Sonata in A Major, Op.105 and Beethoven's Sonata in G Major, Op.96 (11/2, Strathmore)
· Vadim Repin, violin and Nikolai Lugansky, piano -- Program includes Debussy and Beethoven (11/15, Concert Hall)
· The Israel Philharmonic -- Program includes Mendelssohn's Symphony No. 4 in A Major. Gustavo Dudamel, conductor (11/18, Concert Hall)
· WPAS Children of the Gospel Choir -- D.C.'s most talented young vocalists light up the stage with powerful songs of hope. The choir's inspiring sounds will be matched by the electrifying moves of Step Afrika! (11/23, Lisner Auditorium)
· Canadian Brass Holiday Concert -- Seasonal favorites (12/1, Concert Hall)
· Daniel Müller-Schott, cello and Angela Hewitt, piano -- Program includes Bach and Beethoven (12/15, Harman Hall)
· Yevgeny Sudbin, piano -- Program includes Haydn, Chopin and Ravel (1/24/09, Terrace Theater)
· London Philharmonic Orchestra -- Program includes Mahler, Mozart, and Also Sprach Zarathustra by Strauss (2/26/09, Strathmore)
· The Silk Road Ensemble with Yo-Yo Ma -- Program illuminates the musical riches of the ancient trade route (3/11/09, Strathmore)
· Olga Kern, piano -- Program includes Haydn, Brahms, Chopin and Liszt (3/22/09, Strathmore)
· Frederica von Stade, mezzo-soprano and Samuel Ramey, bass-baritone -- Program includes works by Copland, Berlioz, Gershwin, Offenbach and Hammerstein (3/25/09, Concert Hall)
· London Symphony Orchestra -- Alexei Volodin, piano. Valery Gergiev, conductor (3/28/09, Concert Hall)
· Richard Goode, piano -- Program includes works by Bach and Chopin (3/29/09, Strathmore)
· Yaron Kohlberg, piano -- One of Israel's leading young pianists (4/4/09, Terrace Theater)
· Símon Bolívar Youth Orchestra of Venezuela -- Program includes Stravinsky's The Rite of Spring. Gustavo Dudamel, conductor (4/6/09, Concert Hall)
· The Philadelphia Orchestra -- Program includes Ravel, Liszt and Rachmaninoff. Jean-Yves Thibaudet, piano. Charles Dutoit, conductor. (6/3/09, Concert Hall)

WASHINGTON WOMEN'S CHORUS
202-244-7367
www.washingtonwomenschorus.org
From Darkness into Light -- Pieces ranging from Cécile Chaminade's classical Ronde du Crépuscule to the Washington area premiere of David Hamilton's contemporary Chinese Moon (10/18, Metropolitan Memorial UMC, 3401 Nebraska Ave. NW)
· Darkness into Light: Handbells at Christmas -- Hosted by Cokie Roberts (12/7, UMC)

WASHINGTON OPERA
Kennedy Center Opera House
202-295-2400
www.dc-opera.org
· La Traviata -- Ravishing melodies, sumptuous costumes and gorgeous choruses abound in Verdi's romantic opera about the sacrifice of true love. Dan Ettinger conducts and Marta Domingo directs (9/13-10/5)
· Free La Traviata Simulcast -- The Sept. 13 opening-night performance will be broadcast live to Nationals Park starting at 7 p.m. Free and open to the public. Doors open at 5:30 p.m. For reserved VIP seating, visit www.wnosimulcast.org or call 202-572-3057 (9/13)
· The Pearl Fishers -- Bizet's lush, exotic opera comes to life in a dazzling production by British fashion designer Zandra Rhodes. Acclaimed Italian conductor Giuseppe Grazioli makes his WNO debut (9/20-10/7)
· Lucrezia Borgia -- Renée Fleming, one of the greatest sopranos of our day, makes her WNO debut as the infamous Lucrezia Borgia. Plácido Domingo conducts Donizetti's tour de force. Directed by John Pascoe (11/1-17)
· Carmen -- Denyce Graves stars in Bizet's masterpiece. Conducted by Julius Rudel (11/8-19)
· Petite Messe Solennelle -- In this effervescent concert work, the final masterpiece by Gioachino Rossini, Plácido Domingo conducts a quartet of soloists -- including tenor Andrea Bocelli -- with the Washington National Opera Orchestra and Chorus (11/21 & 11/22)
· Peter Grimes -- Benjamin Britten's turbulent, sea-tossed score, conducted by Ilan Volkov, comes vividly to life in Paul Curran's psychologically gripping production starring Chirstopher Ventris and Alan Held (3/21-4/4/09)
· Siegfried -- Wotan's prophecy of a hero who forges a mighty sword and slays the dragon Fafner comes to pass in this third installment of Wagner's ''Ring Cycle.'' Conducted by Music Director Heinz Fricke, directed by Francesca Zambello, and featuring a cast of opera titans including Pär Lindskog, Alan Held and Gordon Hawkins (5/2-5/17/09)
· Turandot -- Puccini's celebrated opera of soaring melodies, including the sublime Nessun dorma. Sopranos Maria Guleghina and Sylvie Valayre share the title role. Conducted by Keri-Lynn Wilson (5/16-6/4/09)
---