John Moletress
Second Runner-Up: 2008 Coverboy of the Year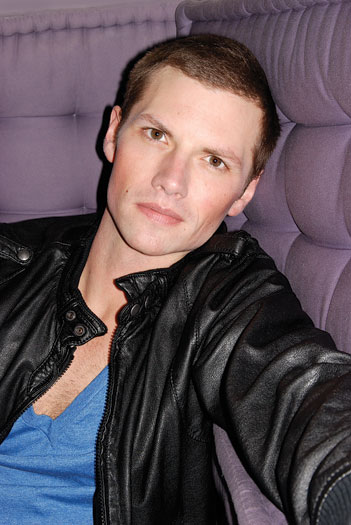 John Moletress
(Photo by Jeff Code)
Every tattoo on John Moletress' body has a special meaning. It's an avenue of self-expression that started at 16 with two drama masks inked behind his upper thigh, and one that might not have flourished if it weren't for a change in career plans near the end of college.
''I always was told by every last person in the theater business not to get any tattoos because, 'You'll never get any work,''' says Moletress, 31, now employed as the executive assistant to the Shakespeare Theatre Company's artistic director, Michael Kahn. ''It was very frightening to hear that when I was coming out of college. But I don't care about being an actor anymore. I want to be a director. So I'm like, 'I will get as many as I want.'''
It's a good mantra to fall back on, considering Moletress recently took the plunge and made what he describes as his ''greatest commitment'' to date.
''It's a koi fish in the formation of Pisces,'' he says, pointing to the fish encircling his right elbow, adding that it's the first tattoo he's gotten that's not usually covered by clothing.
Away from his elbow and close to his heart, Moletress keeps a quote by Franz Kafka, inked in Sanskrit.
''It says, 'Art is the ax for the frozen sea we live upon.' When I was in college there was an acting professor -- I was a big fan of hers -- and she had directed us in an experimental-theater piece about using the works of Kafka to talk about family relationships. I got really into the work of Kafka at the time, and I still am.''
Although he has his sights set on directing, Moletress has still been acting, tattoos and all.This past summer, he starred in The Downtown Daylight Project, part of the Source Theatre Festival, and in early 2009 he'll perform the role of Charlotta Ivanovna in the Washington Shakespeare Company's production of Cherry Orchard. He's also working with Ganymede Arts, D.C.'s GLBT arts organization. He has no problem keeping busy.
''I was just telling someone that at the end of January I can start making some dinner plans, but I can't get together until February,'' he says with a laugh, before describing a regular day in the life of John Moletress.
''I wake up and go to yoga at 6:30 in the morning. Then I have a chance to come back to my apartment, shower, eat some cereal, and then I go to work. Right after that, I have rehearsal until 11 o'clock. But I take a brief nap.''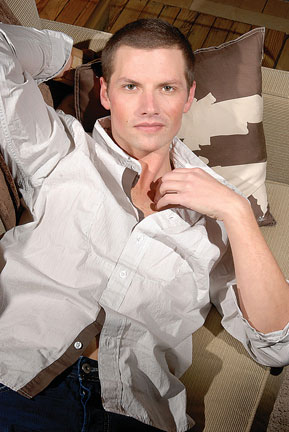 Moletress is not complaining about the rush. He is, after all, a man who at 23 endured sleeping and sharing the outdoors with ''bears, poisonous snakes and spiders'' while on location in Florida's Blackwater National Forest making the independent film Black Water.
His parents discovered early on that he had a knack for showmanship and filled his suburban-Philadelphia youth with piano and vocal lessons. Such intuitive parents are an obvious blessing if you're going to start coming out around 13.
''I remember ripping out pages of the International Male catalogue's underwear section. I had stuffed one of the pages into my pants, which had then gone to the wash and my mother found it. I was like, 'Oh, I was just looking to buy underwear.'''
The next coming-out confrontation wasn't any less awkward.
''When I was about 16, I sort of had this very large crush on this actor in a community-theater production, who was a little older than me, a freshman in college. I wrote a 'pretend note' from him to me, swearing his undying love for me. I left it in my dresser in my bedroom and my mother found it, and that's when she confronted me.
''I tried to explain it to her, but she wouldn't understand why I was writing a note from somebody else to me. I was like, 'I just want to be loved.'''
While that may still hold true today, Moletress, who is single, says he's not avidly looking for Mr. Right.
''If I meet somebody and we feel a type of connection, I would definitely be open to dating them. In terms of my own life, which has nothing to do with relationships, I'm very, very focused.''
He's also in love with D.C.
''It took me a year to get acclimated to the art scene down here, and at the same time I've really sort of fallen in love with D.C. It's funny, because my friends make fun of me for moving from New York to D.C. They're like, 'It's not the same. You have to come back to the city. It's just not as vibrant.' But there are some really excellent theaters here doing some great work. And because there aren't 20 thousand little theater companies trying to get noticed, it's a lot easier to break into the business down here and make your own destiny.''
Coverboy Second Runner Up - Prize Package
$175 Cash
18th & U Duplex Diner -- $50 Dinner Certificate
Annie's -- Complimentary Brunch for 2 Worth $50
BeBar -- $100 Gift Card
Cherry -- 2 Tickets to Saturday's Main Event
Club Fuego -- $25 Bar Tab
Cobalt -- $25 Bar Tab
DC Eagle -- $25 Bar Tab
Freddie's Beach Bar -- Sunday Champagne Brunch for 2
Gay Men's Chorus -- 2 Tickets to everything gAy to Z
JR.'s -- $25 Bar Tab
Landmark Cinemas -- 10 VIP Passes
Leather Rack -- $25 Gift Certificate
Mid-Atlantic Leather Weekend 2009 -- 2 Tickets to Reaction Dance
Nellie's Sports Bar -- $25 Bar Tab
Reel Affirmations XIX -- 2 Festival Passes
Signature Theatre -- 2 Tickets to Les Miserables
SKIN: Cosmetic Dermatology of Georgetown -- $50 of Professional Skincare Products
Town -- $50 Bar Tab
Please Note: Some restrictions may apply to certain prizes.
Our thanks to all those businesses and performing arts venues who graciously provided prizes to this year's Coverboy winners.
All Coverboys Photographed by Jeff Code on Saturday, Dec. 6, at the Adams Morgan home of Eric Hirshfield.
Metro Weekly thanks Eric and his roommates Daren, Christopher and Ike for their hospitality.
---