Above and Beyond: Comedy, Spoken Word, Tastings, Tours, Etc.
Spring Arts Preview 2010

BARNS AT WOLF TRAP
1645 Trap Road
Vienna, Va.
703-255-1900
wolf-trap.org
The Second City 50th Anniversary Tour – Chicago's historic comedy troupe celebrates 50 years of improv and comedic sketches (3/13-14)
23rd Annual Evening of Comedy – Bill McCarty, Carole Montgomery and Al Romero perform standup (5/1)
BLACK CAT
1811 14th St. NW
202-667-4490
blackcatdc.com
Marc Maron -- Standup legend and radio host now developing a show for Comedy Central (3/22)
Mothertongue -- Queer women's spoken word (4/14)
BUDDHAFEST
A four-day film festival with talks and discussions by noted American meditation teachers Tara Brach, Sharon Salzberg and Lama Surya Das. The eight films and various talks present the principles of self-awareness, cultivation of peace in a way that is relevant to our contemporary urban lifestyle. (6/17-6/20, American University's Katzen Arts Center)
DAR CONSTITUTION HALL
1776 D St. NW
202-628-1776
dar.org/conthall/
Mo'nique -- fresh off winning an Oscar, the Precious co-star performs standup (3/20)
Chelsea Handler -- The comic and talk show host's humor is edgier and racier than even Kathy Griffin's; little wonder the gays are flocking to her as well (3/27)
Steve Harvey and nephew Tommy (4/30, 5/1)
Dave Matthews & Tim Reynolds – A benefit for the Jane Godall Institute (5/20)
FORD'S THEATRE
511 10th St. NW
202-397-7328
ticketmaster.com
History on Foot walking tours -- Actors playing characters from Civil War-era Washington lead two weekend morning tours through downtown D.C.: A Free Black Woman: Elizabeth Keckly focuses on a confidante to First Lady Mary Todd Lincoln (4/3-8/28) while Investigation: Detective McDevitt follows a detective investigating the Lincoln assassination (3/24-8/28)
LYRIC OPERA HOUSE
140 West Mount Royal Ave.
Baltimore
410-685-5086
lyricoperahouse.com
Carol Burnett -- In ''Laughter and Reflection,'' the six-time Emmy Award-winner engages in her patented ''off-the-cuff'' banter, taking questions from the audience (4/3) The Original Dream Team of Comedy -- Including Lavell Crawford, Leslie, Jay Lamont, Aries Spears and Tony Roberts (4/10)
NATIONAL GEOGRAPHIC LIVE!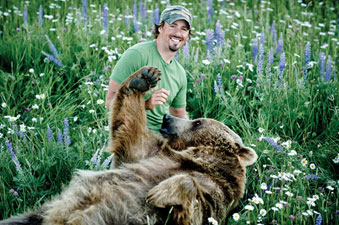 ''Expedition Wild'' at National Geographic Live
Grosvenor Auditorium
NGS Headquarters
1600 M St. NW
202-857-7700
nglive.org
Expedition Wild -- Premiering on the new NatGeo WILD network in April, Expedition Wild finds naturalist Casey Anderson getting knee-deep in grizzly life on Alaska's Kodiak Island and in Montana. He'll discuss his work with grizzlies following the screening (3/19)
Africa's Lost Eden -- This new National Geographic Channel film documents conservationists' work to restore the lush floodplains in central Mozambique ravaged by 15 years of civil war. MSNBC's Hardball host Chris Matthews moderates a discussion after the world premiere screening (3/24)
Chocolate: From Bean to Bar -- A tasting with Biagio Abbatiello, chocolate aficionado and owner of Biagio Fine Chocolate, and internationally acclaimed chocolateer Steve Devries (4/14)
A Come to Cheese Moment: Wine Vs. Beer -- Master cheesemaker Steven Jenkins, grape guru Joshua Wesson and a leading beer expert will join for a tasting of artisanal cheeses paired with a specially selected wine and beer and then vote for your favorites (5/5)
New Beers of Scandinavia -- The American craft-brew movement has inspired similar developments all over the world, perhaps most strikingly in Scandinavia; brewmaster Garrett Oliver gives a Nordic beer tour (5/18)
PATRIOT CENTER
4500 Patriot Circle
Fairfax, Va.
703-993-3000
patriotcenter.com
Ringling Bros and Barnum & Bailey: Zing Zang Zoom (3/25-4/4)
Harlem Globetrotters 2010 World Tour (4/10)
Jeff Foxworthy, Bill Engvall and Larry the Cable Guy (4/24)
ROCK AND ROLL HOTEL
1353 H St. NE
202-388-ROCK
rockandrollhoteldc.com
Rock & Roll Spelling Buzz -- It's exactly what it sounds like, a spelling bee among the inebriated at a bar, with a $60 bar tab for 1st place (3/12) Hotel Horror Show -- The venue was a Funeral Home for nearly a half-century before it became a concert hall a few years ago, and on certain ''No Show Sundays'' they pay tribute by screening horror movies, with free popcorn and themed-drink specials (3/21, 3/28, 4/4)
SIXTH & I HISTORIC SYNAGOGUE
600 I St. NW
202-408-3100
sixthandi.org
Vladimir Feltsman -- Part of the ''Conversations With Legends'' series, the Russian-American pianist, conductor and teacher will sit down for a conversation about his accomplishments (3/27)
An Evening with Kevin Smith -- The screenwriter and film director of such films as Clerks, Chasing Amy and Dogma sits down for a Q&A and he promises to answer all questions -- yes, even the plus-size man's recent dust-up with Southwest Airlines that you may have heard about (4/22)
THE STATE THEATRE
220 N. Washington St.
Falls Church, Va.
703-237-0300
thestatetheatre.com
Magic Hat Beer Dinner -- Vermont's Magic Hat Brewery presents its ''Spring Fever'' variety pack of seasonal offerings paired with dinner (3/16)
Christopher Titus -- The star of Fox's dark comedy ''Titus'' tackles issues that most comedians run from, drawn from life experiences (4/1)
VERIZON CENTER
601 F St. NW
202-628-3200
verizoncenter.com
Ringling Bros and Barnum & Bailey: Zing Zang Zoom (3/18-21) Brian Regan -- an observational comedian who refrains from making off-color jokes (3/19)
WARNER THEATRE
513 13th St. NW
202-397-SEAT
warnertheatre.com
Cheech & Chong – Dude, they're still at it! (4/10)
Jimmy Fallon – A standup tour from the late late-night TV host, who replaced Conan O'Brien when O'Brien replaced, oh, you-know-who (5/22)
WOLF TRAP
1645 Trap Rd.
Vienna, Va.
703-255-1900
wolf-trap.org
A Prairie Home Companion with Garrison Keillor – A live radio broadcast (5/28-29)
Riverdance (6/2-6)
Cirque Dreams – Illumination (6/11-12)
---