The Sweet Spot
A wedding is truly the occasion to have your cake and eat it too
While Marie Antoinette may (or may not) have offered to let the starving peasants of France eat cake, guests at a wedding -- French peasants or otherwise -- will demand it. Right after the brides or grooms, the cake is the star of weddings as we know them.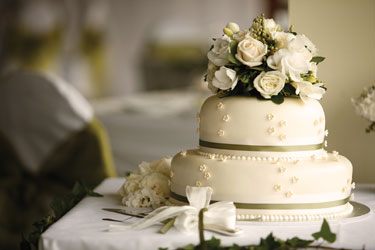 (Photo by David Freund)
"The wedding cake is the focal point of the reception," says Norman R. Davis, co-owner of The Sweet Life "cakery" in Annandale. "The cake is the first thing guests see at the reception, and the last thing they'll see before they leave."
But choosing a wedding cake is not as easy as pie, as the possibilities are arguably infinite. Not only is there a question of flavors, but whether the cake will be a constructed masterpiece of whimsy or a simple, straightforward affair. For the former, let the budgeting begin now.
Take Duff Goldman's Baltimore-based Charm City Cakes. His confectionary flights of fancy have been made famous on Food Network's Ace of Cakes. As his team states on the Charm City website: "There are no limits to what we can do here at Charm City Cakes. You dream it, we'll bake it, you eat it." But no matter what you order from Charm City Cakes, the starting minimum is $1,000. Build up from there.
As Sweet Life's Davis explains, those artistic touches add up.
"It goes by the slice," he says of Sweet Life's cake pricing. "The starting point is $3.55 per guest. We've done up to $12 a slice -- that's for handmade sugar flowers [and] hand-painted designs."
Over at Cake Love, the modus operandi is to stick with simplicity from scratch. That fondant, for example -- the sugary layer that encases so many wedding cakes in a smooth and uniform sort of "frosting" -- is not part of the Cake Love repertoire.
"We don't do the fancy flowers or the fondant," says Cynthia Gooding, captain of Cake Love's customer service. "We don't use any artificial colors here. Red velvet cake is the only exception. And maybe a few sprinkles for St. Patrick's Day. But that's also what drives up the cost of the cake."
Cake Love offers tiered cakes in simple flavors -- think vanilla -- at $5.25 per person, going up to $7 per person for something a bit more exotic, such as the Toffee Crunch cake.
But those brides or grooms may have in mind that elegant look that comes only from fondant. If that's the case, Davis points out that it's worth asking your baker for a preview, as not all fondants are the same.
"We do a lot of whimsical cakes," he says. "With most of those cakes, you use a rolled fondant -- but most people don't like the taste of fondant."
Instead, Davis has put The Sweet Life on a Choco-Pan diet. Made with high-quality white chocolate, Choco-Pan bills itself as the "ultra-premium alternative" to traditional fondant of essentially water and sugar. Davis says it offers a much-improved flavor.
Enjoying a burst of popularity now is a sweet treat that lies somewhere between whimsical cake architecture and the traditional: the cupcake.
A dozen cupcakes from Georgetown Cupcake run $29. For weddings, you can arrange for particular colors or monograms, says Kelly Scavone of the store's flagship spot on M Street.
All that remains is the topper, whatever the wedding's orientation. Rená Puebla and business partner Ellie Genuardi can likely fill the bill. Puebla, who is African American, remembers the frustration she felt while trying to find a wedding-cake topper to represent herself and her Japanese husband. A wedding planner since 1986, she definitely saw a need to be filled, and Renellie was born.
With Renellie, a $69.99 cake topper features genders, ethnicities, hair and eye colors of your choosing. Thanks to Renellie, when Filipino gay actor and comic Alec Mapa married his blond, blue-eyed Caucasian husband, their cake topper looked the parts. Puebla advises that her toppers usually take a week to get to the East Coast from her Los Angeles base, but that rush orders can be accommodated.
The final word in cakes, however, comes from The Sweet Life's Davis, whose advice is that novices should not try to cut costs by baking their own wedding cakes. Woe unto those who try, he warns: "They're going to fall on their face, there's no question."

---