Above and Beyond: Spring Arts 2011
Comedy, Spoken Word, Tastings, Tours, Etc.
ARLINGTON CINEMA N' DRAFTHOUSE
2903 Columbia Pike
Arlington, Va.
703-486-2345
arlingtondrafthouse.com

Live Stand-Up Comedy -- ''DC Area's Best Stand-up Comics Only $5'' (every Thursday night)
Charlyne Yi -- Comedian seen in Knocked-Up and on various late-night shows (3/18-3/19)
Johnny Sanchez -- From HBO and Comedy Central (3/25-3/26)
Eric Andre -- From NBC and Comedy Central (4/1-4/2)
Tim Meadows -- Meadows was one of the longest-running cast members in the history of Saturday Night Live (4/8-4/9)
Funatical: Intercultural Comedy Show with Ahmed Ahmed -- Also featuring Matt Kazam, Maria Shehata, Omar Regan and Paul Singh (4/14, 4/16)
Jay Pharoah -- Saturday Night Live's newest cast member (4/15-4/16)
Lord of the Rings Movie Festival -- All three movies will screen along with contests and games (4/17)
Nick Thune -- Comedian from the Tonight Show and Comedy Central (4/29-4/30)
Doug Benson -- Comedian from Last Comic Standing (5/18)
Todd Barry -- By day an actor, including playing Mickey Rourke's boss in The Wrestler, by night a standup comic (5/20-5/21)
Jeff Dye -- As seen on Comedy Central, MTV and Last Comic Standing (6/3-6/4)
Dude Fest: The Big Lebowski Movie & Music Night (6/23)
ATLAS PERFORMING ARTS CENTER
1333 H St. NE
202-399-7993
atlasarts.org

Rooftop Comedy's National College Comedy Competition -- Top comics from the University of Maryland and the University of Virginia face off in a nationwide search for the funniest person on campus in America (4/4)
Julie Halston -- Award-winning Broadway actress and comedienne offers a one-woman standup show (6/9)
BARNS AT WOLF TRAP
1645 Trap Road
Vienna, Va.
703-255-1900
wolf-trap.org

24th Annual Evening of Comedy -- The return of the sell-out event, this year featuring Jeff Caldwell, Max Alexander and Mike Eagan (3/26)
BLACK CAT
1811 14th St. NW
202-667-4490
blackcatdc.com
Hellmouth Happy Hour -- One episode of Buffy the Vampire Slayer and drink specials (every Saturday)


CAPITOL HILL ARTS WORKSHOP
545 7th St. SE
202-547-6839
chaw.org

Art & Go Seek Scavenger Hunt -- Small teams compete to answer questions about art, history and places in the Capitol Hill neighborhood (4/9)
DAR CONSTITUTION HALL
1776 D St. NW
202-628-1776
dar.org/conthall/

Chelsea Handler -- The acerbic, hysterical, quick-witted comic comes to town over Capital Pride weekend -- maybe she could serve as Grand Marshall, reprising her role in L.A. two years ago? (6/11)
DC IMPROV
1140 Connecticut Ave. NW
202-296-7008
dcimprov.com

Flip Orley -- America's premier comic hypnotist (Now to 3/20)
Happy Hour Trivia Night -- comedian Chris White hosts (3/23)
Jo Koy -- Chelsea Lately regular's run is almost completely sold out (3/24-3/27)
Judah Friedlander -- As seen on 30 Rock plus films such as Zoolander and Meet The Parents (3/31-4/3)
Bobby Slayton -- Known as the Pitbull of Comedy (4/7-4/10)
Patrice Oneal -- From HBO and Comedy Central (4/15-4/17)
Michael McDonald -- Longest-running MADtv cast member and friend of Kathy Griffin (4/21-4/23)
Tony Rock -- Chris's brother (4/28-5/1)
Harland Williams (5/5-5/8)
Bob Marley -- The living comedian, not the dead reggae legend (5/11-5/15)
Aaron Karo (5/18)
Allan Havey (5/19-5/22)
Al Madrigal (5/26-5/29)
Aisha Tyler (6/2-6/5)
Felipe Esparza -- Winner of Last Comic Standing season 7 (6/9-6/12)
John Caparulo (6/16-6/19)
LaVell Crawford (6/24-6/26)
Gary Valentine (6/30-7/3)
John Witherspoon -- As seen in Boomerang, Friday and House Party (7/7-7/10)
Tom Papa (7/21-7/23)
John Mulaney (8/4-8/7)
JB Smoove -- Curb Your Enthusiasm regular (8/11-8/14)
Mitch Fatel (8/18-8/21)
Jake Johannsen (8/31-9/4)
Tommy Davidson -- Long-standing standup comedian was a regular on In Living Color (9/8-9/11)
Steve Byrne (9/22-9/25)
Loni Love -- Chelsea Lately is always twice as entertaining whenever Love is on (9/29-10/2)
Bobby Lee -- The hilarious former MADtv comedian best known for playing the little Asian woman harassing the help (10/7-10/9)
Kevin Nealon -- The '80s-era Saturday Night Live cast member, more recently seen on Weeds (10/27-10/30)
FOLGER SHAKESPEARE LIBRARY
201 East Capitol St. SE
202-544-7077
folger.edu

Shakespeare's Birthday Open House -- Jugglers and jesters join other theatrical performers in celebrating what would be the bard's big day, complete with a cake (4/17)
FORD'S THEATRE
511 10th St. NW
202-397-7328
fords.org

History on Foot -- Actors playing characters from Civil War-era Washington lead two weekend morning walking tours through downtown D.C.: A Free Black Woman: Elizabeth Keckly focuses on a confidante to First Lady Mary Todd Lincoln (4/2-8/27) while Investigation: Detective McDevitt follows a detective investigating the Lincoln assassination (3/23-8/27)

LISNER AUDITORIUM AT GWU
730 21st St. NW
202-994-6800
lisner.org

Ira Glass -- The host of public radio's This American Life talks about his dalliances with television (4/2)
Ralphie May -- One of the original contestants on Last Comic Standing, May is known for his biting humor on touchy topics, even ethnic jokes (4/9)
Imagination Movers -- The musicians behind Disney's Emmy Award-winning kid show ''Idea Warehouse'' play for kids of all ages (5/12)
MUSIC CENTER AT STRATHMORE
5301 Tuckerman Lane
North Bethesda, Md.
301-581-5100
strathmore.org

David Sedaris -- Noted gay satirist and prolific writer for The New Yorker and NPR (3/31)
NATIONAL GEOGRAPHIC LIVE!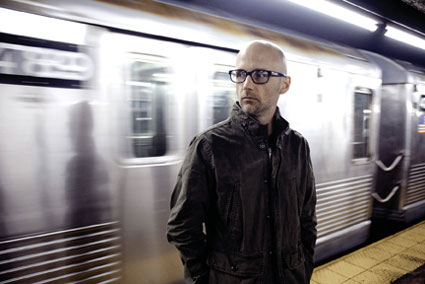 Moby
Grosvenor Auditorium
NGS Headquarters
1600 M St. NW
202-857-7700
nglive.org

The Grand Sushi Event -- Author Casson Trenor signs copies of his book Sustainable Sushi while local chef Barton Seaver offers a tasting of sustainably caught or farmed sushi with wine and sake pairings (3/30)
Sustainable Seafood is the New Delicious -- Barton Seaver offers another tasting of sustainable seafood paired with wine as he cooks from recipes in his new book For Cod and Country (4/6)
Music on…Photography: Melissa Auf der Maur -- Former bass player for Hole and Smashing Pumpkins discusses her published photography (4/8)
Music on…Photography: Moby -- The branding hitmaker has been taking photographs as long as he's been making music, and he'll reveal details about a new project (5/9)
Mini-Micros: A World Tour of Small Breweries -- Celebrated brewmaster and author Garrett Oliver offers a tasting of beer from breweries around the world that produce under a thousand barrels a year (5/17)

ROCK AND ROLL HOTEL
1353 H St. NE
202-388-ROCK
rockandrollhoteldc.com

Rock & Roll Spelling Buzz -- It's exactly what it sounds like, a spelling bee among the inebriated at a bar, with a $60 bar tab for 1st place (every Friday)
STRATHMORE
5301 Tuckerman Lane
North Bethesda
301-581-5100
strathmore.org

Chris O'Brien -- A ''beer activist,'' author of Fermenting Revolution: How Drinking Beer Can Save the World,leads a ''tutored tasting'' of beers from area brewers as a way to support local, sustainable drinking (4/5)
THE FRIDGE DC
516 8th St. SE Rear Alley
202-664-4151
thefridgedc.com
Docc Hilford's Psychic Cabaret -- A show of mind-reading and personal predictions (9/26)
THE STATE THEATRE
220 North Washington St.
Falls Church, Va.
703-237-0300
thestatetheatre.com
Redskins Cheerleaders Final Auditions -- Yes, really, Washington's NFL team is scouting for potential ''First Ladies of Football'' (4/3)
5 Buck Comedy Night -- Featuring Chris Barylick, Will Hessler, Courtney Fearrington, Lafayette Wright and Jermaine Fowler (4/14)
VERIZON CENTER
601 F St. NW
202-628-3200
verizoncenter.com
Ringling Bros and Barnum & Bailey: Barnum 200 (3/24-3/27)


WAREHOUSE
645 New York Ave. NW
202-783-3933
warehousetheater.com

Dale DeGroff's Life In Saloons, Speaks and the Big City Bar -- Master mixologist and author DeGroff shares anecdotes from neighborhood bars, notorious saloons and drink palaces of lore, all the while serving sample cocktails representative of the stories (5/9)
WARNER THEATRE
513 13th St. NW
202-397-SEAT
warnertheatre.com
Maz Jobrani -- Iranian-born American comic, part of the ''Axis of Evil'' comedy group, performs on his ''Browner and Friendlier'' tour (3/19)
Dennis Miller -- Former Saturday Night Live cast member and now conservative radio host (4/30)
J.D. Lawrence Presents I'll Always Love My Momma -- Lawrence is known to some as the ''King of Dramedy'' (5/3-5/8)
WOLF TRAP
1645 Trap Rd.
Vienna, Va.
703-255-1900
wolf-trap.org
A Prairie Home Companion with Garrison Keillor – The annual live radio broadcast from Wolf Trap (5/27-28)
Bill Cosby -- expect more anecdotes and maybe even a little controversy from the funnyman with strong opinions (6/2)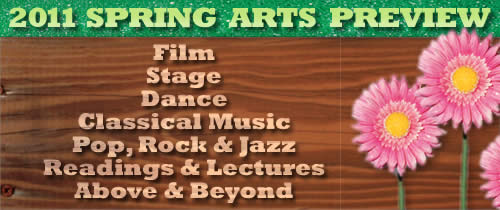 ---