Art Preview
Works on display this fall at Washington DC Galleries
Arthur M. Sackler Gallery
1050 Independence Ave SW
202-357-2700
www.asia.si.edu
Himalayas: An Aesthetic Adventure -- The first major exhibition to survey the artistic traditions of the entire Himalayan region. The show presents over 150 sculptures and paintings from India, Nepal, and the Tibetan plateau, most of which have never been publicly exhibited in the west (10/18 to 1/11/04)... Love and Yearning: Mystical and Moral Themes in Persian Poetry and Painting -- The exhibition features twenty-six of the finest paintings and manuscripts created from the fifteenth to the seventeenth centuries and explores the relationship between text and image in Persian lyrical poetry (now to 2/22/04)...
---
Arts Club of Washington
2017 I Street, NW
Washington, DC
202-331-7282
www.artsclugofwashington.com
Beyond Landscapes -- Evan Summer brings powerful, mysterious nocturnal landscapes, geometrics, and still lifes that are rendered in a series of etchings, drypoints, and hand-colored lithographs (now to 9/27)... Friesian Lands Follow December: Act One -- David Faber exhibits evocative early 20th-century photos of northern Illinois farm scenes as the basis for his cast-plaster etchings, electronically scanned photographs, and intaglio prints (now to 9/27)...
---
Bead Museum
400 Seventh Street NW
Washington, DC
202-624-4500
www.thebeadmuseum.org
Naga Tribal Adornment: Signatures of Status and Self -- The exhibition presents objects made by the Naga people from natural materials they have hunted or gathered, from imported materials they have traded for, and from items they have woven or produced themselves (9/21 to 6/31/04)...
---
Connor Contemporary Art Gallery
1730 Connecticut Ave. NW
202-588-8750
Muriel Hasbun: Watched Over -- photographs based on the artist's Postmemory Project(now to 10/4)… Bradley McCallum +Jacqueline Tarry: Civic Endurance -- photography and video/performative sculpture (10/11 to 11/22)… Perk -- a survey of artwork exhibited during the gallery's first five years, including works by Mark Bennett, Thomas Downing, Andy Warhol and Andres Serrano (12/5 to 12/31)…
---
Corcoran Gallery of Art
500th Seventh Street NW
202-639-1700
www.corcoran.org
The Impressionist Tradition in America
-- An exhibit exploring American Impressionism through paintings, sculptures and works on paper from Sargent to Renoir (now to 4/1/2004)…
CENSUS 03: New Art from DC
-- By showcasing a diverse group of D.C.-based artists, the exhibition hopes to capture a moment in the continually evolving local art scene (now to 10/6)…
Beyond the Frame: Impressionism Revisited, the Sculptures of J. Seward Johnson, Jr. --
Johnson brings a new dimension to some old classics where audiences can explore 18 life-sized tableaux, previously known only as paintings (9/13 to 1/5/04)...
---
Foundry Gallery
1314 18th Street NW, 1st Floor
202-387-0203
www.foundry-gallery.org
Members Show -- (9/3 to 9/28)... Patsy Fleming and Joel Traylor III -- (10/1 to 11/2)... Deborah Brisker Burk: Member Photography Show -- (11/5 to 11/30)... Ann Stein: Holiday Group Show -- (12/3 to 1/4/03)...
---
Freer Gallery of Art
Jefferson Drive at 12th St. SW
202-357-2700
www.asia.si.edu
Mr. Whistler's Galleries: Avant-Garde in Victorian London -- Best known for his paintings and prints, the expatriate American artist James McNeill Whistler was also an influential exhibition designer who played a key role in the development of modernist styles of displaying art (11/20 to 4/4/2004)...
---
Gallery West
205 South Union Street
Alexandria, VA
703-549-7359
www.gallery-west.com
The Macro Eye -- When it comes to the photography of Bill Moriarty, closer is better. Bill is a practitioner of the art of macro photography, close up images that reveal details not usually noticed unless seen at near proximity (8/21 to 9/19)... Lorraine Oerth Kirstin -- Kirstin's exhibit will boast more that 28 framed monotypes that consist of bright colors in highly textured abstract compositions (9/21 to 10/12)…
---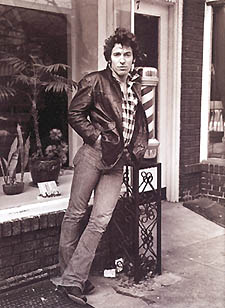 Days of Hope and Dreams
Govinda Gallery
1227 34th Street, NW
202-625-0440
Days of Hope and Dreams: An Intimate Portrait of Bruce Springsteen -- Frank Stefanko grew up in a working class neighborhood in New Jersey not far from the boss himself. After an introduction by a mutual friend the two embarked on a five-year photographic collaboration resulting in cover photos by Stefanko for Springsteen's Darkness on the Edge of Town and The River (9/11 to 10/18)...
---
The Indian Craft Shop
Department of the Interior
1849 C Street, NW
202-208-4056
Continuing the Arts Through the Generations -- To celebrate its 65th Anniversary, the Indian Craft Shop will feature artists from selected families spotlighting traditions and innovations in basketry, jewelry, pottery, woodcarving, walrus ivory carving, fetishes, beadwork, and quillwork (9/8 to 9/26)...
---
Martin Luther King Jr. Memorial Library
901 G Street, NW
Washington, DC
202-727-1183
Beacons for the Future -- A photo documentary by artist Kike Arnal brings attention to the deteriorating public libraries around DC. The photos capture the neglect and decline due to years of budget cuts (9/2 10/25)...
---
Mary Washington College
Fredericksburg, Va.
540-654-1055
Lester Van Winkle: A Few of My Favorite Things -- Van Winkle brings to life works inspired by painted toys, cartoons, duck decoys, caricature, Mr. Potato Head, voodoo dolls, and almost all primitive art (now to 10/10)...
---
National Building Museum
401 F St. NW
202-272-2448
www.nbm.org
Of our Time: 2002 GSA Design Awards -- Demonstrates how professionals have responded with enthusiasm and creativity to complex facilities needs (now to 10/19)... Up, Down, and Across: Elevators, Escalators, and Moving Sidewalks -- What moves us (9/12 to 4/18/04)... Row House Redux: Washington Architects Renew City Living -- Through models and presentation boards, Washington-based architects will present their visions for the future of our homes in a context that is sometimes overlooked: the urban rowhouse (11/14 to 1/18/04)... Stories of Home -- Compelling photographs of first-time, low-income homebuyers shape an intimate exploration of what it means to own a home(12/4 to 3/27/04)…
---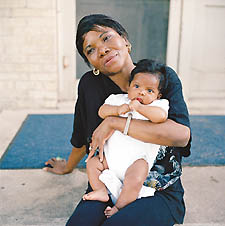 Stories of Home
National Museum of Women in the Arts
1250 New York Avenue NW
202-783-5000
Insomnia: Landscapes of the Night -- From peaceful dreams to the realms of nightmare, this exhibition explores the effects of nightfall on an artist's perception and imagination (now to 11/30)... Enterprising Women: 250 Years of American Business -- Over 40 years entrepreneurs from the Colonial era to the end of the 20th century, will be presented by over 200 documents, photographs, audio recordings, and interactive displays that celebrate America's most successful businesswomen (10/24 to 2/29/04)... Passionate Observer: Photographs by Eudora Welty -- Mississippi icon Welty captured her beloved Southern surroundings in photographs as well as words. Like her celebrated stories, the 50 black-and-white photographs from the 1930s featured in this exhibition reveal the courage and dignity of her subjects (10/27 to 2/29/04)...
---
The Octagon
1799 New York Avenue, NW
202-638-3221
Schematics: Paintings by James Heron -- Heron's work is characterized by a distinctive freestyle illusionism in which architectural images possess simultaneously a stage-like suggestion of narrative and richly textured abstraction (9/19 to 1/9/04)...
---
The Phillips Collection
1600 21st Street NW
202-387-2151
Surrealism and Modernism from the Collection of the Wadsworth Atheneum Museum of Art -- A selection of 59 paintings, collages, and sculptures by the most significant avant-garde artists of the early twentieth century (10/4 to 1/18/04)...
---
Renwick Gallery
Smithsonian American Art Museum
202-275-1594
www.americanart.si.edu
George Catlin's Indian Gallery -- This installation features 233 portraits, landscapes and scenes of American Indian Life (now to 1/4/2004)... The Jewelry of Robert Ebendorf: A Retrospective of Forty Years -- This retrospective gathers 40 years of jewelry and sculpture. Surveying 95 pieces this exhibition chronicles significant shifts in jewelry during the last half of the 20th century (9/26 to 1/19/04)... Jewels and gems -- The individualistic and groundbreaking jewelry designs in Jewels and Gems highlight the spirit, wit and ingenuity of American studio jewelry artists (9/26 to 2/8/04)...
---
Strathmore Hall Arts Center
10701 Rockville Pike
North Bethesda, MD
301-530-0540
www.Strathmore.org
The Rhodes-Nadler Collection -- Dr. Glen Rhodes, for the first time, has opened his private collection to the public. The collection of 70 paintings, sculptures, and works of art on paper, was assembled by Dr. Rhodes and his late wife, Bernice Nadler (now to 11/8)...
---
The Textile Museum
2320 S Street, NW
202-667-0441
www.textilemuseum.org
Navajo Blankets of the 19th Century: Selections from the Textile Museum Collection -- Featuring 16 blankets made between 1800 and 1890 that highlight the powerful aesthetics and significant trends characteristic of the 19th-century Navajo Weaving (now to 3/14/04)... African-American Quilts from the Robert & Helen Cargo Collection -- The 20 quilts featured in the exhibition are from Alabama; most were made since the 1970s although several of the anonymous quilts date to the early 20th century (10/3 to 2/29/04)...
---
Washington Print Makers Gallery
1731 Connecticut Ave NW
202-332-7757
Refuge: Mixed Media Prints -- As a result of the 9-11 tragedy in 2001, Terry Svat's art began to reflect her intimate thoughts about safety and safe havens. In a symbolic demonstration, houses became boxes in which personal items appeared. Svat soon discovered that letting go of the past and its trappings opened the door to the future and a newfound freedom through choice and change (9/23 to 10/26)... RE: Visions -- Ann Citron (now to 9/28)
Translations -- Barbara Bickley Stephens (now to 9/21)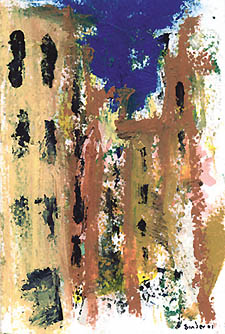 Painting by Gordon Binder
---
Wheaton Public Library
11701 Georgia Ave
Wheaton, MD
240-777-0678
Death Row Art Exhibit -- James Vernon Allridge III has been on Death Row since 1987. During that time he has become a self-taught artist and writer. Allridge is most recognized for his captivating, uplifting artwork and has received numerous awards, accolades and has been published in many publications (9/11 to 9/14)...
---
WorldSpace Corporation
2400 N Street, NW
202-659-8823
Tales of The City -- Two artists with one exhibition. Gordon Binder explores scenes of familiar and distinctive forms that compose the urban skylines, while Langley Spurlock exhibits works in a plethora of mediums from modified drawings to Plexiglas assemblages (now to 9/30)...
---