Team Work
Joey Oldaker had a trusty team always by his side at Apex
By Doug Rule
Additional reporting by Yusef Najafi and Will O'Bryan
Published on July 14, 2011, 5:12am | Comments
As general manager for the past 14 years, Joey Oldaker, known as Joey-O, helped shape many memories of the club originally known as Badlands. But by no means did he do it alone. He had a trusty team always by his side.
One key to the success was the DJ pool Joey-O would draw from.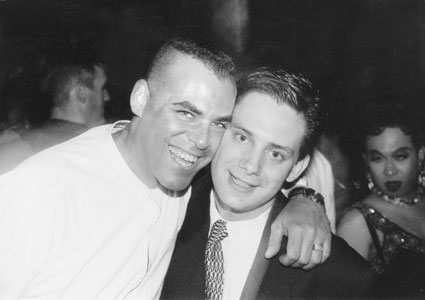 Joey O and David Backe (1996)
''Having all of the circuit DJs come in to town, that's a highlight of my career,'' he says. ''They were kind of my superheroes.''
One such superhero, Joe Gauthreaux, posted on Joey-O's Facebook wall after Apex's closing: ''Some of my best memories DJ-ing in D.C. were in that room, and I will always remember it and how much you believed in me.''
Local DJ Randy White probably played the main room more than anyone else, at least weekly for the past 16 years. ''That was always home,'' says White, who occasionally spins at Town and Cobalt, among other venues. ''It's still one of the greatest spaces in the city.''
Another key to the venue's longevity was its Friday night karaoke, held in a dedicated room upstairs and hosted from 1995 to 2008 by Howard Hicks, using his drag name Gladys Kravitz. ''It was a good space for [karaoke],'' says Hicks. ''They had a nice stage area, and it was dimly lit.'' As the night wore on and the drinks kept flowing, it could get pretty wild up there, as the crowd would egg on hot guys ''to flash a little skin.''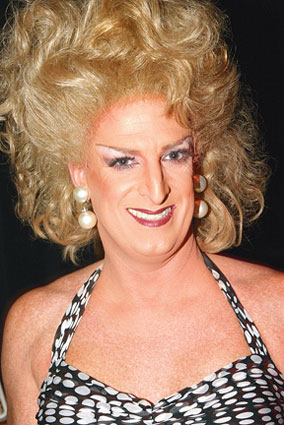 Gladys Kravitz (2005)
''I hate the fact that [the club] was so abruptly taken away, and [we weren't] able to at least have a closeout party or something,'' says Christopher Smith, better known as drag queen Kristina Kelly and host of Apex's Saturday night drag show for the past six years.
The end did come without warning -- a surprise, from a club that always let drinking patrons know when their time was up. Every night for the last 12 years, Joey-O would take to the club's PA system to say: ''Last call, last call for alcohol.'' Instead, a group of former employees camped out in front of the venue last Thursday to alert unsuspecting patrons that Apex was no more.
''I think about a hundred or so came,'' says assistant manager Robert Gordon. ''Some were upset, some were shocked. Some had driven a couple hours to get there.''
After he left at midnight, Gordon's colleagues told him about one utterly shocked longtime regular. ''He came back three times that night because he didn't believe that it was closed. I think he ended up crying.''
---