Kathy Griffin Sees You!
The brazen, outspoken comedian and star of Bravo's Kathy talks about her commitment, passion and pride for the LGBT community
Interview by Randy Shulman
Photography by Mike Ruiz/Bravo
Published on June 7, 2012, 4:46am | Comments
(Page 3 of 4)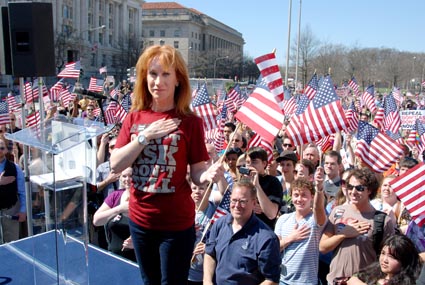 MW: What do you appreciate most about the LGBT community?
GRIFFIN: That they find each other and work together. They're smart and stick together and write legislation and pass bills and assemble and get things done. As a woman, I get frustrated because I feel that women don't have this down yet. Women can be divisive or feel competitive against one another and I feel that it's very much in a heterosexual man's interest to try to divide-and-conquer with women.
That's why it's interesting, because the female friends that I have that are very powerful women – Fonda, Marlo Thomas, Glo Steinem, women who are known to be activists, power chicks – are also extremely active in the LGBT community. We're kind of in this together, you know? And I think that's why so many gay men in particular are accepting of me, because they see me going too far and crossing the line and learning as I go. They know I'm not this polished comedian that has an hour-practiced routine that I do in every city. They know I don't know what the fuck I'm gonna say, and that I'm gonna say the wrong thing and the right thing and the offensive thing. I think that's why gay guys love Bette Midler, because she's over the top and outrageous and unpredictable. It's why they love Cher. They don't know if Cher's gonna leave her house or stay on Cher Island in Malibu. They don't know if she's gonna put rings on like a drag queen or just get very, very angry and political about something.
MW: It would be hard to argue that you're still on "The D-List." I'd say you've moved to the A-List. But what did that show teach you about being a true celebrity, about working within the system?
GRIFFIN: It taught me so much. First of all, it taught me that audiences are very in tune to what is bullshit and what isn't. When I started My Life on the D-List it was before Kardashians and all these reality TV shows. For the first two seasons of My Life on the D-List – I'm not kidding – they fuckin' followed me around and shot everything I did for nine months to make six fucking episodes. It was just a little two camera guys following me around in my house, on planes, off planes, in Iraq, performing at Pride events, etc., hoping I was going to say something funny. Then [taking] millions of hours of footage and cutting it down to six episodes. As it went on, I went, ''Okay, so let's see what we really want to say here.'' I learned that it's all about full disclosure – and I think that's another reason that the LGBT community and I get along: There's no bullshit. So on My Life on the D-List, believe me, honey, my divorce wasn't scripted. I didn't see that one fuckin' coming. My beloved father passed away. It taught me the show must go on.
The premise of that show was all about me being on the outside – I'm on the folding chair, while inside all the celebrities are sitting around on satin chairs collecting their Emmys and Grammys and Oscars. And then, as it went on, one thing that was really, really nice and gratifying for me is people started to get the joke. It's been really gratifying to see some of these Hollywood folks actually come around and go like, ''Oh, she's actually just kidding.'' You know, I run into the Kardashians – and I don't think they really hate me. I think they kinda are like, ''Yeah, she's gonna bust our balls, but she's not really hurting anybody. She's certainly not taking any of our money away or our empire.'' Ryan Seacrest freakin' calls me now and never says, ''Don't ever say this about me.'' So that's been a great thing for me – they're finally gettin' that it's a fucking joke.
MW: Speaking of comedy in general, we've had very strong female comics over the years, and certainly you pay homage to them – Joan Rivers, Phyllis Diller. Yet there seems to be a significant surge of women in comedy, especially women who refuse to play it safe. I think you're one of the pioneers of that school.
GRIFFIN: I was raised in the Margaret Cho-Janeane Garofalo school. I mean those girls were successful, and I learned so much from them. But let me make two points: No. 1, it's about fucking time. No. 2, the ratio is still like fuckin' 20 to one! Call your local comedy club and ask for the Saturday lineup and I guarantee you it's gonna be eight men and one woman. So it is fantastic that we're making strides – like the gay community, there's progress – but we're not there yet.
MW: I want to come back to politics for a moment. Did you ever think that you would see a sitting president endorse gay marriage? And how did you feel about that?
GRIFFIN: Oh, God, it is huge. First of all, let me just say this about the president: I love him. I'll make fun of him – which, by the way, if you even made a joke about "W," people would think you were un-American – but I don't think people understand the significance of this president. And you know what? This is what I have to say to the LGBT community: It's a big fuckin' country out there and it ain't all Haight-Ashbury and it ain't all Chelsea and it's not all Weho, and these things take time. I get angry at my fellow Democrats and I get angry at my gays when they're actually mad at this president because he's not going fast enough for them. And I just want to say, after spending some time in Washington, working to help repeal ''Don't Ask, Don't Tell,'' having done my little mini-tours in Iraq and Afghanistan, it's not all the culture of chicks who live in Hollywood like me. It's not all the culture of LGBT. It's not all the culture of rich people or poor people. This stuff takes time. And I had to learn that because even as early as five years ago, I was bitching and moaning that this stuff's gotta go faster and I'm not gonna stand for it. Yes, it has to go faster – and it is – but for God's sake, do not turn your back on this president because he's not going fast enough for you, so that you can enjoy President Romney, who's not going to do anything for you.
---