Hometown Girl
From her start in D.C. to her support for LGBT issues, Mary Chapin Carpenter is not your typical country music star
(Page 3 of 4)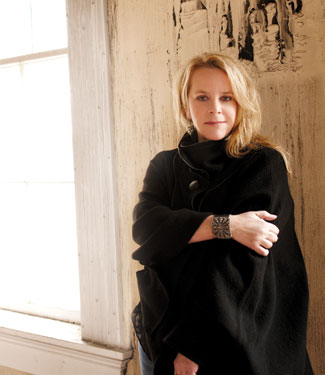 Mary Chapin Carpenter
(Photo by Russ Harrington)
MW: Your father passed away recently too.
CARPENTER: He did, he died last October. He had been ill for a period of time, and we knew that, [but] no matter how much you think you're prepared for something, it doesn't make it any easier. I'm at the age, along with a lot of my friends, where the loss of a parent -- it's starting to happen to us -- and I know that we all go through it. That's part of living this long. That's what happens. But it's not easy.
My father was a wonderful man. He did more than anybody else in my life to encourage my desire to be an artist in the world. He never made me feel like I was chasing some ridiculous dream. He supported my desire – and for a parent to do that.... If anything I think [parents] just want to protect you from all the rejection, and the potential for failure – or not failure so much as just lack of traction. And that's what loving parents do, they don't want their kids to feel those things [even though] they are important to feel. I don't know. He just really made me feel like what I was doing was worth doing, when there was very little evidence to show that it was worth doing.
MW: He obviously encouraged you at a young age, as I understand you've been writing songs for a long time. How old were you when you wrote your first song?
CARPENTER: Well, honestly, I was a kid. It was just made-up little verses about walking on the sidewalk or something. I always loved to write poems, and sing songs, and write songs, and make them up, and play the guitar, play the ukulele, play the bass uke, all that. We had music in our house of all kinds growing up, so it just was a natural thing. I loved my music teachers growing up, and I loved to sing madrigals, and it was just always a really big part of my life. When the Beatles came on the radio, I was singing along. [Laughs.] So, you know, when I was a teenager, I guess that's when I got serious – well, in my mind I got serious – about wanting to write songs. It just became this outlet for me as an angst-ridden teenager. I was shy and I was lonely, and it was my outlet: to play the guitar, to hole up in my room and write songs. So that was something I just always did.
MW: Had your father written songs? How did you get the idea to start writing songs?
CARPENTER: No, my folks didn't do it. I don't know. Maybe I just listened to my Joni Mitchell records and James Taylor, God bless them. And these people were writing songs, so it just seemed normal to want to try to emulate them, because they were real heroes of mine. No one said, ''Oh, you can't do it.'' It was just, ''Oh, that's what I guess you do, you write your own songs.'' As well as learn all of their songs.
MW: Had you worked with James Taylor before the new album?
CARPENTER: We'd met any number of times, and there was a tribute show to Joni Mitchell in New York that we were all part of, but in terms of formally working with him, no. But we have many mutual friends and we've met informally.
MW: It must have been a trip to work with him on the new record.
CARPENTER: Oh, are you kidding? It was like, ''Oh, my God!'' When I finished that song, when I finished ''Soul Companion,'' I remember sort of leaning back at my desk, thinking to myself, ''God, I hear James Taylor singing this song.'' But it was a passing thought. I am tortured at the idea of asking people to take time out and work with me, because I know how busy people are, and I'm just shy, and it's just hard for me to put myself out there.
I said to my manager, ''Gosh, I could hear James Taylor singing this song.'' And he went, ''Uh, huh.'' And then that was it. And then a couple weeks later I was in the studio making the record and I got a text from my manager saying, ''There's a certain singer/songwriter from Massachusetts who's going to be calling you in about an hour to talk to you about your song.'' And I just screamed! He had sent James the song. So he called me. And I sort of screamed and yelled. We chatted, and he was so lovely. He said, ''I love the song, and I love you, and I'd love to do it.'' And I just couldn't believe it! And then he goes, ''Mary Chapin, would you mind if I played a little guitar on the song?'' [Laughs.] And I said, ''No, James, I wouldn't mind at all.'' He is the most generous, lovely – he gave me this gift by singing that song. I hear it, and I just can't stop crying every time. I can't believe it.
---