Building Home
The National Building Museum is not your average museum – and thanks to Martin Moeller, its home base often takes pride of place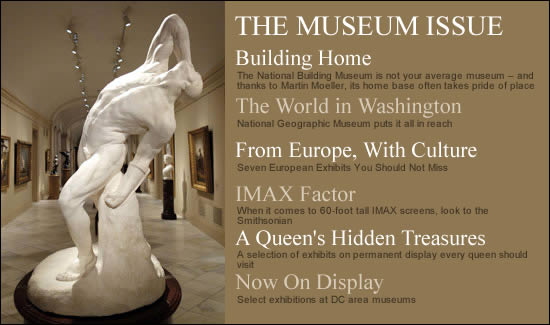 The dog days of summer just may be the best time to check out the many museums Washington has to offer. By this time of year, the tour groups flooding the federal core and vicinity since spring have generally ambled home. In their wake are the smaller pools of locals and the otherwise intrepid seeking to appreciate, maybe even luxuriate, in the hallowed halls of knowledge and wonder.
Or maybe just to play a round of putt-putt.
Putt-putt at a museum, you say?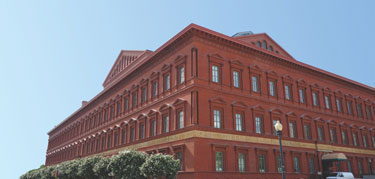 National Building Museum
''It was a shameless attempt to get people into the museum during the summer with something that was still related to our mission,'' concedes G. Martin Moeller Jr. He's referring to the National Building Museum's temporary exhibition, simply titled ''Play Mini-Golf Inside the Museum.'' The museum tapped some of the Washington region's leading architects, landscapers and contractors to design the holes around building/construction-related themes in its mini-golf course. Since its July 4 opening, the exhibit has attracted 9,000 visitors, says Moeller, a senior vice president and curator at the museum.
The mini-golf course is a key component of the venue's ''Summer at the Museum'' series of whimsical programming, which also includes its LEGO Architecture exhibit, launched two summers ago. LEGO-certified professional Adam Reed Tucker used the plastic toy building blocks to create replicas of some of the world's most famous structures, such as the Empire State Building and the Gateway Arch, and visitors are invited to construct additions to a LEGO city.
Running through Labor Day, ''Summer at the Museum'' also includes free concerts, co-sponsored by the Washington Performing Arts Society, of area youth ensembles Sunday afternoons in August. There are also ''special summer tours'' of the building and special exhibitions.
If you haven't figured it out by now, the National Building Museum is not your average Washington gallery in a grand space.
In fact, when people think of the Building Museum, they generally think of its colonnaded central foyer, known as the Great Hall, rising eight stories high and covering about 30,000 square feet. Though many other museums have large spaces that can be rented out for special events, few can match the grand size and scale of the Great Hall. In addition to the museum's own lectures and events, the venue regularly opens its doors to presidential inaugural balls, the popular televised Christmas in Washington holiday concert, and galas such as the Servicemembers Legal Defense Network's annual dinner.
Most recently, various donors sponsored the Great Hall's display of AIDS Memorial Quilt panels in conjunction with the XIX International AIDS Conference. The focus was on those lost to AIDS from the design and building industries. ''Sadly there was no lack of such panels,'' sighs Moeller, who earned his architectural degree from Tulane University almost 30 years ago – just as the disease started ravaging his field and so many other creative industries.
''We rely heavily on renting out the Great Hall. It's a significant chunk of our budget,'' Moeller says. He's quick to add that the museum is a private, nonprofit entity. Contrary to popular perception, it's not part of the Smithsonian Institution, nor is it federally run. Government funding? ''Not any to speak of,'' responds Moeller. The government merely owns the building, which was originally constructed to house the Pension Bureau serving veterans and their families after the Civil War.
But aside from quirky exhibits and the various Great Hall activities – as well as far more serious, academically minded endeavors – the National Building Museum has also been building, however inadvertently, another distinction for itself, particularly over the past decade – that of serving as D.C.'s de facto city museum. (The Historical Society of Washington, D.C., shuttered seven years ago the short-lived official City Museum of Washington, D.C., housed in the Carnegie Library.)
From its longstanding exhibit ''Washington: Symbol and City,'' which touches on the capital city's inherent identity crisis, to temporary exhibits exploring D.C.'s architectural past, such as ''Unbuilt Washington'' earlier this year, the Building Museum has repeatedly given its home base pride of place. And Moeller is a key reason why.
D.C.'s ARCHITECTURAL AMBASSADOR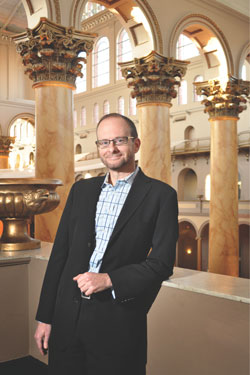 Martin Moeller: Building Musem
(Photo by Todd Franson)
MARTIN MOELLER IS certainly a proud Washingtonian, having made the city his home for 28 years. But he never expected to become an expert on Washington architecture. In fact, before he moved to D.C., Moeller didn't have designs on either his exact profession or his exact location.
''When I was young, I expected that I was going to be a practicing architect,'' says Moeller, who grew up in Louisville, Ky. ''I was one of those kids who was sketching plans, buildings, when I was very small.''
But after graduating college in New Orleans in the Reagan-era mid-1980s, Moeller wasn't about to move back home. ''Let's just say as a gay, vegetarian atheist,'' he chuckles, ''Louisville didn't seem like a really good place – at least not at that time.'' Moeller instead stumbled on his first job in the nonprofit sector, working for the D.C.-based Association of Collegiate Schools of Architecture. ''I thought I'd do that for a year or two and then I'd go into practice,'' he says. Instead, Moeller never moved away from supporting the architectural field by virtue of academic or associational nonprofits. And he never moved away from D.C.
''When I moved to D.C., I have to admit at that time I was a little skeptical,'' he says. ''I kind of thought I might end up in a larger city, either New York or someplace in Europe.'' But even though the city was still suffering through urban flight and blight, Moeller says, ''I felt like the roots of positive change were already there. Certainly for 20 years, if not more, it's just been a positive climb.'' During that time Moeller has lived with his partner Steve Dickens – a fellow Tulane University graduate who is a practicing architect – near the recent 14th Street revitalization boom in the Logan Circle area.
''I think it's always been overstated that Washington is a government town,'' says Moeller. ''It really hasn't been like that for a long time. It's becoming more of a real city every day, really developing its own culture, architecturally and otherwise.''
Moeller, who has also previously served at the helm of the Washington Chapter of the American Institute of Architects (AIA) and what is now called the Washington Architectural Foundation, has literally written the book on D.C. architecture. He's written both the fourth and the just-published fifth editions of the AIA Guide to the Architecture of Washington, D.C. Moeller says he wrote the guide for the general public as much as for architects, with an eye toward giving Washingtonians history or context, ''to help them appreciate [architectural buildings or details] that they see all the time; those that they might walk by and say, 'Oh, that's an interesting building.'''
An independent project apart from the Building Museum, the book nonetheless helped inspire the museum's recent ''Unbuilt Washington'' exhibit, which Moeller curated. And Moeller's local expertise – he also edits the Washington Chapter of AIA's quarterly magazine ArchitectureDC – will be put to further use in a forthcoming revamp of the ''Washington: Symbol and City'' exhibit, which opened a decade ago. ''It's amazing how fast things have changed in Washington [since then],'' Moeller marvels.
Moeller, who's been essentially out his entire professional career, says he hasn't encountered much homophobia in either the museum or architectural worlds beyond ''some mild gay slur or whatever'' in his early career days. ''Many people who go into museum work tend to be inquisitive and open to new ideas. I think those people tend to be open-minded and accepting,'' he reasons. ''[And] architecture as a design-oriented profession … has tended to be a more accepting environment for gay people for a long time.''
Still, incorporating gay elements into major museum exhibits is, while increasingly acceptable, a relatively recent development. Moeller notes that the Building Museum's current ''House & Home'' exhibit, which surveys both the concept and the physical reality of where Americans live, includes a video featuring a same-sex couple and the modular house they call home.
When asked if his being gay informs his professional interests or ideas, Moeller says only indirectly – helping him think more broadly about the roles of minorities in general, and the benefits of diverse representation.
Naturally, the question also provokes an anecdote drawing on his knowledge of Washington architecture. ''One of the little fascinating subtexts of Washington architectural history,'' Moeller says, ''is how many women exercised a hugely influential role in the development of the city, often at a time when they had very few rights. They couldn't even vote, and yet these women were having a huge impact on the look of the city.''
''I'm always on the lookout,'' he continues, ''to make sure anything we do is appropriately representative of the whole range of people out there, as much as possible.''
Even those, say, who just want to putt-putt.
The National Building Museum is located at 401 F St. NW. Admission is $8, or free for members; membership starts at $50. Mini-golf costs an additional $3 per person, per round. For more information, call 202-272-2448 or visit nbm.org.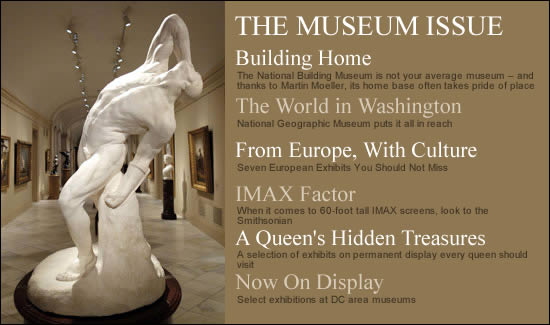 ---