Follow the Sun
As area beaches cool, Fort Lauderdale sizzles
Those glorious days of Rehoboth Beach, Del., summer are winding down. As the Earth makes another orbit around the sun, there's not much a sun-seeker can do about it. Then again, onetime Rehoboth fixture Chris Riss decided to follow the sun.
''My favorite thing was the summer fun in Rehoboth,'' Riss explains via email. ''Winters I dreaded. So in fall 2005 I bought a condo in Fort Lauderdale overlooking the gayest neighborhood in America, Wilton Manors.''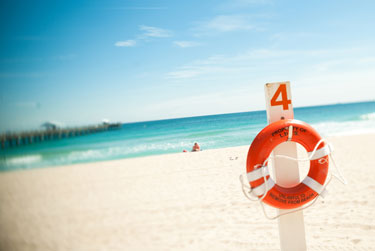 Fort Lauderdale, FL
Today, Riss calls Fort Lauderdale his year-round home. With temperatures soon to drop, the call of Fort Lauderdale will likely be heard by plenty of Riss's former Northeast neighbors.
''The No. 1 gay beach in the country is here, Sebastian Beach,'' Riss continues. ''It's located conveniently close to most of the clothing-optional men's guest houses such as The Worthington, Royal Palms and The Grand, among many others. You'll find the white sands of Sebastian crowded with scantily clad men every month of the year and the clear, gentle water is never too cold to get in.''
However, Riss adds, the center of gay nightlife is the aforementioned Wilton Manors he spies from his condo window. And he's not going to get an argument from Julie Carson.
''My partner and I have been in Wilton Manors about nine years,'' says the Wilton Manors politico. ''I'm finishing my second year as an elected commissioner. I am the first elected out lesbian in Broward County.''
Taking the tack of an elected official, Commissioner Carson touts a business improvement she headed and that Wilton Manors visitors are likely to notice this fall.
''I introduced an outdoor-dining ordinance,'' she points out, explaining that the ordinance expands the sidewalk spaces restaurants might occupy. ''We'll be having a lot more outdoor dining in our city.''

Fort Lauderdale, FL
Of course, it's not all ordinances and no play for the commissioner. She knows the simple pleasures her neck of the woods has to offer in autumn.
''The temperature begins to drop a little bit. You go from 90s and high humidity to 70 to 75 and low humidity,'' she says invitingly. ''The water will still be somewhat warm.''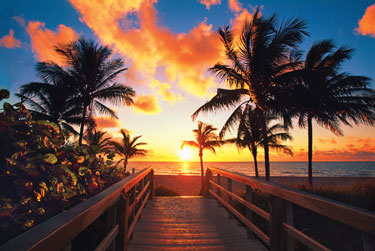 Fort Lauderdale, FL
(Photo by Alan Maltz)
But is Fort Lauderdale/Wilton Manors full of only those hot guys Riss sees at Sebastian Beach?
''I think there are far more establishments that cater to men, but everyone is welcome,'' says Carson. ''The women's party life is probably not quite as late or as long, but all of our bars are friendly to women. We have a couple very special women's bars, as well.''
And should a hurricane swing by, Carson says the good people of Wilton Manors are adept at battening the hatches and mixing a cocktail.
Hurricane party know-how aside, another plus for fall trips to Fort Lauderdale is convenience. Heading into the season, three airlines – JetBlue, Spirit Airlines and US Airways – offer nonstop service from Washington National, while AirTran Airways/Southwest Airlines offers nonstop service from BWI.
As Riss puts it, ''It's everything a gay tourist could possibly want.''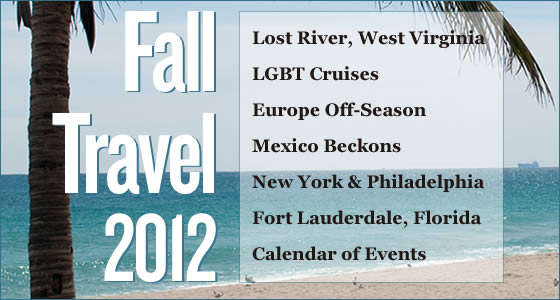 ---