Big Apple Autumn
New York thrives in fall, though Philadelphia offers some Northeast corridor competition
The city that never sleeps most fully lives up to that billing every autumn. If you like hustle and bustle – And why would you even bother with New York City if you didn't? – fall is New York at its busiest. Unlike the other seasons, fall finds the go-getters who populate Manhattan – as well as those in the four other boroughs, most notably Brooklyn – focused on making their marks before the holidays.
It's a perfect time to check out all the city has to offer, particularly when it comes to arts and culture. As culturally rich as D.C. has become, some things you just can't experience anywhere but the Big Apple – such as rare concerts by Barbra Streisand to help christen her Brooklyn hometown's new arena, the Barclays Center, Oct. 11 and 13.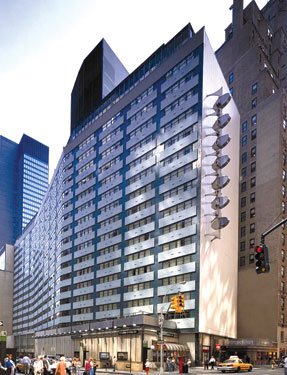 DoubleTree by Hilton's Metropolitan-New York City
Fall's most ballyhooed production is the revival of Annie, featuring two-time Tony-winning scene-stealer Katie Finneran (Noises Off; Promises, Promises), who got the nod to play orphan-hating Miss Hannigan over Rosie O'Donnell and Elaine Stritch. Annie opens Nov. 8 at Palace Theatre.
And Terrence McNally's play, Golden Age, which the Kennedy Center premiered two years ago, now featuring Bebe Neuwirth, opens Dec. 4 at New York City Center.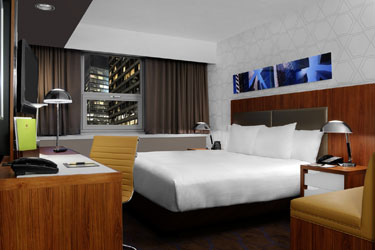 DoubleTree by Hilton's Metropolitan-New York City guest room
If parks are more your speed, besides the obvious appeal of autumnal strolls through Manhattan's Central Park or Tompkins Square Park, a stop this season at the Bronx's exquisite, verdant New York Botanical Garden offers a real-life garden as inspired by the lush paintings by French impressionist Claude Monet through Oct. 21.
But that's only a small bite of the empire apple. Take a bigger one at the New York City Wine & Food Festival, featuring Whoopi Goldberg, Art Smith and Questlove, Oct. 11 to 14. Or try the Oct. 31 Halloween Parade, Greenwich Village's most famous spectacle outside of Gay Pride.
As for resting your head, New York now offers The Out NYC Urban Resort for those who like their accommodations just as gay as possible and featuring Manhattan's swanky new gay venue XL. For a retro feel, DoubleTree by Hilton's mid-century Metropolitan-New York City is hard to beat. For convenience and comfort, Kimpton's monumental Eventi pokes the clouds two blocks from Penn Station.
When it comes to enjoying a bit of urban Northeast culture with your fall foliage, Philadelphia is the nearer neighbor with plenty on offer – and a red-carpet welcome for LGBT visitors.
Philadelphia is very proud of its gay community and is not afraid to let you know. As a matter of fact, the city has invested millions of dollars to promote the city of brotherly love (and sisterly affection) as a welcoming destination for LGBT travelers. And it's working.
According to research by Community Marketing, which specializes in gay tourism, Philadelphia now ranks as one of the Top 10 destinations in the U.S. for LGBT travelers.
''The more gays and lesbians learn about Philly, the more they want to come and experience everything we have to offer,'' says Bruce Yelk, director of public relations for the Greater Philadelphia Tourism Marketing Corporation. Yelk and fellow tourism officials are hoping they can maintain that momentum with the launch of a campaign that focuses on promoting the city's vast visual-arts offerings. This new ''With Art'' effort coincides with the recent opening of the Barnes Foundation's Philadelphia campus.
In May, Barnes moved its famed collections of Impressionist, Post-Impressionist and early Modern paintings and African sculpture into a new and architecturally stunning building on the grand Benjamin Franklin Parkway. Its next-door neighbor is the recently refreshed Rodin Museum, home to the largest collection of the artist's work in the U.S.
Just a short distance up the parkway is the Philadelphia Museum of Art, the third-largest art museum in the country. Behind the PMA is a one-acre public garden that houses an ever-changing selection of sculpture. A general admission ticket for the iconic museum is good for two consecutive days and also includes admission to the Rodin Museum as well as PMA's Perelman Building.
Other major arts attractions include the city's public murals, located at more than 3,000 locations around the city, and the Pennsylvania Academy of the Fine Arts, the nation's oldest museum and arts-teaching institution.
This fall, Philadelphia will also host a series of public light displays, including illuminating the Benjamin Franklin Parkway with 24 robotic searchlights controlled by interactive mobile technology.
For more traditionally gay outings, much of Philly's gaiety revolves around Washington Square West, with bars and restaurants galore. Here you'll also find the acclaimed, gay-owned Alexander Inn.
The only question left is plane, train or automobile – or bus? Those living by Dulles might find cheaper fares to New York than those trying to get there from BWI or Ronald Reagan National Airport. Add in airport parking, however, and the price goes up. Amtrak, courting LGBT travelers, is incredibly convenient all along the D.C. to Philadelphia to New York City route, but it can get pricy, particularly if the Acela Express enters the equation. For a real bargain, the burgeoning number of buses plying the corridor offer options. Those in the know recommend the gay-owned DC2NY and Bolt Bus as the nicest rides to New York. But for buses between D.C. and Philly, riders will need to go with other lines, such as Mega Bus or New Century.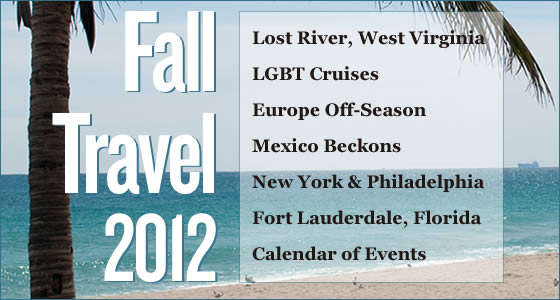 ---