King of Pops
Steven Reineke, leader of the NSO Pops, works to connect people through ''the universal language'' of music
Steven Reineke once played trumpet in a college production of Pippin.
Decades later, Stephen Schwartz, the composer of Pippin, sat at Reineke's piano in New York playing his way through early versions of ''The Wizard and I,'' a tune from his most recent and most successful musical by far. ''I was in heaven sitting there listening to this brilliant guy sitting in my living room playing songs that got cut from Wicked,'' marvels Reineke.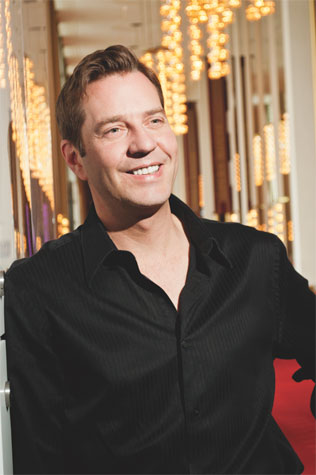 Steven Reineke
(Photo by Todd Franson)
Those songs will factor into a National Symphony Orchestra program at the Kennedy Center next May honoring both the 10th anniversary of the unstoppable Broadway phenomenon that is Wicked as well as Schwartz's 65th birthday. The program will also complete – in stunning, grand fashion ­– Reineke's second season as the principal conductor of the NSO Pops.
''I feel like I've found my home and my niche,'' says Reineke. ''I feel like this is what I was born to do.''
The 42-year-old was born the youngest of three boys in Tipp City, just outside Dayton, Ohio. He studied music composition and trumpet performance as an undergraduate at nearby Miami University of Ohio, but found his calling through work with the celebrated Cincinnati Pops. Pops founder Erich Kunzel took Reineke under his baton and helped position him to be the young, exuberant star conductor he is today – in fact, he's become the reigning pops conductor in North America. In addition to the NSO, Reineke this year became principal pops conductor for the Toronto Symphony. And for several years now has served as music director and conductor of the famous New York Pops, based at Carnegie Hall. Reineke credits a stellar team of assistants, both personal and institutional, with helping him successfully manage three major orchestras simultaneously. That's not to mention his many guest conducting gigs with smaller orchestras around the U.S. and Canada, including the Jacksonville Symphony and the Florida Orchestra, both near where his parents have retired.
After a rousing opening with Roberta Flack, Reineke's second season with the NSO Pops continues Thanksgiving weekend with a concert featuring Megan Hilty, a Broadway veteran (9 to 5: The Musical, Wicked) now best known for her prominent role on TV's Smash. Hilty will be joined by tenor Aaron Lazar (Mamma Mia!, A Little Night Music), who last year helped kick-off Reineke's first season with the NSO Pops in a Rodgers and Hammerstein showcase.
Recently, over coffee at Foggy Bottom's boutique River Inn, Reineke talked about everything from growing up in a Mayberry-like town in western Ohio to now living in the thick of it all in midtown Manhattan. But the focus, naturally, was on his wide-ranging tastes in – and passion for – music.
METRO WEEKLY: I want to start by asking you about conducting itself. Is it everything you thought it would be?
STEVEN REINEKE: Conducting is mostly what I thought it would be. I get asked all the time, ''What do you actually do?'' It's a very enigmatic type of career. And mainly they mean what do I actually do when I'm standing up there giving all those hand signals. Basically, I'm calling plays just like signals in baseball or in football. It's a whole series of sign language that we have together.
But it's so much more than that. It's all the stuff that happens off the podium. It's planning out these programs. It's planning out a season. It's finding the guest artists, booking the guest artists. Finding new talent. Knowing what your audience wants. Most of my career is not actually waving my arms conducting. It's doing all the other parts of it.
MW: I know you sometimes play piano in performance, and will do so for a number with Megan Hilty. How about the trumpet?
REINEKE: I actually haven't played the trumpet in probably close to 20 years. As soon as I graduated, I put it in the case and pretty much never opened it again.
MW: Not even in your spare time?
REINEKE: No, it just takes too much to keep it up. I had won a grant after college to go to Los Angeles and study film music, so I was fully invested in composing and writing music. And that took enough time out of my day, rather than to sit and practice the trumpet for three or four hours. I just had music running around my head and I needed a way to get it out. The trumpet you can only play one note at a time, so that was fine for a while but then I just needed to explode. So I needed 10 fingers and 10 toes to be able to figure out how to do that.
MW: So initially you tried your hand at being a film composer?
REINEKE: Yeah, I lived in L.A. for two years. A lot of independent study, some with Henry Mancini before he passed away. I did a lot of recordings with the Composers Guild Orchestra of Los Angeles, basically putting together a demo reel for producers and directors. I made a lot of great contacts, and it was fun, but it all led back to me being kind of discovered by Erich Kunzel at the Cincinnati Pops. I went to Cincinnati for some months and did some work on some recordings that the Cincinnati Pops were doing. And Erich liked them so much he said: ''Would you consider moving back to Cincinnati and being our principal arranger and composer for the Cincinnati Pops Orchestra?'' And of course I was a 24- or 25-year-old kid, and there was no job like that in the country left any more. So I was ecstatic.
MW: Are there jobs like that in the country now?
REINEKE: No, no there's not. That was the last of its kind, of really a full-time job. All of that work now is still done, but done on a much more pared down, freelance basis. I hire a lot of arrangers and orchestrators now. I may use two or three different arrangers on a project, rather than having one full-time staff position. They just don't exist anymore.
MW: Is that when you started conducting, as an arranger with the Cincinnati Pops?
REINEKE: That is when I started conducting, when I studied with Erich. One time, we were on a long road trip, and he looked over and saw me air-conducting in the passenger seat to a recording of ours, and said, ''What, so now you want my job too?'' That began our formal training in conducting.
MW: He trained you how to conduct?
REINEKE: Yeah, he did. We had real, scheduled lessons and everything. Every time he was in town, he'd give me assignments. But I tell you what, I learned a lot just being around a genius like him – watching him put together programs, watching him interact with audiences, patrons, donors. He was the best teacher I'll ever have because he was a master at it all. He was so good at it.
MW: How long has the pops orchestra concept been around?
REINEKE: Since the late 1880s, really. The Boston Pops really started the genre. When Arthur Fiedler came on the scene [as head of the Boston Pops in the 1930s], he really fine-tuned the genre of what pops is, of what a pops orchestra is. At that time they were doing a lot of light operetta. They would do Franz Lehar's The Merry Widow. They would do the overture to Strauss's Die Fledermaus. And as it grew, my teacher, Erich Kunzel, he kind of picked up where Arthur Fiedler left off. He started to really incorporate early guest artists. The greats, when they were still alive: Ella Fitzgerald, Duke Ellington, Frank Sinatra. Eric would hire them and work with them with a full symphony orchestra backing them up. He even encouraged Duke Ellington to write some of his strictly orchestral music, rather than his big band jazz stuff. So those were great, great collaborations. And that's really where it came from. And now, you know, we have different guest artists. We can still harken back to that music, but there are people like Roberta Flack and like Chris Botti that we work with today. And believe me, I'd love to get together with someone like Adele – I'm hoping that happens. Please, have that baby!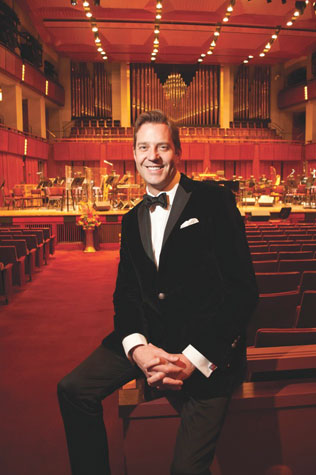 Steven Reineke
(Photo by Todd Franson)
MW: Before college, when you were just a kid, what did you think you might do for a career?
REINEKE: I always knew it would be in music, but I couldn't ever say exactly what that was going to be. I think my earliest thoughts were that I would end up being a professional trumpet player. I started playing the trumpet when I was 10 years old, in the fifth grade. And I really just took to it. I taught myself how to play the piano. We didn't even have a piano in the house. I would just plunk things out and play them in the band room after school, or at my friend Brian's house, after school. About my junior year of high school, in a concert, my parents were watching, and I had put my trumpet on my chair. And I walked over to the piano and played. And I didn't tell my parents I had been doing this. They were freaking out afterwards. Within a week we had a piano in the house. So, my parents have always been very supportive.
MW: Are they musically inclined themselves?
REINEKE: I credit my dad with a lot of my early love of music. My dad was a banker his whole life, his whole career, but he was also a guitar player, playing folk music. And he would sit on the edge of my bed and play and sing me to sleep just about every night as early as I can remember up until I was maybe 12 or 13. And he would play Peter, Paul & Mary, John Denver, Harry Chapin, all kinds of great folk artists. And so I was just always in love with music.
MW: Obviously you were serenaded to sleep with folk music, but what other genres of music did you listen to as a kid?
REINEKE: My tastes were varied and all over the map. I would listen to everything from Beethoven to the band Chicago and the Tower of Power. I loved it, especially being a trumpet player. I loved it all. And I enjoyed orchestral music a lot. Really got into that. But I also loved to play in Dixieland and in jazz bands.
I feel it's all a perfect fit for me being a pops conductor. Yes, I'm classically trained and I still do some of that music from time to time, but at the pops we play all repertoire of music, everything from Roberta Flack and Marvin Gaye to Beethoven, Beatles and Beyoncé.
MW: When did you come out?
REINEKE: I was 17 years old. I was a senior in high school, not long before I went off to college. It was a moment where I locked myself in the bathroom. I remember having a very tearful breakdown, and looking in the mirror and actually saying the words to myself, out loud for the first time, even though I felt it and knew it, even since I was 5 or 6: ''I am gay.'' That was it. That was kind of traumatic. So for me, the hardest part about coming out is actually the point when you're honest about yourself. From then on out you get courage, and you realize you're not going to live a lie anymore, you're not going to pretend, have to be hidden in the shadows in the dark. There's no need for that.
MW: So career-wise, you've been out pretty much the whole time. Have you had any pushback, or any sense it's been a problem?
REINEKE: Never once. I've never had anything said to my face, nor anything that I would ever construe as any sort of pushback. Working in the arts, I don't think people care. I don't want people to care if you're a fireman, or a professional football player. It shouldn't matter. And also, yes, I'm very open about it, but it's also not this major, big part of my life. I mean, music and what I do for a living, and what I bring to the planet, is a more important part of who I am. The other part just happens to be who I love.
MW: Are you in a relationship?
REINEKE: I am in a relationship. I have a partner who just moved in with me. He's brought balance to my life. I still travel a lot, but I used to travel about 35 weeks out of the year, and it can get very lonely. Things can get out of whack when you don't feel grounded somewhere. And he's brought stability to me and something to always come home to. Plus, he gets to travel with me a lot.
MW: Your predecessor at the NSO Pops, Emil de Cou, is also out. Is it common for music directors or conductors to be gay?
REINEKE: No, it's not necessarily common. I don't think it's more common than this or that. Some people chose to be more private about it.
MW: But, at least in D.C., many of the leading arts and culture organizations are run by gay people.
REINEKE: I don't know. I don't want to try to stereotype too much, but there's also a reason why stereotypes are there. There are a lot of gay people drawn to being creative, and being artistic. When you look at some of the greats throughout history, including Leonardo da Vinci and Tchaikovsky, there's a multitude of wonderful homosexual people who have given a lot of beauty to this world.
MW: Standards singer and artist Michael Feinstein recently contended that part of the reason there's such a great political divide in our country right now is because we as a people don't share the same common bond of music that we once did.
REINEKE: I would agree with that very much. I think this is far beyond a political issue. This is a social issue. In [the last] election there [was] a lot made of PBS and NPR and support of arts and arts funding, which I believe quite honestly we do a poor job of in this country.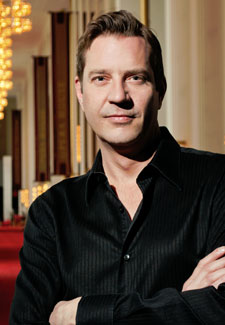 Steven Reineke
(Photo by Todd Franson)
But as a social issue, one of my great thrills is being able to work here at the Kennedy Center. It's an honor, and it still gives me goose bumps when I walk on the stage, because it's symbolic of what this nation is capable of artistically. When I walk around the outside of the Kennedy Center, I absolutely love taking moments to read John F. Kennedy's brilliant quotes that are inscribed on the building.
MW: So what can you do, as a music director and composer, to help reunite our country socially?
REINEKE: I think we're doing all we can. We're certainly trying as professionals working in this industry. It all begins when you're young. It begins with exposing young people to the arts, and to what's important and what's beautiful.
And it's being cut out of curriculums left and right, saying that [the arts] is not important or not necessary. I beg to differ. It's as important as math and English and science. It is absolutely as important in critical thinking, but also in expanding imagination and creativity and the mind. I think we need to continue to do more with education, and certainly not continue to cut it. We need to put it back in schools' curriculums, whether it be music or whether it be great literature or art or architecture. All these things challenge a young person's mind and get them interested in a life that is about something more harmonious.
There's too much playing World of Warcraft, and everybody thinking that everybody on this tiny speck we call Earth has to fight with each other. Music is the universal language. It honestly is. And it is something that can tie together people of different religions, of different ethnicities, of different languages. Everybody can understand it the same way.
MW: Is that something you work on, musical education?
REINEKE: Absolutely. We've got really big education programs that we do at the New York Pops. At least once or twice a year I will make visits to schools with no music education and do rehearsals with them. We also have a program we do called Kids in the Balcony. We normally have a couple hundred of them at every concert. So throughout the concert season we have more than a thousand kids get to come and hear the New York Pops play at Carnegie Hall for free.
For some of them it's honestly life changing. I've gotten notes from kids who are now majoring in music in college, because they remember going to see a concert at Carnegie Hall when they were young. It's incredible to them.
MW: Can you directly peg your musical awareness, or pursuit of a musical career, to any one past event like that?
REINEKE: That's hard to say about one particular thing. There were many. I had many great inspirations, and many great teachers that really pushed me.
MW: Was your school well-funded in the arts?
REINEKE: Yes, sort of. It wasn't well-funded, but we had a couple of teachers who ran it that were impassioned about it. My music teacher in high school, we didn't have any classes in music theory, or ear training, or anything advanced like that, which you would start to get in college. A few students wanted to study these things, so without getting paid, in his own time, the music teacher set up a class after school. We would stay after school in the band room, and he made classes out of it, and we would do lessons in all this stuff. It was those kinds of people who were dedicated to it that saw the need and saw talent that was hungry for it.
MW: As far as composing goes, who were your influences?
REINEKE: So many people, but I have to say I really love some of the big Americans, like Leonard Bernstein and Aaron Copland. And I have to throw John Williams into that mix. A lot of people won't want him put into the same sentence, but he deserves to be there. He's one of the most prolific and most heard American composers in history. And a lot of his music is really, really terrific. So there's several. And of course I do love Tchaikovsky a lot. I love Rachmaninoff. Rimsky-Korsakov.
MW: Romantic composers, pretty much all. Nothing really atonal or minimal.
REINEKE: Yeah, it's not so much for me. There are certain parts of what you might call avant-garde music, whether it be minimalism or 12-tone or atonal, that can be interesting. But I'm a believer that music should be more for the masses. I think our days of living in the ivory tower and being elitist are over. Otherwise, orchestras will die. Not that we have to pander to the audience, but we have to give the audience what they want. If you're not putting a product out that people want to buy, then you're obsolete.
MW: Would you ever consider writing a musical?
REINEKE: I would love to write a musical. I'm a huge fan of the theater. Writing a musical takes a nice team of people to work with, because I'm no lyricist. You need a great book writer, a great storyteller. I'd love to be the composer on a musical. Somewhere down the road, I'm hoping I get the chance to do it. It's very hard to do, and to get the pacing right and all of that. But it's certainly something I'd love to do. Some days I think, God, it would be easy – because I've seen some real crap – that I think, oh my God, it's not that hard.
MW: Successful crap.
REINEKE: Yeah, successful crap. And I think, oh man, I can do that. But then there are other things that are just genius and you think, boy, they just got that right.
MW: In 10 years' time, in your ideal world, do you see yourself doing the same thing – leading three different orchestras?
REINEKE: Probably. It's really hard to say, because a lot of people have said to me, ''You've made it to the top. What are you going to do now?'' And I'm thinking, ''Top? There is no top.'' You just keep doing what you do, and you keep trying to make it better. And I could not have guessed five years ago that I would be doing exactly what I'm doing now, with whom I'm working. You can't set a course to predict that. You can have dreams and aspirations, [but] basically the way I've always taken it, and what I'm doing now, is just to continue to be as creative and as good as possible. And see where that leads. It always leads to something else, and I'm ready to just follow that path.
MW: What do you see for your personal life in a decade? Any plans to have kids?
REINEKE: I think we're going to try and have a dog first.
MW: You don't have a dog yet?
REINEKE: We don't have a dog yet, but we're thinking of getting a dog. My schedule's never allowed for me to even have a pet, for a long time. I grew up with animals. And it's been breaking my heart not having any pets. Raising a family, of course, that's a huge responsibility. I don't know that that'll ever happen, but we'll see. Never say never.
Steven Reineke conducts the NSO Pops with Megan Hilty and Aaron Lazar Friday, Nov. 23, at 1:30 and 8 p.m., and Saturday, Nov. 24, at 8 p.m., at the Kennedy Center Concert Hall. Tickets are $20 to $85. Call 202-467-4600 or visit kennedy-center.org.
---