Jet Set: Winter with Chi Chi LaRue
Winter Travel 2012-2013
Chi Chi LaRue is one busy drag queen. From small-town beginnings in Hibbing, Minn. – where he was better known as Larry Paciotti – to running Channel 1 Releasing, a West Hollywood, Calif.-based adult-entertainment empire, LaRue has made a name for herself. While still directing, LaRue has taken her brand global as a clubland DJ, even making movies abroad.
A measure of her fortitude, LaRue was back from London Nov. 30 and back in the DJ booth Dec. 1.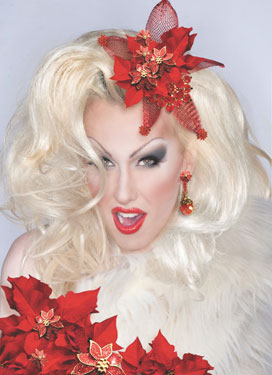 Chi Chi LaRue
(Photo by courtesy C1R)
''I barely made it because of my jet lag,'' she says of DJ'ing at L.A.'s Rasputin. ''It was brutal.''
And after a week at home, it's off to Las Vegas. One advantage in her nonstop lifestyle is her newfound sobriety, which she's enjoyed for a little more than a year.
''People offer shots and drinks and get offended if I won't drink with them,'' says LaRue. ''It gets to the point where I have to say no till it's, 'Look, dude, I'm sober.' And I don't want to do that, because I don't want to ruin people's fun. I want people to have fun. Whoop it up, girl!''
LaRue recently shared some of her insights on navigating sobriety and winter holidays, as well as Palm Springs, Las Vegas and London.
METRO WEEKLY: How was the flight back from London? How did you fly?
CHI CHI LARUE: American Airlines, business class. The flight was great. I watched two series, Nashville and Scandal. I needed to catch up on those, so it was great.
MW: How about the trip itself?
LARUE: London's fabulous, one of my favorite cities. I shot a movie while I was there called London Spunked – with Johnny Hazzard's return to Channel 1 Releasing – and a bunch of models from over there, which was something I wanted to do for a really long time. So, with Dean Monroe and a fabulous London crew, I shot a great movie.
I also did a couple gigs. I DJ'd at Tranny Shack, and I hosted some parties – one at Gigolo Disco and one at Playtime.
MW: What are some of your winter travel plans?
LARUE: I'm going to Denver on the 14th, then back to Minnesota to be with my family, spend the holidays there and do a gig at a club called Jetset with my nephew, Bryan Gerard. He's also a DJ, straight. He's the greatest kid in the world. Well, he's not a kid anymore – he's like 36 – but he's the coolest. And his girlfriend is fantastic and my sister is amazing. I've got great family in Minnesota.
MW: Do you go back to Hibbing?
LARUE: Not since my parents died. I go to Minneapolis.
MW: Congratulations on your recent one-year anniversary of being sober. I'm seeing more and more friends become sober.
LARUE: It's the new black, darling.
MW: Is that difficult at New Year's? The signature drink is Champagne.
LARUE: And Champagne was my poison. That was the demon I chose. It's really funny, because now I don't desire it whatsoever. DJ'ing last night at Rasputin, for example, there were so many people dropping drinks, girls getting carried out by their friends, people falling down -- people looking tore up. And I'm having a blast. I'm playing fabulous music, I'm dancing, I'm drinking sugar-free Monster. And I can get in my car, drive home, and feel good at 7 a.m. even though I got to bed at 2:30 a.m.
MW: But do you have any advice for people who might be navigating their first New Year's Eve sober?
LARUE: Last year, for my first New Year's Eve sober, I brought my friend Bradley – 24 years sober – to Vegas with me. I'm not going to say it wasn't hard, because I'd had less than three months sober at that point. But just having him there, it really helped.
I used to really hate Vegas, but now I really like it. I used to associate Vegas with booze. Now I associate Vegas with really nice people I've met there. Share Nightclub is really fun. It's everything friendly, great clubbing, gorgeous go-go boys. I just saw Barbra Streisand there and that was amazing. I saw Celine Dion there – amazing. I didn't want to go, but my friend Kevin Williamson brought me. And I was squealing like a little girl! It was just so over the top, so gay, so flamboyant. It was like a drag show. At the end, when she's singing the Titanic song and the water comes shooting out, it's just like, Oh! Vegas is really fun.
MW: Do they do it up for winter? All red and green and sparkly?
LARUE: Vegas is always over the top. I say Vegas is like a drag queen: really ugly during the day, and stunningly gorgeous at night.
MW: In that same corner of the country, you certainly know your way around Palm Springs. Any recommendations?
LARUE: If you can get past the bad drivers, it's pretty beautiful. There are lots of gay people in Palm Springs. There's a lot of great shopping, amazing consignment shops, retro furniture…. It's just really nice. I highly recommend brunch at the Parker hotel.
MW: Do you decorate for the holidays?
LARUE: I don't, because I'm never here. But being in London really put me in a Christmas mood. It's so Christmas-y there. The lights in Covent Garden, Soho, the theaters and flower markets and street performers – and Vivienne Westwood! They really do it up nice in London.
MW: Well, I do hope you get that white Christmas in Minnesota. And travel safely.
LARUE: And I hope the world doesn't end on the 21st, because I've got so much more to do. Let's hope that Mayan calendar just means a new beginning for everybody, for America, for the world.
Follow Chi Chi Larue's winter travels via Twitter @djchichilarue.
---