An Eye for It All
Photographer and filmmaker Amanda Lucidon shares the stories of real couples and real discrimination
When Amanda Lucidon and her husband made the decision to move back East from California, the motivation was to be near family. That she'd been working as a photojournalist for the Riverside Press-Enterprise didn't hurt, in that D.C. offers up photo-worthy news on a daily, if not hourly, basis.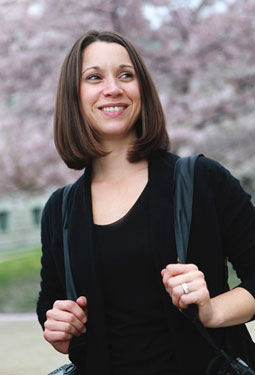 Amanda Lucidon
(Photo by Brack Lewis)
What Lucidon couldn't have foreseen is the families she would connect with aside from her own. It began with the fanfare of the first legal same-sex weddings in D.C.
''I went out there because I knew it was a big news event,'' recalls Lucidon, who studied photography and journalism, and has since picked up audio and video skills. Photographing same-sex newlyweds led her to another same-sex wedding, and to one couple in particular.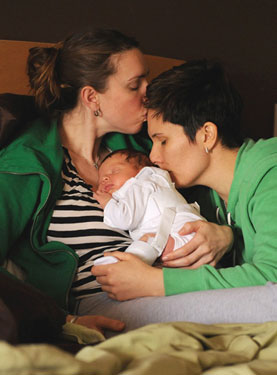 The Khalafs
''That's where I met Amy and Alex,'' she says of that mass wedding March 20, 2010. ''I talked with them and said I'd like to follow them through the first year of their marriage, do a story on them. That was when I actually started doing the research and found out there are 1,138 rights associated with marriage. That's when I realized it was a much bigger story than I had originally anticipated.''
The story was so big, in fact, it became a project: The Legal Stranger Project. Initially, Lucidon imagined the project as a slideshow with audio. It's grown to include short films and plans for a feature documentary, along with the still photographs and audio recordings. The project has also been honored by the White House News Photographers Association with its 2012 first-place award for Best Multimedia Innovation. And it has expanded its scope to include more couples.
''There was no way I could ever tell a story about all 1,138 rights. So, how do I find a way to explore a lot of them? That was through several couples who have distinct challenges in those certain categories.''
Lucidon is looking at immigration rights and tax disparity. As she's followed Alex and Amy, parenting has become part of the story.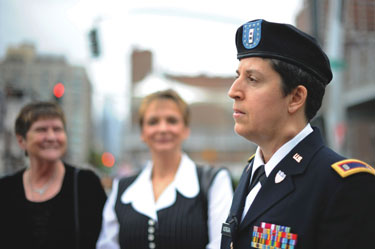 Charlie Morgan
Her examination of same-sex families in the military, however, just took a painful turn. Lucidon has been documenting the particular struggles faced by Chief Warrant Officer Charlie Morgan, a member of the New Hampshire National Guard, and her wife, Karen Morgan. She has documented the couple's fight for military spousal benefits, still largely denied despite the end of ''Don't Ask, Don't Tell,'' and Charlie Morgan's battle with breast cancer, which ended with her death Feb. 10, Karen at her side.
''Some of the stories definitely take a lot out of you,'' Lucidon shared three days prior. ''But there's balance to them. Like every story in life, there are happy and sad moments. Like with Charlie, she's been given six months to live, and that was eight months ago. It's sad to know that her life may be ending, but then I see her playing with her daughter, the way they interact and how joyful Charlie is for the moments she has here. That's really inspiring.''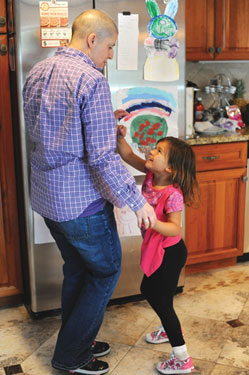 In that spirit, Lucidon pushes on with her multiplatform documentary, as her subjects change, as laws change, and as Lucidon herself changes.
''That's what documentary photography and filmmaking is all about: just making yourself present for these things to unfold. You just try your best to keep up with everything. I don't know how the stories end. I kind of just let the stories let me know when they're finished.''
Visit The Legal Strangers Project online at legalstranger.com.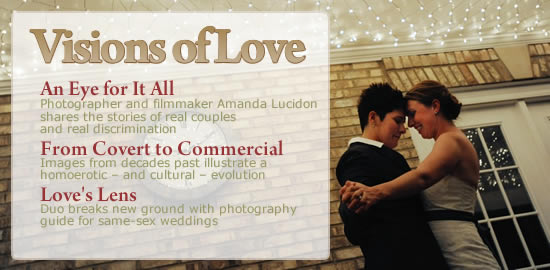 ---