Laverne Cox Rocks
From bullied in Alabama, transgender activist and actress becomes scene-stealing star in Netflix's ''Orange Is the New Black''
They say a lady never reveals her age. It's a rule Laverne Cox lives by. ''I don't discuss my age,'' she says playfully, ''except to say I'm officially over 21.''
Though guarded on this particular point, Cox is largely eager to share her story, to be out and proud as one of the limelight's most prominent transgender performers. But don't mistake her embrace of the spotlight as some sort of entertainer's arrogance. Cox, now appearing on the blazing hot Orange Is the New Black, has worked hard to get where she is. It's the latest from writer/producer Jenji Kohan who brought us Showtime's award-winning Weeds. Based on Piper Kerman's prison memoir of the same name, Orange Is the New Black continues Weeds' exploration of a plucking a relatively privileged woman from her upstanding existence and dropping her on the wrong side of the law.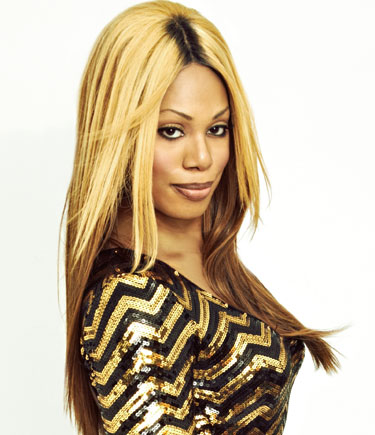 Laverne Cox
This time, Piper Chapman (Taylor Schilling) leaves Manhattan and her fiancé (Jason Biggs) to serve 15 months in prison for her part in trafficking a girlfriend's (Laura Prepon) drug money a decade prior. There's a broad range of characters on the inside. This is a cast of dozens.
One standout, however, is Cox, as transgender inmate Sophia Burset, who broke the law trying to fund her gender-transition. While she's appeared on TV and in the 2011 film Musical Chairs, this new role is a big step for Cox.
''This is another 'moment' I'm having,'' says Cox, preferring to avoid characterizing any point of her career as a ''big break.'' ''But it's probably the biggest moment I've had in my career so far. I had another moment in 2008 when I was on [VH1 reality show] I Wanna Work for Diddy. That was the moment the public go to know who I was. But I've never been a reality-show person. I've always been an actress. I've always been an artist. So, this is a lovely moment I'm trying to enjoy.''
Having her backstory episode -- the third in the first season of Orange Is the New Black -- directed by Jodie Foster was a particular enjoyment. And having her twin brother, artist M. Lamar, play her character pre-transition in that episode was also a thrill. What Cox seems to most enjoy, though, is simply the mood on the set.
''There's such love,'' Cox says of the cast. ''We've gone through this thing together. People are loving the show and we're just so happy for each other. And everyone is just gagging over how good everyone else is. Like everybody's killing it, every single actor on our show is incredible. Everyone is congratulating each other. I can't get over just how talented everyone is and how much love there is on the set.''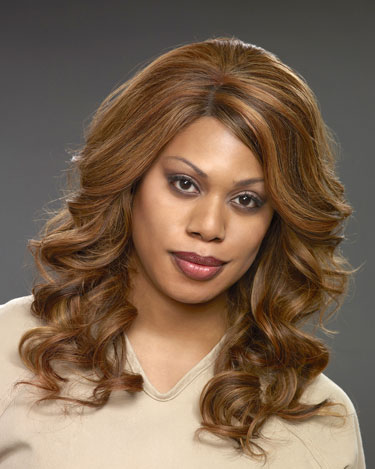 Laverne Cox
(Photo by Jill Greenberg for Netflix)
It's a long way from her hometown, Mobile, Alabama. A long way from being bullied and trying to establish her identity. Cox's life today, where the acting is complemented by her activist efforts on transgender issues – like advocating for CeCe McDonald, a transgender woman serving a 41-month sentence for fatally stabbing a man who attacked her and her friends, or writing on Huffington Post – may actually be a sort of homecoming. With the life she's built, the Laverne Cox the world knows today is a woman seemingly more at home than she's ever been.
''Acting is what I love to do most,'' she says. ''I find the acting work that I do around particular issues that deal with the trans community a necessity. There is an actual call to do the acting. It's my passion.''
METRO WEEKLY: What sort of childhood did you have growing up in Mobile?
LAVERNE COX: You know, I've been thinking a lot lately about growing up in the church. I went to Bethel African Methodist Episcopal Church in Mobile, Alabama, and the church was such a huge part of my life growing up.
I was that kid who was always getting up and making speeches in church. I sang in the choir. I was an usher. I was in the youth group. The church was a huge part of my life. It's where I really learned to get up onstage, learned I could speak well in front of people. When I think about my childhood, the church was a huge part of it.
And being bullied was a huge part of it. I think about being chased home from school every day. We took the bus through grade school and middle school, and the second we got off the bus we'd start running, me and my brother. That was a huge part of my life.
Dreaming about getting out of Alabama was a huge part of my life growing up. [Laughs.] I went to an arts school in Birmingham for high school, Alabama School of Fine Arts. That was a major shift for me in terms of my worldview. There were kids from all over the country, from different backgrounds. It was an arts school, but you had to maintain a certain GPA. My education really took off in a different direction in arts school. That was an amazing time for me. I was initially a creative writing major, even though I started dancing at 8 years old. So, I started as a creative writing major – which has proven invaluable, because I write a lot now – then switched to dance when I was a junior.
MW: The bullying of you and your brother, how bad did that get? Was there anyone you could turn to for help?
COX: I remember this one incident when we got off the bus and they caught us. A big group. Some of them were in the band and they hit us with drumsticks. Some parents saw that and called the school. The principal called my mother and told her. My mom and I are really cool now, we've worked through all this, but at the time she was like, ''Why aren't you fighting back? What are you doing to make them bully you?'' We never felt like we could really talk to her about what was going on. They were calling us ''faggot'' and ''queer'' and ''sissy'' and all of those things. That was also very embarrassing. I had shame around being called those things, being singled out for those things.
MW: Attending the Alabama School of Fine Arts must have been a good foundation for then going to Marymount Manhattan College, also an arts-focused school.
COX: I've always been a creative person. Like I said, started taking dance lessons when I was like 8 years old – begged my mom to put me in dance class. Even when I was dancing, I always felt like I was an actor who danced. I always knew I would transition to acting.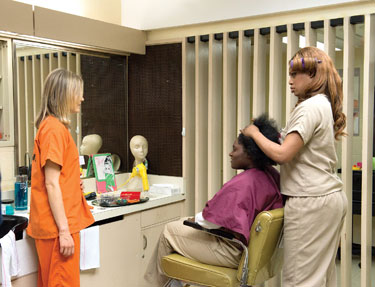 (Left to right) Taylor Schilling, Danielle Brooks, and Laverne Cox
(Photo by Ursula Coyote for Netflix)
MW: Speaking of transitions, when did you realize your identity as female?
COX: It was a lot of denial.
In the third grade, my teacher called my mother and said, ''Your son will end up in New Orleans wearing a dress if you don't get him into therapy right away.'' I was put in therapy. I was so feminine. I had this fan I bought on a church trip. I was sitting class fanning myself – I think I wanted to be Scarlett O'Hara. This was, like, a huge problem. That teacher pulled me up out of my seat and took me to another teacher and said, ''Show her what you were just doing with that fan.'' I showed here, and then my mother got the call. It was like, ''This is unacceptable.''
Because of that and the therapy, I saw all this transphobia. I could never, ever wear a dress. I could never end up this way. That's what was drilled into me.
So when I moved to New York, hanging out in clubs, seeing drag performances, then trans people, and then seeing some trans people transitioning, I was like, ''Ah…. Okay. It's time.'' I was very androgynous when I got to New York. I had a shaved head and I wore lashes every day and makeup. It was sort of from androgyny to eventually making a medical transition. It was really just about getting to know trans people and realizing that all these misconceptions I had about trans people were erroneous.
MW: Your identity as a transgender woman, aside from being so personal, in our society that can be so political. And you've gotten very involved, from antidiscrimination legislation to housing issues, your columns on Huffington Post. Would you consider running for political office?
COX: Oh, God no. No. No. Politics is just way too dirty. They expect you to raise extreme amounts of money.
I've been thinking a lot – having more of a platform, because of this show – what kind of shape my advocacy work will take, what it will look like in terms of really effecting change. I'm still sort of figuring that out, what the next step is.
Transgender people are in such dire straits, really, in terms of employment, health care, incarceration, ''stop and frisk''…. So many issues. How can I really affect the lives of trans people?
MW: The National Center for Transgender Equality has a focus on federal prisons. With your role on Orange Is the New Black, is that something you'd feel comfortable lending your voice to?
COX: Absolutely. The second I got this role last year, I was thinking about, ''How can we use this show as a way to highlight the problems of trans people in prison?'' It's something I've been talking a lot about. I talk about CeCe McDonald and her case in Minnesota. She's in a men's prison.
Oftentimes trans women are housed in a men's prison. One of the issues that the National Center for Transgender Equality is working on is detention of undocumented trans people. They're often not housed appropriately. The new standards of PREA, the Prison Rape Elimination Act, state that that's actually illegal now, although it hasn't been fully implemented across the country. But those regulations do not extend to undocumented detainees. It's a huge issue.
Trans folks experience a different kind of harassment – from guards, from other prisoners. So often when trans women are placed in men's prisons, they'll place us in solitary confinement, allegedly for our protection. It's cruel and unusual punishment to be indefinitely cut off from contact.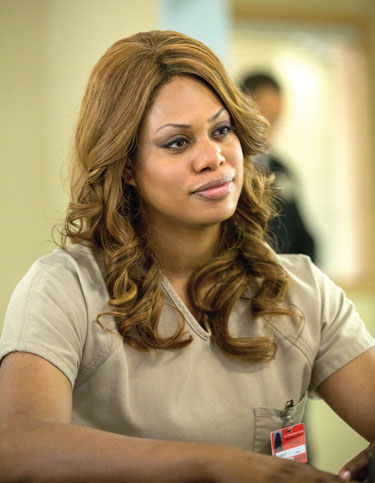 Laverne Cox
(Photo by Eric Leibowitz for Netflix)
MW: How does playing Sophia compare to other work you've done?
COX: What really moves me about playing Sophia, and the show, is that people are really connecting with Sophia's character in such a human way. I was talking to one actress on the show – I won't say who – who was saying that her mother is really conservative and she's been trying to get her mother to be less narrow-minded, if you will, about LGBT issues, particularly trans issues. And she saw my character in Episode 3, she cried and said, ''Oh, I get it now. Okay.'' All these misconceptions she had about trans people just melted away, because she connected with this character in a human way. The actress, she teared-up when she told me this story, just shocked by her mother's shift.
I've seen thinking about transgender people shifting because of this show. It reminds me how powerful the medium of television is, how powerful it is when we really can connect with someone as a human being. When minds change, then it's like, ''Well, maybe they should have rights. Maybe we shouldn't discriminate against them. Maybe they should have access to health care. Maybe you can hire them.''
MW: Not to knock Boys Don't Cry or Transamerica, but I think it's very important to have a transgender character portrayed by a transgender actor.
COX: It is. As actors, we want to play everything. And I love Felicity Huffman as an actor, and I love Hilary Swank as an actor – and Kerry Washington, who played a trans woman in Life Is Hot in Cracktown.
But it's different when an actual transgender person is playing it, on so many different levels. In terms of visibility. In terms of relatability. Trans people can imagine that they can have those opportunities, too. Can have their dreams of being on television. So many young trans people dream of being an actor and don't think it's possible because they're trans. There was a point where I almost gave up. Luckily, I didn't.
MW: Do you fear being typecast?
COX: Almost everyone is typecast in this industry. I don't think about that, I really don't. Maybe I'm being delusional or overly optimistic, but I believe that it's my job as an actor that I can be a lot of different things.
In this day and age of YouTube, Internet and producing your own work, there are options. I'm thinking positively and manifesting what I want.
MW: Being positive, having that strong church background, is there a particular faith or spirituality you follow today?
COX: At this point, I still believe in God, but I don't believe in organized religion. I'm grateful for the sort of moral foundation I got in the church I grew up in. As an adult, with all that I've learned, I don't subscribe to an organized religion at this point in my life.
I do believe in spirituality. I do believe in God. I do my own versions of meditation. For me, it's very important to connect on a daily basis – hopefully, several times a day – with a power that's greater than myself. This whole journey that I'm on is so much bigger than me. You think there has to be a God if a black transsexual can have the kind of professional moment I'm having now. It's only possible in America, and only possible, I think, because of a higher power.
MW: What about Sophia do you admire – or not?
COX: Sophia is quite resilient. She is the kind of person who makes the most of her situation. She's incarcerated and she's making that work. She's figured out a way – at least so far, as far as I know – to stay safe in prison. She's very conflicted about her family, feeling like she's abandoned her family – I connect with that. Sophia has guilt and remorse about having left her family, but she's done it for a reason. She understands why she had to do it.
I can't say, as the actor playing Sophia, I have any problem with Sophia. I have sympathy, love and compassion for her. Even when she's doing criminal activity, you know she's doing it in a system that isn't always right and fair. She's in prison because she didn't have access to adequate health care to transition. I'm not mad at her for that. [Laughs.]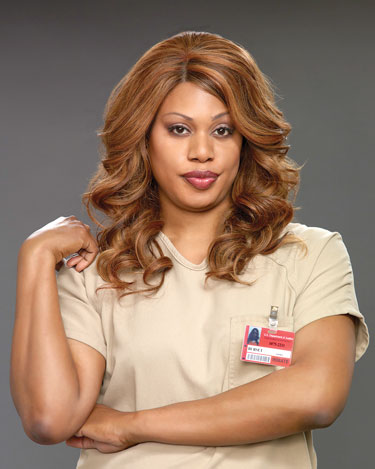 Laverne Cox
(Photo by Jill Greenberg for Netflix)
MW: Is it a difficult role to play?
COX: It's just the script. It really is all on the page with this character. All of our characters are really so well written. My job is to just honor what's in the script.
MW: What about having Jodie Foster as a director?
COX: One of the highlights of my career, so far. Amazing. Kind of surreal. She's just really smart. It was very much like working in film than in a TV show. She'd do a take, then want to try a different way. I love that. I love that process. You have to love the process of making film, making TV, or you're dead, because it's a lot of long hours. And Jodie is just really in the process. One day we were like 18 hours there. She has so much energy, so much. She's just, like, popping out. It's exploratory. She's an actor herself, so she's very specific about what she wants, but then she likes to try a lot of different ways, too. It's collaborative. I got to meet with her a few times before and say, ''This is my take on the scene.'' Lots of respect.
MW: So she didn't beat everybody up with her Oscar?
COX: [Laughs.] I think it's because she's a superstar, a legend, that she does such a great job of being regular and ordinary and just chill. She is one of the most chill people I've ever met. So cool. She gives you energy that's like, ''You can relax. It's okay.''
MW: What about your fan mail? With this role, I'm guessing you get some really touching, heartfelt messages.
COX: I do, I do. Lots of really incredible messages on Facebook, on Twitter and through my website. There was one guy like, ''Can you be my big sister?'' It's neat. People are connecting and are inspired.
I think there's something about Sophia's story, and maybe a little bit about mine. A person like me isn't really supposed to be successful, right? Society isn't set up for black trans women to be successful. But through the grace of God and through the grace of Jenji Kohan, I've gotten to have this opportunity. And it's inspiring folks to think that maybe they can make it, too. That they can have their moment, make their dreams. There's something really powerful about that.
MW: Have you heard from any transgender inmates?
COX: Not anything specifically from an inmate or someone formerly incarcerated. I still reach out to CeCe McDonald. I just sent her a letter. She's been a huge inspiration to me with this character, and for life. She's just amazing.
MW: I saw you on HLN a few days ago and you mentioned you're single. Is that still the case?
COX: I'm still single.
MW: What is your life like off the set?
COX: I live in the middle of Manhattan in a teeny-tiny studio apartment. I live alone. I have great friends, though I've been so busy lately that I don't get to see them very much. My life in New York is I'm a person who's been trying to work and make a career for myself for a very long time as an artist and as an actor, and then have that be about something that's bigger than me. That's a lot of work.
When I am at home it's just about trying to relax and decompress. I don't plug into MSNBC. I try to read and stay up on what's going on with my community, try to connect. It's really simple. I try to get to the gym three or more times a week. It's been about a year since I've taken a dance class, because of my schedule, but I try to work out. Yeah, my home life is kinda boring, not a whole lot going on there. [Laughs.]
MW: What's coming up? Tell me about this movie 36 Saints, looks scary.
COX: Oh, thank you for reminding me of 36 Saints. I think it comes out Sept. 6. It's a fun, horror-suspense film from the same people who did Musical Chairs, which I was also in. I play a nightclub promoter. It's a small role, but it's a great thriller.
I have a teeny-tiny role in Grand Street. I play Chardonnay. She's a chick at an after-hours club, maybe the girlfriend of this mobster, but we're really not clear on what she's doing there.
We're shooting [Orange Is the New Black] Season 2 right now. I'm looking at some scripts – like I don't have enough to do! I've got some speaking engagements coming up in the fall, which I'm very excited about, at some places I can't yet disclose. There's a lot that I want to do, a lot of things in the works that I can't talk about yet.
MW: Do you feel pressure to be a role model?
COX: Yes. [Laughs.] The short answer is yes. I don't like the term ''role model,'' though. I prefer the term ''possibility model.'' Part of that is because with the term ''role model'' there's a lot of pressure there, and I'm deeply flawed and deeply imperfect. But I do think the idea of showing other people what is possible – because of my journey and my story – is important. Trying to be myself as authentically as possible, I understand I'm going to make mistakes and I might disappoint people. And that scares me a lot.
I definitely feel the pressure, but I'm trying to let it go. That's a spiritual factor, to let that go. To let all that stuff go, and let go of expectations, that's something I work on every day. I'm trying to do me. The reality is that my job is really just to be more authentically myself, as an artist, as a human being. I think people will connect with me when I am more authentically myself.
MW: Do you have a dream role?
COX: I definitely want to play Lady Macbeth at some point. I did a production of that years ago at a small theater here in New York City, and I was a witch. I want to be Lady Macbeth! That's definitely a dream role.
MW: Earlier you mentioned young trans people who might be inspired by you. What message do you have for them?
COX: What I always say to trans kids, what I think is so important, is to figure out a way to stay in school and get an education. Often it's not safe for trans and gender-nonconforming people to even be at school. So often because of bullying, they drop out. Education, education, education. I would urge kids to figure out how to get an education and become really good at something. Follow your passion. Find something you really love doing, because that will get you out of bed and get you through the tough times. Being creative, being an artist, I really feel like that saved my life as a kid. So, those are my two things: Find something you're passionate about, and get a really good education.
MW: Anything you want people to know about you, anything that gets lost in the noise?
COX: Oh, gosh. I'm just a chick from Alabama trying to live my dream. At the end of the day, I just want to act and I want to hopefully have my voice maybe change they way people think about a thing, or see something they really like. That's what I hope to do with my voice and my life.
Season 1 of Orange Is the New Black is available via Netflix streaming at netflix.com.
---