Hillwood's High Life
New exhibit offers insights into Hillwood Estate's working class, who lived nearly as well as its glamorous owner
In October, curator and historian Estella Chung will give a lecture titled ''D.C.'s Downton Abbey in a Mad Men Era.''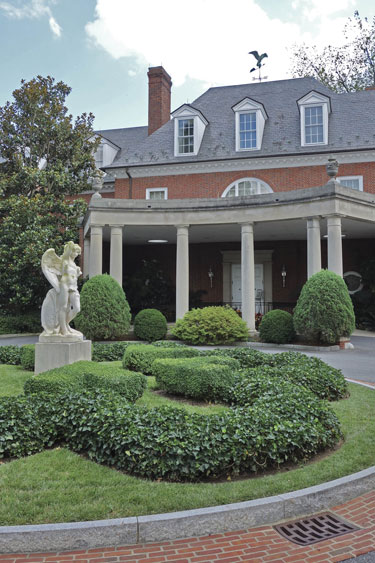 Hillwood Estate Museum and Gardens
(Photo by Todd Franson)
Of course the talk is about -- and occurs at -- Marjorie Merriweather Post's Hillwood Estate, nestled in the leafy hills of upper Northwest D.C. off Rock Creek Park.
''When you think of 'servant stories,' you often think of the turn of the century,'' explains Hillwood's Chung, ''but [Post] was able to carry on that tradition into the Mad Men era. In the Age of Aquarius, she was able to have a Gilded Age lifestyle.''
''But she was very much of the time,'' Chung is quick to add. This was no Upstairs, Downstairs type of life. ''Her staff lived above her, so it'd be 'upstairs, upstairs,''' she quips. In researching a book on the subject, Chung uncovered other ways in which mid-century life at Hillwood -- as well as Post's properties Camp Topridge in upstate New York and Mar-a-Lago in Florida -- differed from so many other mansions where servants would often slavishly cater to an estate owner's every whim. The outgoing, glamorous Post, who inherited her family's Postum Cereal Company, which is now part of Kraft Inc., ran her estate very much like a business -- specifically a hotel, welcoming people from all walks of life, all the time -- with an extensive organizational chart and an unbroken chain of command. Until her death in 1973, Post employed nearly 300 people at any given time over her three estates, and her ''staff'' -- never to be called servants -- were a diverse lot from places as far flung as Poland, Cuba and Norway, as well as the U.S.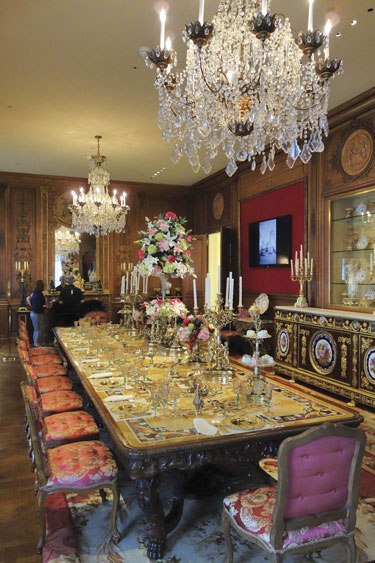 Hillwood Estate Museum and Gardens
(Photo by Todd Franson)
Even granting that she was a perfectionist, former staffers told Chung that Post didn't overburden them. Rather, she treated them with grace and respect, paying high wages, offering medical benefits and being predictable in both hours and demands. ''On the one hand, she was incredibly difficult to work for because she had very high standards,'' Chung was told. ''But it was also very easy to please her because she made it abundantly clear what those standards were; there was no mystery to that.'' From all accounts, an impressive woman -- especially so, given that Post, though she did have several husbands in her day, was also an independent woman in an era when a female head of household was uncommon.
Chung's insights into the working class at Hillwood factor into a new exhibit at the estate based on her informative new book, Living Artfully: At Home with Marjorie Merriweather Post. ''If you've been to Hillwood before,'' explains Chung, ''you've had the opportunity to appreciate [Post's] decorative arts collection, but you were not told the stories of the life at the house. So that Downton Abbey aspect had not been revealed until this time.'' Also new are glimpses into her other two estates -- through memorabilia and videos -- as well as special access tours, offering views of one of Hillwood's four fallout shelters, the movie-pavilion balcony with gorgeous film-projection booth and Post's personal massage room.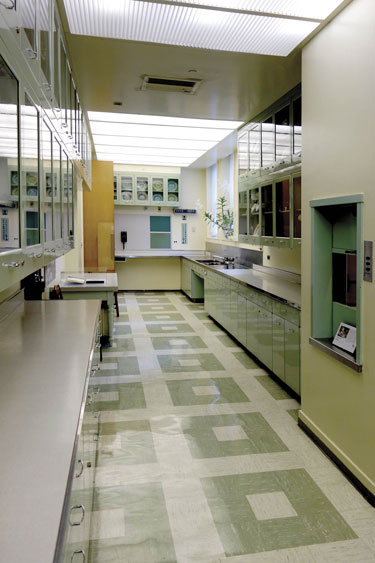 Hillwood Estate Museum and Gardens
(Photo by Todd Franson)
Saturday, Sept. 28, Hillwood hosts its annual Gay Day event, but really any day can be a good gay day to take in the riches of Hillwood, from beautiful and finely detailed Fabergé eggs as part of Post's extensive French and Russian decorative arts collections, to her elaborately and meticulously set dining table, to the gorgeously appointed gardens on the property. In many ways a visit to Hillwood serves as both a nice retreat from the hubbub of daily life as well as an inspiration to make that daily life better.
''Her life was so full of art, and she lived it artfully,'' Chung says about Post, noting that Post put ''incredible skill and care into the day-to-day way of living.''
Living Artfully runs through Jan. 12, 2014, at Hillwood Estate and Museum, located at 4155 Linnean Ave. NW. Suggested donation is $12, plus $12 for special-access tours. Call 202-686-5807 or visit hillwoodmuseum.org.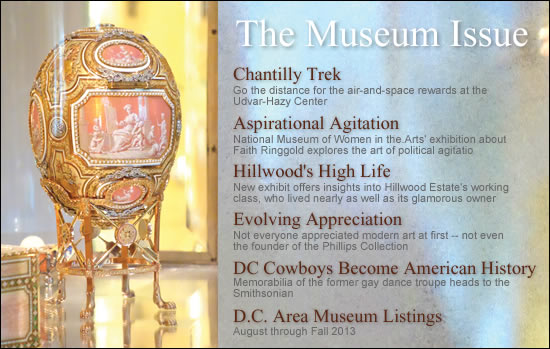 ---