Fired Up for the Future
Five decades later, Aisha Moodie-Mills represents the torchbearers
At 35, Aisha Moodie-Mills was a long way from arriving on the scene when the March on Washington for Jobs and Freedom took place. But she carries on the legacy of activism today, fully present in her position as a senior fellow at the Center for American Progress, founded in 2003 by Bill Clinton's White House Chief of Staff John Podesta. At CAP, Moodie-Mills heads up the FIRE (Fighting Injustice to Reach Equality) Initiative, ''at the intersections of race, sexual orientation, and gender, as well as environmental and economic justice.''
That is, however, hardly the end of this dynamo's résumé. You might catch her and her wife, Danielle Moodie-Mills, on their fun and informed weekly Politini podcast. Speaking of her wife, this couple's D.C. marriage was made possible, in part, by work they did securing marriage equality for the District. And maybe you caught the couple's Aug. 16 piece for The Washington Post? Or Aisha Moodie-Mills's column in The Atlantic assessing the Supreme Court's rulings on marriage equality and voting rights?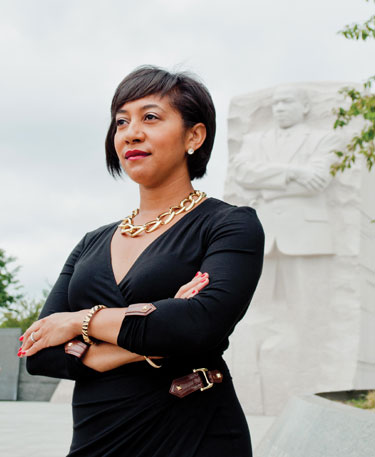 Aisha Moodie-Mills
(Photo by Todd Franson)
From Capitol Hill to popular culture, Moodie-Mills is seizing the stage with her brand of progressive politics and activism. Inarguably, she is carrying forward the torch that shined brightly Aug. 28, 1963.
METRO WEEKLY: While you weren't even born when the March on Washington happened, your work – and your life – have you ideally positioned to assess how far we've come in these decades since. What's your take?
MOODIE-MILLS: We've made tremendous progress, and that has to continue to be underscored. I know that we're commemorating this march so that we can talk about what's next, how we can take the lessons we've learned and move toward the future, but it's really important that we stand still, pause and reflect on the fact that in 50 years we've come a long way. Not only are African-Americans not being hosed down in the streets today, but from an economic standpoint if you look at cities in the South like Atlanta or Charlotte and see the sort of African-American flight that's moving back from the North, there has been tremendous gain in terms of people's quality of life. We have an African-American in the White House. I don't think Dr. King ever anticipated in 50 years, in a generation, that would be the outcome we see from this march.
MW: In his speech that day, Dr. King mentioned the portion of the crowd, that 20 percent or so, of white people. He said they ''have come to realize … their freedom is inextricably bound to our freedom.'' Are we getting closer, in a progressive sense, to a united front? Of people seeing their freedoms interconnected?
MOODIE-MILLS: This march reminds us that actually all of these different people came together around equality. And that is the lesson we take into the future as we continue the next 50 years of working toward justice. [But] there are always going to be competing interests.
In 1963, the entire black church was not aligned with the Civil Rights Movement. In fact, Dr. King and his sect of the black church were ostracized. A lot of black clergy did not support them, thought they were rabble-rousers, running around making a whole lot of noise when they should've just been quiet. You're never going to have everyone on the same team.
MW: What about within the LGBT community? While you've got a coalition of LGBT groups ''calling for justice'' for Trayvon Martin, or decrying the Supreme Court's ruling on the Voting Rights Act, there are also some in the community saying these are not LGBT issues.
MOODIE-MILLS: The LGBT community is a microcosm of society at large. Because LGBT people have been fighting for rights we kind of make an assumption that they're all in solidarity with other people fighting for rights, that there aren't racist people within the movement, for example. But there are people who are completely ignorant to racial disparities and just don't understand oppression.
That said – maybe I'm just an optimist – but I really do believe that there are so many more people now who see the connections among struggles, that are in solidarity because they get that any group being oppressed is a threat to anyone else who is a minority group, because those same arguments – we see this historically – those same arguments made against African-Americans having full rights are being made against gay people. This is all cyclical. I think that most people get that.
But I get concerned when these LGBT groups say, ''We're in solidarity with all these racial minorities who are being affected,'' and don't see that if the groups of people being targeted with voter-suppression tactics don't go to the polls because they're unable to exercise their full right to vote, that directly thwarts and stalls LGBT progress. The people in these regions -- in the South particularly, be it Texas, Florida, North Carolina, Virginia, wherever – the people in these regions most likely to go to the polls and elect likeminded progressive members to their local legislatures are going to be people of color, are going to be youth. They're going to be the people who are the targets of all these crazy measures.
It's really not about, ''Oh, we're so sorry that black people had to wait in line two hours longer than anybody else in Florida in order to vote in November.'' It actually should be a cognition of, ''Wait a minute. These are our voters too. These are our constituents.'' As LGBT advocates, these folks standing in line are our constituents. College kids are our constituents because they are the new American majority. And the new American majority believes that we should be treated equally. And if we are standing idly by and just patting them on the head and saying, ''We're so sorry,'' as their democracy is being stripped away, that's going to directly affect our ability to move forward.
MW: While we've come a long way in terms of equality since 1963, a big part of the march was geared toward economic justice. We keep hearing instead about greater economic gaps, a shrinking middle class.
MOODIE-MILLS: I've always pushed back against folks who talk about the Civil Rights Movement and talk about this march as exclusively about rights for black people. This was also about economic justice, about the fact that here we are, a community being disenfranchised, and we're also poor as a result. So, if we had some economic stability, if we could get onto the rungs of the middle class, that would improve some of our condition.
Economic justice should be a critical priority of the LGBT community, as well. By almost every metric LGBT families, families raising children – particularly those of color – are more likely to be living in poverty than anybody else in America. Same-sex families, particularly lesbians of color who are raising children in the South, have a major issue. We have allowed our movement to become so upper-middle-class, dominated by this kind of myth of gay affluence, that we miss the mark in talking about economic security and economic justice.
MW: Do you imagine this commemoration could have the impact of the original march?
MOODIE-MILLS: I've been talking about this from a strategy standpoint with some friends. That's an interesting question about what might come of this, as it relates to some actual substantive policy changes. This is very different. That March for Jobs and Freedom had some very specific policy imperatives that folks understood, really basic rights.
We're at a place now where that type of agenda for African-Americans is less clear. The disparities and the gaps are very clear, but the resolutions and specific policy prescriptions to fix those are less clear. If anything out of this march – and it's less about the march, quite frankly, and more about current affairs – is that we're seeing some real serious thinking about how we reform our criminal justice system.
Particularly around racial profiling and criminal justice issues, writ large, and gun reform, I do believe that this march and the fact that people are organizing and coming together to commemorate it is really going to create a critical mass of voices that can move those issues – which were already rolling – but I think us coming together could really move those issues.
MW: How do you and Danielle plan to mark this 50th anniversary?
MOODIE-MILLS: We're dedicating an entire [Aug. 29] Politini show to the Civil Rights Movement, the ''Civil Rights 2.0'' show. What that conversation is going to do is talk about the legacy of the march and how we continue that legacy. How is it that we really employ 21st century tools to fight the battles that we have today?
It's really important that we remember, but we use our memories to motivate us to create fresh strategies and inspire us. I am so grateful for the shoulders of the giants I'm able to stand on, and the work that they did to pave the way for us. I also take inspiration from their work, as opposed to just literal interpretation.
We have to be clear that we're living in a different time. We need fresh thinking for a fresh generation.
---