Stage: Live Theater and Musicals in D.C.
Fall Arts Preview 2013
It never ceases to amaze how remarkably rich, involving and varied the theater scene in Washington is. But it's always been that way -- only now there's more of it than ever. No matter what you're looking for -- a bit of the bard, a dash of song and dance, a searing family drama -- it's all out there for the taking. Plus, after years of darkness, the National Theatre has a full season ahead, starting with the pre-Broadway engagement of If/Then, starring Idina Menzel. And if it's more star power you crave, the Shakespeare has Stacy Keach and Baryshnikov; Arena, Estelle Parsons and Kathleen Turner; and Signature, the always-stunning Christine Lahti. As for the Kennedy Center? They're mounting a new, self-produced version of Side Show that's sure to dazzle. But it's September you'll want to keep your eyes on, as Studio dusts off Harvey Fierstein's masterwork, Torch Song Trilogy, and Ford's puts its everything into The Laramie Project, the first time Moises Kaufman's play has received a full production in our area. To which we say, it's about damn time.
ADVENTURE THEATRE MTC
7300 MacArthur Blvd.
Glen Echo, Md.
301-634-2270
adventuretheatre-mtc.org
Goodnight Moon -- A nocturnal bunny, dancing bears, a red balloon and a magical bedroom are the anchors of this play based on the iconic children's book by Margaret Wise Brown (9/20-10/27)
The Twelve Days of Christmas -- A world premiere comedy based on the traditional holiday song. Directed by Michael Dove (11/15-12/30)
Miss Nelson is Missing -- Where has the beloved teacher Miss Nelson gone? Based on the books by Harry Allard, with music and lyrics by Joan Cushing (1/17/14-3/9/14)
The Jungle Book (4/4/14-5/25/14)
Pinkalicious (6/20/14-8/31/14)
AMERICAN CENTURY THEATER
Gunston Theater II
2700 South Lang St.
Arlington
703-998-4555
americancentury.org
Come Blow Your Horn -- Neil Simon's first Broadway hit. Directed by Rip Claussen (9/12-10/12)
Bang the Drum Slowly -- A baseball player contends with a terminal illness (1/10/14-2/1/14)
Oh Dad, Poor Dad, Mama's Hung You in the Closet and I'm Feeling So Sad -- A black, absurdist comedy by Arthur Kopit (3/21/14-4/12/14)
Judgment at Nuremberg (5/30/14-6/28/14)
The Great American Century Songbook (7/18/14-8/16/14)
ARENA STAGE
Mead Center for American Theater
1101 6th St. SW
202-488-3300
arenastage.org
The Velocity of Autumn -- Estelle Parsons stars in this pre-Broadway engagement of Eric Coble's new play about a 79-year-old Brooklyn woman whose long-absent son arrives to mediate a family conflict. Directed by Molly Smith (Now to 10/20, Kreeger)
Love in Afghanistan -- A world premiere drama from Charles Randolph-Wright about an Afghan interpreter and a hip-hop artist who find love in the most unlikely of places (10/11-11/17, Kogod)
Tappin' Thru Life -- Maurice Hines and the Manzari Brothers team up for this staged memoir that also pays tribute to Hines's late brother, Gregory. They're joined by the all-female Diva Orchestra. Directed by Jeff Calhoun (11/15-12/29, Kreeger)
Guess Who's Coming to Dinner? -- Malcolm Jamal-Warner stars in a new adaptation of the classic film about a progressive white couple whose liberal sensibilities are put to the test when their daughter brings her African-American fiancé home to meet them. Directed by Kenny Leon (11/29-1/5/14, Fichandler)
The Tallest Tree in the Forest -- Moises Kaufman directs this world premiere that details the life story of Paul Robeson, whose acting and singing career was brought down when he was accused of disloyalty to America (1/10/14-2/16/14, Kreeger)
Mother Courage and Her Children -- Kathleen Turner, who's getting to be quite a regular at Arena, stars in the classic Bertolt Brecht epic about a matriarch who profits off war in the face of tragedy. Also starring Nicholas Rodriguez. Directed by Molly Smith (1/31/14-3/09/14, Fichandler)
Camp David -- Pulitzer Prize-winner Lawrence Wright pens this dramatization about the historical meeting between President Jimmy Carter, Israeli Prime Minister Menachem Begin and Egyptian President Anwar Sadat. A world premiere directed by Molly Smith (3/21/14-5/4/14, Kreeger)
Smokey Joe's Cafe -- Randy Johnson stages this rock classic celebrating the songs of Jerry Lieber and Mike Stoller, including "Jailhouse Rock," "Hound Dog," "Stand by Me" and "On Broadway" (4/25/14-6/8/14, Fichandler)
CONSTELLATION THEATRE
1835 14th St. NW
202-204-7741
constellationtheatre.org
36 Views -- Allison Stockman directs this "carefully textured exploration of the meaning of truth" by Naomi Iizuka (10/24-11/24)
Scapin -- A wild physical comedy from the twisted minds of Bill Irwin and Mark O'Donnell. Directed by Kathryn Chase Bryer (1/16/14-2/16/14)
The Love of the Nightingale -- Playwright Timberlake Wertenbaker adapts Ovid's myth about Philomele, Procne and Tereus, in which family loyalties, desire and violence merge and erupt (4/24/14-5/25/14)
DOMINION STAGE
Gunston Theatre One
2700 S. Lang St.
Arlington
703-683-0502
dominionstage.org
Sordid Lives -- The Del Shores comedy about a small-town Texas family who must deal with the accidental death of a matriarch (10/11-10/26)
Urinetown, the Musical (Jan., 2014)
The Little Dog Laughed (April/May, 2014)
FOLGER THEATRE
201 East Capitol St. SE
202-544-7077
folger.edu
Romeo and Juliet -- Aaron Posner directs one of the most time-honored classics from the bard, featuring Michael Goldsmith and Erin Weaver as the forbidden teen lovers set on a path of tragedy (10/15-12/1)
Richard III -- Drew Cortese takes on one of the most iconic of Shakespeare's roles, the king misshapen of both body and soul. Fun fact: this will be the first time in the history of the theater that the space will be reconfigured to present a play in the round. Directed by Robert Richmond (1/28/14-3/9/14)
Fiasco Theater's The Two Gentlemen of Verona -- New York's inventive theater company brings its whimsical version of Shakespeare's light comedy (4/17/14-5/25/14)
FORD'S THEATRE
511 10th St. NW
202-347-4833
fordstheatre.org
The Laramie Project -- Remarkably, this is the first time Moises Kaufman's play, a deeply poignant portrait of a community impacted by the murder Matthew Shepard, has gotten a full run D.C. (9/27-10/27)
A Christmas Carol -- Edward Gero returns to play Scrooge in Michael Baron's adaptation of the Dickens classic (11/21-1/1/14)
Violet -- In this musical, directed by Jeff Calhoun, a young woman disfigured by a childhood accident travels in search of a miracle cure promised by a televangelist (1/24/14-2/23/14)
The 25th Annual Putnam County Spelling Bee -- William Finn's delightful crowd-pleasing musical is a natural, obvious fit for Ford's (3/14/14-5/17/14)
FORUM THEATRE
Round House Silver Spring
8641 Coleville Road
Silver Spring
240-644-1390
forumtd.org
Agnes Under the Big Top -- A comedy about immigrant life in America (Now to 9/28)
Meena's Dream (1/8-19/14)
Pluto (2/20/14-3/15/14)
The Last Days of Judas Iscariot (5/22/14-6/14/14)
GALA HISPANIC THEATRE
3333 14th St. NW
202-234-7174
galatheatre.org
Cabaret Barroco: Interludes of Spain's Golden Age -- A bawdy and playful cabaret (Now to 10/6)
The Young Lady from Tacna -- Jose Carrasquillo directs this tale that delves into the imagination of a writer trying to depict a great romance (2/6/14-3/9/14)
Living Out -- A lawyer and her Salvadoran nanny, both mothers, struggle to make better lives for their children in this play by Lisa Loomer. Directed by Abel Lopez (4/24/14-5/18/14)
KEEGAN THEATRE
1742 Church St. NW
703-892-0202
The Sunshine Boys -- Neil Simon's warm, funny play about a former vaudevillian comedy team reunited for a final show (9/28-10/19)
The Woman in Black -- Stephen Mallatratt's startling drama makes its Washington debut (10/31-11/30)
An Irish Carol -- Mark Reha directs this annual holiday tradition, an homage to the Dickens classic, told as only the Irish can. An annual tradition (12/13-29)
The Best Man -- Gore Vidal's drama about presidential politics (1/25/14-2/22/14)
Hair -- The classic rock musical lets the sun shine in at Church Street (3/15/14-4/12/14)
Things You Shouldn't Say Past Midnight -- A loud, boisterous screwball comedy by Peter Ackerman. Directed by Colin Smith (5/3-24/14)
A Midsummer Night's Riot -- A one-man tour-de-force from Irish playwright Rosemary Jenkinson (5/6-25/14)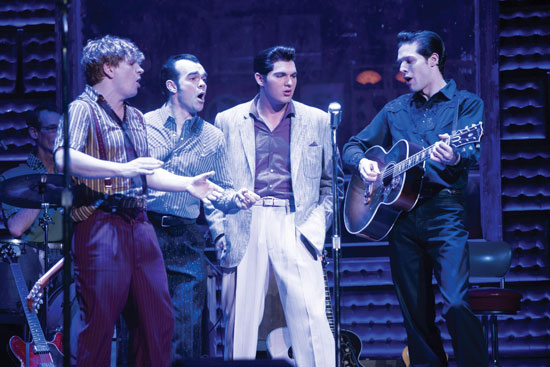 Million Dollar Quartet
(Photo by Paul Natkin)
KENNEDY CENTER
202-467-4600
kennedy-center.org
Million Dollar Quartet -- Elvis Presley, Johnny Cash, Jerry Lee Lewis, and Carl Perkins together again (9/24-10/6, Eisenhower)
Sister Act -- A singer witnesses a crime and hides out in a convent. Based on the hit film (10/29-11/10, Opera House)
Elf the Musical -- Based on the film, the musical recounts the story of Buddy, an elf who leaves the North Pole to find his purpose in life (12/17-1/5/14, Opera House)
Flashdance, the Musical-- Another movie adaptation of a hit film (12/25-1/19/14, Eisenhower)
Peter and the Starcatcher -- A "grown-up" musical prequel to Peter Pan won five Tonys. Based on the Disney novel by Dave Barry and Ridley Pearson (1/28/14-2/16/14, Eisenhower)
Side Show -- Directed by Bill Condon, this is a Kennedy Center-produced revival of the hit musical about conjoined twins (6/14/14-7/13/14, Eisenhower)
Disney's The Lion King -- Julie Taymor's lavish, inventive adaptation of the popular animated film returns with a roar (6/17/14-8/17/14, Opera House)
METRO STAGE
1201 North Royal St.
Alexandria
703-548-9044
metrostage.org
Gee's Bend -- Thomas W. Jones II directs this play interwoven with gospel music that tells the story of the women of Gee's Bend, Ala., who, during the Civil Rights movement, turn to quilting to provide comfort and context to their lives (Now to 11/3)
A Broadway Christmas Carol -- Michael Sharp returns to direct Kathy Feininger's cross between the Dickens classic and parodies of 33 classic show tunes (11/21-12/22)
Ella Fitzgerald: First Lady of Song -- Maurice Hines directs and choreographs this celebration of the legendary jazz singer (1/23-3/16/14)
The Thousandth Night -- An actor is arrested and avoids his fate by playing 38 characters from the Arabian Nights. Directed by John Vreeke (4/3/14-5/18/14)
Underneath the Lintel -- Glen Berger's play concerns a Dutch librarian, a returned library book 113 years overdue and the obsession to locate its owner (4/17/14-5/25/14)
NATIONAL THEATRE
1321 Pennsylvania Ave. NW
202-628-6161
nationaltheatre.org
If/Then -- Idina Menzel stars in this pre-Broadway musical from the creators of Next to Normal (Opens 11/6)
Porgy and Bess -- The Gerwin classic that won the 2012 Tony for Best Revival (12/25-29)
American Idiot -- The Green Day musical (2/18-23/14)
Mamma Mia! -- The ABBA musical returns to spread more dancing-queen joy (3/4-9/14)
Hal Holbrook in Mark Twain Tonight -- Yes, he's still doing it, and nope, there's no finer personification of Twain (4/4-5/14)
West Side Story -- One of the greatest musicals of all time in a new revival (6/3-8/14)
OLNEY THEATRE CENTER
2001 Olney-Sandy Spring Road
Olney, Md.
301-924-3400
olneytheatre.org
Saint Joan and Hamlet -- A rotating rep from the BEDLAM theater company of classics by George Bernard Shaw and Shakespeare (9/5-10/27, Theatre Lab)
Rancho Mirage -- A black comedy about three couples who decide to tell the truth at a dinner party (9/26-10/20, Mainstage)
The King and I -- Mark Waldrop directs this classic musical about a despotic king who learns the meaning of love through his children's tutor (11/14-12/29, Mainstage)
How to Succeed in Business Without Really Trying -- The buoyant Frank Loesser musical kicks off Olney's new season, which officially starts in January (1/29/14-2/23/14)
I and You -- Two students unravel a Walt Whitman poem and find romance (2/26/14-3/23/14, Theatre Lab)
Once On This Island -- A jubilant musical set in the Caribbean (4/9/14-5/4/14, Mainstage)
The Piano Lesson -- The August Wilson classic (5/7/14-6/1/14, Theatre Lab)
Avenue Q -- Puppets say the most adult things (6/11/14-7/6/14, Mainstage)
REP STAGE
10901 Little Patuxent Parkway
Columbia, Md.
443-518-1500
repstage.org
A Young Lady of Property -- Michael Stebbins directs this Horton Foote drama about a young, lonely woman who inherits a house after her mother dies (Now to 9/29)
I Am My Own Wife -- Doug Wright's 2004 Pulitzer Prize- and Tony-winning one-person show is based on the true story of German transvestite Charlotte von Mahlsdorf (10/30-11/17)
The Piano Teacher -- An elderly widow learns more than she wanted to know in this mystery from Julia Cho (2/5-23/14)
The Fantasticks -- The Tom Jones-Harvey Schmidt musical still enchants after all these years. Features the classic song, "Try to Remember" (4/30/14-5/18/14)
ROUND HOUSE THEATRE
4545 East-West Highway
Bethesda
240-644-1100
roundhousetheatre.org
This -- An unromantic comedy with music (10/9-11/3)
The Lyons -- Gay playwright Nicky Silver's scathingly funny Broadway hit, directed here by John Vreeke (11/27-12/22)
Seminar -- Theresa Rebeck's comedy looks at writing as a contact sport. Directed by Jerry Whiddon (2/5/14-3/2/14)
Two Trains Running -- August Wilson's portrait of African-American life in the '60s (4/2-27/14)
Ordinary Days -- Adam Gwon's musical is about "growing up and enjoying the view (5/28/14-6/22/14)
SCENA THEATRE
H Street Playhouse
1365 H St. NE
703-683-2824
scenatheatre.org
The Marriage of Maria Braun -- A stage version of the Fassbinder film (9/14-10/11)
Handbag -- The U.S. premiere of Mark Ravenhill's comedy about the absurdities of parenting (Dec.)
The Veil -- The latest work from the pen of legendary Irish playwright Conor McPherson (March 2014)
SHAKESPEARE THEATRE COMPANY
Harman Center for the Arts
610 F St. NW
Lansburgh Theatre
450 7th St. NW
202-547-1122
shakespearetheatre.org
Measure for Measure -- One of Shakespeare's darker comedies, director Jonathan Munby has reportedly put enough of an edge on the show to add a warning that it's intended for ages 18 and up. One look at the poster tells you why (Now to 10/27, Lansburgh)
A Funny Thing Happened on the Way to the Forum -- Stephen Sondheim's uproarious musical is a riff on life in Roman times (11/21-1/5/14, Harman Hall)
Man in A Case -- Mikhail Baryshnikov stars in this production, adapted by two stories by Anton Chekhov, mounted by the Big Dance Theater (12/5-22, Lansburgh)
The Importance of Being Earnest -- Oscar Wilde's extraordinarily witty comedy, directed by Keith Baxter (1/16/14-3/2/14, Lansburgh)
Henry IV, Parts 1 and 2 -- Michael Kahn directs the epic history plays, running in rep and starring Stacy Keach as Falstaff (3/25/14-6/8/14, Harman Hall)
Private Lives -- Maria Aitken directs Noel Coward's sublime comedy of manners (5/29/14-7/13/14, Lansburgh)
SIGNATURE THEATRE
4200 Campbell Ave.
Arlington
703-820-9771
signature-theatre.org
Miss Saigon -- From the team that brought us Les Miz, a big, ballady spectacle set amid the fall of Saigon (Now to 10/6, Max)
Pride in the Falls of Autrey Mill -- Michael Kahn directs Christine Lahti in this drama about the toxic qualities of suburbia (10/15-12/8, Ark)
Crossing -- The world premiere of Matt Conner's new musical, exploring the stories of eight people from different decades who come together at a train station (10/29-11/24, Max)
Gypsy -- One of the greatest of all American musicals makes its Signature debut. Starring Sherri L. Edelen as Momma Rose. Directed by Joe Calarco (12/17-1/19/14, Max)
Beaches -- Eric Schaeffer directs this musical adaptation of the beloved book by Iris Rainer Dart (2/18/14-3/23/14, Max)
Tender Napalm -- Matthew Gardiner directs this edgy, new battle-of-the-sexes drama by Philip Ridley (3/18/14-5/11/14, Ark)
The Threepenny Opera -- Matthew Gardiner directs the audacious Bertolt Brecht-Kurt Weill musical (4/22/14-6/1/14, Max)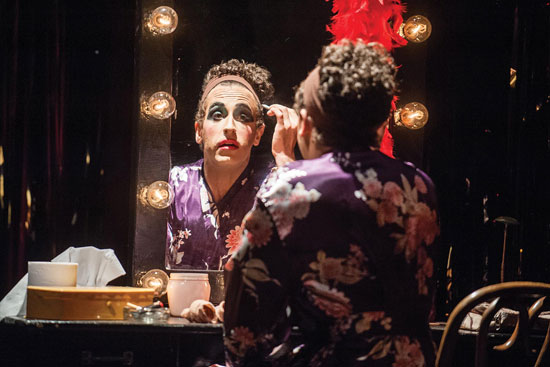 Torch Song Trilogy: Brandon Uranowitz as Arnold
(Photo by Igor Dmitry)
STUDIO THEATRE
1501 14th St. NW
202-332-3300
studiotheatre.org
Torch Song Trilogy -- Harvey Fierstein's 1981 gay epic that put him on the map as a major theatrical force. Michael Kahn directs (Now to 10/13)
The Night Watcher -- Charlayne Woodard performs her rich and powerful one-woman show on motherhood (10/23-11/17)
The Apple Family Plays -- Serge Seiden directs the first two plays in Richard Nelson's quartet about the Apples, set at successive meals over a course of four years. That Hopey Changey Thing and Sweet and Sad run in rep (Opens 11/13-12/29)
Edgar and Annabel -- Holly Twyford directs this bracing drama in which a woman comes home to find that the government has replaced her husband with a new man (12/11-1/5/14, 2ndstage)
Tribes -- Presented in cooperation with Gallaudet University, Nina Raine's groundbreaking drama tells the story of a deaf man who lives life on his own terms. Directed by David Muse (1/8/14-2/16/14)
Water by the Spoonful -- In this 2012 Pulitzer Prize-winner, the lives of four addicts collide with an ex-Marine in North Philly (3/5/14-4/13/14)
Moth -- The friendship between an anime-obsessed teenage boy and an emo-Wiccan girl is forever changed by a huge event on the athletic field (4/9/14-5/4/14, 2ndstage)
Cock -- A gay man on break from his boyfriend meets the woman of his dreams in Mike Barlett's provocative work (5/14/14-6/22/14)
Beats -- Kieran Hurley performs his one-man show about a teen sneaking off to a rave. A hit at the Edinburgh Fringe Festival (6/11-29/14)
classic about a playwright and his complicated relationship with his wife. Directed by David Muse (Opens 5/22/13)
Carrie: The Musical -- Keith Allen Baker directs this over-the-top musical (that failed spectacularly on Broadway when it first debuted) with a (hopeful) eye toward extreme camp (7/9/14-8/3/14, 2ndstage)
SYNETIC THEATER
1800 South Bell St.
Crystal City
Arlington
800-494-8497
synetictheater.org
The Picture of Dorian Gray -- Synetic puts its unique stamp on Oscar Wilde's dark chiller. Paata Tsikurishvili directs (9/26-11/3)
Twelfth Night -- The 10th installment in Synetic's "Silent Shakespeare" series (1/9/14-2/16/14)
Hamlet -- A revival of the production that started it all for Synetic (3/14/14-4/6/14)
Three Men in a Boat -- Three men take a holiday from work and encounter all manner of misadventures. Directed by Derek Goldman (5/8/14-6/8/14)
THEATRE J
1529 16th St. NW
800-494-8497
theaterj.org
After the Revolution -- The brilliant, promising Emma Joseph discovers a troubling secret about her blacklisted grandfather, Emma must confront her family's legacy in Amy Herzog's drama (Now to 10/6)
The Argument -- A 40-something couple's new relationship is rocked by pregnancy (10/23-11/24)
Woody Sez -- A boisterous retelling of the life of troubadour Woody Guthrie blends musical numbers, scenes from Guthrie's life and excerpts from his progressive newspaper column (11/29-12/14)
Our Suburb -- Darrah Cloud's drama, an homage to Our Town, is set in suburban Illinois when the Nazis marched on Skokie (12/19-1/12/14)
Yellow Face -- David Henry Hwang's play revolves around experiences from his own life as he mistakenly casts an actor based on perception and creates a hypocritical moment for himself (1/29/14-2/23/14)
The Admission -- An Israeli homage to All My Sons set in Haifa during the first Intifada. Directed by Sinai Peter (3/20/14-4/27/14)
Freud's Last Session -- Serge Seiden directs Mark St. Germain's play in which Freud engages with C.S. Lewis in an exchange about God, love, sex and life (5/14/14-6/29/14)
The Prostate Dialogues -- John Spellman performs his own work, commissioned by Theater J, in which he explores masculinity and mortality in the face of cancer. Directed by Jerry Whiddon (5/30/14-6/29/14)
WASHINGTON IMPROV THEATER
Source
1835 14th St. NW
202-204-7770
washingtonimprovtheater.com
District Improv Festival -- The first such national festival in D.C., dedicated to promoting longform improv. More than 30 troupes, both from D.C. and as far away as Toronto, will participate (9/24-29)
POTUS Among Us-- A hilarious take on the American political system in a fully improvised production, created instantly every show (10/11-11/5)
Harold Night -- Each Tuesday is a demonstration and experimentation in the world-famous longform technique, Harold (every Tuesday night)
Seasonal Disorder -- WIT's annual holiday madness (12/5-28)
WASHINGTON STAGE GUILD
Undercroft Theatre
900 Massachusetts Ave. NW
stageguild.org
Inventing van Gogh -- A contemporary painter is hired to forge a lost van Gogh (10/31-11/24)
The Old Masters -- An art critic and an art dealer squabble over a Renaissance painting Paul Mellon might purchase (1/2-26/14)
Back to Methuselah -- An epic cycle of George Bernard Shaw plays rarely performed, including one of the first works of science fiction ever put onstage (2/20/14-3/16/14)
Elling -- Oddly matched roommates must cope with the real world and each other (4/24/14-5/18/14)
WOOLLY MAMMOTH
641 D St. NW
202-393-3939
woollymammoth.net
Detroit -- Lisa D'Amour's explosive dark comedy finds an unemployed man starting an e-business only to watch things unravel once new neighbors move in. Directed by John Vreeke (Now to 10/6)
Appropriate -- An audacious comic drama in which the estranged members of a family return to Arkansas, and their crumbling old plantation home, to settle the accounts of their recently deceased patriarch. Of course, there's a family secret in need of finding (11/4-12/1)
Just the Two of Each of Us -- The Pajama Men perform their latest fast-paced comedy (12/10-1/5/14)
We Are Proud to Present a Presentation About the Herero Of Namibia, Formerly Known As South West Africa, From The German Sudwestafrika, Between The Years 1884-1915 -- A group of idealistic actors attempt to tell the little-known story of a centuries-old conflict in South West Africa (2/10/14-3/9/14)
Arguendo -- The innovative company Elevator Repair Service applies its unique theatrical style to the Supreme Court, tackling the 1991 First Amendment case where a group of go-go dancers petitioned for their right to perform completely naked (3/31/14-4/20/14)
The Totalitarians -- The ambitious speechwriter for a rich housewife's vanity campaign for public office stumbles upon a perfectly patriotic slogan and it produces campaign gold. Directed by Robert O'Hara (6/2-29/14)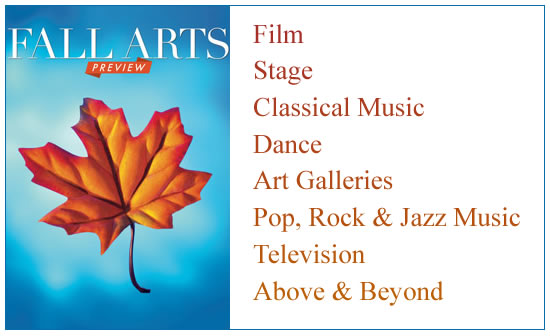 ---