Classical Music: Symphonies, Operas and Choral in D.C.
Fall Arts Preview 2013
The region's fall classical music season doesn't start in earnest until after the leaves begin to turn. And then in no time it's holiday season, when classical music companies and presenting venues are so consumed with good tidings of Handel and Hanukkah, many of them even offer their own spin on karaoke, with candlelit sing-alongs to familiar Christmas carols. But not all: The Folger Consort and Zemer Chai at Strathmore are just two organizations this season presenting out-of-the-ordinary holiday music in traditional fashion. Of course, you can never go wrong with the spirited Gay Men's Chorus of Washington at Lisner Auditorium. And this December the great singer-songwriter Matt Alber joins GMCW to add just the right amount of ''Sparkle, Jingle, Joy.''
THE ALDEN
McLean Community Center
1234 Ingleside Ave.
Mclean, Va.
703-790-0123
aldentheatre.org
Ustad Shafaat Khan -- A true master of three of India's most ancient instruments -- the sitar, surbahar or bass sitar, and tabla (10/19)
Christopher O'Riley -- The host of NPR's From The Top classical music show performs his concert ''Out of My Hands,'' featuring his renditions of songs by R.E.M. Portishead, Cocteau Twins, Nirvana and Radiohead (11/16)
Grand Derangement -- Nova Scotia's answer to Riverdance, this young Acadian group offers an explosion of music, dancing, lights and sound (2/22/14)
ARTISPHERE
1101 Wilson Blvd.
Arlington, Va.
703-875-1100
artisphere.com
National Chamber Ensemble: Jewish Musical Treasures -- Artisphere's resident ensemble offers a night of Jewish music, including a premiere by Alexander Goldstein, Trio on the Roof, based on the musical Fiddler on the Roof, and featuring clarinetist Julian Milkis and Cantor Mikhail Manevich of the Washington Hebrew Congregation (11/9)
National Chamber Ensemble: Happy Holidays – A holiday program featuring outstanding young musicians plus a sing-along of carols (12/8)
ATLAS PERFORMING ARTS CENTER
1333 H St. NE
202-399-7993
atlasarts.org
Nicholas Photinos -- Renowned cello player and founding member of eighth blackbird premieres his music as a solo artist (9/22)
Great Noise Ensemble – One of the most important and adventurous ensembles in D.C.'s new music scene and an artist-in-residence at the Atlas, where the group performs four times this season (9/28, 12/6)
Claire Chase -- A founder of the International Contemporary Ensemble offers a solo concert demonstrating her skill as a flute player (10/12)
eighth blackbird -- The three-time Grammy-winning new music quartet performs Colombine's Paradise Theatre (11/15-16)
BACH SINFONIA
Cultural Arts Center at Silver Spring
Montgomery College
Silver Spring, Md.
301-362-6525
bachsinfonia.org
100 Feet of Brass -- Some of the country's top trumpeteers join for a program exploring the full array of ensemble music for trumpets, timpani and continuo (10/5)
A Baroque Holiday Festival -- Rising early music soprano Nola Richardson joins for a good-tidings program of soaring instrumental music and stunning arias (12/4)
Annual Chamber Program: Chatham Baroque -- Internationally acclaimed early music trio performs works by Bach and two of his predecessors (1/25/14)
BALTIMORE SYMPHONY ORCHESTRA
410-783-8000
bsomusic.org
Scheherazade and 1812 Overture -- BSO Music Director Marin Alsop kicks off the new season with spectacular Russian showpieces by Rimsky-Korsakov and Tchaikovsky (9/20, Meyerhoff; 9/21-22, Strathmore)
Jean-Yves Thibaudet Plays Bernstein -- Leonard Bernstein's Symphony No. 2 ''Age of Anxiety'' is the centerpiece of a concert also including Gershwin and Ravel (9/26, Strathmore; 9/27-28, Meyerhoff)
BSO SuperPops: The Streisand Songbook -- Singer-songwriter Ann Hampton Callaway celebrates the music of Barbra Streisand (10/10, Strathmore; 10/11-13, Meyerhoff)
Romantic Tchaikovsky -- Pianist Nobuyuki Tsujii performs the popular Piano Concerto No. 1 (10/18, 10/20, Meyerhoff; 10/19, Strathmore)
Brahms' Third Symphony -- Jun Markl conducts the BSO in what may be Brahms's very finest, the haunting Symphony No. 3 (10/24, Strathmore; 10/25-26, Meyerhoff)
The Planets -- Marin Alsop conducts Holst's sonic celestial showpiece with high-definition imagery (11/7, Meyerhoff)
BSO SuperPops: Chris Botti (11/14, Strathmore)
War Requiem -- Marin Alsop leads Britten's deeply affecting composition joined by gifted soloists and two choruses (11/14-15, Meyerhoff; 11/16, Strathmore)
BSO SuperPops: Preservation Hall Jazz Band -- Original music channeling turn-of-the-20th-century New Orleans big band jazz (11/29-12/1, Meyerhoff)
Handel's Messiah -- Edward Polochick leads the BSO, the Concert Artists of Baltimore Symphonic Chorale and other soloists in Handel's beloved oratorio (12/6-7, Meyerhoff)
The Four Seasons (12/7, Strathmore)
BARNS AT WOLF TRAP
1635 Trap Road
Vienna
877-WOLFTRAP
wolftrap.org
Nadja Salerno-Sonnenberg, Ann-Marie McDermott -- Founder's Day Celebration (10/18)
Beatrice Rana -- Van Cliburn Competition Silver Medalist makes her Wolf Trap debut as part of the venue's Discovery Series (11/1)
Atlantic Brass Quintet -- Offering a world premiere commissioned by Wolf Trap as part of its Discovery Series (1/10/14)
CLARICE SMITH PERFORMING ARTS CENTER
University of Maryland
College Park, Md.
301-405-ARTS
claricesmithcenter.umd.edu
Anda Union: The Wind Horse -- The ''horse-head fiddle'' plus various percussive and wind instruments feature in this performance by Mongolian musicians dressed in stunning traditional garb (9/20)
China National Orchestra and North Carolina International Orchestra -- East Meets West in this ''Trans-Pacific Melodies Concert'' (9/27)
Miami String Quartet -- Celebrating 25 years of music-making with a performance of Joan Tower, Shostakovich and Mendelssohn (10/4)
International Piano Archives at Maryland: Reflections from the Keyboard -- Archives curator Donald Manildi performs and comments on an array of unusual encore pieces by composers Moszkowski, Scriabin, Medins, Godowsky, Poulenc and Saint-Saens (10/6)
UMD Symphony Orchestra -- James Ross leads the orchestra in an opening concert featuring faculty artist Evelyn Elsing performing Schumann's Cello Concerto (10/11)
UMD Wind Orchestra (10/13)
UMD Wind Ensemble -- This ensemble's new leader Michael Votta kicks off his tenure performing one of Paul Hindemith's most popular works, Symphonic Metamorphosis (10/18)
Exotic Voices -- UMD faculty artist and mezzo-soprano Delores Ziegler leads school alumni and faculty in a performance of rarely heard works for voice and chamber ensemble (10/20)
Kronos Quartet -- In honor of its 40th anniversary, this contemporary chamber group performs a new work, String Quartet No. 6, written by Philip Glass in a co-commission by the Clarice Smith Center (10/24)
UMD Repertoire Orchestra -- An all-campus and community orchestra opens its season with a performance of Haydn's Cello Concerto featuring Andrew Hesse (10/29)
2013 UMSO Concerto Competition Finals (11/1)
UMD Symphony Orchestra -- Ginastera's Harp (11/10)
Pieter Wispelwey -- cellist (11/13)
UMD Men's Chorus & UMD Women's Chorus -- ''When the Night is Sweet with Starlight'' (11/17)
Chamber Music Showcase (11/18, 11/20)
Maryland Opera Studio: Albert Herring (11/22, 11/24-26)
UMD Wind Ensemble (11/22)
UMD Japanese Koto Ensemble and UMD Gamelan Saraswati (12/4)
UMD Symphony Orchestra -- Tchaikovksy'sSymphony No. 6 is tense and brooding in sound, addresses the power of fate in life and death, and premiered only nine days before the composer's death; talk about ''Pathetique'' (12/6)
UMD Wind Orchestra (12/8)
UMD Gamelan Saraswati and UMD Koto Ensemble (12/11)
UMD Chamber Singers -- ''Images of the Christmas Feast'' (12/15)
CHORAL ARTS SOCIETY
Kennedy Center Concert Hall
202-244-3669
choralarts.org
Legacy and Life -- Artistic director Scott Tucker kicks off this group's season with a concert commemorating the 200th anniversary of Giuseppe Verdi's birth by performing his Requiem and the 50th year since John F. Kennedy's assassination by performing Steven Stucky's Take Him, Earth written in memoriam (11/10)
An Enchanted Christmas – Beloved carols, popular holiday standards and favorite sing-alongs are the stars in this annual holiday favorite, this year an Italian-flavored affair in partnership with the Italian Embassy (12/16, 12/21, 12/24)
THE CITY CHOIR OF WASHINGTON
202-495-1613
thecitychoirofwashington.org
Haydn: The Creation -- Artistic Director Robert Shafer leads a performance of Haydn's great oratorio celebrating the creation of the world as described in the Old Testament (11/1, Alexandria's Rachel M. Schlesinger Concert Hall and Arts Center)
The Holly and The Ivy: Music for Christmas -- A candlelight processional will set the stage for this glorious concert, which includes audience sing-alongs, including ''Hallelujah'' from Handel's Messiah(12/15, National Presbyterian Church)
COOLIDGE AUDITORIUM AT THE LIBRARY OF CONGRESS
Thomas Jefferson Building
10 First St. SE
202-707-8000
loc.gov/concerts
Cameristi Della Scala: Verdi Re-Imagined -- Principal players from the Orchestra della Scala and the Filarmonica della Scala offer adaptations for chamber orchestra with string soloist of Verdi's music during the composer's bicentennial year (10/9)
Valentina Lisitsa -- A recital of Rachmaninoff, Prokofiev, Chopin and Liszt from this pianist, whose had a meteoric rise to prominence courtesy of her masterful use of digital media (10/17)
Cuarteto Casals with Manuel Barrueco -- Frequent guests at the world's most prestigious concert venues, this Spanish quartet plays Haydn, Turina and Shostakovich, plus Luigi Boccherini's ''Fandango'' Quintet with elegant guitarist Barrueco (10/24)
Blue Heron, Piffaro, The Renaissance Band and Brass Choirs of the United States Navy Band -- A Founder's Day celebration (10/30)
The Danish String Quartet -- The self-styled Vikings of the string quartet world (11/2)
Wagner & Verdi at the Piano -- Alan Walker of McMaster University offers a lecture about and then Valerie Tryon plays Liszt's transcriptions for piano of Wagner and Verdi (11/9)
Wagner in America -- Celebrated author Alex Ross discusses concerns about Wagner and race, followed by performance by mezzo-soprano Margaret Lattimore of Wagner's song cycle Wesendonck Lieder (11/23)
Antonio Stradivari Anniversary Concert: Parker Quartet with Kikuei Ikeda (12/18)
D.C.'S DIFFERENT DRUMMERS
202-269-4868
dcdd.org
Fall Concert -- The Capital Pride Symphonic Band and Capital Pride Wind Ensemble kick off the full season (11/2)
DCDD Prism Concert (12/15)
DAVIS PERFORMING ARTS CENTER
Georgetown University
3700 O St. NW
202-687-ARTS
performingarts.georgetown.edu
The DC A Cappella Festival 2013 – Annual concert co-hosted by two of GU's most charismatic groups: the co-ed Phantoms and the all-female GraceNotes (11/3, 11/9)
Georgetown University Concert Choir -- Presenting the choir's newly commissioned cantata Vidimus Stellam by Kevin Siegried, plus Daniel Pinkham's Christmas Cantata(11/20)
Messiah Sing-Along -- A rebirth of a Georgetown tradition presented by the Georgetown University Concert Choir and special guests (12/4)
FAIRFAX SYMPHONY ORCHESTRA
703-563-1990
fairfaxsymphony.org
Beethoven, Copland -- Christopher Zimmerman kicks off the new season with two pieces by Copland, including the Clarinet Concerto featuring Ricardo Morales, and Beethoven's beautiful Symphony No. 7 (9/21)
Theofanidis: Virtue -- Zimmerman leads a performance of Virtue, a world premiere and co-commission from Theofanidis, on a bill that includes Haydn and Stravinsky (10/26)
Rachmaninoff: Symphonic Dances -- Zimmerman launches the holiday season with a concert capped by the very romantic Rachmaninoff (11/16)
FOLGER CONSORT
Folger Elizabethan Theatre
201 East Capitol St. SE
202-544-7077
folger.edu
Map of the World: Music from 13th- and 15th-Century Spain -- The consort kicks off its season with a concert of evocative and early Spanish music, including history's first song cycle, The Seven Songs of Love by Martim Codax, as well as spirited Spanish dance music of the period (9/27-29)
Christmas in New Spain: Early Music of Mexico and Peru -- Exuberant music by Latin American and Spanish composers plus lively rhythms of early baroque dances, all to get you in the holiday spirit -- and the Folger Elizabethan Theatre will be all decked out for the season too (12/13-22)
GAY MEN'S CHORUS OF WASHINGTON, D.C.
202-293-1548
gmcw.org
Sparkle, Jingle, Joy with Matt Alber -- The great gay singer-songwriter helps to kick-off GMCW's new season the weekend before Christmas (12/20-21, Lisner Auditorium)
Passion -- Intended as ''the perfect antidote to the February blues'' (2/15, Church of the Epiphany)
KENNEDY CENTER
202-467-4600
kennedy-center.org
Shen Yun Symphony Orchestra (9/27)
Fortas Chamber Music Concert: Emerson String Quartet (10/2)
The Kennedy Center Chamber Players -- Violinist Marissa Regni, cellist David Hardy and pianist Lambert Orkis join to perform sonatas by Bach and Mendelssohn and a piano trio by Brahms (10/6)
35th Young Concert Series: Hermes Quartet (10/8)
Washington Performing Arts Society: Jeremy Denk -- Celebrity pianist (10/12)
WPAS: Marlinksy Orchestra (10/14)
Cameron Carpenter -- The National Symphony Orchestra presents an organ recital by the first organist ever nominated for a Grammy for a solo album, in 2009 (10/16)
Young People's Concerts -- Ankush Kumar Bahl conducts and Nick Kendall hosts (10/16-19)
Opera Lafayette -- In a program called ''The French Cosi,'' the company performs a clear precedent to Mozart's Cosi fan tutte: The Avenging Wives, a 1775 comic opera by Philidor and Sedaine (10/18-19)
Korean Concert Society: cellist Han Bin Yoon (10/20)
WPAS: violinist Stefan Jackiw, pianist Anna Polonsky (11/3)
WPAS: Sphinx Virtuosi -- Comprised of alumni of the Sphinx Competition for young black and Latino string players, described as ''first rate in every way'' by The New York Times (11/7)
Fortas Chamber Music Concert: Enso String Quartet (11/12)
Vocal Arts DC: Michael Fabiano -- A recital from this tenor, who's emerging as one of today's brightest young stars, having performed with the Met, La Scala and the English National Opera (11/14)
WPAS: pianist Kit Armstrong (11/16)
WPAS: pianist Marc-Andre Hamelin (11/25)
Pro Musica Hebraica: Alexander Fiterstein and Friends -- A Hanukkah concert highlighting the rich legacy of the clarinet in Jewish art music with a performance by young Israeli star and some of his friends (12/1)
35th Young Concert Artists Series: Ji-Yong(12/3)
Vocal Arts DC: Brandon Cedel -- Winner of the 2012 George London Award and the 2013 Met National Council Auditions, this bass-baritone makes his area recital debut with a program of Brahms and Copland (12/4)
Fortas Chamber Music Concert: Cantus -- The male choral ensemble returns with ''All is Calm: The Christmas Truce of 1914'' (12/5)
LISNER AUDITORIUM AT GWU
730 21st St. NW
202-994-6800
lisner.org
Washington Concert Opera -- Giuseppe Verdi's I masnadieri, or The Bandits (9/22)
Army Band Fall Concert(9/30)
2 Cellos -- A classical crossover concert by Luka Sulic and Stjepan Hauser -- along with a drummer (10/19)
LYRIC OPERA HOUSE
140 West Mount Royal Ave.
Baltimore, Md.
410-547-SEAT
lyricoperahouse.com
2013-2014 Opera Musical Preview -- Singers and instrumentalists accompany Lyric Opera Baltimore Artistic Director James Harp in a free preview of the 2013-2014 opera season (9/22)
Tosca -- Harp leads a production starring rising American star Jill Gardner in the title role, plus Dinyar Vania and Eric Owens, supported by the Baltimore Symphony Orchestra (11/1, 11/3)
The Dialogues of the Carmelites -- The brightest vocal stars from the Peabody Conservatory at Johns Hopkins University join the Peabody Symphony Orchestra in a fully staged and costumed production of Francis Poulenc's opera about the triumph of faith over doubt, set in the French Revolution (11/15, 11/17)
NATIONAL PHILHARMONIC
Music Center at Strathmore
5301 Tuckerman Lane
Bethesda, Md.
301-493-9283
nationalphilharmonic.org
Beethoven's Eternal Masterworks -- National Philharmonic's Piotr Gajewski conducts violinist Soovin Kim and the Philharmonic in a performance of Beethoven's Violin Concerto and Symphony No. 5 (9/28-29)
Mostly Schumann -- Cellist Zuill Bailey and pianist Navah Perlman perform an afternoon program that includes a little Brahms, but otherwise… (10/26)
Romantic Sentiments -- Cellist Zuill Bailey sticks around for more Brahms and Schumann (10/26-27)
Lost Childhood Concert Opera -- Gajewski leads tenor Michael Hendrick and baritone Christopher Trakas in a performance of Janice Harmer and librettist Mary Azrael's concert on the exact 75th anniversary of the infamous Kristallnacht (11/9)
Verdi's Powerful and Timeless Requiem -- Stan Engebretson conducts the Philharmonic and two recent winners of the Metropolitan Opera National Council auditions, mezzo-soprano Margaret Mezzacappa and tenor William Davenport (11/23)
Handel's Messiah(12/14-15)
Washington Symphonic Brass -- Gajewski leads this annual tradition, a Sunday afternoon performance of holiday music (12/22)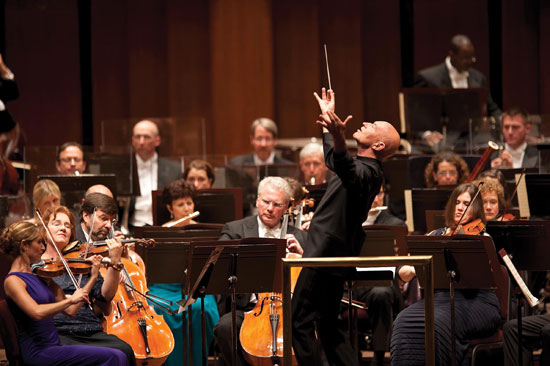 National Symphony Orchestra
(Photo by Margot Ingolds by Schulman)
NATIONAL SYMPHONY ORCHESTRA
Kennedy Center Concert Hall
202-467-4600
kennedy-center.org
NSO Pops: Wayne Shorter & Quartet w/Esperanza Spalding -- Vince Mendoza conducts the Pops in a program of Shorter pieces, performed with Shorter's jazz quartet and the great Grammy-winning jazz/R&B vocalist/bassist (9/19-22)
Season Opening Night Concert w/Yo-Yo Ma and Cameron Carpenter -- Conductor Christoph Eschenbach kicks off the new season with the renowned cellist and flamboyant organist (9/29)
Parsifal: Wagner's 200th Birthday Anniversary -- Eschenbach conducts the NSO in a performance of Act III of Wagner'sParsifal featuring Nikolai Schukoff, Thomas Hampson, Yuri Vorbiev plus the Washington Chorus (10/10-12)
NSO Pops: Michael Cavanaugh -- The star of Broadway's Movin' Out joins Pops conductor Reineke for a tribute to Elton John and more, surely including Billy Joel (10/25-26)
Jennifer Koh -- Kristjan Jarvi conducts the NSO and violinist Koh in a performance of pieces by Enescu, Barber and Rachmaninoff (10/31-11/2)
Sol Gabetta -- John Storgards conducts the NSO and cellist Gabetta in a performance of Britten, Shostakovich and Schumann (11/7-9)
Alice Sara Ott -- Neema Jarvi conducts the NSO and pianist Ott in a program of Kodaly, Liszt and Prokofiev (11/14-16)
Renee Fleming: American Voices -- Reineke conducts the NSO and this renowned soprano, joined by an all-star roster of vocal greats from the classical, Broadway and jazz worlds, including Eric Owens, Kim Burrell, Kurt Elling, Sutton Foster, Norm Lewis and Dianne Reeves (11/23)
NSO Pops: Matthew Morrison -- The Glee star and aspiring pop star performs with the Pops as conducted by Reineke (11/29-30)
Nurit Bar-Josef -- The NSO conductor Christoph Eschenbach leads this Israeli violinist in a program of Mozart and Brahms (12/5-7)
NSO Pops: Brian Stokes Mitchell -- Reineke leads a Happy Holidays program featuring the Tony-winning Broadway belter (12/12-14)
Handel's Messiah – The epic masterpiece is performed each year with a fresh perspective by the NSO and acclaimed guest artists, plus the Choral Arts Society of Washington (12/19-22)
STRATHMORE
5301 Tuckerman Lane
Bethesda, Md.
301-581-5100
strathmore.org
Aeolus Quartet with Michael Tree -- Prize-winning ensemble and sharp viola player (10/3, Mansion)
Orion Weiss -- Lauded pianist performs pieces by Scarlatti and Spanish composer Enrique Granados (10/11, Mansion)
Les Violons Du Roy with Stephanie Blythe (10/15, Music Center)
Washington Performing Arts Society: Yuja Wang -- Pianist will make you ''re-examine whatever assumptions you may have had about how well the piano can actually be played,'' says the San Francisco Chronicle (10/25, Music Center)
Maurice Steger Trio -- The haunting beauty of the recorder is the focus in a program of Italian Baroque composers (10/25, Mansion)
Voice -- London-based female a cappella trio (10/30, Mansion)
Lawler & Fadoul Duo -- The unique combination of flute and marimba, performed with theatrical flair (11/21, Mansion)
Teatro alla Scala Academy Orchestra -- The Year of Italian culture draws to a close with a performance of Verdi (12/4, Music Center)
Zemer Chai: The Jewish Community Choir of Washington -- Celebrating the Festival of Lights (12/11, Mansion)
Coral Cantigas -- Latin American-flavored holiday concert (12/18, Mansion)
The Irish Tenors -- ''The Premiere Irish Holiday Celebration'' (12/21, Music Center)
WASHINGTON BACH CONSORT
National Presbyterian Church
4101 Nebraska Ave. NW
202-429-2121
bachconsort.org
Bach, Vivaldi & The Italian Influence -- 400 years ago Bach became significantly influenced by the works of Vivaldi and his Italian contemporaries, as demonstrated in this program that also includes works by Conti, Pergolesi and Albinoni (9/22)
The Concord of Heaven -- Music Director J. Reilly Lewis performs on the organ in this heavenly feast of Bach's instrumental music (11/3)
Ceremony & Celebration: Christmas with the Consort-- Celebrating the 100th anniversary of Benjamin Britten's birth with his A Ceremony of Carols, plus the debut of a colorful Christmas cantata, The Nine Lessons of Christmas, by American composer John La Montaine (12/22)
THE WASHINGTON CHORUS
202-342-6221
thewashingtonchorus.org
In addition to performances with the National Symphony Orchestra and the Baltimore Symphony Orchestra, the famed Washington Chorus offers: Britten: War Requiem -- A reprise of a concert that garnered TWC a Grammy for Best Choral Performance in 2000 (11/3, Kennedy Center)
A Candlelight Christmas – The Robinson Singers from the James R. Robinson Secondary School in Fairfax, perform with the chorus in this Washington-area favorite holiday concert, complete with sing-alongs and taking full advantage of the theatrical lighting and acoustic possibilities of performing in the area's two principal concert halls (12/15, 12/21-22, Kennedy Center; 12/19, 12/23, Strathmore)
WASHINGTON NATIONAL OPERA
Kennedy Center Opera House
202-295-2400
dc-opera.org
Tristan and Isolde -- Deborah Voigt, one of the finest Wagnerian sopranos of our time, portrays Isolde in a stunning production featuring an impressive international cast (9/15-27)
The Force of Destiny -- Artistic director Francesca Zambello brings her inventive staging to this new production of Verdi's demanding masterpiece (10/12-26)
American Opera Initiative: Three 20-Minute Operas (11/13)
The Lion, The Unicorn, and Me -- Zambello brings the award-winning children's book to vibrant life in this heartwarming, world-premiere holiday family opera (12/14-22)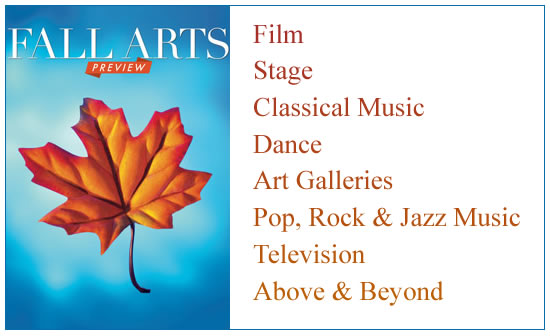 ---