Dance: Ballet, Modern and Cultural Performances in D.C.
Fall Arts Preview 2013
Washington may not be a capital when it comes to the art of dance, but a growing number of nationally known dance companies do call the nation's capital home. This fall, many of these companies get a special spotlight courtesy of several area festivals, including the fifth annual Velocity DC Dance Festival at Sidney Harman Hall and the Modern Moves Festival organized by Dance Place at the Atlas. And while Dance Place, the area's leading dance venue, is closed until 2014 as it expands and renovates its Brookland neighborhood complex, there's certainly no need for dance despair -- from the august Kennedy Center to the hip, suburban outpost Joe's Movement Emporium, there are plenty of venues around the region offering dance from the traditional to the avant-garde. So go on, get your move on.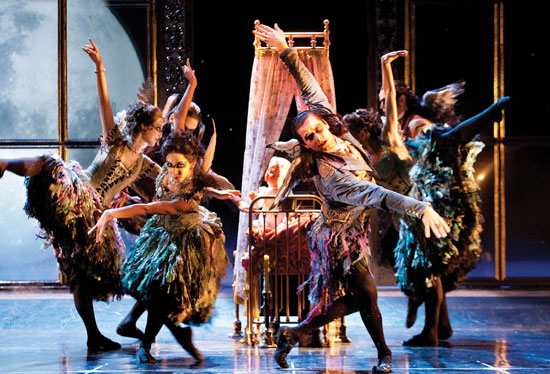 Matthew Bourne's 'Sleeping Beauty'
(Photo by Simon Annand)
AMERICAN DANCE INSTITUTE
1501 East Jefferson St.
Rockville, Md.
301-984-3003
americandance.org
Ballet ADI -- Intermix features new works by Runqiao Du and Linda Denise Fisher Harrell, formerly of the Alvin Ailey American Dance Theater (9/20-21)
Jane Comfort and Company -- A collaboration with sound designer Brandon Wolcott and lighting designer Joe Levasseur, in which sound and light are expected to be as central -- not merely support or decor -- as the dance (10/4-5)
Sally Silvers & Dancers -- Bonobo Milkshake was hailed by The New York Times as one of its Top 3 dance pieces in 2012 (10/19-20)
Reggie Wilson/Fist & Heel Performance Group -- Grounded in a novel by Zora Neale Hurston, Moses(es) explores our relationships to leadership and the effects of migration on beliefs and customs (11/15-16)
Doug Elkins Choreography -- This irreverent choreographer returns to ADI with Hapless Bizarre, featuring a merry band of dancers, actors and clowns exploring the intersections between physical comedy, choreography, flirtation and romance (1/31-2/1/14)
ATLAS PERFORMING ARTS CENTER
1333 H St. NE
202-399-7993
atlasarts.org
Gregory Maqoma -- This South African-born dancer and choreographer presents Exit/Exist, a piece based on the life of a 19th century tribal leader exploring themes of colonial displacement and featuring a four-person singing group and a world-fusion guitarist (10/18-20)
Jonah Bokaer -- A Merce Cunningham Dance Company alum offers a preview of Occupant, inspired by the Occupy Movement and a collaboration with visual artist Daniel Arsham (11/9-10)
SOLE Defined -- Ryan K. Johnson from Broadway's STOMP and Quynn Johnson fuse diverse global percussive dance forms in a show said to offer a free-flowing conversation through movement and music (11/15-16)
Step Afrika! Magical Musical Holiday Step Show -- An interactive celebration of the holidays with furry friends from the animal kingdom, including DJ Frosty the Snowman (12/11-22)
CITYDANCE
CityDance Studio Theater at Strathmore
5301 Tuckerman Lane
Bethesda, Md.
301-581-5204
citydance.net
The Snow Queen -- A contemporary re-imagining of The Nutcracker's Snow Queen myth performed by CityDance Conservatory's pre-professional ballet students under the direction of Lorraine Spiegler (12/21)
Sink(ing) -- An evening of original works by CityDance Resident Artist and choreographer-in-residence Robert J. Priore (1/18-1/19/14)
CLARICE SMITH PERFORMING ARTS CENTER
University of Maryland
College Park, Md.
301-405-ARTS
claricesmithcenter.umd.edu
Margaret Jenkins Dance Company: Times Bones -- A world premiere, co-commissioned by the center and featuring live music by the Paul Dresher Ensemble, inspired by the myth of Osiris in which Jenkins and her dancers gather the scattered ''bones'' of her 40-year-old repertory to create a new dance (9/13-14)
UMD MFA Dance Thesis Concert: Visible Seams -- Inspired by the films of Busby Berkeley and presented in the center's expansive Grand Pavilion, Erin Crawley-Woods offers a roving tapestry of movement and sound, including a sound and video installation presented before and after the performances (10/9-16)
David Dorfman Dance: Come, and Back Again -- An exploration of vulnerability, mortality and the virtuosity required to live daily life, accompanied by a live band performing onstage; choreographer Dorfman will both dance and play saxophone (11/1-2)
UMD Graduate Movement Concert -- Three graduate students present solo works (11/2-3)
UMD Faculty Dance Concert: Falling Forward (11/15-17)
UMD MFA Dance Thesis Concert: Way In (12/6-7)
31st Annual Choreographers' Showcase (1/25/14)
David Rousseve/Reality: Stardust -- A world premiere co-commissioned by the Clarice Smith Center that follows an African-American gay urban teenager's dreams, misgivings and challenges -- as shared via tweets and text messages (1/31-2/1/14)
DAKSHINA/DANIEL PHOENIX SINGH DANCE COMPANY
202-656-5679
dakshina.org
10th Annual Fall Festival of Indian Arts -- This gay-led local company offers its signature event, presenting performances at the Shakespeare Theatre Company's Harman Hall of internationally acclaimed artists from South Asia, including: Madhavi Mudgal Dance Company (9/20)
Sadanam Balakrishnan & Leela Samson (9/21)
Astad Deboo (9/22)
Sheejth Krishna Dance Company (9/27)
Shantha and VP Dhananjayan (9/28)
DANCE PLACE
3225 8th St. NE
202-269-1600
danceplace.org
Art on 8th NE -- Dance Place offers free outdoor art events every weekend through October, culminating with the Oct. 26 ''Dancing the Dream'' interactive event in the National Portrait Gallery's gorgeous Kogod Courtyard
Latin Sizzle Festival -- The exuberant sights and sounds of Latin culture are presented in a program featuring dance companies DC Casineros, Furia Flamenca, Maru Montero Dance Company, Nego Gato Afro Brazilian Music and Dance Ensemble, and the Duende Quartet (9/28-29, Atlas)
City Rhythms Festival -- A hip-hop and stepping-centered festival celebrating the area's best rhythmic dance troupes, including Coyaba Dance Theater, Footworks Percussive Dance Ensemble and Step Afrika! (11/23-24, Atlas)
Coyaba Dance Theater: Kwanzaa Celebration -- The annual tradition from Dance Place's resident company (12/14, GWU Dorothy Betts Marvin Theater)
Modern Moves Festival -- A showcase of 12 world-class D.C.-based companies, including alight dance theater, Bowen McCauley Dance, Christopher K. Morgan & Artists, Company E and VTDance/Vincent E. Thomas (1/4-5/14, Atlas)
GALA HISPANIC THEATRE
3333 14th St. NW
202-234-7174
galatheatre.org
Flamenco Fest: Fuego Flamenco IX – The 9th annual festival includes: Aparicio Dance Company -- Performances by gay fest curator Edwin Aparicio and his company (11/8-10)
and Templanza -- Performances by the sensuous and electrifying duo Jose Antonio Jurado and Isabel Rodriguez (11/14-17)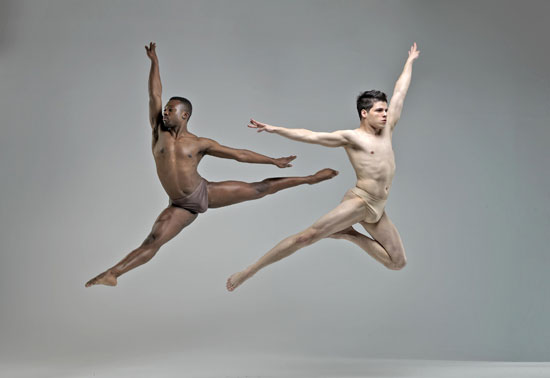 Dissonance Dance Theatre
(Photo by courtesy of WPAS)
JANE FRANKLIN DANCE
703-933-1111
janefranklin.com
The Big Meow – Adapted from the book by Elizabeth Spires (9/21, 10/19, 11/16, Alexandria's Old Town Theater)
Sweet Zinnia -- A performance of new choreography, video and live music inspired by the zinnia flower, presented in partnership with the Manassas, Va.-based bee-and-flower-focused nonprofit Sweet Virginia (10/5, 10/12, Theatre on the Run)
Coyote Blue -- An afternoon concert featuring recent works as well as segments from the work-in-progress Blue Moon, a new collaboration by Jane Franklin and percussionist Tom Teasley inspired by the American Southwest (11/17, The Athenaeum)
JOE'S MOVEMENT EMPORIUM
3309 Bunker Hill Road
Mount Rainier, Md.
301-699-1819
joesmovement.org
Dance Box Theater: Museum of False Memories -- A piece by Laura Schandelmeier and Stephen Clapp, with original music by Jamie Kowalski, inspired by the work of visual artist Joseph Cornell, who was one of America's most poetic and mysterious artists (10/3-6)
Lesole's Dance Project in Concert -- Company presents a fusion of modern and traditional Southern African dance styles, including its signature work Ndlamu, a traditional Zulu dance (10/26-27)
Silk Road Dance Company: Festival of the Silk Road Concert -- A premiere of several new pieces featuring choreography from throughout Central Asia with performances by international guest artists (11/9)
Arachne Aerial Arts: We Fly -- An evening of work using the ground, the ceiling and all the space in between by aerial dance and theater artists (11/16-17)
Vision Contemporary Dance Ensemble: Holiday Extravaganza -- Katherine Smith's newly created dance company presents an action-packed show offering expressions of holiday cheer (12/14)
Elevate Studios and Arachne Aerial Arts: A Winter Aerial Showing -- Students and teachers of both local aerial-art companies don't just believe they can fly, they demonstrate it (12/8)
KENNEDY CENTER
2700 F St. NW
202-467-4600
kennedy-center.org
Saburo Teshigawara/KARAS -- Japanese choreographer and company make their Kennedy Center debut with Mirror & Music, a piece exploring the tangible and intangible nature of music and the reflection we see looking into a mirror (9/12-13)
Sivam, Inc: Utsav: A Celebration of India's Maestros of Music & Dance (9/20-22)
Hubbard Street Dance Chicago -- A mixed repertory including the D.C. premiere of Mats Ek's Casi-Casa (10/17-19)
Susan Marshall & Company -- New York-based company makes its Kennedy Center debut with Play/Pause, a new work blending athleticism, ordinary movement and gesture (9/29-31)
The Suzanne Farrell Ballet -- The world-renowned, Kennedy Center-based company of George Balanchine's most-celebrated muse returns with two mixed repertory programs, including company premieres Romeo and Juliet, with choreography by Mejia set to Tchaikovsky's Romeo and Juliet Fantasy Overture, and Balanchine's Pas de Dix (11/6-10)
Matthew Bourne and New Adventures: Sleeping Beauty -- Renowned British choreographer returns with his company New Adventures to present his latest re-imagining of a ballet classic, Sleeping Beauty, which in Bourne's hands becomes a gothic romance and supernatural love story (11/12-17)
The Joffrey Ballet's The Nutcracker (11/27-12/1)
Hispanico -- A mixed repertory program including the D.C. premiere of Cayetano Soto's Sortijas, kone of the most dynamic and groundbreaking Spanish choreographers of his generation (12/5-6)
MARYLAND COUNCIL FOR DANCE'S STATE DANCE FESTIVAL
Centennial High School Dance Program
Ellicott City, Md.
443-480-8975
marylanddance.org/festival/
Various dance practitioners lead workshops and perform at this 41st annual festival, featuring all styles of dance, from ballet to tap to hip-hop to Pilates (10/25-27)
STRATHMORE
5301 Tuckerman Lane
Bethesda, Md.
301-581-5100
strathmore.org
Luis Bravo's Forever Tango -- This repeat Broadway sensation offers a fiery spectacle exploring the history of tango with an all-Argentine cast of 14 and an 11-piece orchestra (11/7, Music Center)
Moscow Ballet's Great Russian Nutcracker – Now in its third decade of touring North America, this company's cast of 40 astounding dancers relate the classic Christmas story with unique Russian zest (12/16-17, Music Center) Krasnoyarsk National Dance Company of Siberia (2/19/14, Music Center)
Pilobolus -- The legendary dance troupe continues its legacy of innovative artistry (2/26/14)
UNIVERSITY OF MARYLAND, BALTIMORE COUNTY
Department of Dance
1000 Hilltop Circle
Baltimore, Md.
410-455-ARTS
Christopher K. Morgan & Artists -- Local imaginative, abstract contemporary dance company offers a mixed repertory including its gay artistic director's poetic and poignant solo For Becky (10/11, Old Theatre)
Senior Dance Concert -- Works by UMBC dance students in their final year (10/8-9, Fine Arts Building)
First Works -- UMBC students present choreographic work for their first time (11/22, Fine Arts Building)
Fall Dance Showcase (12/5-7, Performing Arts and Humanities Building Theatre)
VELOCITY DC DANCE FESTIVAL
Harman Hall
610 F St. NW
202-547-1122
ShakespeareTheatre.org
A special partnership with Dance/MetroDC, the D.C. Commission on the Arts & Humanities, the Washington Performing Arts Society and host organization the Shakespeare Theatre Company, this festival returns for its fifth year of presenting world-class dance of various styles -- all of it stemming from artists in the Washington region. A ''RAMP!'' program precedes each evening's program and offers a taste of works from dance newcomers, including students of Asanga Domask, David Yi and Deviated Theatre. In addition, there are site-specific pieces in the Harman Center for the Arts by Dance Performance Group, MOVEIUS Contemporary Ballet and Next Reflex Dance Collective. Main Stage performances, grouped into two programs, include, among others, the Suzanne Farrell Ballet, the CityDance Conservatory, Flamenco Aparicio, Rebollar Dance, Clancyworks Dance Company, Step Afrika!, and the Washington Ballet (10/10-12)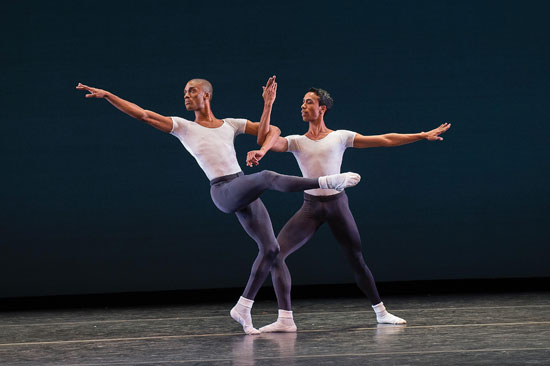 Dance Theatre of Harlem
(Photo by Christopher Duggan)
THE WASHINGTON BALLET
202-362-3606
washingtonballet.org
Giselle -- The company's gay artistic director Septime Webre presents one of his all-time favorite classical ballets, which has inspired generations of dancers in its tale of a young peasant girl who has a passion for dancing but dies of a broken heart (10/30-11/3, Kennedy Center)
The Nutcracker -- Every year Webre offers his own twist on the family favorite, setting it in D.C. with George Washington as the titular figure and King George III as the Rat King (11/30-12/1, THEARC; 12/6-29, Warner Theatre)
WASHINGTON PERFORMING ARTS SOCIETY
202-833-9800
wpas.org
Dance Theatre of Harlem: Gloria -- WPAS and CityDance co-present this company's triumphant return after a nine-year hiatus with a piece by choreographer Robert Garland as well as others by George Balanchine and Donald Byrd (10/17-19, Harman Hall)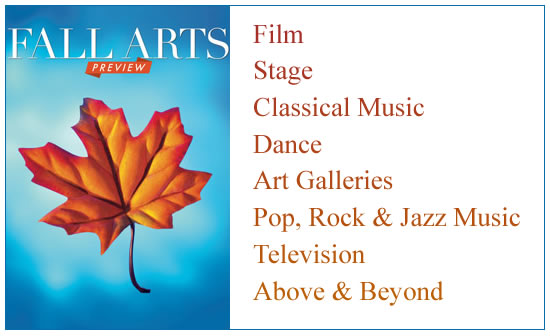 ---