The Decline and Fall of the Ex-Gay Movement
How a multimillion-dollar industry that seeks to ''cure'' gay people was brought to its knees
(Page 3 of 5)
DOWNFALL
There have always been cracks in the ex-gay movement, exposing an industry teetering on collapse. In 1979, Michael Bussee and Gary Cooper, two of the original co-founders of Exodus International, left the ministry and their wives to be together, ultimately participating in a commitment ceremony in 1982. John Evans, who had helped found Love In Action, renounced the organization after the suicide of a friend who found himself unable to change his sexual orientation.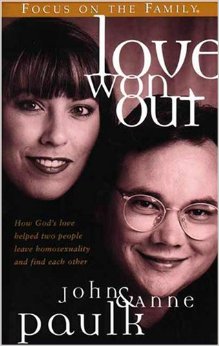 Cover of book by John and Anne Paulk
It was September 2000, however, when Wayne Besen would take a photograph that would shake the industry. Besen was a spokesman for the Human Rights Campaign at the time when he received a phone call from a colleague late on a Tuesday night telling him John Paulk was at Mr. P's, a popular D.C. gay bar near Dupont Circle. Paulk was the poster boy of the ex-gay movement. Aside from his numerous media appearances, he had helped found and lead Focus on the Family's ex-gay ministry, Love Won Out, after co-writing a book by the same name with his wife, Anne. He also served as chairman of Exodus International. Besen knew if the story were true, it had the potential to kick the foundation out from under the ex-gay industry. With a camera in hand, Besen confronted Paulk at the bar. At first, the man denied being Paulk, but after Besen took his photo Paulk later insisted he didn't know he was in a gay bar and had just come in to use the restroom.
Paulk's career in the ex-gay industry disintegrated soon after the photos went public. He was called back to Focus on the Family's headquarters and questioned by the organization's founder and president, James Dobson. Upon confessing he had knowingly gone to a gay bar, Paulk was removed as chairman of the board of Exodus International and was required to be chaperoned when he traveled for future speaking engagements.
Paulk left the ex-gay movement in 2003, but did not publicly apologize until April 2013. Announcing that his marriage to Anne was ending, Paulk renounced the movement he had been part of for nearly a decade.
"Today, I see LGBT people for who they are — beloved, cherished children of God," Paulk said. "I offer my most sincere and heartfelt apology to men, women, and especially children and teens who felt unlovable, unworthy, shamed or thrown away by God or the church."
Countless other defections would follow. Perhaps the most important, however, came just this summer when Alan Chambers, the president and face of Exodus International during its rise to becoming the world's "largest Christian ministry dealing with faith and homosexuality," issued a lengthy apology to the LGBT community for any harm he may have caused while at the helm of Exodus. Hours after his apology, the organization's board of directors announced Exodus International would shut down. In subsequent interviews, Chambers, who himself is still married to his wife despite admitting to a continued struggle with his same-sex attractions, would disavow ex-gay therapy for minors. At the time, Besen described the closure as "an earthquake that is shaking the very foundations of the 'ex-gay' industry."
Exodus's closure came a little over a year after Robert Spitzer, a psychologist and retired Columbia University professor, retracted a controversial 2001 study he authored arguing some highly motivated individuals could change their sexual orientation. The study was particularly damaging to the fight against the ex-gay movement, not only because of Spitzer's stature in the medical community, but because he had helped wage the fight to remove homosexuality from the APA's list of mental disorders in 1973.
The Washington Post called the study "explosive" in 2001, but LGBT-rights activists soon attacked its finding, noting that Spitzer had only interviewed 200 people for the study, and that 43 percent of respondents had been referred to Spitzer by ex-gay ministries and another 23 percent were referred by the National Association for Research and Therapy of Homosexuality (NARTH), which believes homosexuality is a mental disorder.
In an interview published in April 2012, Spitzer admitted to Gabriel Arana, an editor at The American Prospect who himself had been enrolled in ex-gay therapy after coming out to his parents as a teenager, that his critics were right.
"In retrospect, I have to admit I think the critiques are largely correct," he said. "The findings can be considered evidence for what those who have undergone ex-gay therapy say about it, but nothing more." The 79-year-old Spitzer then asked Arana to print a retraction of his study.
Ex-gay therapy has been deemed junk science by every major medical and mental health organization. From 2007 to 2009, a task force appointed by the American Psychological Association studied ex-gay therapy and found there was little evidence to support "sexual orientation change efforts," and that in many cases such treatment only exacerbated distress and depression in patients.
But with some licensed therapists still engaging in the practice, advocates have taken their fight before lawmakers and judges. In September 2012, California became the first state in the nation to outlaw ex-gay therapy for minors at the hands of licensed therapists.
"This bill bans non-scientific 'therapies' that have driven young people to depression and suicide. These practices have no basis in science or medicine and they will now be relegated to the dustbin of quackery," said Gov. Jerry Brown (D) in a statement upon signing the bill into law.
In August, New Jersey became the second state to ban ex-gay therapy for minors. Gov. Chris Christie, a likely candidate for the Republican nomination for president in 2016, said, "Exposing children to these health risks without clear evidence of benefits that outweigh these serious risks is not appropriate."
Both bans have been challenged in court by conservative groups such as the Liberty Counsel, who have argued the laws undermine parental rights. The challenges have thus far proven unsuccessful, with the Ninth Circuit Court of Appeals upholding the California law earlier this summer. In its 3-0 decision, the federal appeals court ruled the state Legislature was within its right to pass legislation protecting the well-being of minors.
The broader message sent by the passage of the two bans with bipartisan support is significant. After all, such laws essentially profess a consensus among lawmakers that being gay is not a choice, thus raising serious questions about how other civil rights, such as marriage equality, can be denied to gay people.
"This is the keystone issue that underlies every single LGBT issue that's out there," Besen says of defeating the ex-gay movement. "If you win this issue, you've won, in essence."
Similar bans are expected to be considered by lawmakers in states such as Pennsylvania and Ohio. But with such legislation only extending to licensed therapists and not ex-gay ministries due to religious freedom protections, the final battle of the fight against the ex-gay movement is likely not to occur in the halls of state legislatures, but in the churches of some of the nation's most conservative communities.
---