On Tap
Maurice Hines toasts his late brother Gregory and other stars who helped him move through a life in the limelight
(Page 2 of 3)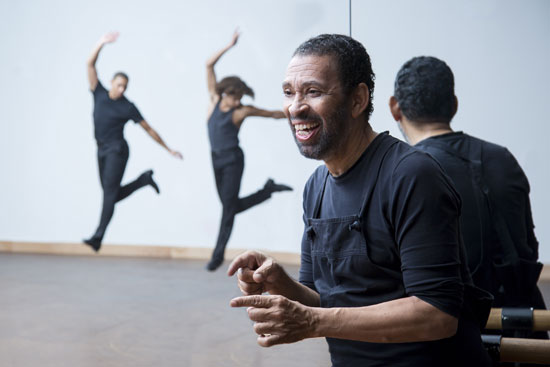 Maurice Hines: Tappin' Thru Life
(Photo by Tony Powell)
HINES: I did Guys and Dolls [at Arena] about 15 years ago. It's really since then. I used to go down and see friends of mine that would do shows there [at Arena]. I fell in love with the theater in the round there.
So when Charles Randolph-Wright said, ''Maurice, they want me to do Guys and Dolls.'' I said, ''I'll do Nathan Detroit [the lead].'' And that's how it started. I love the D.C. audiences. They're very, very warm. Certain cities are not. You have to warm them up. I know the tricks to get an audience, all performers do. But I don't have to do tricks [in D.C.]. I just come out and I say, ''Hi!'' And they say ''Hi'' right back! They do. [Laughs.] It's wonderful. That's why we love to do what we do. Otherwise we might as well be in a rehearsal studio. You do it for the audience.
MW: When did you get the notion to do these shows paying tribute to pioneering African-American entertainers, such as the Duke Ellington revue Sophisticated Ladies or the Eubie Blake revue Eubie!?
HINES: Sophisticated Ladies had been done on Broadway. Gregory did it on Broadway and then I took over for him when he went to L.A. And then we did Eubie! together. And then there were a lot of people paying tribute to the giants and the people who came before us. So it was a no-brainer. I mean, Duke Ellington's music says it all right by itself, it doesn't need anybody. But you have creative people who put the music together, put it in a certain form, like Charles Randolph Wright did for Sophisticated Ladies in Washington, and it was a phenomenon.
I do shows for everybody. I don't like niche marketing. My show is for everybody. White, black, Hispanic, Asian. It's everybody. That's how I grew up, and that's what Sophisticated Ladies was, that's what Eubie! was, that's what [his MetroStage show about] Ella Fitzgerald is. Everybody loved Ella. So I do shows like that. My show is for everybody. It's not niche marketing. And I make sure that the marketing people know that.
MW: You haven't paid tribute to anyone specifically gay, have you?
HINES: No, I don't think in terms of that. I think in terms of an audience. I don't say, oh, this isn't for a gay audience. See, once again, I don't label. I'm not about labeling. I don't see why we have to. That's like saying, oh, Maurice is a black person. I'm a person! I'm not a black person!
MW: But you are gay. When did you come out exactly?
HINES: I came out when I came out the womb. [Laughs.] It never occurred to me that I was in anything. I was always just Maurice. I am who I am. If you want to perceive me as gay, or you want to put a label on me, that's you. I put the label on myself, which is, I'm Maurice. It's that simple. I was always proud to be that, if you want to label it, I was proud to be gay, I was proud to be black. Nothing ever changed my whole life. My whole life.
MW: When did you tell your parents? Were they okay?
HINES: They always knew. [Laughs.] We didn't talk about it. In those days in the '50s, you didn't talk about, but they always knew. We didn't go through any big thing about it. Furthermore, we were in show business and we were around a lot of gay people, and nobody called anybody gay in show business. They were their names.
MW: Gregory wasn't gay, right?
HINES: No. I know a lot of guys were hoping he was gay. [Laughs.] He would go to the gay clubs with me. It was funny because guys would come up, ''I knew your brother was gay.'' And I'd say, ''Now why would you say that? You don't know nothing. If I went to a straight club, would that automatically make me straight? Don't talk stupid.'' I can't stand stupid people. If I went to a straight club, I'm still Maurice Hines. Gay! We had no sexual hang-ups. Our parents were fantastic people, there's no doubt about it.
MW: But when you were a young adult – or even just a decade ago – the idea of getting married to another man, that wasn't even thought of, much less allowed.
HINES: No, I didn't think of that. And I don't think of that so much. I don't like to ape other [things]. I don't put it down for other people, if that's what they want. But to me, that was like wanting to be straight when I was growing up. I think it's romantic. I'm a romantic man.
I don't want anybody to stop me from doing anything. Anything I chose to do, as long as it doesn't hurt anybody, don't stop me. Don't say you can't do this because you're gay. No, no, no. I think it's a very romantic thing to do -- to fall in love and get married. But it was always like, well that's what straight people do. I understand all of the other ramifications about your partner being in the hospital, and all of that. And the joint taxes. That's all important.
I had a lover for 16 years. He was an attorney and a great man, a great man. We raised our daughter. We did it all. We didn't say, ''Oh, look what we're doing.'' I don't know if everybody should know about it. No! It's our personal business. It's very important to have a personal life. If you don't, then you have no life at all. That's how we approached it, anyway. And my daughter is fine -- in D.C., getting her master's. A fabulous girl! Cheryl Davies.
MW: How old is she?
HINES: She's 30. We adopted her when she was under a year old. I was diapering. I loved it.
MW: For the record, you've never actually been legally married?
HINES: No, no, no. We didn't legally marry. We were just together. As far as our minds were concerned, we were. We were together for 16 years. We didn't need validation. I'm very like that. I don't need anybody else's validation – for anything. I get validation on the stage with the audience, me pleasing them, which is my job. But that's the only validation that I look for.
MW: Are you in a relationship now?
HINES: No. It would take a very special man. I need someone who's a star in his own right, in whatever he's doing. That's very rare. I've only found it the once. Silas was a great attorney, and he knew it, so it made no difference what I was.
MW: Did you grow up in a really liberal or progressive-thinking household?
HINES: Oh, yeah! Well, we were in show business. See, the bigotry and prejudice was not among show people. You might get it among producers. Certainly not directors. Mostly producers. They'd go, ''There are too many blacks in the show.'' That happened in the '50s and '60s on Broadway.
I still see it in the ballet world. I don't see black male ballet dancers handling the white ballerinas. I don't see that. Still the ''old world'' runs the ballet. And as far as operas, there aren't that many romantic leads that are African-American. That's a little behind. That's always surprised me. Because in my world, in show business, the dance world, as far as jazz and Broadway, all the kids in the dance world want to know is, can you dance? Can you partner?
But then you have to deal with the board of directors, especially of ballet companies. Do you see a lot of black dancers at the ballet?
MW: No, usually one, maybe. If you're lucky.
HINES: Exactly. Maybe one. And certainly no male ones.
MW: Actually there is with The Washington Ballet now. The Washington Post profiled him recently.
HINES: Oh, how wonderful! I didn't know that. That's great to see. Well, they're growing up. They've gotten a little behind. [Laughs.]
MW: More broadly, what's your take on the state of dance and choreography today?
HINES: I think the state is good, but we need more diversity in choreography, we really do. And I've said this for Broadway, too. Garth Fagan, he's African-American, he did The Lion King. That's over 10 years old. Sergio Trujillo, who did Memphis and of course Jersey Boys, is Hispanic. But we don't have that many African-American choreographers. Bill T. Jones, but Bill T. Jones is an entity unto himself. He has his own company. But there isn't that much diversity. There should be more African-American, Hispanic, Asian choreographers. Because they're Asian doesn't mean they can't do hip-hop if they want to.
MW: I just read that The Lion King is now the highest-grossing Broadway show of all time.
HINES: I hadn't heard that, but it wouldn't surprise me.
---