On Tap
Maurice Hines toasts his late brother Gregory and other stars who helped him move through a life in the limelight
Maurice Hines doesn't remember how old he was when he first performed as a tap dancer on The Tonight Show Starring Johnny Carson alongside his brother Gregory and his father, Maurice Sr.
''I never go by age. Age is just a number, so I never really talk about age,'' Hines says. ''But it was around 1961. I was still in high school, I think.''
By that point, the New York-native Hines had already made his Broadway debut: He appeared with his brother in the forgotten 1954 musical The Girl In Pink Tights, with choreography by Agnes de Mille (Oklahoma!). Though ''the Hines kids'' had already performed at The Apollo Theater, ''I had never seen all these dancers, and all the singers -- it was a bigger show,'' he says. ''And I've loved it ever since. I love going to the theater, I love the immediacy of it.''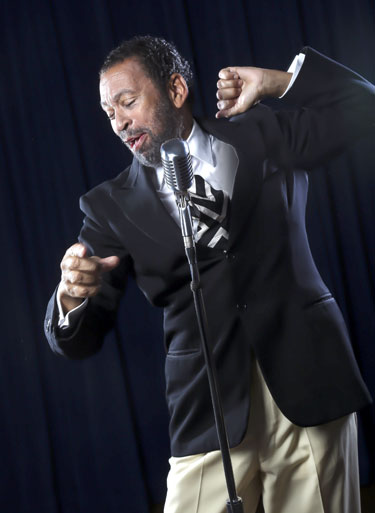 Maurice Hines: Tappin' Thru Life
(Photo by Tony Powell)
In recent years Hines has worked on various shows paying tribute to pioneering African-American entertainers, including several at Arena Stage and MetroStage, where he's set to direct and choreograph his Ella Fitzgerald bio-musical, Ella, First Lady of Song, starting in January. (It's a follow-up of sorts to his Josephine Baker-focused show, Josephine Tonight, presented at that Alexandria venue in 2012.) But right now, the pioneer in the spotlight is Hines himself, with his new autobiographical show, Maurice Hines Is Tappin' Thru Life. Hines developed the show, directed by Jeff Calhoun (Newsies) in a production starting at Arena Stage next week, chiefly as a way to pay tribute to his late brother, who died 10 years ago.
The show's title reflects the kick-start that tap dancing gave Harlem-based Hines in show business. At the encouragement of an uncle, Hines's mother took her oldest son to see a neighborhood dance instructor, who immediately signed him up for classes. ''I did seven pirouettes at 5 years old,'' Hines recalls, joking, ''I might need to drop down to six now, but I can still do my pirouettes.''
A song-and-dance man for half a century now, Hines credits his success to the many great artists he and his brother worked with during their formative years. He also credits ''the great, great pioneering men that don't get enough due'' for first allowing black artists to shine on the small screen, from Ed Sullivan to Merv Griffin to most significantly Johnny Carson, who had Hines, Hines & Dad -- featuring papa Hines as drummer and sidekick -- on several dozen times.
''If it wasn't for Johnny Carson, we wouldn't have the career that we have,'' Hines says matter-of-factly. ''After we did all those shows, we had every main room in the world.''
METRO WEEKLY: How did you come up with the idea for this show to begin with?
MAURICE HINES: I happened to be reading an article on tap, and they didn't mention my brother's name! And I said, well, that's very wrong, because Gregory even went to Washington and got National Tap Dance Day [enacted by Congress in 1989], besides being the great tap dancer that he is. I got upset. So I said, I got to do something about this. How soon they forget, because he had recently passed away, I think a year before.
The act I was doing before, I would just start talking about Gregory, 'cause I wanted to feel his presence with me. And it evolved from there. I did some shows in Florida, in Boca Raton, and added some pictures that my mother had. And the audience loved it! I did a little longer version in Boston. And Jeff Calhoun came up there, and he said, ''This is spectacular. The audience loves it, and they love the story.'' I tell stories about Gregory and I working with Judy Garland and Ella Fitzgerald and Frank Sinatra -- all these great people. So Jeff has evolved it into something even bigger. So that's really how it all started. It's as simple as that. Just me making sure that people don't forget my brother.
MW: So you share memories you have of working and hanging out with famous and important people, many from when you were just a toddler or young adult over a half-century ago. You must have an exceptional memory to be able to do that.
HINES: Well, a lot of the memories I tell in the show, I don't want to reveal them too much, because they were very important and I want the audience to hear them for the first time from the stage. But the one I really love is the one on Judy Garland. Because when we met her, we didn't really meet her until she actually walked on the stage. We did a number with her, but her choreographer did the number standing in for her [in rehearsal]. We said, ''Will we ever meet Ms. Garland before we do the number?'' And he said, ''No. She doesn't rehearse. She'll just come on.'' And so, when Gregory and I did the number, she just jumped on the stage. She said, ''Hi, I'm Judy Garland!'' And I said, ''Hey, Judy, I'm Maurice. This is my brother Gregory.'' And then we did the number. And she just fell in love with us, because we were so – you know, we were so natural. Nothing frightened us. We had been doing it since we were little kids. Even though it was Judy Garland -- we were thrilled to meet her – we knew what we were supposed to do professionally. And she was the ultimate professional. We had a great time with her.
MW: Do you keep a diary? How do you remember all the details?
HINES: No, no, I never kept a diary. All the stuff that I talk about in the show I remember. My brother always said that I have the best memory – which I do. I remember every little detail.
MW: How old were you when you actually started?
HINES: I was 5 and Gregory was 3.
MW: And you're telling me that you absolutely remember details of things that happened to you when you were that young?
HINES: Yes I remember, sure. I remember teaching Gregory to tap. I remember when we first started. I remember our first show at the Winter Garden Theatre in the Bronx. And of course my mother kept all these wonderful pictures of us, and so that always triggers memories. And that's in the show also. We have a lot of pictures of us when we were little and we were starting out. And pictures of us with Ella Fitzgerald, and people like that. Nat King Cole. Meeting Frank Sinatra and Dean Martin.
We think [stars] today are great, but believe me, when you meet Sinatra -- actually meet Sinatra – and you meet Judy Garland, and you work with Ella Fitzgerald, and you know Lena Horne…. These kids don't come close to them. [Laughs.] They might be good for today, but when you actually meet those greats, it's beyond anything you ever imagined. It's sort of like they really were special. A gift from God -- he had just touched them. He really had. And they're the reason I'm on the stage, because I learned from them.
MW: You're saying today's stars are not as talented?
HINES: No. There are a few. I think Gladys Knight said it best. She was on The Queen Latifah Show, and she happened to mention Sammy Davis Jr. People know the name, but if you never saw Sammy at his peak, no one could do what he did. There's nobody around that could ever do all of that. Nobody! And she mentioned that. She said, ''I was very lucky to play in Las Vegas with the Pips and be around the Sammy Davises and the Lena Hornes.'' No, these kids, they don't come close. Michael Jackson, yes. But Michael also studied Sammy Davis Jr. He saw Sammy. Once you see that greatness, it makes you try to come up to that.
The only one I think -- and I see her as part of that generation -- is Tina Turner. Tina Turner is spectacular. Beyoncé is okay. But she ain't no Tina Turner! I mean when you see Tina Turner, it's a different story. And even Beyoncé will tell you that. Beyoncé's a talented girl, but there'll never be another Tina. And Aretha [Franklin] -- those women could sing, baby. They didn't lip-sync songs. They sing 'em.
MW: So there's nobody new that you would say even comes close to the greats of previous generations?
HINES: No. One of my great idols, Harry Belafonte, he was unbelievable live. He would walk out on the stage and get a standing ovation before he opened his mouth! You don't see that today. I was there! I saw it! Instant rapport. I've seen all the tricks and the pyrotechnics they do, but I don't see [natural ability].
I think one of today's great voices is Oleta Adams. Do you hear her records? Do you see her? No. Anita Baker is not even recording. One of the great voices! What do we have now, when you think about it, compared to those girls?
MW: We have Adele.
HINES: [Silence.]
MW: Also, Bruno Mars. He doesn't do much for you?
HINES: Yes, he does, actually. I bought his CD. I do like him. I think he's an original. There are some singers today. I'm not talking about that so much. I'm talking about this thing when you're onstage. Ella Fitzgerald said, ''If you can't do it with just a piano, get out the business.'' She didn't need all the things blowing up, and all that. James Brown did all that stuff. James Brown was a great performer, so they didn't need hit records. Tina said, ''I don't need hit records. I have an audience in Europe. I'll sell out arenas, stadiums! I don't have to have a hit record every time I open my mouth.'' Those are great performers. People know they're going to get a great show.
One I think is a wonderful artist is Bruce Springsteen. Fabulous! Gifted people. That's what I'm about. I think you find a lot in the theater, though. They're more in the theater. Because we have to learn our craft. We can't lip-sync. We got to do eight shows a week. So the theater artists, like Audra McDonald, Norm Lewis, Brian Stokes Mitchell – we're doing eight shows a week. We can't be jiving out there. So the theater people I always have great respect for. You can do a concert, and then you're off for four or five days. Not in the theater, baby! You got a matinee on Wednesday. You better be singing.
You know who I love, speaking of new? I love Lady Gaga. Because underneath all that she can really play piano, and she can really sing. And you know who her idol is, don't you? She said it on the HBO special she did from Madison Square Garden. Her idol was in the audience, and she wanted to make sure they knew it wasn't Madonna, see. I was surprised, too. She said, 'I was in musical theater in college and my idol is sitting in the audience right now. It's Liza Minnelli.' And Liza Minnelli stood up. Right away I knew, by watching Lady Gaga, I said this girl is not just no little frivolous thing here. She has a base, and the base is talent, and her idol was Liza Minnelli. Who was, of course, at her peak, spectacular.
MW: Although a lot of Lady Gaga's success is due to shock value.
HINES: Well, she's smart. She said, ''Listen. I don't have Aretha Franklin's sound. I don't have a rock voice.'' She probably said, ''They ain't going to listen to me unless I come out and do crap freaky things, and then I can do my performance art thing. But I got to get them first. Now how do I get them? Madonna set the template, although Madonna don't have no voice. I got a voice, so I'll come out in a meat dress, and then they'll listen to my music. And I've got interesting things to say, but they'll never hear it if I don't get their attention.'' Smart! Smart! She's living in show business today. That's why I'm a huge fan of hers. Because she's not just an entertainer, she's a smart woman. And she was right. They wouldn't take her just singing straight-ahead at the piano, like she does in the middle of her act. She sits at her piano and plays a wonderful ballad. She sings her ass off.
MW: On the topic of theater, do you have any concerns about the high price of tickets to Broadway relative to the old days?
HINES: Yes. Oh, yes! I was very vocal about it when it first happened. I think they made it an elitist thing to do. It's very disheartening for me. Very disheartening. That's why I like doing regionals, because the ticket prices are lower. Certainly I get paid less, though naturally I want to get paid more like anybody else. But I do regionals because it opens up a venue for people to come see the show. And that's what you want. You want them to come see the show. So I do it.
MW: You're still working occasionally on Broadway though?
HINES: Oh, yeah. They want this to come to Broadway. But I like touring. I've always liked it. I like being on the road. But I like being on the road because the ticket prices are still cheaper than Broadway.
MW: How long have you had this strong connection, this bond with D.C. theater?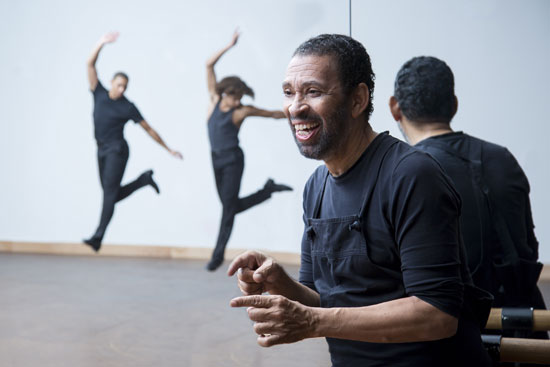 Maurice Hines: Tappin' Thru Life
(Photo by Tony Powell)
HINES: I did Guys and Dolls [at Arena] about 15 years ago. It's really since then. I used to go down and see friends of mine that would do shows there [at Arena]. I fell in love with the theater in the round there.
So when Charles Randolph-Wright said, ''Maurice, they want me to do Guys and Dolls.'' I said, ''I'll do Nathan Detroit [the lead].'' And that's how it started. I love the D.C. audiences. They're very, very warm. Certain cities are not. You have to warm them up. I know the tricks to get an audience, all performers do. But I don't have to do tricks [in D.C.]. I just come out and I say, ''Hi!'' And they say ''Hi'' right back! They do. [Laughs.] It's wonderful. That's why we love to do what we do. Otherwise we might as well be in a rehearsal studio. You do it for the audience.
MW: When did you get the notion to do these shows paying tribute to pioneering African-American entertainers, such as the Duke Ellington revue Sophisticated Ladies or the Eubie Blake revue Eubie!?
HINES: Sophisticated Ladies had been done on Broadway. Gregory did it on Broadway and then I took over for him when he went to L.A. And then we did Eubie! together. And then there were a lot of people paying tribute to the giants and the people who came before us. So it was a no-brainer. I mean, Duke Ellington's music says it all right by itself, it doesn't need anybody. But you have creative people who put the music together, put it in a certain form, like Charles Randolph Wright did for Sophisticated Ladies in Washington, and it was a phenomenon.
I do shows for everybody. I don't like niche marketing. My show is for everybody. White, black, Hispanic, Asian. It's everybody. That's how I grew up, and that's what Sophisticated Ladies was, that's what Eubie! was, that's what [his MetroStage show about] Ella Fitzgerald is. Everybody loved Ella. So I do shows like that. My show is for everybody. It's not niche marketing. And I make sure that the marketing people know that.
MW: You haven't paid tribute to anyone specifically gay, have you?
HINES: No, I don't think in terms of that. I think in terms of an audience. I don't say, oh, this isn't for a gay audience. See, once again, I don't label. I'm not about labeling. I don't see why we have to. That's like saying, oh, Maurice is a black person. I'm a person! I'm not a black person!
MW: But you are gay. When did you come out exactly?
HINES: I came out when I came out the womb. [Laughs.] It never occurred to me that I was in anything. I was always just Maurice. I am who I am. If you want to perceive me as gay, or you want to put a label on me, that's you. I put the label on myself, which is, I'm Maurice. It's that simple. I was always proud to be that, if you want to label it, I was proud to be gay, I was proud to be black. Nothing ever changed my whole life. My whole life.
MW: When did you tell your parents? Were they okay?
HINES: They always knew. [Laughs.] We didn't talk about it. In those days in the '50s, you didn't talk about, but they always knew. We didn't go through any big thing about it. Furthermore, we were in show business and we were around a lot of gay people, and nobody called anybody gay in show business. They were their names.
MW: Gregory wasn't gay, right?
HINES: No. I know a lot of guys were hoping he was gay. [Laughs.] He would go to the gay clubs with me. It was funny because guys would come up, ''I knew your brother was gay.'' And I'd say, ''Now why would you say that? You don't know nothing. If I went to a straight club, would that automatically make me straight? Don't talk stupid.'' I can't stand stupid people. If I went to a straight club, I'm still Maurice Hines. Gay! We had no sexual hang-ups. Our parents were fantastic people, there's no doubt about it.
MW: But when you were a young adult – or even just a decade ago – the idea of getting married to another man, that wasn't even thought of, much less allowed.
HINES: No, I didn't think of that. And I don't think of that so much. I don't like to ape other [things]. I don't put it down for other people, if that's what they want. But to me, that was like wanting to be straight when I was growing up. I think it's romantic. I'm a romantic man.
I don't want anybody to stop me from doing anything. Anything I chose to do, as long as it doesn't hurt anybody, don't stop me. Don't say you can't do this because you're gay. No, no, no. I think it's a very romantic thing to do -- to fall in love and get married. But it was always like, well that's what straight people do. I understand all of the other ramifications about your partner being in the hospital, and all of that. And the joint taxes. That's all important.
I had a lover for 16 years. He was an attorney and a great man, a great man. We raised our daughter. We did it all. We didn't say, ''Oh, look what we're doing.'' I don't know if everybody should know about it. No! It's our personal business. It's very important to have a personal life. If you don't, then you have no life at all. That's how we approached it, anyway. And my daughter is fine -- in D.C., getting her master's. A fabulous girl! Cheryl Davies.
MW: How old is she?
HINES: She's 30. We adopted her when she was under a year old. I was diapering. I loved it.
MW: For the record, you've never actually been legally married?
HINES: No, no, no. We didn't legally marry. We were just together. As far as our minds were concerned, we were. We were together for 16 years. We didn't need validation. I'm very like that. I don't need anybody else's validation – for anything. I get validation on the stage with the audience, me pleasing them, which is my job. But that's the only validation that I look for.
MW: Are you in a relationship now?
HINES: No. It would take a very special man. I need someone who's a star in his own right, in whatever he's doing. That's very rare. I've only found it the once. Silas was a great attorney, and he knew it, so it made no difference what I was.
MW: Did you grow up in a really liberal or progressive-thinking household?
HINES: Oh, yeah! Well, we were in show business. See, the bigotry and prejudice was not among show people. You might get it among producers. Certainly not directors. Mostly producers. They'd go, ''There are too many blacks in the show.'' That happened in the '50s and '60s on Broadway.
I still see it in the ballet world. I don't see black male ballet dancers handling the white ballerinas. I don't see that. Still the ''old world'' runs the ballet. And as far as operas, there aren't that many romantic leads that are African-American. That's a little behind. That's always surprised me. Because in my world, in show business, the dance world, as far as jazz and Broadway, all the kids in the dance world want to know is, can you dance? Can you partner?
But then you have to deal with the board of directors, especially of ballet companies. Do you see a lot of black dancers at the ballet?
MW: No, usually one, maybe. If you're lucky.
HINES: Exactly. Maybe one. And certainly no male ones.
MW: Actually there is with The Washington Ballet now. The Washington Post profiled him recently.
HINES: Oh, how wonderful! I didn't know that. That's great to see. Well, they're growing up. They've gotten a little behind. [Laughs.]
MW: More broadly, what's your take on the state of dance and choreography today?
HINES: I think the state is good, but we need more diversity in choreography, we really do. And I've said this for Broadway, too. Garth Fagan, he's African-American, he did The Lion King. That's over 10 years old. Sergio Trujillo, who did Memphis and of course Jersey Boys, is Hispanic. But we don't have that many African-American choreographers. Bill T. Jones, but Bill T. Jones is an entity unto himself. He has his own company. But there isn't that much diversity. There should be more African-American, Hispanic, Asian choreographers. Because they're Asian doesn't mean they can't do hip-hop if they want to.
MW: I just read that The Lion King is now the highest-grossing Broadway show of all time.
HINES: I hadn't heard that, but it wouldn't surprise me.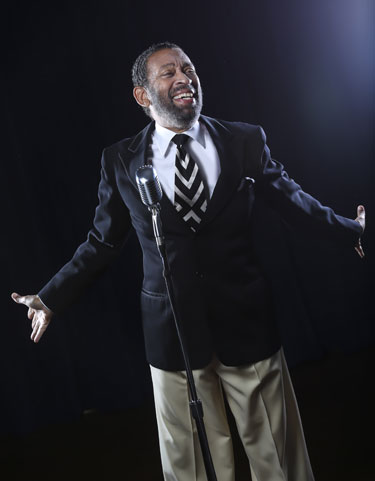 Maurice Hines: Tappin' Thru Life
(Photo by Tony Powell)
MW: And yet you're saying that choreographer hasn't been hired to do much since?
HINES: Well, Garth Fagan, he has his own dance company. But I haven't seen any other Broadway show he's doing. And he certainly should have been offered one. When you make that kind of money, obviously you're good at it. But I don't see his name in any other shows.
MW: And reality TV shows like Dancing With The Stars, do you feel like that is good or bad for the dance community?
HINES: I don't look at reality TV. I'm not interested in reality TV. I like So You Think You Can Dance, I enjoy that. And I have great respect for people who want to try to dance and try to get better. But I'm only interested when it's really great. And some of them are good. But I don't like reality shows. The reality shows you're talking about [competition shows], that's different. Reality shows, that's looking at somebody else's life. I have a life! I'm living my life. Why would I want to watch somebody live their life? It's boring. I have mine. [Laughs.] Sit up and watch some housewives beat each other up? Ew. It's horrible.
MW: And it just creates this realm of talentless fake celebrities.
HINES: Oh, exactly! Apropos of that – I'll never forget it – I was at the Lincoln Theatre, and we had closed, and I was still there. And a show was coming in. They had all these wonderful artists who had been around and found a niche for themselves, really great singers. I think Chanté Moore was in it. Really wonderful singers. Who was the star of it? This woman Mimi, or Neci, or somebody from The Real Housewives of Atlanta. [Editor's Note: NeNe Leakes.] Do you know her? She was billed over all these people who had been working all their lives! She was first billed! I said, ''Ugh! Well, no, I'm not going for that.'' All she was on, she was on the Atlanta housewives show. That's all she did, and she got billed over these wonderful artists who had been working all their lives to get better. That doesn't say that much about them, but it says a lot about us as a society, what we want to buy. I'm not going for it. I don't go for it, I'm sorry.
MW: Even some of my friends I consider smart and discerning, that's what they like to watch and talk about.
HINES: That's what they watch! Oh no, I get it. I just don't play the game. You can play the game if you want, but if you ask me, ''Did you see that?'' I'll say no. So what are we going to talk about? 'Cause I didn't see it. [Laughs.] '
MW: You talked about how you don't do niche marketing, but that sort of calculation does seem particularly pronounced today.
HINES: Yes, I agree with that. They have these marketing tools, these marketing firms. Niche building. What? What are you talking about? That's why I love Queen Latifah, because she did a jazz album. I have great respect for her. She started in the rap world, and then all of a sudden she's doing Chicago. Even though it was a movie it was still a Broadway show. And then she did a jazz album. She did a great version of a song by Pheobe Snow, ''Poetry Man.'' She did wonderful. I have to give it to her. Go, Queen Latifah! She was, ''Don't limit me.'' That's what she was saying. ''Just because you think you know what I do….'' That's the kind of performer that I like.
MW: But she has declined to come out publicly.
HINES: Well, she's doing it on her terms. But that's her personal business. Again, her personal business!
MW: Well, gay people struggle. I mean, you didn't. But a lot of gay people do struggle. And seeing a famous, openly gay person might help a young girl struggling to accept her own sexuality.
HINES: Yes, they do struggle. I joined a group when I was in L.A. specifically to be on the phones and talk to gay youth, with whatever problems. I've done that. And I get it. But it's still her personal business. She chooses when she does that. And that's every person's right. And if she chose not to, it's still her right. That's my opinion on that.
MW: I neglected to ask if you have other siblings.
HINES: No. It was just Gregory and I. So it's very lonely for me. That's why this show is wonderful 'cause I bring him onstage with me, I dance with him as if he's next to me. And I talk a lot about my mother and father, and my mother and father are gone too. So I feel lonely without them. We started as a family team, and for me to be without them is lonely. I can't help it. But this is a good way for me to keep them with me. That's what I love.
MW: And you're also performing the show with two pairs of tap brothers, John and Leo Manzari and Max and Sam Heimowitz. That must remind you of all the time you spent working with Gregory, and help with the loneliness.
HINES: Oh, of course! Oh, it definitely does. It's less lonely when we're all onstage together. Oh, it's just heaven, it's just heaven. I can feel my brother there. And because they're brothers too, they get it.
MW: The last thing I want to ask you I'm asking last, because I don't know how you'll answer it. You talked about how you don't really like to talk about age, but at least according to Wikipedia, it suggests you're turning 70 this year.
HINES: Yeah, I don't really discuss it. I never discuss my age. Wikipedia has it. Fine. It is what it is. But it's not something that I discuss. I find all of that boring.
MW: But when you have your birthday, do you go out and celebrate?
HINES: No, I don't. I don't celebrate. I'm a loner, basically. Especially now that my immediate family is gone. I would celebrate with them of course -- my brother and my mother and father. But, no, I don't really celebrate it. I do celebrate with my daughter. We may go to dinner. But other than that, no.
MW: Even milestones, like reaching 70, you don't really celebrate those either?
HINES: Yeah, but they're mine. They're personal things! [Laughs.] I know it's hard for you. But they're mine! It's my personal business, my personal life. [Laughs.] I'll give you an example. When my brother passed away, I did an article with The New York Times. They called me up. And [the reporter] was young. And he actually said, ''How come we didn't know that your brother had cancer?'' And I said, ''Because it was none of your business. It was a family matter.'' He said, ''You know, you're right. We're so used to now knowing everybody's business.''
Why would my brother say, ''Oh, look everybody, I have cancer.'' Wouldn't that be silly?
MW: Not silly. I mean, the idea is that if people come out about having cancer, it might encourage others to get screenings more often. Or just help others living with cancer to see that they're not alone.
HINES: But, again, that's a personal choice. So that's what I was telling him. So if Gregory had chosen to do that, I would have respected that too. But he chose to [be private]. If he wanted to, he would have! But clearly he said, ''This is my personal business. And this is for my family.'' My grandmother used to say that's called being ''grown.'' That's from the old-timers. Like being ''grown up.'' Making personal choices, that's being grown. Not being told what to do by other people. When you're really grown, then you make choices for yourself. As long as you're not hurting anybody, then you make choices. And that's not to be discussed if you choose not to discuss it.
MW: So people who see you on your birthday, as Wikipedia lists it -- Dec. 13 -- I guess they shouldn't come up to you and say 'Happy Birthday' or acknowledge it.
HINES: Sure they should! They can do anything they want. That's their personal business, if they choose to do that. That's not for me to tell them don't you do that. No. Again, it's all about personal business. And I'll be just as gracious as I always am and say, ''Thank you so much!''
Maurice Hines Is Tappin' Thru Life opens Friday, Nov. 15, at 8 p.m., and runs to Dec. 29 at Arena Stage, 1101 6th St. SW. 'Tickets are $50 to $99. Call 202-488-3300 or visit arenastage.org.'
---