The What, When and Who of 2013
The Year in Review
It's not quite over, but 2013 has already piled up enough historic points to sit out the few days remaining to 2014. While the community has celebrated the long, wonderful lives of some who left us in 2013, and mourned the lives of those who left far too soon, marriage equality -- more than any single person or event -- could fairly be the big LGBT news of 2013. And that news, at least, has been good.
In whirlwind fashion, we're revisiting these 12 months to remind us of some points worth remembering, some we might just as soon forget, and to cherish the journey for its own sake.
JANUARY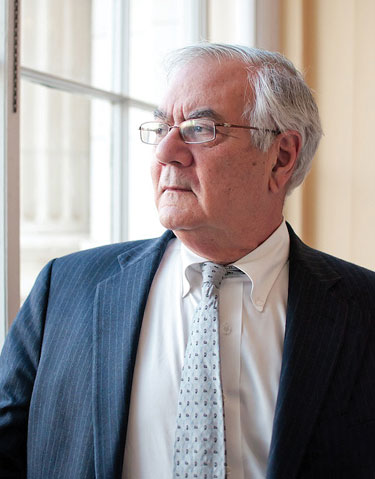 Barney Frank
January was a big month on the 2013 calendar, starting the year off with marriage-equality in Maryland, secured at the ballot box the previous November -- as was the case in Maine and Washington, too. Those elections also had ramifications on Capitol Hill, of course, with important changes taking place in January. Among them, Democrat Barney Frank served his last day in office, retiring after more than three decades representing Massachusetts's 4th District and paving the way for other out gay candidates to follow. Tammy Baldwin (D-Wis.) was one of them, moving from the House of Representatives to be sworn in Jan. 3 as the first out candidate to be elected to the U.S. Senate, as six fellow out legislators were sworn in to serve in the House for the 113th Congress.
Barack Obama was also sworn in for a second presidential term, delivering an inaugural address that repeated his signature ''Seneca Falls, and Selma, and Stonewall'' line, referring the suffrage, segregation and LGBT activism.
Coming a bit earlier than usual, the Centaur MC's 29th Mid-Atlantic Leather Weekend sidestepped Inauguration Day, but with nearly as much pomp and circumstance named Bryce Caine Mr. MAL 2013. Also securing his seat in January was Richmond General District Court Judge Tracy Thorne-Begland – Virginia's first out gay judge – a father and former Navy pilot who'd become a lightning rod for anti-gay ire in the General Assembly in 2012 and who'd been serving on the bench via temporary appointment since June 2012.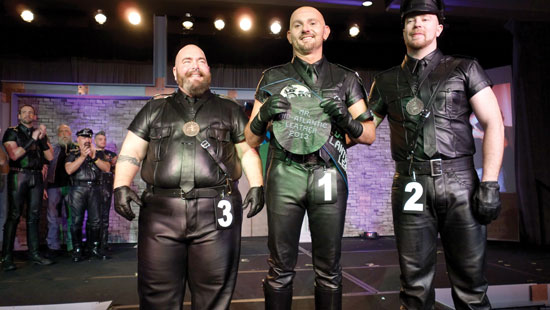 Mid-Atlantic Leather 2013
(Photo by Todd Franson)
While January realized some great gains, the losses were also great. Jeanne Manford, founder of Parents, Families and Friends of Lesbians and Gays (PFLAG), died Jan. 8 at the age of 92. A month later, the White House announced Manford would receive the Presidential Citizen Medal. Dan Massey, a longtime activist in both D.C.'s and the nation's LGBT and sexual-freedom fronts, died Jan. 28 at the age of 70. A local life inarguably cut far too short, however, was that of Michael Triplett. At just 48, Triplett, who had served as the president of the National Lesbian & Gay Journalists Association (NLGJA), died of cancer.
FEBRUARY
While Virginians marked Valentine's Day with statewide protests calling for marriage equality, Gallup sent a Feb. 15 Valentine to D.C. in the form of poll results. According to Gallup, D.C. has the nation's highest percentage of LGBT residents.
With Virginians clamoring for equality and D.C. thick with LGBT residents, it's no wonder a Feb. 22 story from FarifaxTimes.com had locals steaming. The story centered on Centreville, Va.'s Spa World, which apparently asked a women to leave due to perceptions of her gender identity. While the back and forth that followed remains foggy to this day, the simmering controversy eventually settled.
Meanwhile, back in the District, LaShawn Carson was charged in the nonfatal shooting of a gay man at a Columbia Heights IHOP restaurant in March 2012. In October, a D.C. Superior Court jury found her guilty of aggravated assault while armed and other charges.
Looking at bigger-picture items, opponents of California's Proposition 8 ban on marriage equality filed their brief with the U.S. Supreme Court in February. The Senate voted 58-41 to confirm Chuck Hagel as secretary of defense, following Hagel's commitment to gay servicemembers in light of a poor record while serving as a senator. By month's end, Congress passed an LGBT-inclusive version of the Violence Against Women Act, which Obama signed into law in March.
MARCH
First, the bad news, during this month of mostly local news. In Annapolis, the state Senate Judicial Proceedings Committee managed to kill a bill to make antidiscrimination legislation inclusive of gender identity and expression a statewide law. ''The three Democratic senators who voted against the bill should be embarrassed,'' Sharon Brackett, board chair of Gender Rights Maryland, told Metro Weekly at the time. Meanwhile, Universal Gear went public with surveillance video following a March 23 robbery -- its third since December 2012 -- at the popular 14th Street retailer.
But the community rallied and made the best of March nonetheless. The Capital Area Gay and Lesbian Chamber of Commerce, aka The Chamber, threw a successful 5th Annual Mega-Networking and Social Event at Town Danceboutique March 13. The DC Center, the city's LGBT community center, launched an ongoing Monday coffee hour for LGBT seniors, sponsored by Alpha People's Drugs; while more than 100 members of the local transgender community and allies rallied in Columbia Heights Plaza for equal health care treatment for transgender people.
Over at the Supreme Court, March closed out with the justices hearing the arguments on the two cases -- United States v. Windsor and Hollingsworth v. Perry -- focused, respectively, on the Defense of Marriage Act and California's Proposition 8. It was during the DOMA arguments, March 27, that Justice Ruth Bader Ginsburg offered her famous characterization of marriage inequality as creating ''skim milk marriage.''
APRIL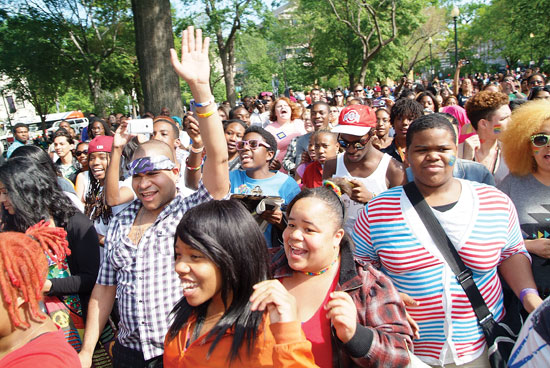 Youth Pride Day in Dupont Circle
(Photo by Ward Morrison)
April returned the familiar. With the Cherry blossoms, so came the Cherry Fund's annual fundraising party. Another old favorite to return to D.C. in April was Tracks, in the form of a reunion weekend for the storied gay nightclub that closed its doors in 1999. Sadly missing was beloved longtime bartender Jay Schmidt, who died in late 2012.
Sadder still was the April 3 murder of Kelly Young, a 29-year-old transgender woman in Baltimore. The community also feared killers of a microscopic sort in April, with Whitman-Walker Health erring on the side of caution and advising that men meeting certain criteria get vaccinated for bacterial meningitis following deaths in New York and Los Angeles.
In bad news that could've been prevented, the Republican National Committee on April 12 unanimously approved an anti-gay marriage resolution. ''This resolution was motivated by anti-gay bigotry and brought forward by RNC members who just don't like gay people," offered GOProud's Jimmy LaSalvia. Other Republicans, however, were seeing the light: Rob Portman of Ohio, a month prior, became the first GOP senator to come out for marriage equality, thanks in large part to his son coming out as gay.
The community got an April boost with the NBA's Jason Collins coming out in a Sports Illustrated exclusive. A more quantifiable boost -- $25,000 -- was made by Crew Club's D.C. Allen in support of The DC Center's effort to relocate to the Reeves Center. And as it usually does, weather permitting, the Youth Pride Alliance closed out the month with its annual Youth Pride celebration. In 2013, that celebration featured another out athlete, Wade Davis of football fame.
MAY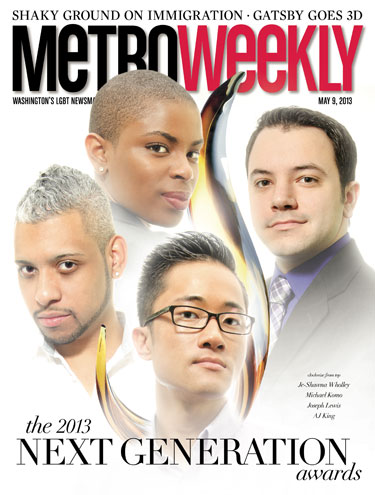 2013 Next Generation Awards cover
Come May, it was like January all over again, but with much nicer weather. The forecast was for nothing but rainbows as Rhode Island got the ball rolling May 2 as Gov. Lincoln Chafee (I) signed marriage equality into law, making Rhode Island the 10th state -- along with D.C. -- to join the cool kids, with the law taking effect Aug. 1. The Atlantic tide continued with Delaware Gov. Jack Markell (D) signing his seaside state's marriage-equality law May 7, effective July 1. Even Midwestern Minnesota got in on the act with Gov. Mark Dayton (D) signing his state's law May 14, effective Aug. 1.
Some institutions also took some big steps into the 21st century. The pioneering Peace Corps announced May 21 that it would begin allowing same-sex couples to serve together, as it has allowed married opposite-sex couples. ''I am proud that the agency is taking this important step forward to allow same-sex domestic partners to serve overseas together,'' said the corps' Carrie Hessler-Radelet, at the time deputy director, now acting director. Two days later, even the Boy Scouts of America made room for a timely move with an easy majority of the BSA's 1,400 councilmembers voting to allow gay youth to participate. According to the resolution passed in Dallas, effective Jan. 1, 2014, "No youth may be denied membership in the Boy Scouts of America on the basis of sexual orientation or preference alone.'' As for adults, the ban remains.
There was still more to celebrate in May as Metro Weekly named its four Next Generation awardees: AJ King, Michael Komo, Joseph Lewis and Je-Shawna Wholley. Capital Pride named its 2013 Heroes: Ed Bailey of Town Dancboutique and Number Nine lounge; Barbara Lewis of Whitman-Walker Health; Darren Phelps of Bethel Christian Church D.C.; Maryland state Sen. Jamie Raskin; and Margot Rosen of the Human Rights Campaign. Capital Pride also honored Consuella Lopez for work in the city's Transgender and Gender Identity Respect campaign, Hassan Naveed of Gays and Lesbians Opposing Violence, longtime volunteer Jennifer Hall, and Dignity/Washington.
Of course, May couldn't wrap up properly without a D.C. Black Pride celebration during the Memorial Day weekend. In 2013, the 23rd annual event honored Mayor Vincent Gray, Imani Woody, Courtney Williams, Theara Coleman, Christopher Watson and Donald Burch.
JUNE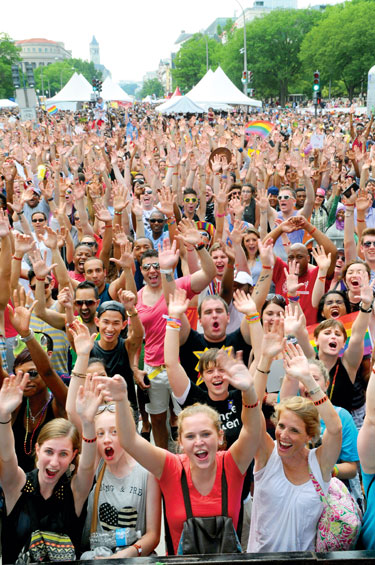 Capital Pride Festival
(Photo by Ward Morrison)
The biggest month on the LGBT calendar arguably outdid itself in 2013, thanks to the Supreme Court's ruling that Section 3 of the Defense of Marriage Act (DOMA) – that weighty bit that blocked the federal government from recognizing legal same-sex marriages – was unconstitutional, affecting everything from immigration to Army bases. And return marriage equality to California? What a great month!
Between the court and the Capital Pride Parade and Festival, June may have seemed like 30 days of bliss. Nothing, however, is ever that cut and dry. Following France's first official same-sex marriage in May, anti-equality protests continued through June. On June 6, A.J. Williams, who appeared as a Metro Weekly Coverboy in February, was killed in a car crash. An unnamed transgender woman survived being shot June 27 in Northeast D.C. On June 21, another transgender woman survived being stabbed 35 to 40 times in Southeast D.C. In October, Michael McBride pleaded guilty to a charge of aggravated assault while armed in that attack. Drag entertainer Miles DeNiro, who performs as Heidi Glüm, was attacked early June 23 at a 14th Street NW takeout spot following a performance at Black Cat in an incident recorded by an onlooker and which shortly after went viral. And Ali M. Jackson, chief assailant in a knife attack on a gay teen outside the Howard Theatre a year earlier, was sentenced June 28 to serve eight years for assault with intent to kill.
And on June 11, the members of the Russian Duma unanimously passed the now-infamous law banning ''propaganda of non-traditional sexual relations'' as gay-rights activists were attacked outside the legislative building. Russian President Vladimir Putin signed the measure June 30.
JULY
While July is usually a quiet month for LGBT Washingtonians, the D.C. Council was nevertheless busy, on July 10 passing the JaParker Deoni Jones Birth Certificate Equality Amendment Act of 2013 on its second unanimous vote. The law, named for the young transgender woman fatally stabbed as she stood at a Northeast bus stop in February 2012, makes it easier for people to amend birth certificate information to accurately reflect gender. ''It's really significant,'' Mara Keisling, executive director of the National Coalition for Transgender Equality, told Metro Weekly at the time. ''Most people take for granted that all the IDs they have match, and most people don't have to show their birth certificate or other documents to prove their identity.''
Christmas may have come early for some, whose gift was the shadenfreude they could savor as Eugene Delgaudio (R-Sterling), Loudon County, Va., supervisor and head of the notoriously anti-gay Public Advocate, was censured by his Board of Supervisors peers following an investigation of his office's use of resources. At the other end of the political spectrum, Maryland state Del. Heather Mizeur formally declared her bid to become governor, which could give the state its first female governor and the country its first out lesbian governor.
Areas where progressive LGBT outreach has sought to build bridges was on display in July, too. D.C.'s annual ''DREAM Graduation,'' a symbolic event at which youth fighting for immigration rights under the Development, Relief, and Education for Alien Minors (DREAM) Act banner, did double duty by hosting the wedding of immigration activist Prerna Lal and her wife Lindsay Schubiner. LGBT outreach also extended to the trial of George Zimmerman in the shooting death of Trayvon Martin, with a coalition of 35 LGBT groups signing an open letter decrying the not-guilty verdict handed down July 13.
At the end of the month, Annie Kaylor, namesake of Annie's Paramount Steakhouse on the 17th Street NW strip of many LGBT venues, died at age 85, after cementing her reputation as a community ally while working at the restaurant through the dawn of the modern gay-rights movement, the AIDS epidemic and on.
AUGUST
August 2013 hardly looked like ''dog days.'' Things got rolling right away as the ACLU, ACLU of Virginia, law firm Jenner and Block, and Lambda Legal on Aug. 1 announced they would be filing a federal class action lawsuit on behalf of two lesbian couples to bring marriage equality to Virginia.
The legal front was already improving for LGBT youth, particularly in California, where Gov. Jerry Brown (D) on Aug. 12 approved the School Success and Opportunity Act to provide transgender youth equal access to all school programs. California's law protecting youth from ''ex-gay'' therapy was upheld in federal court Aug. 29, while New Jersey Gov. Chris Christie (R) signed a similar ''ex-gay'' ban for his state Aug. 19.
In another legal arena, a military judge sentenced Chelsea Manning -- then recognized as Bradley Manning -- on Aug. 21 to 35 years in prison for her role in the ''Wikileaks'' leak of classified documents.
Another veteran, Darren Manzella, one of the best-known faces in the fight against ''Don't Ask, Don't Tell,'' died in a car accident Aug. 29. Just 36, Manzella had married his husband, Javier Lapeira-Soto, less than two months prior. Manzella's death wasn't the only one to shake the community in August. Stephen Sasser, longtime HIV/AIDS activist and the partner of Michael Kaplan, head of AIDS United, died in D.C. at 44.
Through the good and bad of August, one event helped provide perspective – the 50th anniversary of the 1963 March on Washington for Jobs and Freedom – with special emphasis finally going to Bayard Rustin, a gay man and critical architect of the 1963 event.
SEPTEMBER
While falling short of calling for a boycott or new venue for the 2014 Winter Olympics to be held in Russia, President Obama followed up his condemnation of Russia's new anti-LGBT law by meeting with LGBT activists Sept. 6 during his visit to St. Petersburg for the G-20 summit.
Back in D.C., Floyd Lee Corkins, the 29-year-old gay Virginian who pleaded guilty to the nonfatal shooting of a security guard at the headquarters of the anti-LGBT Family Research Council, was sentenced Sept. 19 to 25 years in jail. For HOPE DC, aka HOPE Foundation (Health Options and Positive Energy Foundation), 25 years held a different significance as the organization marked its 25th anniversary with a Sept. 21 celebration. ''We celebrate the dramatic medical breakthroughs that have turned HIV into a manageable condition, but we are deeply aware of the social challenges of living well and responsibly with HIV,'' said Jim Garza, vice president of the HOPE Foundation, in announcing the anniversary. Marking its first-ever celebration, local bisexuals launched Bisexual Pride Day on Sept. 23.
There was also far more somber celebration -- a celebration of Barrett Brick's life -- following the longtime activist's death on Sept. 22, survived by his husband, Antonio Ruffini, of South Africa. With interests in a variety of fields, Brick, who died of cancer at age 59, had served as president of the Gay and Lesbian Activists Alliance of Washington, D.C.; president of D.C. Bet Mishpachah congregation for LGBT Jews; and was recognized by the Rainbow History Project aa a ''Community Pioneer,'' along with many other distinctions.
September also gave the LGBT community a powerful first, as the Senate on Sept. 24 confirmed Todd Hughes as the nation's first openly gay federal appeals court judge.
OCTOBER
The resonance of ''25'' continued into October, beyond Corkins and HOPE DC, and straight – so to speak – to Equality Maryland as the state's primary LGBT organization marked its quarter century. Enjoying another anniversary was the Wanda Alston House, open five years as D.C.'s only dedicated transitional housing for LGBT youth. The five-year mark also came with a new structure including a foundation and Casa Ruby serving as fiscal agent.
There was less celebration and more scramble for Ford's Theatre, set to begin October with a month of Lincoln Legacy Project programming centered on The Laramie Project and the murder of Matthew Shepard. Capitol Hill peevishness, however, stood in the way with the government shutdown hitting the theater, which is operated in association with the federal National Park Service. The nearby First Congregational United Church of Christ, however, was able to pick up the congressional slack and offer space for Ford's to salvage the showings.
By mid-month, the New Jersey Supreme Court forced the wheels of gubernatorial governance and ordered that marriage equality come to the Garden State. Another court, D.C. Superior, found March 2012's IHOP shooter, Lashawn Carson, guilty on seven charges, Oct. 11.
While courts exercised their authority in October, former GOP Pennsylvania governor and former head of Homeland Security Tom Ridge, exercised his own authority at the Log Cabin Republicans' annual dinner and threw the book at his party's tea-party bloc. Americans, Ridge told attendees of LCR's Spirit of Lincoln Dinner, ''are not attracted to a party that imposes an even more severe litmus test on its own members, projects an unacceptable rigidity and self-righteousness on social issues, and spends more time and energy objecting to bad law rather than proposing alternatives.''
The month closed with Whitman-Walker Health's 27th annual AIDS Walk Washington, honoring Sean Sasser, and the 27th annual High Heel Race down 17th Street.
NOVEMBER
There was plenty to be thankful for in November 2013. First up, Illinois and Hawaii joined the marriage-equality club. Hawaii's law took effect in December, while the Illinois law should be fully implemented in June 2014.
Metro Weekly was thankful to be honored with a Prism Award from Rayceen Pendarvis at a Nov. 4 ceremony, and everyone could be grateful Nov. 9 when the Capital Area Gay & Lesbian Chamber of Commerce showcased the area's LGBT community with its annual ''g.life'' expo. Anyone opposing discrimination would've certainly been thankful Nov. 7 when the Senate passed the Employment Non-Discrimination Act (ENDA) -- even if not thankful for the hurdles the legislation faces in the House.
Gratitude aside, there was also plenty to ponder and act upon, like the Transgender Day of Remembrance, Nov. 20, and the Transgender Day of Action, Nov. 22. The November dedication of the ''Pillar of Fire'' sculpture to Whitman-Walker Clinic (now Whitman-Walker Health) and the health workers who provided care to patients during the early years of the HIV/AIDS pandemic will give passersby plenty to think about for years to come. Typhoon Haiyan grabbed the world's attention at it tore through Southeast Asia, and at least one local went above and beyond as Andrei Smith organized a Nov. 22 fundraiser for victims at Cobalt.
Also certainly worthy of LGBT reflection was Obama's posthumously awarding the late astronaut Sally Ride and civil rights hero Bayard Rustin with the Presidential Medal of Freedom. Rustin's partner, Walter Naegle, and Ride's partner, Tam O'Shaughnessy, accepted on behalf of their late loved ones. Another notable moment on Obama's November agenda was signing the HIV Organ Policy Equity Act, aka the HOPE Act, allowing HIV-positive patients to receive HIV-positive organs.
DECEMBER
Still in the midst of December, it's difficult to assess beyond another World AIDS Day, India's Supreme Court re-criminalizing homosexual conduct and the death of an icon of social justice, Nelson Mandela.
In the words of Human Rights Campaign President Chad Griffin: "Nelson Mandela tore down oppression, united a rainbow nation, and always walked arm-in-arm with his LGBT brothers and sisters – and with all people – toward freedom. Though every man, woman and child who seeks justice around the world mourns this loss, his vision of an equal future lives on undimmed.''
---