Actors' Theatre of Washington
202-543-3607
www.atwdc.org
After Dark -- GLBT-focused company brings back last season's romantic comedy hit (1409 Playbill Café, 11/8 to 12/23)... Naked Boys Singing! -- Popular Off-Broadway revue with self-explanatory title gets a local production complete with a new song tailored for D.C., "Hey Mr. Ashcroft" (Source, 11/19 to 2/1/03)... The F Word -- Comic tale of a lesbian and a gay man planning to conceive and raise a child together (May/June)...
---
The American Century Theater
Gunston Arts Center
Arlington, Va.
703-553-8782
www.americancentury.org
Uncle Tom's Cabin -- An 1853 stage adaptation of Harriet Beecher Stowe's landmark anti-slavery novel (9/12 to 10/19)... The Seven-Year Itch -- Stage predecessor to the famous Billy Wilder film with Marilyn Monroe (12/19 to 1/25/03)... Benchley In Spite of Himself -- Whirlwind life and writings of the great American wit Robert Benchley (2/6 to 3/1)... The Second Man -- Sparkling 1927 love triangle (4/24 to 5/24)... The Frogs -- The 1974 Sondheim rarity set in a swimming pool (7/3 to 8/9)...
---
Arena Stage
1101 6th St. SW
202-488-4377
www.arenastage.org
Anthems: Culture Clash in the District -- World premiere of local stories mined by the L.A. ensemble Culture Clash (now through 10/13)... The Misanthrope -- Molière's sumptuous tale of insatiable admiration and courtly artifice (9/27 to 11/3)... Ma Rainey's Black Bottom -- August Wilson shot to prominence with his exploration of camaraderie and conflict in 1926 Chicago (11/1 to 12/29)... South Pacific -- Artistic director Molly Smith helms the epic Rodgers and Hammerstein musical that sets passionate romance against a backdrop of war's inhumanity and racial tensions (12/6 to 2/2/03)... Theophilus North -- World premiere adaptation of Thornton Wilder's final novel (1/17 to 3/2)... Book of Days -- A woman takes on the forces of hypocrisy and intolerance in Lanford Wilson's latest (2/21 to 3/30)... Ain't Misbehavin' -- The music of Fats Waller is celebrated in a co-production with Baltimore's Center Stage (3/21 to 5/25)... An American Daughter -- Fascinating political comedy from Pulitzer Prize winner Wendy Wasserstein (4/25 to 6/1)...
---
ASIA Theatre
3700 S. Four Mile Run Dr.
Arlington, Va.
703-979-0875
www.asianstoriesinamerica.com
Boyz of All Nationz: The Rise and Fall of a Multi-Ethnic Boy Band -- New play by Prince Gomolvilas (Big Hunk o' Burnin' Love) that satirizes the world of bubblegum pop (9/6 to 9/28)...
---
Center Stage
700 N. Calvert St.
Baltimore, Md.
410-332-0033
www.centerstage.org
Peter Pan -- J.M. Barrie's timeless tale of arrested development is the first offering in the company's 40th anniversary season (10/4 to 11/24)... No Foreigners Beyond This Point -- Tale of two American innocents teaching English in a remote Chinese village in 1980 (11/21 to 12/22)... Ain't Misbehavin' -- Early run for the co-production with Arena (1/10/03 to 2/16)... Intimate Apparel -- Love and lingerie in ragtime-era Manhattan (2/21 to 3/30)... Mary Stuart -- Friedrich Schiller's bracing look at the deposed Scottish royal condemned for treason (4/4 to 5/4)... The Rainmaker -- Beloved American romantic comedy by N. Richard Nash (5/16 to 6/15)...
Charter Theatre
1556 Wisconsin Ave. NW
202-333-7009
www.chartertheatre.org
Poe and All That Jazz -- Examination of the life, work and lost loves of Edgar Allan Poe with "startling illumination" from the music and lyrics of Johnny Mercer (10/9 to 10/27)... What Dogs Do -- Wry take on the ways friendships can change lives (1/8/03 to 1/26)... Watching Left -- Emotional journey of a young woman recovering from abduction and torture (5/7 to 5/25)...
---
Cherry Red Productions
1017 7th St. NW
202-298-9077
www.cherryredproductions.com
Spamlet -- Shakespearean saga with a distinct flavor of processed meat (now through 9/21)... Thumbsucker -- Halloween horror show penned by artistic director Ian Allen (D.C. Arts Center, 10/10 to 11/9)... Dingleberries -- Fifteen new short plays set in the crapper (11/21 to 12/28)... Coyote Woman -- A return to the "oh-so-L.A." world of playwright Justin Tanner (Zombie Attack!) where coyotes and yuppies roam free (1/23/03 to 3/1)... Penetrator -- Down and out in 1990s London (3/27 to 5/4)... Kenneth, What Is the Frequency? -- Can the mystery of the 1986 attack on Dan Rather be solved at last? (6/5 to 7/12)...
---
Classika Theatre
4041 S. 28th St.
Arlington, Va.
703-824-6200
www.classika.org
The Vindication of Senyora Clito Mestras -- A middle-aged Spanish woman is determined to fulfill her dream of becoming an actress (9/21 to 10/19)... Who's Afraid of Virginia Woolf? -- Edward Albee's scathing look at love and marriage (1/25/03 to 3/9)... Uncle Vanya -- Chekhov's story of a family torn apart by disillusionment and betrayal (3/21 to 5/4)...
---
Folger Theatre
201 E. Capitol St. SE
202-544-7077
www.folger.edu
Love's Labour's Lost -- Shakespeare's hilarious look at the war between the sexes (11/16 to 12/1)... Twelfth Night -- Aaron Posner directs one of Shakespeare's most musical and masterful comedies (1/3/03 to 2/9)... Elizabeth the Queen -- Stormy relationship between Queen Elizabeth I and the Earl of Essex in the focus of Maxwell Anderson's 1930 verse drama (3/22 to 5/4)...
---
Ford's Theatre
511 10th St. NW
202-347-4833
www.fordstheatre.org
A Christmas Carol -- The historic venue reopens after major structural repairs with this Dickens holiday season favorite (11/22 to 12/31)... 1776 -- The making of the Declaration of Independence as a big Broadway musical, the way it should be (3/13/03 to 6/1)...
---
GALA Hispanic Theatre
1021 7th St. NW
202-234-7174
www.galatheatre.org
El lugar ideal (The Ideal Place) -- Light-hearted Cuban farce (9/26 to 10/27)... Cervantes: Maestro del entremés (Cervantes: Master of the Interlude) -- Short 17th century Spanish farces from the genius behind Don Quixote (2/6/03 to 3/16)... El loco y la triste (Bonds of the Fringe) -- A homeless man and an aging prostitute forge an endearing friendship (4/10 to 5/11)...
---
The Keegan Theatre
601 S. Clark St.
Crystal City, Va.
www.keegantheatre.com
The Glass Menagerie -- Perennial Tennessee Williams favorite (Oct./Nov.)... The Hostage -- Brendan Behan's 1958 Irish play about a British soldier held hostage by the IRA (Jan./Feb. '03)... A Lie of the Mind -- Sam Shepard at his Sam Shepard-est (April/May)...
---
The Kennedy Center
202-467-4600
www.kennedy-center.org
Pacific Overtures -- The New National Theatre, Tokyo production of the 1976 Sondheim musical (now through 9/8)... Medea -- Fiona Shaw stars in a production from Abbey Theatre, the national theatre of Ireland (11/7 to 11/9)... Carmen Jones -- Vanessa Williams headlines an all-star concert version of the 1943 Broadway adaptation of Bizet's Carmen (11/15 to 11/17)... Babes in Arms -- Staged concert production of the zippy 1937 Rodgers and Hart musical (11/21 to 11/24)... Tell Me on a Sunday -- Andrew Lloyd Webber and Don Black's musical take on an English girl's romantic adventures in New York (12/17 to 1/12/03)... Stones in His Pockets -- Two actors play fifteen characters in an Irish village where a big-budget Hollywood movie is being filmed (2/4 to 3/2)... Royal Shakespeare Company -- First appearance in a five-year exclusive annual American residency (4/21 to 5/18)... The Reducers -- New production from another RSC, the Reduced Shakespeare Company (6/3 to 8/31)... Oklahoma! -- Acclaimed Royal National Theatre revival of the landmark Rodgers and Hammerstein musical, directed by Trevor Nunn and choreographed by Susan Stroman (6/30 to 9/6)... Shear Madness -- The D.C. franchise of the humorous whodunit just celebrated fifteen consecutive years at the Kennedy Center (ongoing)...
---
The Mechanic Theatre
25 Hopkins Plaza
Baltimore, Md.
800-343-3103
www.themechanic.org
Seussical the Musical -- Starring Cathy Rigby as the Cat in the Hat ('nuff said) (12/3 to 12/8)... Jesus Christ Superstar -- Andrew Lloyd Webber and Tim Rice's groundbreaking rock opera (4/8 to 4/13)...
---
MetroStage
1201 N. Royal St.
Alexandria, Va.
703-548-9044
www.metrostage.org
Three Sistahs -- New musical inspired by Chekhov's Three Sisters, starring Helen Hayes Award winner Bernardine Mitchell (now through 10/13)... The Crummles Christmas Carol -- A troupe of actors, conceived by Dickens himself, makes a shambles of the Cratchits and a muddle of the Fezziwigs (12/10 to 1/5/03)... High Dive -- A vertigo-prone woman narrates what flashes through her head while standing on a diving board (1/16 to 2/9)... Sidney Bechet Killed a Man -- East Coast premiere of a haunting play inspired by the legendary jazz clarinetist (2/26 to 4/6)... Bea's Niece -- U.S. premiere of Canadian playwright David Gow's psychological mystery (May/June)... Closer Than Ever -- Love and life celebrated in a revue with twenty-five songs by Maltby and Shire (June/July)...
---
The National Theatre
1321 Pennsylvania Ave. NW
202-628-6161
www.nationaltheatre.org
Man of La Mancha -- Broadway-bound revival of the popular musical starring Brian Stokes Mitchell, Mary Elizabeth Mastrantonio and Ernie Sabella (10/8 to 11/10)... Les Misérables -- Broadway's second longest-running musical has been on tour for fifteen years, and for good reason: it's phenomenal (11/27 to 1/4/03)... A Night with Dame Edna -- Aussie comedian Barry Humphries in all his twisted glory (Jan./Feb. '03)... The Tale of the Allergist's Wife -- Valerie Harper stars in Charles Busch's hit comedy about Manhattan-style midlife neuroses (March)... 42nd Street -- Touring edition of the 2001 Tony Award winner for Best Musical Revival (March/April)... Beauty and the Beast -- Broadway adaptation of Disney's animated musical (Spring)...
---
Olney Theatre Center
2001 Olney-Sandy Spring Rd.
Olney, Md.
301-924-3400
www.olneytheatre.org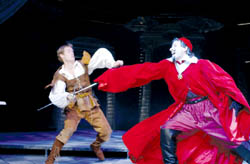 Coffee with Richelieu
Coffee with Richelieu -- The latest from local gay playwright Norman Allen who uses Dumas's familiar Three Musketeers as a springboard (now through 9/22)... Driving Miss Daisy -- Albert Uhry's Pulitzer Prize-winning drama about aging and conquering prejudice starring local favorites Halo Wines as Daisy and Michael Howell as Hoke, her longtime chauffeur (10/1 to 11/3)... The Secret Garden -- Excellent Tony Award-winning musical with book and lyrics by Marsha Norman ('Night, Mother) and sumptuous music by Lucy Simon (Carly's sister). Based on the beloved children's novel by Frances Hodgson Burnett (11/19 to 12/29)...
---
Rep Stage
10901 Little Patuxent Parkway
Columbia, Md.
410-772-4900
www.howardcc.edu/repstage
Anna Lucasta -- 1940s melodrama that helped launch the stage and screen careers of Sidney Poitier, Eartha Kitt, Ruby Dee and Sammy Davis, Jr. (9/27 to 10/13)... Faith Healer -- Helen Hayes Award winner Nigel Reed (The Judas Kiss) returns to Rep Stage to tackle a masterpiece from Irish writer Brian Friel (11/1 to 11/24)... The Italian Lesson and Other Divertissements -- Musical entertainment combined with comedy sketch about a harried New York society matron (1/31/03 to 2/16)... The Return to Morality -- Dark satire about a left-wing professor who unwittingly finds himself in the position of keynote speaker at the Republican National Convention (3/14 to 3/30)...
---
Round House Theatre
East-West Hwy. at Wisconsin Ave.
Bethesda, Md.
240-644-1100
www.roundhousetheatre.org
Love and Anger -- The company opens its 25th anniversary season with their ninth visit to a "viciously comic world" created by their most-produced playwright, George F. Walker (9/18 to 10/13)... The Cherry Orchard -- Chekhov's last play explores a group of people in the throes of experiencing the loss of the world as they knew it (11/6 to 12/1)... The Pavilion -- Up-and-coming playwright Craig Wright serves up a bittersweet tale of high school sweethearts who meet again at their 20th reunion (2/5/03 to 3/2)... When Grace Comes In -- Jane Beard stars in local playwright Heather McDonald's extraordinary trip to the mind and matters of a troubled senator's wife losing touch with her family (4/2 to 4/27)... Pippin -- The hit '70s musical scored by Stephen Schwartz (Godspell) centers on an ancient prince, the son of Charlemagne, whose existence has been shrouded in mystery (5/28 to 6/22)...
---
The Shakespeare Theatre
450 7th St. NW
202-547-1122
www.shakespearetheatre.org
The Winter's Tale -- Philip Goodwin stars in Shakespeare's "fairy tale for grown-ups" directed by Michael Kahn (now through 10/20)... Much Ado About Nothing -- A romantic comedy that offers up passion steeped in deception and spiced with satire; better yet, it doesn't feature Andrew Sullivan (11/5 to 1/5/03)... The Silent Woman -- Washington premiere of the wicked and elaborate Ben Jonson farce called by the poet John Dryden the "most perfectly plotted of all comedies" (1/21 to 3/9)... Richard III -- Beginning where the Henry VI trilogy ends, this unflinching portrait of a bent and brutal man is a fast-paced study in concentrated energy (3/25 to 5/18)... Ghosts -- Acclaimed actress Jane Alexander makes her company debut in the East Coast premiere of a new Ibsen translation by Lanford Wilson (6/3 to 7/27)...
---
Signature Theatre
3806 S. Four Mile Run Dr.
Arlington, Va.
703-820-9771
www.sig-online.org
What the Butler Saw -- Farcical, door-slamming tour de force from the late gay British playwright Joe Orton (now through 10/13)... The Christmas Carol Rag -- Dickens tale gets a ragtime spin in rough-and-tumble, turn-of-the-century New York (11/12 to 12/22)... 110 in the Shade -- "Forgotten classic" of Broadway's golden age based on The Rainmaker and scored by The Fantasticks team, Harvey Schmidt and Tom Jones (1/21/03 to 3/2)... Follies -- One of Sondheim's most celebrated and complex works, directed by Eric Schaeffer (4/1 to 5/11)... Donna Q. -- Mythic tale of Don Quixote re-envisioned by Paulette Laufer in a solo show starring Nancy Robinette (6/17 to 7/27)... Mack & Mabel -- One of Jerry Herman's greatest scores gets the "Signature in the Park" free summer concert treatment (6/18 to 6/22)...
---
Stanislavksy Theater Studio
1742 Church St. NW
202-265-3748
www.sts-online.org
Filumena -- A woman schemes to create a family out of her fickle lover and three sons, who don't know her, her lover or even each other (now through 10/6)... Host and Guest -- American premiere of a major work by Vazha Pshavela, one of the Republic of Georgia's most beloved poets (10/23 to 12/1)... The Seagull -- Chekhov's look at people who fail to achieve life in their art and struggle with the art of living (12/12 to 1/19/03)... Salome -- Oscar Wilde's biblically inspired tale unfolds in a poetic vision of love, perverse desire and death (2/19 to 3/30)...
---
The Studio Theatre
14th and P Streets NW
202-332-3300
www.studiotheatre.org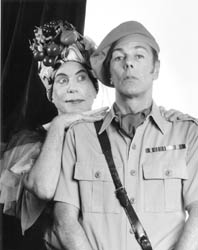 Privates on Parade
Privates on Parade -- Studio's 25th anniversary season opens with the military-themed stage classic by Peter Nichols that mixes camp entertainment with cultural critique (9/11 to 10/20)... The Shape of Things -- Holly Twyford stars in the latest play by the often-shocking Neil LaBute (In the Company of Men) that promises to question your ideas of identity, integrity and art (11/6 to 12/15)... Runaway Home -- August Wilson protégé Javon Johnson brings to the stage the true story of a single African-American mother who must choose between the demands of family and a life of her own (1/1/03 to 2/16)... Shakespeare's Villains: A Masterclass in Evil -- Flamboyant British actor Steven Berkoff animates eight of the worst scoundrels in the bard's canon (1/16 to 2/2)... The Play About the Baby -- Edward Albee mixes humor with menacing cruelty in his tale of an older couple who intrudes into the world of a blissful pair doting on their infant (3/26 to 5/4)... A Class Act -- Musical tribute to composer-lyricist Edward Kleban, best known for his lyrical contribution to A Chorus Line, whose career was cut short by an early death (5/14 to 6/22)... Lackawanna Blues -- Tony and Obie Award-winning actor Ruben Santiago-Hudson stars in this self-penned, soulful tribute to the remarkable woman who raised him (6/6 to 6/22)...
---
The Studio Theatre Secondstage
202-332-3300
Bat Boy, the Musical -- Off-Broadway hit spins a tabloid story into a quirky and touching tale of tolerance (11/14 to 12/8)... Early Works Series: Edward Albee -- Sampling of early Albee to complement the mainstage production of The Play About the Baby (5/1/03 to 5/11)... Gothic: The Byron/Shelley Project -- Original "built" piece based on the lives and works of two great Romantic poets (7/10 to 8/10)...
---
Theater Alliance
1365 H Street NE
202-396-2125
www.theateralliance.com
The Gospel of John -- The company continues to spread its wings in a new home, the H Street Playhouse, with a spiritually inclined solo piece by Brad Sherrill (11/7 to 11/24)... Slaughter City -- Artistic director Jeremy Skidmore helms a new play by local theatre artist Naomi Wallace (2/13/03 to 3/15)...
---
Theater J
16th and Q Streets NW
202-777-3229
www.theaterj.org
Death and the Maiden -- A South American woman encounters the man who once tortured her in prison (10/30 to 12/1)... The Last Seder -- East Coast premiere of a boisterous family comedy (1/7/03 to 2/9)... The Mad Dancers -- Old World wisdom meets New World mania in a buoyant Hasidic tale pulsing with an unrestrained love of life (4/29 to 6/1)... Talley's Folly -- 25th anniversary staging of Lanford Wilson's Pulitzer Prize-winning comedy about a gentle Jewish accountant courting a tough Southern belle past her prime (6/16 to 7/20)...
---
Warner Theatre
13th and E Streets NW
202-783-4000
www.warnertheatre.com
Fosse -- Hit retrospective of the work of legendary dancer-choreographer-director Bob Fosse returns to Washington (10/29 to 11/3)... Bring in 'da Noise Bring in 'da Funk -- Extraordinary tapper Savion Glover recreates his role in the Tony-winning Broadway sensation (11/12 to 11/17)... A Tuna Christmas -- Starring master comedians Joe Sears and Jaston Williams as the zany denizens of Tuna, Texas (11/26 to 12/1)... Rent -- Mid-'90s bohemians get their day in the sun in the late Jonathan Larson's acclaimed musical (2/11/03 to 2/16)... Grease -- 1950s rock-and-roll nostalgia, Broadway style (3/11 to 3/16)... Prune Danish -- Direct from New York comes Jackie Mason's newest show (3/25 to 3/30)... tick, tick...BOOM! -- Pre-Rent work from Jonathan Larson about a young composer facing thirty and fearing oblivion (4/8 to 4/13)...
---
Washington Shakespeare Company
601 South Clark St.
Crystal City, Va.
703-418-4808
www.washingtonshakespeare.org
The Maids -- Reality and imagination collide in the signature play of controversial French writer Jean Genet (now through 9/22))... A Midsummer Night's Dream -- Lee Mikeska Gardner directs the bard's most popular comedy (opens 12/2)... Henry V -- Shakespeare examines what makes a great leader and chronicles the glories, and horrible costs, of conflict (opens 3/18/03)... Lady Chatterley's Lover and The Night of the Iguana -- Compelling stage adaptation of the D.H. Lawrence novel in rep with steamy Tennessee Williams drama (opens 7/1)...
---
Woolly Mammoth Theatre Company
Kennedy Center AFI Theater
202-393-3939
www.woollymammoth.net
Recent Tragic Events -- Two Midwesterners stumble through a blind date one day after the Sept. 11th attacks (DCJCC, now through 9/29)... Pardon Our Appearance -- New York's underground cabaret sensations Kiki & Herb (Justin Bond & Kenny Mellman) introduce Washingtonians to their hilariously warped take on lounge culture (Source, 10/17 to 11/17)... The Day Room -- New production of a Woolly classic by Don DeLillo that contemplates the human condition, sanity, madness and death (12/16 to 1/12/03)... Jump/Cut -- Co-produced with Theater J, this world premiere by former MTV writer Neena Beber explores the limits of friendship when an aspiring filmmaker turns the camera on his manic depressive friend in search of the ultimate "reality film" (DCJCC, 2/24 to 3/30)... I Worry -- Latest solo work from acclaimed humorist, author and public radio commentator Sandra Tsing (3/27 to 4/20)... Patience -- Black humor and sharp dialogue punctuate the story of an aggressive cell phone executive tested by cosmic forces (6/16 to 7/20)...
---