Classical Music Preview
Classical Concerts, Opera & Jazz
D.C.'s Different Drummers
202-269-4868
www.dcdd.org
Fall Symphonic Band Concert -- Mark your calendars now to catch the next performance by members of Washington's GLBT community-focused instrumental music organization (St. Margaret's Episcopal Church, 11/22 & 11/23)... Christmas Concert -- Performed in conjunction with the MCC-DC Choir (Location TBD, 12/13 and 12/14)…
---
Gay Men's Chorus of Washington, D.C.
202-338-SING
www.gmcw.org
In Memoriam: September 11th -- Longtime GMCW accompanist Theodore Guerrant plays a special benefit organ recital to commemorate the darkest day in America's recent past (St. Margaret's Episcopal Church, 9/11)... Stops Along the Way -- Cabaret evening featuring songs about the gay experience (10/4, 10/5 & 11/25)... Seasons of Love -- A concert rich in the music of the holiday season, accompanied by a chamber orchestra and featuring Vivaldi's intimate setting of the Magnificat with guest soprano soloists (Lincoln Theater, 12/7 & 12/8)...
---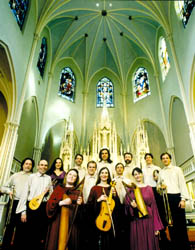 Waverly Consort
Kennedy Center Fortas Chamber Music Concerts
Terrace Theater
202-467-4600
www.kennedy-center.org
Orion String Quartet -- All-Beethoven program including Quartet in F minor, Op. 95 "Serioso" (9/11)... Stewart Goodyear -- The 24-year-old Canadian pianist plays Mozart, Chopin, Stravinsky and more (9/25)... Vienna Piano Trio -- One of the world's leading piano trios electrifies audiences with its virtuosity and fresh interpretations of music from every era (10/27)... Guarneri String Quartet -- Each year, the distinguished ensemble gives its only concert in the nation's capital as part of the Fortas Series (11/13)... The Waverly Consort -- Medieval spirit and pageantry returns to the Terrace as the Waverly's eight singers and five instrumentalists recount the events of Christmas (12/13)...
---
Kennedy Center Jazz
Terrace Theater
202-467-4600
Kenny Barron's "Canta Brasil" -- One of the premier mainstream jazz pianists explores complex Brazilian rhythms with Chilean vocalist Claudia Acuña, her band Trio da Paz, and flutist Anne Drummond (9/27)... Calle 54: The Concert -- Star musicians featured on the soundtrack of the Miramax film Calle 54 offer a thrilling, theatrical Latin Jazz experience (10/5)... Dee Dee Bridgewater -- Versatile singer and host of NPR's JazzSet performs "Gettin' Weill'd", her homage to composer Kurt Weill, with a ten-piece jazz orchestra (10/18)... Regina Carter Quintet -- Today's hottest jazz violinist debuts a new work commissioned by the Center (10/25)... Herbie Hancock Quartet -- Piano virtuoso Hancock has been a key element in almost every development in electric and acoustic jazz over the last third of the 20th century (10/31)... Cyrus Chestnut -- Still in his thirties, Chestnut is one of the most sought after jazz pianists playing today (11/22)... Betty Buckley -- Quintessential leading lady of the American musical theater brings her acclaimed cabaret performance to the intimate Terrace (12/6)...
---
Lesbian and Gay Chorus of Washington, D.C.
202-546-1549
www.lgcw.org
"I, too, sing, America" -- In honor of the Langston Hughes Centenary, this program co-presented by the Clarice Smith Performing Arts Center and Washington Performing Arts Society includes the area premiere of Suite Death, a symphonic work for choir and orchestra based on poems by Hughes and composed by Ysaye Barnwell of Sweet Honey in the Rock. Featuring 140 combined voices from LGCW, Inner Light Unity Fellowship, Washington Men's Camerata and Washington Women's Chorus (Smith Center, 10/6)...
---
Lisner Auditorium
21st and H Streets NW
202-994-1500
www.lisner.org
Salif Keita -- Intoxicating blend of African, jazz, funk, Europop and R&B has placed Keita at the forefront of contemporary African music (10/11)... Masters of Persian Music -- All new works drawing on the rich heritage of Persian classical music and ancient Sufi and contemporary poetry (10/13)... McSweeney's vs. They Might Be Giants -- Popular author Dave Eggers (A Heartbreaking Work of Staggering Genius) pits his literary journal McSweeney's against veteran pop craftsmen TMBG in an odd and curious collision of music and literature (10/18)... Mísia -- Hailed as Portugal's most extraordinary musical export and the voice of modern fado (11/3)... Caetano Veloso -- The musical revolutionary who co-founded the Tropicalismo movement, redefining Brazilian music (11/20)...
---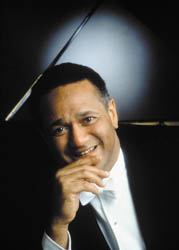 Andre Watts
National Symphony Orchestra
Kennedy Center Concert Hall
202-467-4600
Season Opening Celebration -- Music director Leonard Slatkin conducts a program including works by Dvorak, Mozart, Elgar and Bernstein, and featuring cellist Yo-Yo Ma and soprano Diana Damrau in her U.S. debut (9/18)... Brahms Concerto Cycle -- Featuring the Double Concerto with violinist Nadja Salerno-Sonnenberg and cellist Lynn Harrell (9/19 to 9/21), the Piano Concerto No. 1 in D minor, Op. 15 with pianist Garrick Ohlsson (9/26 to 9/28), the Piano Concerto No. 2 in B-flat major, Op. 83 with pianist André Watts (10/3 to 10/5), and the Violin Concerto in D major, Op. 77 with violinist Frank Peter Zimmermann (10/10 to 10/12)... Other fall highlights include the U.S. premiere of Saariaho's Nymphea Reflections and world premiere of Rautavaara's Clarinet Concerto (10/17 to 10/19), the world premiere of McTee's Ballet for Orchestra (10/24 to 10/26), and the U.S. premiere of Adams's Guide to Strange Places (12/5 to 12/7)...
---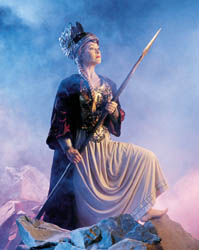 Washington Opera
The Washington Opera
Kennedy Center Opera House &
DAR Constitution Hall
202-295-2400
www.dc-opera.org
Lucia di Lammermoor -- Donizetti's bel canto masterpiece starring acclaimed lyric soprano Elizabeth Futral in one of opera's most challenging coloratura roles (9/14 to 10/5)... La Bohème -- Paris, Left Bank, Christmas Eve: Rodolfo's a penniless young poet, Mimi's a penniless young seamtress, can they survive on love alone? Nah, where's the fun in that? (9/21 to 10/6)... Vanessa -- Dame Kiri Te Kanawa makes her company debut in Samuel Barber's Pulitzer Prize winning opera inspired by Isak Dinesen's "Seven Gothic Tales" (10/19 to 11/10)... Idomeneo -- Artistic director Plácido Domingo brings his memorable interpretation of Mozart's heroic opera to the Washington Opera stage (11/2 to 11/23)... Aida -- Hold on to your hats, opera fans. Here's where things get a little tricky. The Opera House is closing for renovation, and the company will perform at DAR Constitution Hall for the remainder of the season. They promise to convert the historic hall into an "exciting and intimate" venue for grand opera by building a new thrust stage, upgrading acoustics, and employing cutting edge multimedia production technologies. Will that do the trick? Find out in Verdi's monumental epic, staged by renowned Italian director Paolo Micciche and starring acclaimed Russian soprano Maria Guleghina as the slave Aida (DAR, 2/22/03 to 3/11)... Don Giovanni -- Domingo conducts a new production of Mozart's masterpiece with opera's young bass sensation Erwin Schrott in the title role of the great seducer (DAR, 3/29 to 4/11)... Fidelio -- American dramatic soprano Susan B. Anthony makes her company debut in Beethoven's only opera, joined by "first-class heroic tenor" (Opera magazine) Christopher Ventris (DAR, 5/10 to 5/24)...
---
Washington Performing Arts Society
Kennedy Center Concert Hall
202-785-WPAS
www.wpas.org
Cecilia Bartoli -- Enchanting recital of arias and cantatas for mezzo-soprano by Monteverdi, Caccini, Handel, Gluck and Broschi (9/25)... London Philharmonic -- Legendary maestro Kurt Masur, formerly of the New York Philharmonic, leads the orchestra in a concert of Beethoven and Bruckner masterpieces (10/5)... San Francisco Symphony -- Musical maverick Michael Tilson Thomas, SFS music director and conductor, is famed for his fresh approach to classical repertory and dedication to musical innovation (10/12)... Anne-Sophie Mutter -- The energetic, passionate, Grammy-winning violinist plays Schubert, Brahms, Gershwin and more (10/19)... Orchestre National du Capitole Toulouse -- Michel Plasson conducts an evening of music by the great French composers Debussy and Ravel (11/2)... Emanuel Ax and the King Singers -- Renowned pianist and acclaimed vocal ensemble join forces for a program featuring German Romantic songs by Schubert, Brahms, Rheinberger and Reger (11/3)... Maxim Vengerov -- Grammy-nominated violinist widely praised for his technical virtuosity and emotional sound (11/16)...
---
Virginia Opera
GMU Center for the Arts
Fairfax, Va.
1-866-OPERA-VA
www.vaopera.org
Die Walküre -- The cornerstone of Wagner's monumental "Ring" cycle makes its Virginia debut with the famous Wagnerian soprano Jeannine Altmeyer in her signature role as Sieglinde (10/11 & 10/13)... A Christmas Carol -- Imaginative operatic version of the Dickens classic by Thea Musgrave that was commissioned by the company and premiered in 1981 (11/22 & 11/24)... Opera fans can also catch the company's Fairfax engagements of Strauss's Die Fledermaus (4/4/03 & 4/6) and Puccini's La Bohème (5/9 & 5/11)...
---