Raisin' Funds in the Sun
NGLTF kicks off its first Winter Party Festival
The National Gay and Lesbian Task Force (NGLTF) is broadening its scope. The group announced last week that, along with its tradition of working at the grassroots level, it will place new emphasis on a federal agenda. The halls of power are not, however, the only new venue for the Task Force. The group has saved a little something for the beach, too.
The 12th Annual Winter Party Festival officially began yesterday, March 2. Unlike years past, NGLTF is now running the show. The group stepped in to purchase the financially faltering event in August from the Gay & Lesbian Foundation of South Florida, for an undisclosed sum.
Any question of political liability in taking over a circuit party is absent. There is apparently no worry on the Task Force's part about the circuit's reputation for rampant drug use and unsafe sex.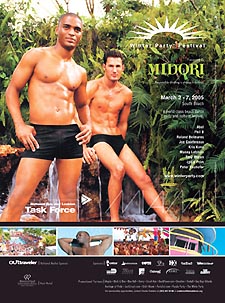 A Winter Party Festival advertisment
"First of all, it's not a circuit party. It's a festival," says L.A.-based NGLTF Development Director Charles Robbins, who has been traveling to Miami regularly to prepare for the event. "What we're hoping is that we can grow the event. We have changed it to a festival with cultural and social events. We hope it will increase the diversity. The demographics will change. We're seeing more women. Older individuals are purchasing tickets, mature folks, not just the 21-to-35 crowd. It's important for everyone to feel part of the community."
Among the new offerings are more events for women, more free events, and more cultural events, like a dining program. That does not mean, however, that the Task Force has any plans to get rid of what makes the Winter Party famous.
"What will be the same about [Winter Party] are the world-renowned DJs -- top-of-the-line, sought after DJs," Robbins promises. "We'll continue that tradition of bringing the very best with respect to the music. The Sunday beach party, an outdoor, on the beach dance party, is a one-of-a-kind event. We'll continue that tradition. It's the largest dance floor ever installed on the beach.
"What's changed are various things we've added to the beach party. There's a new tent area with lounge furniture for people to relax. We've added food vendors. And we've enhanced the VIP area with private cabanas."
That's what attendees can expect. But what about the Task Force? Robbins says the group estimates that the net proceeds from this year's party will be roughly $200,000 to $300,000. Two-thirds of that is earmarked for the Miami-Dade GLBT community. The Dade Community Foundation will manage the grant process in Miami. NGLTF will manage the remaining third. The benefits of owning the Winter Party Festival are not purely fiscal, however.
"It elevates our profile," Robbins explains. "It puts the face of the Task Force before well over 5,000 individuals who may not know about us and the work we do. They are potential members.
"The majority of attendees are purchasing tickets and passes on-line through our Web site. There, they can elect to join our e-mail distribution lists. One is our activist list. That's what we use to send political-action e-mails. We're noticing that most of those who sign-up on-line elect to receive information from us.
"That's one way. The other way is that all of the ticket purchasers will come to the 'welcome center.' All 5,000 gift bags will carry our information. There will be a program book with a list of all the festivities and details about the work of the Task Force."
Marc Cohen, who favors the Task Force's new role with the Winter Party, agrees that the event offers a great opportunity to educate the community. As the president of Miami's United Foundation for AIDS, and co-founder of the South Florida Crystal Meth Task Force, it's obvious why education is high on Cohen's agenda.
"The current trend among many who attend circuit parties doesn't mean circuit parties are bad," Cohen cautions. "Many of the parties have encouraged riskier behavior, including the use of recreational drugs. A lot of it depends on those running the party and what their mission is. It can be a tremendous visibility for the issues we're dealing with politically, and health-related issues. It's the raising of public awareness where people come together to celebrate life.... If [the Winter Party Festival] was simply a party where people came together and did drugs and had unsafe encounters, it wouldn't be doing the community any justice. But [the Task Force] is very focused on making it a celebration of life."
Adds Cohen, whose organizations may apply for some of the funds raised at the Winter Party: "I think that they're bringing a philosophy as well as an agenda of reconnecting our community, being able to become involved in community, learning how to give back. We're at a crossroads, a time when our voices count. It's events like this that have the capacity to allow the healing to begin, if we join together and make it happen. I pray for that. We need it."
Gary Steinberg, advertising director of Circuit Noize Magazine and PartyFinder.com, is well aware of NGLTF's new relationship with the Winter Party, both as a past attendee of the event and as the person who manages NGLTF's White Party ads for Circuit Noize, which bills itself as a leading guide to the "Gay Party Circuit."
The obvious bias aside, if Steinberg is any indication, circuit boys may be anxious for the Task Force's more inclusive-style event.
"Winter Party is one of my personal favorites of the entire year, because of the celebratory nature," says L.A.-based Steinberg, adding that he won't be able to make it to Miami for this year's party. "It's what we at Circuit Noize see the circuit going to: more of a festival-type atmosphere, somewhere where our straight friends feel comfortable."
Adds Steinberg: "One of my favorite memories from Winter Party was seeing an elderly straight couple outside the perimeter [of the beach party]. They asked me what was going on, and I explained that it was a benefit for the gay and lesbian community. Next thing you know, they paid their fee and they were dancing with us.... Just picture being out on the beach with music playing, a few thousand people hugging and smiling. It's pretty much as close to heaven as I've ever been."
That's just the direction Robbins says the Task Force wants to take event -- with the help of a strict policy of expelling anyone with drugs, fully cooperating in prosecuting anyone found dealing any illegal substance, and co-sponsoring a safer-sex campaign with South Beach AIDS Project.
Robbins offers a blunt message to any circuit diehards who may prefer a more dangerously indulgent experience than what NGLTF is promoting. "For those who feel like they're not getting what they used to get, they can stay home." For the rest, he assures, "Our goal is to, over time, ensure that the new vibrancy of Winter Party Festival shines."
---