Acknowledging Accomplishment
GLAA marks 36th anniversary with awards gala
Washington is a city bursting at the seams with history, though gay history doesn't often come to mind. New York trumps other locales with the 1969 Stonewall uprising. But while New York has a splashier style than D.C., the nation's capital has a more appropriate, buttoned-down claim to gay history all its own. One of the best examples is the Gay and Lesbian Activists Alliance of Washington, D.C., celebrating its 36th anniversary April 19, as the nation's oldest, continuously running gay civil-rights organization.
Appropriately, one of this year's six recipients of the GLAA's Distinguished Service Awards -- the main component of the group's anniversary galas since 1990 -- is being honored for his work in helping to preserve some GLAA-related history, specifically the papers and accumulated civil-rights trappings of GLAA founder Frank Kameny.
''I'd known Frank for years,'' says Charles Francis. ''I became aware that in his attic was this goldmine of his life, the greatest gay archive in America. People had been begging and pleading with Frank to get these papers out of his attic. I came up with the idea and led it, but it was really a community thing. ... It was an attempt to recapture a piece of gay history for everybody.''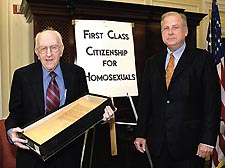 Charles Francis (right) with Frank Kameny at the Library of Congress
(Photo by Patsy Lynch)
Francis is perhaps best-known in the gay community as the founder of the Republican Unity Coalition, an effort to pull the GOP toward a more gay-inclusive sensibility.
''I'm not used to being honored by the gay community,'' he says. ''It's just about as exciting a thing as you can imagine.''
As exciting as the honor may be, it may pale next to the goose-bump eliciting visit to the Smithsonian Institution's storehouse, a trip Francis and Kameny made in preparation for the October 2006 ceremony marking the Smithsonian and the Library of Congress accepting Kameny's memorabilia.
''The day we took the 12 signs over to the Smithsonian, we went into this vault with cabinets, vaults, locked doors,'' Francis recalls, referring to the protest signs carried by Kameny and others in Washington, Philadelphia and New York in the 1960s, bearing messages such as, ''First Class Citizenship for Homosexuals.''
''The curator said he wanted to show us how these signs fit into the arc of American history.'' The curator then unveiled the desk on which Thomas Jefferson penned the Declaration of Independence. ''He put that desk right by our picket signs.'' The curator also pointed out the inkwell Abraham Lincoln used in signing the Emancipation Proclamation, and a pin worn by suffragette Alice Paul, as he added Kameny's signs to the collection of treasures that add a tangible element to the ongoing expansion of American liberty. ''I think every gay American can take huge pride in that.''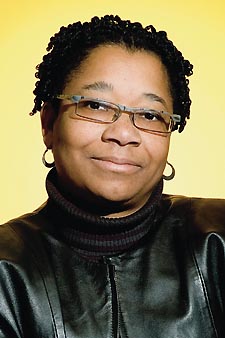 Sheila Alexander-Reid
(Photo by Todd Franson / file photo)
''It was very moving to see what Frank actually did,'' adds Francis, recalling his first survey of Kameny's artifacts, appraised at $75,000. Francis' work toward securing this gay archive meant not only organizing and cataloging the elements, but raising the money to purchase the archive, appraised at $75,000, from Kameny. ''People just don't realize the extent of Frank's activism and his genius. Being able to build a bridge from Frank's attic to 'America's attic' was a real honor. Also, the most amazing thing was seeing the federal government, which had fired Frank [in 1957 for being gay], now induct Frank as a major civil-rights leader. It was a marvelous thing to behold. It's no secret that Frank Kameny is a giant. It does show you, in 50 years, how far we've come.''
The others GLAA will honor April 19 are further evidence of the progress Francis cites in the pursuit of equality for GLBT Americans: Sheila Alexander-Reid, the D.C. Appleseed Center for Law and Justice, Jason Juffras, former D.C. Police Chief Charles H. Ramsay, and former D.C Office of Human Rights Director Kenneth L. Saunders.
Ramsay, for example, authorized the establishment of the Metropolitan Police Department's Gay and Lesbian Liaison Unit (GLLU) in 2000. At the start of GLAA's activism, a similarly dubbed police unit would likely have been used to target gays, not protect them. GLAA is recognizing the D.C. Appleseed Center, in part, for the non-profit group's efforts in favorably reforming the district's Administration for HIV Policy and Programs.
Like many of the recipients, Saunders turns the opportunity to discuss the award into a chance to praise the GLAA.
''The GLAA always had their eye on the ball,'' says Saunders, talking about the GLAA's efforts in advancing legislation and policies favorable to GLBT equality. ''They were the first organization to come in and sit down and meet with me. It's been a pleasure working with them.''
Jason Juffras, who also works in government -- currently as a committee clerk for Councilmember Mary Cheh (D-Ward 3), previously as a staffer for former Councilmember Kathy Patterson (D-Ward 4) advocating for the gay community at City Hall -- echoed Saunders' sentiments: ''The GLAA has done very good work, out front on many issues. Their testimony is excellent. Their candidate ratings force people to look at the [GLBT-related] issues. ... I was surprised [to learn of the award]. I would've expected it to go to a Council member or an agency head. As a staffer, I was surprised.''
Alexander-Reid, whose non-profit Women in the Life Association (WITLA) works to improve the lives of local lesbians of color, seems quite a bit more surprised than Juffras to be receiving the GLAA honor. ''I'm honored, but definitely surprised, especially given the company I'm going to be keeping: Chief Ramsay, Kenneth Saunders, .... That's a high standard to live up to. GLAA is seen as a white male organization, though I knew they knew who I was. But I had no idea they were monitoring my work. ... What I find most gratifying is that with the work I'm doing in the non-profit world, sometimes you think it's thankless. But sometimes, you get this recognition, and that reenergizes you. Someone is paying attention.''
Beyond her surprise, Alexander-Reid was also quick to offer the same praise as her fellow honorees: ''They've helped the community in more ways than I can mention. I dare say they've had a hand in every possible LGBT advance we've had in the past 20 years.''
The GLAA 36th Anniversary Reception will be held Thursday, April 19, from 6:30 to 9 p.m., at the Washington Plaza Hotel, 10 Thomas Circle NW. Minimum donation, $50. For more information, go to www.glaa.org.
---