Marathon Man
Local Ted Hobart memorializes slain lesbian couple one step at a time
On July 25, when Ted Hobart sets out on his 50-mile ''ultrathon,'' it will be farther than he's ever run. Those 50 miles cannot compare, however, to the journey he's gone through to get to this point. The most troubling route marker of this years-long trip sits in 1996.
That year, Hobart says, he remembers speaking to Julie Williams by phone. Though it was not yet out in the open, Hobart knew that Williams was dating his close friend, Laura ''Lollie'' Winans. And as he and Williams discussed the two women's plan to hike the length of Appalachian Trail, running from Maine to Georgia, he suggested they make a stop at his school, Warren Wilson College, once their hike took them to his Asheville, N.C., neck of the woods. He figured such a reunion would be the perfect opportunity for him to come out to Winans.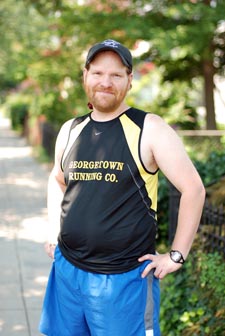 Ted Hobart
''The Appalachian Trail runs close to Asheville, and they were going to hike it end to end,'' recalls Hobart, who had earlier attended Vermont's Sterling College, where he and Winans met and became friends. And though Winans and Williams followed through on their plan to hike the trail, they never made it as far south as Asheville. Instead, Memorial Day weekend 1996, the two women were brutally murdered along the trail in Virginia's Shenandoah National Park, their bodies found bound with their throats cut.
''I was in Florida for Memorial Day weekend, visiting my mom,'' says Hobart, retracing the events leading up to his learning of the killings. ''I had to go back to school early, because I was becoming a resident director. When I got back, I had several messages from Vermont, and an FBI agent had called me. My friends were trying to reach me. That was really tough.''
Though today Hobart, 41, is the openly -- and proudly -- gay outreach coordinator for Whitman-Walker Clinic's AIDS Walk Washington, he says the shock of the crime frightened him to such a degree that the closet seemed his safest option.
''Neither of us really came out to each other, though I knew [Winans] had a girlfriend. I was ready to come out in 1996, but what happened pushed me back in for eight years.''
It was a closet he says he started building in the mid 1980s while a student at Washington-Lee High School in Arlington. After graduating in 1986, Hobart says he found a more comfortable environment at Sterling, and a good friend in Winans.
''Sterling College did change my life. The conceptual part of academia didn't really appeal to me, and Sterling is more hands-on. I can speak for myself -- and possibly Lollie -- in that neither of us had very high self esteem, and Sterling College helped fix that.
''We did a lot together. The first time I met her was in Boston at a Grateful Dead show. I still remember meeting her, in the parking lot. Both of us were so in the closet then. Lollie was quiet. She listened a lot. I wouldn't say she was outgoing, but she was very generous and had a big smile. She loved the outdoors. We went skinny dipping, hiking, camping. She spent Thanksgiving with [my family] when we lived up in Vermont.''
The fear and sense of loss that Hobart was left with after the horrific crime began to morph into something very much the opposite by 2004, when federal prosecutors dropped their charges against their suspect in the murders, Darrell David Rice, based on some DNA evidence. The case remains unsolved.
''[Rice's exoneration] made a difference to a lot of us,'' he says. ''Some of the evidence gathering, how it was managed.... I'm still a little critical. It was frustrating. But I wanted to turn my frustration into something positive.''
Hobart says he came out full force in 2004. The same year, he made another big change by becoming a marathon runner. Prior to training for that first run, the Mardi Gras Marathon in New Orleans, Hobart says he'd never run more than a single mile. Now, it seems, he can't stop. And Winans and Williams are with him every step.
First, it was for Outright Vermont, a nonprofit organization working with GLBT youth. In honor of Winans and Williams, Hobart guesses he raised about $1,000 for that organization through individuals sponsoring his runs. Now he's set his sights on a more ambitious memorial: the Winans-Williams Environmental Action Scholarship Fund.
This new scholarship in the women's honor will be available to undergraduate students at Sterling who show promise in the environmental field. Both Williams and Winans, Hobart emphasizes, were extreme outdoor enthusiasts, sharing that in his last letter from Winans she wrote that she and Williams had recently traveled from Maine to Colorado to complete a wilderness ''first responder'' course.
In Maine, where Winans attended Unity College following her Sterling coursework, Hobart says she was blossoming.
''I'd speak to her on the phone, trade Phish tapes with her through the mail,'' he remembers with a sentimental laugh. ''The thing about Lollie is she didn't really excel in school, but at Unity everything turned around. She got on the dean's list. I think a lot of that had to do with getting more comfortable with who she was. She was really happy. That last letter I got, she wrote, 'Life at college can be awesome!' It was a very upbeat letter for her.''
Keeping the memory of these two women alive is important, says Hobart. Equally important, he adds, is the message that, like him, one person acting alone can make a difference. He says that even if someone may not be passionate about the cause of defending women from violence or finding justice for Williams and Winans, he hopes that people may be inspired in some way by his marathon running to find their own passion to make positive change in the world.
Hobart says that as he trains for the upcoming Burlington, Vt., ''ultrathon'' -- and the several other marathons for which he's registered -- his goal is to raise $5,000 for the scholarship by year's end. Speaking with Hobart, one gets the impression that he's also trying to live his life as fully as possible to honor his friend's death.
''When I was in [the closet], I was really in. Now that I'm out, I'm really out,'' says Hobart, who served in the recent past as president of the Arlington Gay and Lesbian Alliance. ''I'm not fearful any longer of people knowing who I am. I'm not in your face, but I'm not afraid any longer.''
To donate to the Winans-Williams Environmental Action Scholarship Fund or for more information, contact Barbara Morrow at 802-586-7711, ext. 59, or bmorrow@sterlingcollege.edu. Hobart blogs about his running at http://tedsmarathons.blogspot.com/.
---