Marriage Milestone
D.C. City Council votes 12-0 to recognize same-sex marriages from other jurisdictions
Same-gender couples married in states or countries where marriage equality is already the law will soon be recognized by the District as legally married, should the strong support the D.C. City Council demonstrated for such a move make it past the mayor and congressional oversight.
With Councilmember Marion Barry (D-Ward 8) absent, though a co-introducer of the amendment, the 12 present members voted unanimously April 7 to approve an amendment drafted by Councilmember Phil Mendelson (D-At large) to the Disclosure to the United States District Court Act of 2009, which in part now states: ''A marriage legally entered into in another jurisdiction between two persons of the same sex that is recognized as valid in that jurisdiction ... shall be recognized as a marriage in the District.''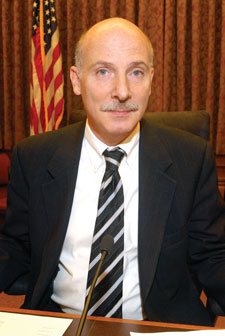 Phil Mendelson
During the amendment's first reading that morning in the Council chambers of the John A. Wilson Building, Councilmember Jim Graham (D-Ward 1), who is gay, said it's time D.C. sends a clear message to same-gender couples married in other jurisdictions.
''They want an answer to a simple question: Is my marriage valid in D.C.?
''For years now, we have not had a clear answer to that question. ... This would clarify it beyond any doubt,'' Graham said. ''We all remember the Spagnoletti memo that we waited for, month after month after month.''
Robert J. Spagnoletti was D.C.'s attorney general in 2004 when former Mayor Anthony Williams asked him to draft his legal opinion regarding whether D.C. should recognize same-gender marriages from other jurisdictions. Williams never shared that opinion, made arguably obsolete with his departure and Adrian M. Fenty winning the mayor's office in 2006.
''It isn't as if we haven't been patient. We have been patient. We have waited, waited, waited for this clarification. And now I think it is absolutely necessary that this Council take the step that Mr. Mendelson is proposing along with others and say that a marriage valid elsewhere is a marriage valid in the District of Columbia, except for certain clearly defined, narrowly defined exceptions relating to age and other issues.''
Graham said he's certain the Council's vote will generate controversy.
''There is undoubtedly going to be a reaction, but I am absolutely convinced that we are doing the right thing.''
All but one of the 13 Council members, Yvette M. Alexander (D-Ward 7), had signed off on the amendment by Tuesday. But before the vote, she too was convinced to offer her support as a co-introducer.
''We do stand for social justice and in all fairness that is right,'' she said.
Bob Summersgill, a former officer of the Gay and Lesbian Activists Alliance, who has been involved with D.C.'s legislative process since 1992 when he began work to reform the city's sodomy law, attended the Tuesday meeting. After the vote he said he was elated.
''I think this is huge. I think this is fantastic,'' Summersgill said. ''We won't be issuing our own marriage licenses, but you will be able to take the train to Connecticut.''
In October, Connecticut's Supreme Court ruled that same-sex couples have a constitutional right to legally marry.
Part of the reason why Summersgill says he doesn't expect any roadblocks regarding D.C.'s amendment to recognize same-sex marriages from other jurisdictions is that the amendment was written for a bill that has already gone through hearings.
''So there will be no public witnesses, no hearings, nothing,'' he explained.
A second vote is expected to take place on May 5 before the amendment goes to Fenty to be signed.
''I'm sure he will sign it. The mayor is not going to pick a fight on this and oppose the Council when they have a veto-proof majority. I think there's no question about that.''
Mayor Fenty has also gone on record in support of marriage equality. The final hurdle is congressional oversight.
''[Congress] could act during that time, or anytime later, to do anything bad to us,'' Summersgill said after the vote. ''But my hope is on this one, where we're just recognizing other states' marriages, that they won't do anything.''
Another move at the April 7 legislative meeting also brought the District closer to recognizing other jurisdictions' domestic partnerships, civil unions, and the like. Mendelson's Domestic Partnership Judicial Determination of Parentage Act of 2009 would grant such partnerships the ''rights and responsibilities'' of D.C. domestic partnerships. That measure was unanimously approved during its final reading.
During Tuesday's meeting, Councilmember David Catania (I-At large), who is gay, cited his own work on a potential marriage-equality bill while commending Mendelson's efforts.
''It's certainly no secret that I have been working on legislation that would take us a little further,'' Catania said. ''I think this is an important and consequential step in that journey.... Here we are today, the District, not exactly on the cutting edge, but at the forefront.''
Councilmember Mary M. Cheh (D-Ward 3) implied that while the Mendelson amendment has her support, she's more than ready to support legislation for full marriage equality in the District.
''This is a matter of fundamental fairness, it's a mater of equality, it's a matter of right,'' she said. ''I eagerly and enthusiastically support this measure, but I await -- impatiently, I must say -- our further movement for equal rights, and for a true equal-rights marriage bill for all.''
---