Wave of Goodwill
Several new efforts aiming to better LGBT D.C. and beyond
The nation's capital has always been synonymous with civic participation. Congress – in theory, at least – is the pinnacle of community involvement. Then there are the countless national nonprofit organizations that establish themselves in the District.
That's the macro level. Much closer to these communities where we don't simply work, but where we live; in these intersections of skill sets and social networks, several new efforts have gotten underway to make this a better place by improving the lives of others. As these philanthropic undertakings join the ranks of long-established local entities like Eagle Wings or Brother, Help Thyself, and as you become more familiar with them, you will likely find yourself wondering not, ''How do they do it?'' but, ''How can I help?''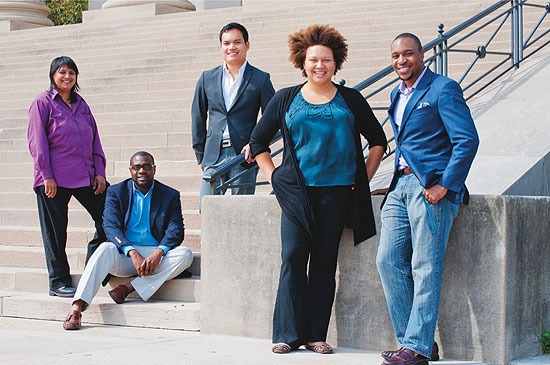 (L-R) Nagarajan, Richardson, Senephimmachack, Bavier and Myers
(Photo by Todd Franson)
KINDRED, AN AFRICAN AMERICAN LGBT GIVING CIRCLE
It's a sunny September Monday on Capitol Hill and, as always, one of the Hill's brightest spots is SMYAL – the Sexual Minority Youth Assistance League – which, since 1984, has been working to improve the lives of the area's LGBT young people. On this particular Monday, however, members of Kindred, ''an African American LGBT Giving Circle,'' stopped by to meet some of SMYAL's Youth Advisory Board, learn more about the organization's programs, and to let members of SMYAL learn more about Kindred.
Following Kindred's first donation, a $13,000 gift to SMYAL – actually $13,213, SMYAL Executive Director Andrew Barnett points out – these two entities have entered into a sort of long-term relationship.
An effort that began some months ago, fueled by seed money from the Gill Foundation and directed by the dynamism of its five-member ''Guiding Circle'' and additional five members, this gift to SMYAL establishes Kindred as a powerful force for local philanthropy.
''To go almost three years to handing over this huge sum of money to a really wonderful organization for youth, that's extremely gratifying,'' says Anna Bavier, a member of Kindred's Guiding Circle, recalling a brunch where the idea of this giving circle was first discussed. ''I can put this in the column of things I'm really proud of in my life.''
Bavier's pride is matched by Barnett's gratitude at receiving the unrestricted gift.
''I was blown away,'' Barnett says of learning of the gift – not something for which SMYAL applied, but one that came, essentially, out of the blue following Kindred's hunt for the perfect round-one recipient. ''It was tremendous. That kind of strong support goes such a long way for a community-based organization like this.''
Kindred's mission reads, in part, that the circle ''utilizes the power of collective giving to uplift the African American LGBT community in Washington, D.C. … [We] empower our community from within, nurture ourselves as philanthropists, and honor organizations working to enhance the lives of black [LGBT] people in the District.''
It's a mission that aligns exactly with how Bavier hopes to impact that community, an alignment she says her Kindred peers share as vibrant Washingtonians.
''I'd thought about this for years: How can we do more as a community than come together for parties or for events other organizations are throwing?'' she shares. ''This is the point where we can collectively pool our money to make an impact.
''And you need to volunteer. How else can you feel good about yourself? If you can put a smile on someone else's face, it definitely lightens your load.''
Bavier hopes that others will join Kindred's mission, which starts with a commitment of at least $420, but also seems content merely to help guide the way for others to make any kind of contribution.
''You don't need to join Kindred to make a difference in other people's lives,'' she grants. ''Hopefully, we'll inspire people to join us, or to make bigger contributions in their own lives.''
For those who may consider themselves kindred spirits, however, Bavier welcomes calls at 202-421-5755 or emails to kindredgivingcircle@gmail.com.
OASIS DANCE COMPANY
With a day job in clinical research and then serving as the artistic director of Oasis Dance Company, it's no wonder that Steven Wilson may sometimes need a little boost. But he doesn't find it in an energy drink. Instead, he finds it in philanthropy.
''If anybody says they can work 40 hours and then commit another 40 to production, direction, costuming…. And they say they don't get tired? It's not true,'' Wilson insists. ''But this is a mission for me. It's more than just a sideline.''
That's why the Oasis mission goes well beyond entertaining dance fans.
''The Oasis Dance Company is organized for the charitable and educational purposes of activities designed to develop professional artists, to foster positive feelings of self-identity among peoples of the African Diaspora, and to raise public consciousness about the value of this culture,'' the company's mission reads.
That mission was evident just a few days ago at ''The Affair: Bow Ties & Pumps,'' a ''dance & fashion extravaganza'' show benefiting Transgender Health Empowerment's Wanda Alston House, D.C.'s only transitional housing dedicated to LGBT youth, only one of a tiny handful of such institutions nationwide.
At least Wilson gets some help. An Oasis board was recently formed to help carry out this mission. Aaron Myers, who met Wilson at D.C.'s pioneering and progressive Covenant Baptist Church, was drafted to the cause and has served as board president since last spring.
''What we did the other Sunday was just a drop in the bucket compared to what [corporations and government] could be doing,'' Myers says of the recent benefit show. All the more reason he says his decision to join the Oasis effort is one of the best he's ever made.
''You're looking at dancing with a cause,'' says Myers. ''They're really dancing to bring awareness. Until I became involved with Oasis, I didn't know about the shape and the condition of the Wanda Alston House, what the fundraising environment was for them. Oasis is someone you should donate to, because you see dancing that will literally bridge that gap of awareness.''
With past support going to the Trevor Project, Myers says the board is already discussing where to look next, whether that means maintaining the Wanda Alston House focus, or considering other efforts related to diabetes or HIV/AIDS. Regardless, he hopes the community will follow Oasis via the organization's website, oasisdanceco.com, or, even better, watch Oasis in action at a future performance.
PETER FOX PROJECT
Peter Fox, a local singer whose star shined on a variety of stages – whether with the Gay Men's Chorus of Washington or the D.C. Cowboys, or singing his ''Change the World'' anthem for the crowds at 2010's AIDS Walk Washington – was just 45 when he died, Jan. 2, of CNS lymphoma. It was a disease that robbed a community, but showed at least an ounce of pity by allowing Fox time to say good-bye.
''The last four of five weeks, he couldn't communicate, couldn't talk,'' shares Im Senephimmachack, Fox's boyfriend. ''He could say 'yes' or 'no' by nodding, squeezing my hand.''
What Senephimmachack and others close to Fox wanted to know was how they might honor and remember him, what effort they might support in his name. Mark Guenther, executive director of the Capital Area Gay & Lesbian Chamber of Commerce, had a particular involvement that helped Fox choose: volunteering as a graphic-design teacher with the Sitar Arts Center, which offers an array of art classes – from dance to design to drama – primarily to low-income youth.
''Peter always wished he'd started his CD project much sooner,'' Senephimmachack says of Fox's debut CD, produced in 2010 with his friend Tom Nichols, who like Guenther is a founding board member of this legacy effort, the Peter Fox Project. ''Peter always felt like he didn't have enough time for his music. He was working on his second album when he died. The Peter Fox Project will help these kids, allowing them opportunities to do what they want to do. Peter gave the thumbs-up for Sitar.''
Senephimmachack, serving as board chair, and the other project members have a bittersweet month ahead, which they're marking in a way that honors Fox's memory. First comes Fox's birthday, Oct. 6. Rather than pass the day mournfully, the group is using the date to set a $30,000 fundraising goal. Then, on Oct. 20, there is the benefit concert, Being in the Moment: A Vocal Performance Benefit for Children, at the Atlas Performing Arts Center. These efforts will advance the project's five-year commitment to Sitar.
Beyond helping area youth, however, supporters of the project are also helping themselves, transforming grief into growth.
''People are handling how they heal in different ways,'' Senephimmachack says simply. ''We had an idea and it's just taken off. It was a promise we made to Peter. It was just a promise.''
To learn more about that promise, visit peterfoxproject.org.
QUEER YOUTH PROJECT
When Jeffrey Richardson, director of D.C. Mayor Vincent Gray's Office of GLBT Affairs, is on the clock, his catchphrase might be the same as the District's: ''One City, One Future.''
But when he's talking about the campaign he's founded with Patricia Bory, an old AmeriCorps friend, the mantra is clear: ''time, talent and treasure.'' That's what the two hope to harness with the Queer Youth Project.
''It's really a campaign,'' Richardson explains. ''It's not a standalone organization per se. It's really a campaign to draw attention for folks to step up and support LGBTQ youth here in the District.''
It all started, he says, with a piece in The Washington Post about an LGBT youth gang, Check It, which quoted Richardson, resulting in plenty of calls to his office.
'''I'd like to volunteer,''' Richardson says, quoting a typical call and noting that this was before Peaceaholics founder Ron Moten stepped up to advocate for the Check It youth. '''How can I help these kids?' 'How do we reach these young folks?'
''That gave us an awareness that not a lot of youth organizations are being intentional with regard to LGBT youth. There was really nowhere to send them but SMYAL.''
Richardson adds that sitting down to dinner with some of these youths confirmed as much: that D.C. may be a wonderful place for LGBT adults of means, but not for LGBT youth with few resources.
There's where the Queer Youth Project is trying to do its part, now working with the Youth Pride Alliance as its primary partner, but also working across the community to connect good intentions with real applications.
''We're not trying to build a new organization. We're trying to be a conduit to connect folks with others doing great work. Everybody can do different things. We want to use the brand to encourage folks to step up and be present for our young people.''
It starts with a visit to queeryouthproject.org and filling out a form. From there, Bory and Richardson will look for a good fit.
Richardson reinforces his message: ''It's really time to get the broader community to step up. We have three targets: time, talent and treasure.''
RAINBOW DRAGON FUND
How did the ''nation's first giving circle by and for Queer Asian American & Pacific Islander (AAPI) communities'' close out September? By awarding $10,000, that's how.
At a Sept. 26 event, the Rainbow Dragon Fund split that money between Asian and Pacific Islander Queer Sisters (APIQS), Asian and Pacific Islander Queers United for Action (AQUA), KhushDC, SMYAL, the University of Maryland's Asian American Student Union and Youth Pride Alliance.
For this new D.C.-based fund, part of an Asian Americans/Pacific Islanders in Philanthropy (AAPIP) push to create 50 giving circles across the country, that's not too shabby – also with thanks to $5,000 in matching grants from AAPIP and the Gill Foundation.
''It's about community taking control of its giving power, exercising its power – not waiting for organizations or government to help support our community efforts,'' says Mala Nagarajan, a member of the RDF steering committee. ''It's about strengthening our community and realizing the financial power that we have, that we don't always realize.''
Nagarajan says that there is a sort of disconnect when it comes to perceptions of the Asian-American community, and that the Rainbow Dragon Fund is one possible remedy.
''The Asian community is very divided. There's a really wealthy part with a higher median income than the white community, according to the Census. Then there's a huge number of people in our community – refugees, immigrants – who have just come, some in dire circumstances,'' she says, adding that she'd like to challenge everyone, wherever they may fall on the economic scale, to get involved with this sort of collective effort. ''It doesn't matter what income level you're at, the impact is huge. I want to really increase giving in our community.''
Beyond donating, Nagarajan emphasizes that there's also an incredibly gratifying reward in getting more involved in one's community – something beyond measure.
''Most of us do not work for foundations, don't hear always what's going on in our communities, what kinds of needs there are,'' she says. ''But we just know the power of community organizations, people of color community organizations, grassroots organizations – and how much the dollar stretches [with collective giving]. It's life-transforming to be part of those communities.''
Those interested in being a part of the Rainbow Dragon Fund's community should visit RDF online at rainbowdragonfund.org.
---