Virginia Readies for Election Day
Governor's race steals the spotlight, but the fight for equality's front line is the House of Delegates
(Page 2 of 2)
Chuck Moulton, the chairman of the Libertarian Party of Virginia, notes that the party has supported marriage equality since 1971, well before either of the two major political parties addressed the issue. But Moulton also says that discretion is given to individual candidates to determine whether they want to make marriage equality or LGBT rights a focus of their political platforms.
Laura Delhomme, a candidate for the 47th House District seat currently held by Del. Patrick Hope (D-Arlington Co.), is one such Libertarian who has made her support for LGBT rights a prominent part of her platform.
''I am absolutely in favor of repealing the Marshall-Newman Amendment,'' Delhomme says, referring to the 2006 voter-approved constitutional amendment that not only banned same-sex marriage, but any recognition of same-sex couples.
Noting that she may hold a different view than others in her party, Delhomme also says she'd vote for proposed legislation that prohibits discrimination in public employment or state government based on sexual orientation or gender identity.
''I absolutely don't think the government should be discriminating against citizens,'' she says.
Anthony Tellez, a Libertarian running for the seat in the nearby 53rd District left open by the retirement of Del. Jim Scott (D-Falls Church, Fairfax Co.), says he's also made support for LGBT rights part of his platform.
''You shouldn't discriminate against someone based on their sexual orientation or perceived sexual orientation, or their race or ethnicity,'' says Tellez.
Tellez also notes that there's been an evolution on how Virginians view LGBT issues.
''The thing about gay rights was that people laughed it off until they found out there was popular support,'' Tellez says, noting that his own devout Catholic family has become ''less hard-nosed'' in their views of homosexuality. ''It comes down to votes. Americans' views have evolved, and now politicians are capitalizing on the issue. And the gay community has been very good about pushing this to the forefront and framing it as a civil-rights issue.''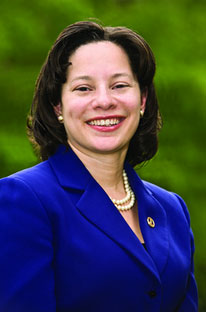 Jennifer McClellan
Del. Jennifer McClellan (D-Richmond, Henrico Co.), a longtime ally of the LGBT community who was endorsed by EVPAC in her race for the 71st House District, notes there has always been support for LGBT rights, but what's new about the 2013 campaign is that the support is so widespread that candidates are being more vocal about that support.
''I had a private conversation with a Republican legislator after the judge fight,'' McClellan says, referring to when the House rejected the judicial nomination of Tracy Thorne-Begland, a gay veteran, in 2012. ''He had never voted for a nondiscrimination bill, but he told me, 'I've never believed that people were discriminated against because of their LGBT identity until today.' When it stops being theoretical, it changes the dynamic.''
McClellan also says many moderate Republicans or Republicans in gay-friendly districts often don't speak out on these issues, which she says is due to their fear of losing to a primary challenger. She says that legislators are often pressured by organizations like the anti-gay Family Foundation of Virginia, whose lobbyists have significant clout in the General Assembly.
Messages left with the offices of various Republican delegates, including Rust and Yost, who are considered gay-friendly, were not returned.
Kathleen Murphy, who is challenging incumbent Republican Del. Barbara Comstock (R-Fairfax, Loudoun counties), argues that many Republicans in gay-friendly districts appear at community events and take credit for things that passed, even if they voted against those bills. But when it comes down to it, she says, even so-called ''moderate'' Republicans vote for the same agenda items being pushed by people like Cuccinelli and Jackson.
''The whole Republican ticket this year is scary, just in terms of what it means for human rights, for basic rights, and Barbara Comstock is right in there with them,'' Murphy says.
Comstock's campaign did not respond to a request for comment.
''I think people don't understand the role that local government plays in their daily lives, and Democrats have to play catch-up if we're going to put a stop to it now,'' adds Murphy.
With Republicans retaining control of the House a likely outcome, Murphy emphasizes that legislators can still push for equality measures.
''We need to have a commitment to human rights, to push back against those lawmakers and shame them into admitting they're bigoted,'' she says, echoing comments made by others about the shift in public opinion.
Regardless of party affiliation or political ideology, most supporters of equal rights are simpatico it comes down to what Virginians need to do this November: get out and vote, preferably for candidates who will champion legislation benefiting the LGBT community.
''If you didn't like the direction we moved in 2012, but you didn't come out to vote in 2009, you're part of the problem,'' McClellan says. ''We want and need a commonwealth where everybody is treated fairly and equally.''
For more information, visit "13 Virginia Races to Watch in 2013."
---