Red Hot
Calor fires up its new home this Sunday night
''It's not going to be like any other night at Apex,'' says Adam Ross Wilson, who is bringing his party Calor to city's longest-running gay club. ''We'll be bringing in our signature Calor lighting and lighting effects, courtesy of Umbris,'' adds Lorenzo deAlmeida, Wilson's partner in Bahia Productions, which produces the party, which has been absent from the scene for nearly a year.
''We're very excited to be working with Apex,'' says deAlmeida. ''We waited this long because we wanted to do it right.'' Aside from a one-off Obama fundraiser at Town last Labor Day, Wilson and deAlmeida haven't staged a Calor since Memorial Day last year, when D.C. authorities abruptly closed club Five midway through the evening. The club has since been shuttered, its management having repeatedly run afoul of D.C. liquor laws.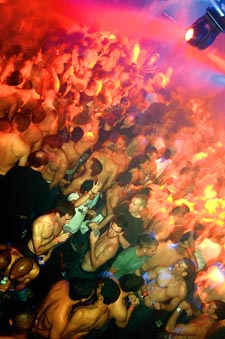 Calor
DeAlmeida and Wilson are still reeling a bit from that mishap. But now the two, partners in life and love, say Apex is the best possible new home for the party. ''[General manager] Joey [Oldaker] is a good friend, and he's really committed to helping us keep the integrity we've established with Calor,'' says deAlmeida. With Apex, they've also been able to reduce the cover charge, to an economical $15.
For the party's relaunch, Calor is bringing in Susan Morabito, one of the gay circuit's most legendary DJs. ''Susan is one of the most professional DJs we've ever worked with,'' says deAlmeida. ''Her attention to detail is amazing. She's really working with us to make sure we have the same high-energy music as before.''
Labor Day will mark Calor's third anniversary, and Wilson and deAlmeida expect to celebrate it by throwing a second party at Apex. But they're too focused on this weekend's launch to announce details of upcoming events.
Says deAlmeida: ''People should expect a great party, with great energy."
Calor with DJ Susan Morabito takes place this Sunday, May 24, from 9 p.m. to 3 a.m. Apex Nightclub, 1414 22nd St. NW. Tickets are $15. Call 202-296-0505 or visit www.experiencecalor.com.
---