Creating Joy
Ric Sena has produced New York's Alegria for 10 years
Ric Sena was organizing parties as early as age 13.
''I remember my mother saying, 'All the kids are on the beach,''' recalls Sena, who grew up an only child in Rio de Janeiro. '''You're doing all this, and when the party starts, you're going to be tired.'
''I think I was meant to be a producer.''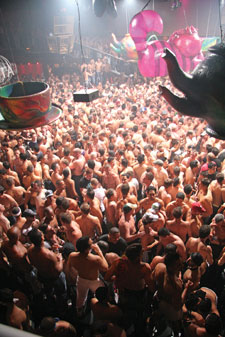 Alegria
Alegria fans the world over would agree. Sena has shown tremendous endurance producing the New York-based circuit party for 10 years at various venues in the city. Held for 12-plus hours, mostly overnight holiday Sundays, Alegria, which means joy in Sena's native Portuguese, attracts several thousand people from all corners of the globe. Next Sunday, June 27, brings Alegria Pride 2010 to a new venue, the Nokia Theatre in Times Square.
But the very first Alegria was held here in D.C., at the Capital City Brewing Co. at the end of 2000's Millennium March. At the time Sena, who had recently moved from Rio to Miami, was dating the restaurant's owner, David Von Storch.
''[David] said 'I think what you do is different from what we have in the states,''' says Sena, who had previously produced a few parties in Rio.
One of the secrets to Alegria's success is the decor.
''The artists that do all the floats for Rio's big Carnival parade, they're the same ones that do my stuff,'' says Sena, who has new sets shipped up for every party. It's a relationship he developed years earlier, when the 40-year-old got his start producing Broadway-style theater shows in Rio. ''I worked with big productions, big names and big artists in Brazil,'' says Sena, who eventually tired of the stress. ''And then I was nearly kidnapped; I was carjacked.'' It was time to move and try something new.
A couple years ago Sena threw a few Alegria events near his home in Fort Lauderdale, but has no plans to do it again. As for another party in D.C., Sena says, ''I have considered it, but it's not something I have in mind right now. Maybe one day.''
Finding a venue in New York is getting increasingly difficult. Alegria's most recent home, M2 (formerly Crobar), is facing an indefinite suspension of its liquor license. Sena had previously passed over the comparably sized Nokia Theatre because it's more expensive. ''It's a great venue, a lot like a club,'' he says. ''Nokia is very happy. They want to do more events there.''
Alegria's popular resident DJ Abel will spin for a special 10th anniversary party over Labor Day weekend, at a venue Sena's not yet ready to announce. For Pride, he's bringing back London's Pagano and the legendary Spanish duo Chus & Ceballos, who teamed up for this past January's Alegria. ''People were in awe with the music, and the energy was so great,'' he says. New Yorker Stephen Wyker will design lights complementing the decor theme based on Aladdin, with three wishes coming true.
''People can use their imagination,'' Sena teases.
Alegria Pride 2010 is Sunday, June 27, starting at 11 p.m. at the Nokia Theatre, 1515 Broadway, New York City. Tickets are $100. Visit alegriaevents.com.
---