Rock Steady
PhaseFest 2011 should prove to be as popular as 2010's, offering likely one last hurrah at Phase 1
This year may spell the end of PhaseFest -- at least as it has come to be known during its first five years.
Next year, the festival of live queer music hosted by Phase 1 is expected to move to the Southeast D.C. lesbian bar's in-the-works offshoot, Phase 1 of Dupont. That venue, known for decades as Apex/Badlands, wasn't ready in time for this year's three-night event beginning Thursday, Sept. 22. ''Allen is still sorting out some stuff,'' says Phase 1 manager Angela Lombardi, referring to the Phase's owner Allen Carroll. She adds with a laugh, ''He's a very particular man.''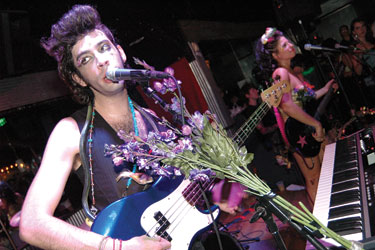 PhaseFest
PhaseFest 2011 should prove to be as popular as last's, which packed in nearly 900 people throughout a weekend in September. On the schedule this year are ''a lot of the favorite bands that we've had every year that is part of the reason that people come,'' says Lombardi, rattling off MEN -- featuring JD Samson of Le Tigre -- Rad Pony, Hunter Valentine and Katz, who performs as the Athens Boy Choir. ''Katz is a really, really cool trans dude who has been performing at Phase almost all seven years that I've been at the bar,'' she says.
Among new acts on tap this year is Saturday night's headliner, the ''super-talented female rockers'' Sick of Sarah. Meanwhile, Thursday night brings the PhaseFest debut of local band the Coolots. ''I've heard a bunch about them,'' Lombardi says. ''I think they represent the D.C. scene pretty well.''
All told, there will be 21 live musical acts covering ''a broad spectrum'' of music. Friday night also brings performances from six members of the DC Kings. DJs will spin sets of pop after bands finish both Friday and Saturday nights.
PhaseFest will have an ASL interpreter this year, working to translate Friday and Saturday night performances for the deaf members in the audience. All weekend, they'll be giving away tickets to see the electro/rock band Uh Huh Her, featuring Leisha Hailey from The L Word, at the 9:30 Club on Oct. 12. ''We are all about supporting queer music even if it's not at PhaseFest,'' says Lombardi.
''I would stress to people to get here early.'' Lombardi advises this not just to avoid what will likely be, as she puts it, ''a pretty hard-core line'' waiting to get in. ''The lineup is really, really solid -- I had such a hard time [scheduling],'' she says. ''All the bands are so good, I didn't want to put people on too early -- but somebody has to go on earlier."
PhaseFest 2011 is Thursday, Sept. 22, through Saturday, Sept. 24, starting at 7:30 p.m. each night at Phase 1, 525 8th St. SE. Cover is $10 on Thursday, and $20 each Saturday and Sunday; a $45 VIP pass is also available. Call 202-544-6831 or visit phasefestdc.com.
---