Grand Style
Generating hype as ''the first openly gay male country star'' has been as much of a surprise to Steve Grand as anyone
Steve Grand has been hyped as ''the first openly gay male country star.'' But while it has helped the singer-songwriter generate significant attention in almost no time, Grand says the title isn't entirely accurate.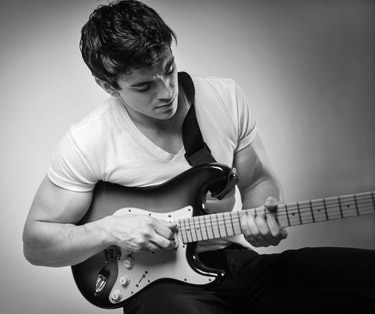 Steve Grand
(Photo by Joem C. Bayawa)
''I don't quite think of it as country music,'' says Grand. ''There are definitely elements of country in it, but it's also rock and pop. The whole 'country' label has really been a surprise to me.''
Grand started generating buzz -- and the country label -- over the summer after his first song, ''All-American Boy,'' went viral on YouTube, where it's racked up nearly 2.5 million views. The video depicts a gay teen making an unwanted pass at his straight best friend -- a theme some have criticized as outdated, but one that Grand says has caused ''many people to reach out to me to say how my song and my video and my story, how that's all connected with them.'' It also resonated enough to earn Grand profiles on CNN and Good Morning America, not to mention numerous requests to perform all across the country. ''I've been to more cities in the last two months than I've been in my whole life,'' says the 23-year-old Chicago-based musician, who will perform at Town Danceboutique this Saturday, Nov. 9.
It was piano jazz that first inspired Grand to music in the first place. ''I was very inspired by Charlie Brown and the character Schroeder, who would play his piano,'' he says. ''I started making all these cardboard pianos. So my parents quickly caught on and got an old upright.'' By the time he was 13, Grand was writing songs to address his feelings as a budding gay teenager, something that his parents tried to discourage by sending him to Christian camp. ''They sent me there with the hope that I would be cured and would not be gay anymore,'' he explains, adding, ''It's not what people think of as conversion therapy. There was a lot of things about God and definitely being gay wasn't encouraged, but it wasn't really the focus of our therapy sessions.'' (His family has since come around.)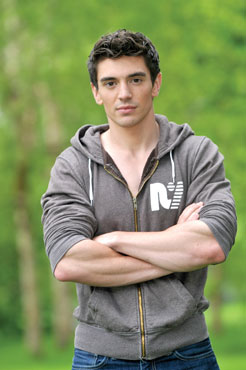 Steve Grand
(Photo by Joem C. Bayawa)
Two months ago Grand, who is hoping to have an album out by spring, released a second song, ''Stay,'' which has garnered over 500,000 views on YouTube. ''In the story, I've got the guy, so it has a happy ending like everyone wants,'' Grand jokes. (An interesting tidbit: The guy in the video is JR.'s bartender Jayson Smith.)
How about in real life, has he got the guy? Grand declines to reveal his relationship status: ''That's pretty much the one thing I don't talk about.''
Steve Grand performs Saturday, Nov. 9, at 10:30 p.m. downstairs and after midnight upstairs, at Town Danceboutique, 2009 8th NW. Cover is $8 before 11 p.m., or $12 after. Call 202-234-TOWN or visit towndc.com.
---