Hearsay
A 'Lost ' E.D., a ''glorious'' new hotspot in Northeast, and cruising the open seas
Lost Longings... Last weekend was Mother's Day, but Hearsay was in more of a daddy mood. Oh, don't worry: Hearsay made time for mother on Sunday. ''Hearsay phone home! Hearsay phone home!'' the alien-implanted chip started commanding in E.T.'s annoying monotone early Sunday morning. And it didn't stop until Hearsay called the Mothership in Nevada and swore it would take up valuable column space reporting that the Mothership is now open for tours to anyone interested in checking out the Flying Saucercenter, Nevada. Go and get yourself a good alien probing.
Speaking of probing, at a recent social event (a wedding) of a high powered gay Washingtonian (Metro Weekly editor Sean Bugg, who married his childhood sweetheart Cavin Le, the details of which you can read all about on Sean's personal blog, Buggblog, which you can link to through the metroweekly.com home page), Hearsay learned that there is a certain E.D. in this town who is utterly, absolutely obsessed with the TV show Lost. Hearsay will now reveal clues to the identity of this E.D. in a ridiculously obscure Lost-like manner. He is known as the man from Maryland. His father once borrowed a can of kidney beans from him. He was hurled out of a window yet miraculously is still able to play the bassoon. He once made love to a polar bear. He has the most luxurious head of hair of all the E.D.'s, and that includes former Maunterite Kathleen ''Kate'' DeBold. He's probably Jewish. No, he's definitely Jewish. He's not Adam Tenner. He's the other Jewish E.D. You know, THE OTHER. The organization he runs has a gala coming up this Sunday, May 20, at the North Bethesda Marriott. Punch these numbers into your telephonic device -- 301-587-7500 -- and you too can save the world, if not the cheerleader. No, wait, that's Heroes. And that's a whole different story....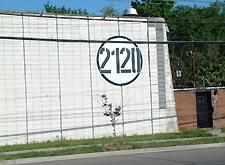 Glory be... Here's a hot tip for you -- 2120 is now open for ''business as usual.'' What is 2120? Good question. It's Bob ''The Commish'' Siegel's new operation, over yonder on West Virginia Avenue NE. There is ample (and apparently secure) parking, according to Bob, and a boatload of space inside to mingle and, well, you remember the Glorious Health Club, don't you? Well, it's kinda, sorta like that. Only in a different neighborhood. Visit www.2120club.com or call 1-866-448-2120 for more details than Hearsay can even begin to supply....
Back to the daddies... ''Pump up the volume,'' barked daddy Joey ''Vitamin'' O. ''Dance! Dance!'' belched daddy's little helper DJ Alex ''Moan'' Cohen. ''M/A/R/R/S! M/A/R/R/S!'' corrected Aric ''Marlene'' Dietrich. Yes sirs. And whew! Hitting Apex last Friday night was just a preview of the big daddy dancing to come, as the next night was Blowoff, a veritable daddy playground. And Hearsay loves playing on the ground with daddies. At this Blowoff, which Bob ''Break The'' Mould and Rich ''Taste The'' Morel agreed afterwards was one of the very best yet, the floor show included Michael ''Ask Me About Nellie's'' Sasser and Ali ''Ask Me About Halo'' Mnasri. Also spotted on the Blowoff floor were realtors out prospecting: Frank ''Mod-house'' Snodgrass and JT ''Still The One'' Powell. Also, doctors making check-ups: John ''Dupont Doc'' Curtin and Moody ''Mommy Dearest'' Mustafa. Mustafa warned Hearsay he'd be on call at the 9:30 Club all week, to see practically every concert. The doctor is most assuredly in.
But the real thrill of the evening? The romp -- and the rump! -- with Brad ''Fuerte y Duro'' Scarborough. He packs a wallop and sure knows how to make a man randy. And did Hearsay mention his man Randy? Randy Randolph, whose parents were so excited when he was born they named him twice, was the BMOC for the night. Whether you call that Big Man on Campus or Big Muscleman Others Covet, the meaning is the same. Although on this night he was also the Birthday Man Out Celebrating 37 years of living large. Surely the Ruff Riders couple celebrated the occasion in private later....
Birthday bliss... Speaking of hot couples celebrating birthdays, before Blowoff Hearsay stopped over to help Zach ''Bling Bling'' Price and Corey ''Ding Ding'' Munoz usher in years 28 and 29, respectively. Hearsay could barely get through the door of the spacious two-bedroom apartment with expansive outdoor patio all because of an impossibly large number of impossibly cute well-wishers. Well more than one hundred people squeezed in there at one point. Among those who squeezed le-mens: Brian ''Me-lend'' Eubanks, Brady ''We All Want More'' Young, Rich ''Stately, Shapely'' Shapiro, John ''Handsome and Thensome'' Christie and Chris ''Brazil Kicked Me Out'' Crain. Also there, of course, was Corey's roommate, Colin ''Me-O My'' O'Dea and the man in charge of the occasion, Jimmy ''Hard'' Rock. The party rocked hard, Jimmy!...
On the open seas... Couples celebrating is becoming a theme in this week's column, so Hearsay might as well take it to absurd new levels. Andy ''It's All About Me'' Cassell takes the cake for making Hearsay travel the farthest distance to celebrate his special day as Hearsay set sail on its first gay cruise last month. How do you know you're on a gay cruise? It has to do with the amount of seamen. (Ahem, cough, cough.) But another tell-tale sign: the ubiquitous sound of gay thump-thump, heard nearly all day and night, nearly everywhere you go. Also, there was this on last month's Atlantis Hawaiian Cruise: In between singing her gay thump-thump standards, Deborah Cox included stage banter playfully criticizing the big buff men who make a big messy splash going down the boat's water slide. Do adult men even go down the waterslide on a straight cruise?
But if you still didn't clue in to it, how about the sight of comedian Matt ''Haw'' Yee in a muu-muu on top of that same waterslide at nearly every pool party, smiling and twirling with arms extended acting as the ship's Queen Mother addressing her subjects.
And did Hearsay mention the pool parties? Prior to this 2,000-strong Atlantis chartered cruise, Norwegian Cruise Line's not-quite a year-old Pride of Hawaii boat hadn't experienced a party poolside, where people actually danced. Now of course the poor boat has seen it all! Hearsay too, for that matter. Yes, it saw Rehoboth Real Estate Czar Chris Riss poolside wearing nothing but an itty-bitty white jockstrap and a Cheshire cat grin. That's more than Hearsay needed to see, but that was only the PG-rated tip of the triple-X iceberg: Some people lose all sense of dignity on a gay cruise. One after-party held in a classy lounge was reportedly shut down because two men were caught flopping like fishies in blissful repost on a couch.
Hearsay had itself a great gay time. A quick run-through of Hearsay's highlights: Seeing -- but not meeting -- a real-life Tom of Finland and his even hotter husband (let's call him Steve of Holland); DJ Abel quickly spinning into ''It's Raining Men'' as a few raindrops fell on the White Party; and a perfect Sunday, capped by seeing multiple rainbows at sunset. It doesn't get much gayer than that.
The Atlantis Hawaiian Cruise wasn't just a weeklong birthday party for Andy Cassell, nor was it just a way for Hearsay to spread love beyond the belt and beltway. Not just: It was also a honeymoon of sorts for Cassell and Persic, who got committed a month ago at Dupont Circle's latest Kimpton Hotel, the spiffy Hotel Palomar. Among those witnessing the event, not to mention enjoying the delicious dish, open bar and respite from the nasty, rainy weather outside: Kevin ''Easy As Life'' Gray, David ''Hair Hopper'' Van Lear, Robert ''Free to Be Proud'' York, David Allen Thomas ''What I Need Is a Last Name'' and the DJ for the occasion, Glanson ''LeMelon'' LaBarrie. Not to mention Persic's 99 year old grandmother and Cassell's wild sister, who couldn't wait to dance....
---