Soundwaves
Brazilian dance, DJs Scotty Thomson, Brett Henrichsen, and Tracy Young
CELEBRATING THE ''COPACABANA''... This past Sunday ushered in the annual Brazilian Day Festival in New York, honoring Brazil's independence from Portugal. But Tommy Boy is working to convince us we should celebrate Brazilian music all year round. The indie hip-hop and dance record label has just released the American debut album from Salomé de Bahia. Simply titled Brasil, the album is a festive, sunny romp through various Latin dance genres, including samba, bossa nova, salsa and mambo, as well as general Latin dance-pop. And next week Tommy Boy will release DJ Tony Moran's surefire hit remix of ''Outro Lugar,'' Salomé's fantastic, thoroughly Brazilian cover of Stevie Wonder's disco gem ''Another Star.''
That's just one standout track among 15 on Brasil, which also includes several Brazilian pop standards and a great, campy cover of Barry Manilow's ''Copacabana'' sung in Portuguese. Brasil is a must-have album for any fan of early Grace Jones or the late, Latin great Celia Cruz, to name two obvious influences on this playful, energetic and full-voiced singer who dresses herself in a similar over-the-top manner as her late compatriot Carmen Miranda. You get the impression the 60-year-old Salomé is almost always smiling. Listening to her, you can't help but smile, too....
STREAMING DJ SETS... New Yorker Scotty Thomson just made a return spin at Club Five last Sunday. You missed it, you say? Well you don't have to miss his set. Soon you should be able to download a portion of that evening's set at www.scottyt.com -- after you register and login. Thomson is not the first DJ to stream music. Several DJs stream original tracks or remixes, and D.C.'s own Jason Royce has recorded two sets -- one of current club hits and another from Cobalt's popular retro Flashback Tuesdays -- and posted them for streaming at his site, www.djjasonroyce.com. And Victor Calderone has audio playlists ''coming soon'' to his site. But Thomson appears to be the first DJ to make portions of his sets available for posterity's sake as downloads. Several of his recent sets are already posted, so there's no excuse not to be familiar with his crunchy, wild style, even if you never leave home....
HENRICHSEN'S STRAIGHT SUMMER... Brett Henrichsen has been creating popular Masterbeat dance compilations for over a decade now, and he's just launched a new series that seeks to capture the biggest tracks of the summer just passed. (Sorry for that reminder.) S.P.F. 20: Summer Party Favorites is a two-disc, 140-minute mixed set featuring extended versions of each track, not merely radio edits. It's not that adventurous of a collection, with little mixing and no real curve balls thrown into the mix. If you haven't heard most of these tracks already, you surely will by the end of the year. It's what mainstream pop radio would sound like if gays ruled the airwaves. We don't, of course -- and that apparently suits Henrichsen just fine: The cartoon that runs throughout the compilation as well as serving as its cover features several multicultural but thoroughly heterosexual couples grooving on the beach.
As understandable as it is to create a mass-appeal marketing strategy and not just one focused on the gay market -- Centaur Records has that pretty well covered -- it's still disturbing that Henrichsen can't have the cartoonist recognize our kind by drawing one obviously gay couple, dancing close. And have you noticed that even Masterbeat compilations that are explicitly gay, those created for gay circuit events, are the only ones that don't feature cartoon people on the cover, just generic drawings and images? Come on Henrichsen: show your community some support....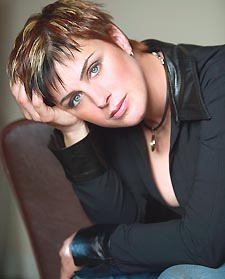 Tracy Young
YOUNG'S CULTURE LESSON.... Any compilation seeking to represent any part of 2005 would be remiss without at least one contribution from Offer Nissim. In case you haven't noticed, it's Nissim's year -- we're just dancing through it. Nissim contributes one remix and two original tracks, featuring vocalist Maya, to Henrichsen's set. And he contributes twice to Tracy Young's new set Dance Culture, released on her own label, Ferosh Records.
You may look at Young's compilation and wonder, why bother? Among the familiar tracks here, you should already own Nissim's artist debut First Time -- many months after release that album still reigns as the year's best full-length dance release. You could already own Suzanne Palmer's artist debut, Home, released in July, featuring one melodic dance hit or soon-to-be dance hit after another. Besides the compilation's highly touted ''unreleased'' mixes of Madonna and Cyndi Lauper, as great as those are, what else is there?
Plenty. Young has outdone herself here, creating one of the most consistent compilations with the widest possible appeal to most facets of gay clubland. Young has managed to assemble 13 tracks, all moving to the same, tasteful pace, and expertly tailored them to pad out an 80-minute set that straddles the usual divide between the sounds of a peak-hour party and an early-hour or morning-party event. This is tribal-focused house that goes out of its way to appeal to those who love sweet melodies and pleasing pop as much as those looking for polyrhythmic percussion compelling you to dance. Young's Operatic Remix of Terry Barber's ''The World Is A Stage'' is a perfect example of the middle ground Young has realized here....
---