Soundwaves
Dido, Bob Sinclair, and neo-disco in, tribal house out
TRIBAL'S TRIBULATIONS... Nearly a year ago Billboard's dance music columnist proclaimed the reign of tribal house over clubland to be mainly in Spain... er, sorry, in decline. Tribal house is the often-dark, usually-fast dance style driven by intricate, unpredictable percussive patterns. Some find it monotonous and brooding, others appreciate its subtle alterations, its distinctions, its intensity, and enough of them do so to have kept tribal the dominant house genre in clubland -- particularly gay clubland -- since the turn of the millennium.
But the Billboard columnist may have simply been a year or so ahead of her time. Interest is rising in an upbeat pop-song-centered style you could call neo-disco. The evidence is plain to see in most every circuit party compilation to come out since the spring, regardless of label. It's also plain to hear in recent live sets from many of those considered to be tribal house's signature DJs. And it's certainly in evidence by reviewing many of the tracks and artists creating buzz in dance circles....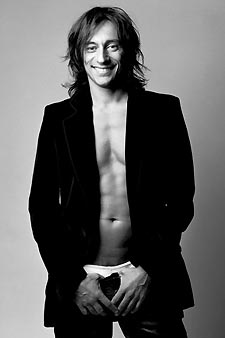 Sinclair
BOB SINCLAR'S WORLD OF LOVE... Bob Sinclar is one of the leading pop-focused dance artists, and he's quickly making a name for himself in clubland. Last year he was the man behind the Africanism All-Stars, a collective of Paris-based African musicians who, with Sinclar's guidance, created one of the year's best albums, Africanism III, and one of its most memorable songs, ''Summer Moon.'' He also produced Brazilian chanteuse Salome de Bahia and her club hit ''Outro Lugar.'' And near year's end Sinclar [pronounced San-Clar] topped the dance charts with ''Love Generation,'' a song that continues to garner club play and increasing crossover appeal. It was chosen as an official song at the just-completed World Cup 2006, which seems just perfect, given the song's call for world unity. If ''Love Generation'' sounds like a Bob Marley tune, it's no wonder. The song features on vocals Gary Pine, current lead singer for Marley's former backup reggae band The Wailers.
As of last week, Sinclar has another club chart-topper as an artist, ''World Hold On.'' It's basically another plea for world peace, or at least tolerance. It would be easy to mistake Pine on vocal duty here, though it's actually Steve Edwards, the soloist who most recently gave voice to dance hits from French acts Cassius (''The Sound of Violence'') and Axwell (''When the Sun Goes Down''), among others. And there's still more to come: Sinclar's debut artist album Western Dream is brimming over with happiness. ''I am lost in my dream of a sunny, happy, positive world,'' Sinclar says in press notes to the album. He's created an album distinguished less by stylistic achievements -- Sinclar is not afraid to stick strictly to familiar song formulas -- than by his skill at diversity. Very few tracks sound alike on Western Dream, which runs the gamut of today's global dance-oriented pop music, from Calypso to Afrobeat to gospel. But its best songs follow the reggae-inspired sound of ''Love Generation,'' and include, often as not, Pine on vocals, from the child's choir-aided anthem ''In The Name of Love'' to the blissful ''Shining from Heaven''....
FRESH-SQUEEZED SUNNY HOUSE MUSIC... The latest compilation from the British label Defected would by sunny and happy and delightful without Bob Sinclar. Defected in the House: Eivissa 2006 celebrates the Spanish island of Ibiza after all. But by including two Sinclar productions, Defected has made this three-disc set that much more satisfying. What makes it essential, however, is its inclusion of ''How Long,'' a future hit from Ultra Nate, the Baltimore great whose 1997 hit ''Free'' is one of dance music's all-time best songs, as well as one of its gayest. We've waited far too long for ''How Long,'' in other words.
There are plenty of other future hits on Eivissa. Eivissa isn't quite as accessible or even as accomplished as Defected's Miami 2006 set released some four months ago: It's occasionally too hip for its own good, with a couple tracks that go nowhere, offering nothing new. But as with Miami, Defected's owner Simon Dunmore does a fine job at compiling disco-dipped and soul-marinated tracks of high songwriting quality that you'll likely be grooving to well into the fall. Mr. V featuring Miss Patty does the job better than most with ''Da Bump.'' That's just one of several tracks here to blend house and hip-hop in an old-school way that stands out even today....
NO DITTO FOR DIDO... Following in the unlikely footsteps of both alt-rocker Fiona Apple and mainstream hip-hopper Kanye West, Dido has enlisted rock producer Jon Brion to help with her third studio album, which could be out as early as year's end. ''I don't think people who know either of us would think it's the thing to do, and yet it's making total sense,'' Brion told Billboard. He also said the British chanteuse Dido is moving away from the mainstream pop sound of her first two albums, which sounds better than you might think at first. ''She wants something less glossy and further left. There's a certain kind of restraint in record making that she doesn't want anymore,'' according to Brion, who suggests he's helping Dido tap into her voice's power potential always implied in her recorded music....
---