Soundwaves
ABBA Museum, Meryl Streep in Mamma Mia! movie, Right Said Fred, Michael Jackson & the Black Eyed Peas
MAMMA MIA! MERYL... Is there anything Meryl Streep can't do? Well, she's not likely to get the four members of dance-pop pioneers ABBA to perform together again. They reportedly rejected a $1 billion offer to do just that seven years ago. But Streep is doing what she can. She's set to star in a future movie musical to beat all movie musicals, at least among gay men. Yes, Mamma Mia!, a musical built around ABBA tunes, will likely be more popular among the gays than even Dreamgirls has been. Especially with Streep on board. Streep will play the role of Donna. No one else has been announced to star in the film adaptation of the successful Broadway musical, but the cast could get very gay, very easily. Who, for starters, should play Donna's engaged daughter Sophia, the real star of the show? Lindsay Lohan did play Streep's daughter in last year's Prairie Home Companion. But hopefully they'll aim higher, and campier.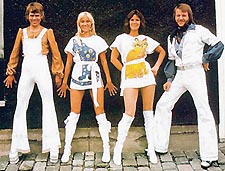 ABBA
In any case, filming starts in London and Greece later this year. The film could see release next year, though BBC News reports the film might be held back until 2009 to coincide with the musical's 10th anniversary. All those behind the original musical are involved in making the film, including ABBA's Bjorn Ulvaeus and Benny Andersson, who serve as executive producers. Also on board is production company Playtone, owned by Tom Hanks. I know, I know. But there are many shades of gay to this ''Dancing Queen'' musical. It should hold up as plenty gay....
THANK YOU FOR THE MUSIC... Meanwhile, before the film arrives we'll have the debut of the ABBA Museum. It took nearly two years to get the foursome to consent to the idea -- could they be any more anachronistic? But Billboard has reported that sometime next year the city of Stockholm, Sweden, will christen an interactive museum dedicated to all things ABBA, modeled after the Beatles Museum in London. Set to feature what you might call the ''fABBAlous four's'' original outfits, instruments and other memorabilia, the museum will also feature a studio where visitors can record their own take on ABBA songs. And the museum will ''recreate the feeling of being at Wembley Stadium and seeing ABBA live with 50,000 others.'' None of the four members will have anything to do with the museum beyond donating personal items. But at least they finally came around to take a chance on it. ''We think this will be a fun and swinging museum to visit,'' the four issued in a joint statement. Oh, those swinging Swedes!...
I SHAKE MY LITTLE TUSH ON THE CATWALK... They never stopped recording or performing, including at gay clubs. But you could say Right Said Fred was too sexy to be more than one-hit wonders. Wonder what the two brothers Fairbrass are up to now? Well, wonder no longer. Soon enough, you'll likely see them again. A new European laundry detergent commercial features the duo performing their 1991 smash ''I'm Too Sexy.'' Best to strike while the iron is hot: to capitalize on the mass attention that hasn't come the duo's way in years and likely won't again, they've announced plans to re-record their signature song and release it in the UK the first week of April. It may sound like an April Fool's joke, but it's not. The two 50-somethings -- Richard, the bisexual lead singer, and his brother, the Fred of the band's name -- have aged well. In fact, they're nearly as sexy now as they were 16 years ago. Not too sexy anymore, alas. Don't believe me? See them in the many recent, shirtless-and-then-some shots of the still shaved and muscular strutters posted at their website, www.rightsaidfred.com...
WANNA B.E.P. STARTIN' SOMETHIN'... Should Right Said Fred stumble and not rekindle the disco-dancing days all by themselves, perhaps they could enlist will.i.am to produce some humpy new tunes. After all, not only is the Black Eyed Peas principal one of today's most in-demand producers, he's also already hard at work trying to rekindle the thriller nights of the original king of pop. Michael Jackson's first album in the six years since his last flop, Invincible, is due by the end of this year, or exactly 25 years after his masterpiece, Thriller. Billboard reports part of will.i.am's job -- as just one producer among many rumored to be working with Jackson -- is to help Jackson figure out how to make use of music-sharing technologies that have sprouted since his heyday. But will.i.am -- born William Adams -- concedes the real challenge is to find the right musical direction that'll get people interested again: ''He could go anywhere,'' he told Billboard. ''It's either gonna be really big or nobody's gonna care. Ain't no middle ground on this one.''...
BLACK EYED PLEAS... Meanwhile, the Black Eyed Peas' next album is also expected later this year. The new as-yet-untitled set, almost completed, ''is still a fun record,'' will.i.am told Billboard. But it finds the Peas returning to the days pre-Fergie, when they more readily tackled social and political issues. ''It's a thinking record,'' according to will.i.am. ''It brings up what's happening in the world. Monkey Business didn't do that.''...
---